April 2021 was a good month for my investments. I increased my P2P lending investment significantly, & added a couple of new Peer to Peer platforms to the Peer to Peer Lending Portfolio.
More PolkdaDOT was added to the Crypto Portfolio when prices dipped towards the end of April. I also staked all of the DOT, and ADA as staking seems to be paying off.
For the other investment portfolios, everything seems to be going as usual.
So with that in mind, let's get right in to it with the detailed Peer to Peer lending update first.
Peer to Peer Lending Sites & Portfolio Update
Peer to Peer lending investment increased significantly in April from £122k at the and of March to over £185k invested by the end of April.
I added a new lender (easyMoney) which I'll discuss below. I also withdrew capital from Lending Works & Unbolted due to cash drag. Can't have money sat there for months making nothing.
You can always see the live Peer to Peer Lending Portfolio data here >>
Disclaimers
The information below is comprised of my opinions on current investment market conditions and my personal actions with my investments. It should not in any way be construed as financial advice. Please do your own research before making investment decisions and do not base them solely on what you read on this website. Please read my full disclaimer of more information.
Some of the links on this website are affiliate referral links. For cashback offers, you'll generally need to use these links to qualify for the cashback. If you use these links I can sometimes receive a commission, at absolutely no cost to you. This helps me to run the website, write new platform reviews, publish monthly portfolio updates & generally keep me interested in taking the time to share the information you are currently reading. I don't receive commissions from all platforms, and it has no effect on my ongoing opinions on platforms, which are entirely focused on generating Income from my investments and preserving capital.
Individual Peer to Peer Platform Updates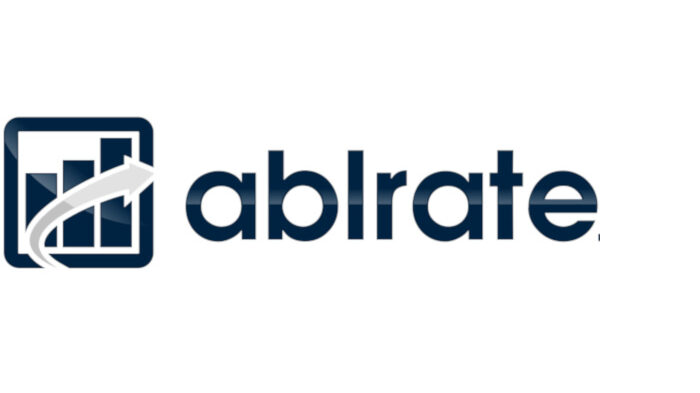 Visit Website
No change in my Ablrate investments this month. Nothing really changed there so I'm just watching what happens for the time being. Ablerate brought a couple of new loans online in April which is promising.
Here's a recap of the current situation:
I drew down many of my loans with Ablrate as I was not sure how they would fair throughout the pandemic. My current investment balance is quite low and I'm not sure if I'll increase it anytime soon. The main reasons being the work involved to invest in Ablrate loans & the late loans they currently have.
Ablrate still look to have about about 25% of their loans late or in default, but hopefully that will come down as things get back to normal with the economy.
Ablrate still seem to be a strong platform with great returns available if you're willing to put in the work. They are still recovering from the pandemic hit but surviving and hopefully getting back to a normal default level soon.
Here is a view of my Ablrate account as it stands at the end of April 2021.
My current Ablrate Investments (as you can see, still only 1 late currently)
My Ablrate Strategy.
There are some great returns available through Ablrate if you're willing to put the time in to do the research and buy the best loans. Up to 15% per annum. One of the best rates of all UK Peer to Peer lending sites.
For some it will be totally worth the effort. For me with my "Lazy Investor" attitude, the time commitment required exceeds my enthusiasm at the moment. That may change in the next few weeks, but for now I don't have the time to diversify a significant amount of capital in the way I would like.
If you do have the time to spare, Ablrate are one of the best paying lenders out there as far as returns go. The fact that they are still around after the pandemic also has to say something about their business model and the saftey of the platform.
Ablrate Signup & Cashback Offers
£50 Ablrate Cashback on £1000+ investment for New Investors
Use this link to qualify for Ablrate cashback or to signup >>>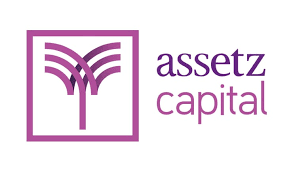 See Full Assetz Capital Review
Visit Website
Assetz Capital seem to be pretty much back to normal now. I haven't seen any discounts available for investment in to their Access Accounts in April, which means liquidity must be getting back to normal. As normal as it's going to get for the foreseeable future anyway.
During the pandemic, Assetz implemented a discounting system for the Access Accounts enabling investors who needed their capital out "now" to offer a discount in order to do so. You can read more about how it works on Assetz Capital's website here. It seems as though this new system is here to stay and I'm not sure that's a bad thing. Under normal market conditions, there should be plenty of incoming capital to fulfill withdrawal requests. Under less than ideal situations, the discount capability is there. An added benefit for people in the notice accounts (30 & 60 day) is that in the event of an emergency, they can still offer a discount and get out faster if need be.
Here's a screenshot of the 30 Day Access Account withdrawal screenshot: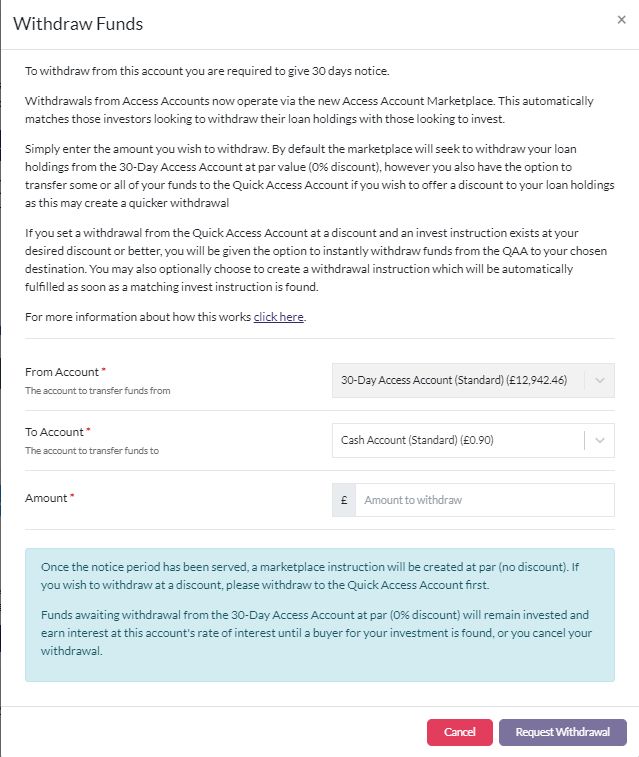 So if you want to give a larger discount, you can get out faster than the 30 days providing there is someone looking to invest at the discount level you're looking for.
Here's what my Assetz Capital account looks like now:
My Assetz Capital Strategy.
I started to increase my investment in Assetz Capital once things started to look like they were getting back to normality. Right now I'm a little over £18k invested with them and I'll probably increase more as things get back to baseline normal.
I like Assetz, they were my biggest P2P investment account at one point, but when the pandemic hit and the liquidity squeeze came on, I think it surprised everyone (including me). Assetz Capital are still here after the pandemic, and I can see they are much stronger for the experience.
Assetz Capital Signup & Cashback Offers
No current Cashback Offers
Use this link to check for new offers or to open account >>>
Visit Website
CrowdProperty brought several new loans to the platform in April. I invested in almost all of them accept for a couple which I missed as I wasn't in front of my computer for the 10 seconds it took to fill them.
This platform has so much money on it looking for investment right now, you have to be fast.
I increased capital with CrowdProperty by opening an IFISA with them as I had allowance left from 2020. IFISA investment with CrowdProperty is pretty much the same as with the regular manual investment, you just need to specify the funds should come from your IFISA when placing the pledge.
Because of the IFISA investment, I withdrew some un-invested capital from my regular account which would be at the back of the IFISA investment queue. Once I use up the IFISA capital I'll begin to increase in the regular account again.
Other than that, no changes for April.
CrowdProperty offer property secured development loans, all with first legal charge and reasonable LTV's. I continue to feel like the loans they have written are well vetted, and are some of the safer development loans available in the P2P market. In fact they all but proved this by the way their business prospered throughout the pandemic.
Here's a screenshot of my CrowdProperty account at the end of April 2021.
Here are some of the loans coming in May 2021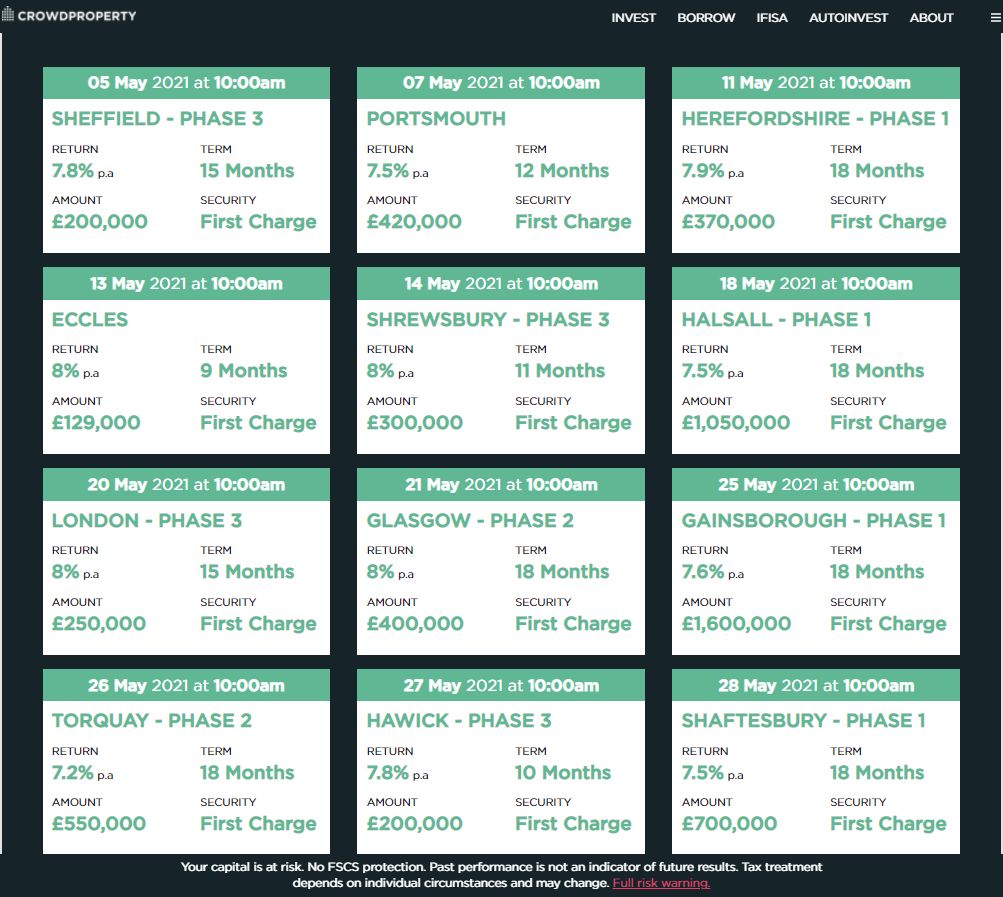 My CrowdProperty Strategy.
My strategy since the beginning with CrowdProperty is to invest £500 into almost every loan they have. If the LTV is low, and it's a tranche 1, I'll invest £1000. I do a little due diligence on each loan before it goes live. Once in a while I see something I don't like the look of and I don't invest in that particular loan. I'll often look closely at higher level (numbers) tranches and pass over some of them at times. Overall though, that happens very infrequently so it's pretty much £500 or £1000 into each loan.
CrowdProperty Signup & Cashback Offers
No current cashback offers from CrowdProperty.
Use this link to go to CrowdProperty's website and check for new offers, or to open an account >>>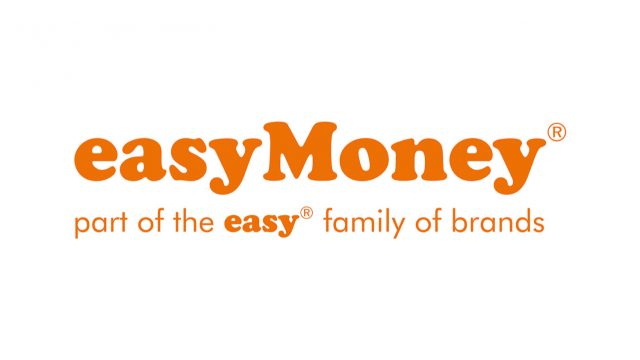 Visit Website
easyMoney was another new investment for me in April. As the name suggests; they are part of the "Easy" family of brands (EasyJet, EasyHotel, EasyCar etc.), however to be clear, this is just branding which they pay a fee for. They are their own entity and not backed financially at all by the other "Easy" companies. As such, I look at them as a stand alone platform.
easyMoney were founded in 2018 and since then have an impeccable history of zero defaults. They are very particular in the loans they choose to finance, which are typically short term property purchase & development loans from 3 to 12 months in length. They are very similar to CrowdProperty & Kuflink, except the only option with easyMoney is auto-invest. They diversify your investment capital for you between available loans.
I looked at easyMoney several times in the last few years. Although they seemed credible enough & had a decent reputation, the rates they offered always seemed quite low compared to other, similar lenders. After the pandemic though, with many platforms reducing rates, easyMoney rates are starting to come inline & make the risk/reward look attractive. The fact that the pandemic didn't seem to phase them also caught my attention.
I initially invested £10k and it was invested quite quickly. Diversification is not as I would ideally like (11 loans), but because the platform is auto-invest only, there is not much I can do about it, and because of the quality of the loans, I'm fairly comfortable with it.
A couple of days later I decided the 6.06% on the Premium Plus account was the "sweet spot" for returns. To get any higher I would need to invest over £100k which is too much for one (newer) platform. I sent over another £10k to take me to that 6.06% level and that's where it will stay for now.
The only thing I'm not really happy about is that £5k that is yet to be invested. I believe that's because they have a limit on percentage of investment per loan (or possibly all investments are currently filled and no one is looking to withdraw). As it's only been a couple of weeks, I'll keep an eye on it and see how it goes.
Here's a screenshot of the easyMoney Dashboard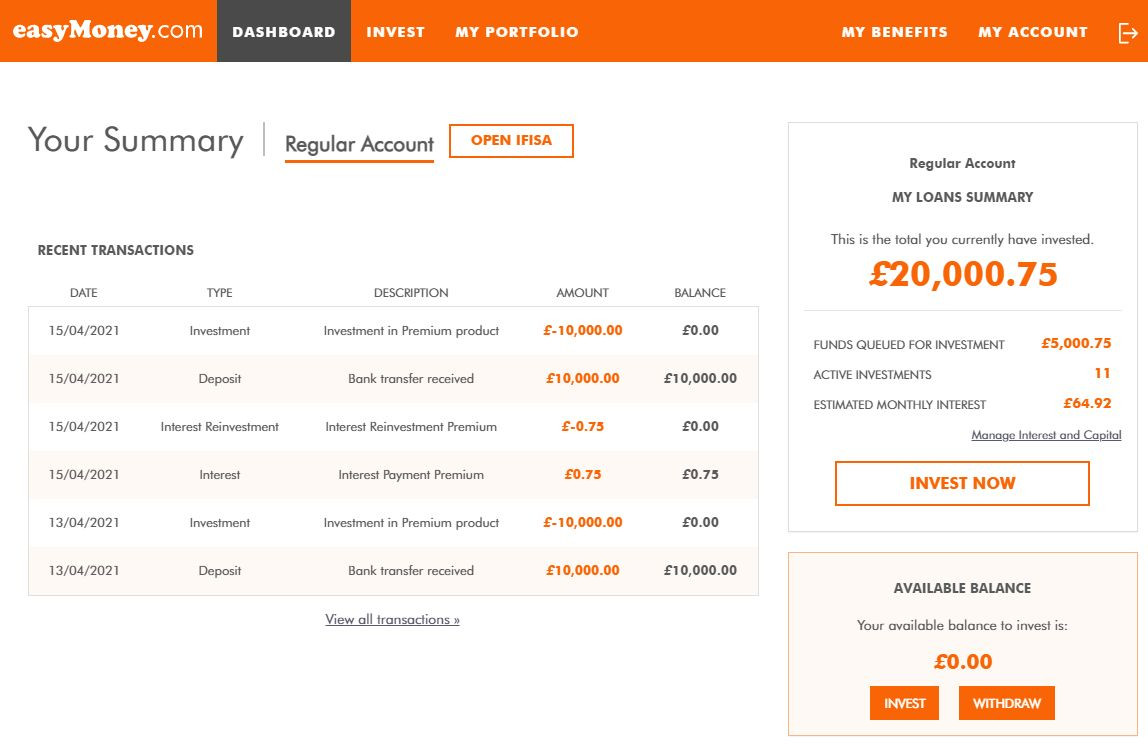 You may have noticed the rate currently says 5.12%. That's because rates are adjusted & interest paid on the 15th of each month, therefore I just missed the higher rate in April so I'll need to wait until the 15th of May.
easyMoney Signup & Cashback Offers
No current easyMoneycashback offers