Below are the results of my personal Growth Portfolio of mixed assets in US Dollar currency containing US Stocks, Treasury Bonds , REITs & Gold which is tracked in real time here on my website.
I have personally been investing in these assets, with this exact asset allocation, for over 20 years. This is where most of my personal investment capital still resides. It is mostly responsible for how I made early retirement & financial independence.
In all the years I have been investing in this portfolio, I have never found another portfolio, or investment strategy, which provides these types of returns. With the low drawdowns & volatility, has a track record of this length, and which also shows similar the results from backtesting.
If you know of a similar or better investment strategy, which meets all of the previous criteria, please email me and let me know as I'm always on the lookout for ways to diversify.
** Please Note: VTI & TLT are USA domiciled ETF's which cannot be purchased by residents of the EU (I purchased them before EU residents were banned from purchasing them). Good replacements which should produce very similar results, but are domiciled in the EU (still USD currency) are iShares Core S&P 500 ETF (USD) or the Vanguard S&P 500 UCITS ETF – VUSA (GBO/EUR) for stocks & iShares USD Treasury Bond 20+yr ETF (USD) for bonds. These are a good replacements you can purchase if you are EU based. The remaining ETF's & Funds from the portfolio can be purchased by EU residents.
USD Growth Portfolio Returns
(Click on Chart for Interactive)


Dividend Reinvestment Included in Calculations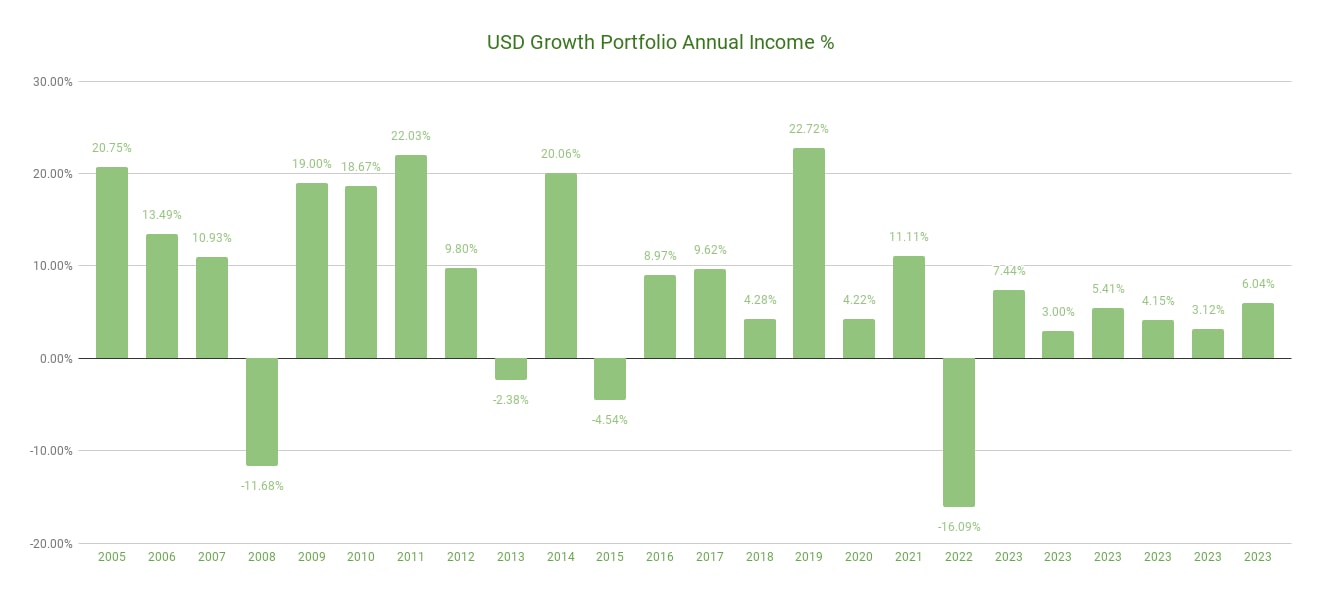 Below is a comparison of how a data model of my $ – USD Growth Portfolio compares to other popular portfolios over the last few years. As you can see, the % returns and drawdowns are better than the original Harry Browne Permanent Portfolio.
PLEASE NOTE: THIS IS A SIMULATED DATA MODEL BACKTEST. TO SEE ACTUAL RESULTS, GO TO MY GROWTH PORTFOLIO PAGE BY CLICKING HERE
Portfolio 1 is my current USD Growth Portfolio Allocation (US Stocks, US Bonds, Gold, US REITs).
Portfolio 2 is the original Harry Browne's Permanent Portfolio mix: US Stocks, US Bonds, Gold . Cash has been left out, as I think that skews it to the downside unfairly. Here is also a link to my USD Permanent Portfolio which I track monthly here on my website.
Portfolio 3 is made up of a 50/50 mix of US Stocks & US Bonds using ETF's. 
The S&P ETF is there as a representation of the US Stock Market Baseline.
NOTE: The returns shown in this simulation are INFLATION ADJUSTED meaning they are returns after inflation. The returns shown in my portfolios are BEFORE inflation. 
BALANCES shown are just there to show growth as an example. They are not actual portfolio values.

Click here to see a live, current version of this backtest on Portfolio Visulizer with my specific ETF's from 2005.
—
For a general asset class backtest of these assets (not specific funds or ETF's, just the asset classes) since 1978 click here.
If you would like to read about backtesting, see my Backtesting page.
Disclaimer
This page is presented for informational purposes only. I am not a Financial Adviser and therefore not qualified to give financial advice. Please do your own research and make your own investment decisions. Read our disclaimer for further information.