Mintos Review
Is Mintos Safe? See my unbiased Mintos Marketplace Review to find out! Based on my ongoing lending experiences with Europe's largest Peer to Peer Lender. Offering multiple investment accounts, and a huge loan book in multiple currencies including GBP, Euro and USD with the safety of the Mintos buyback guarantee.
– Mintos Review Updated February 2019
Mintos Marketplace – is the largest European Peer to Peer – Peer to Business (P2P/P2B) lender providing loans to consumers & businesses around Europe. They have a huge loan book with many investments available, in multiple currencies (including GBP, USD and Euro). 
My Actual Mintos Marketplace Returns, Account Growth & Income
See consolidated returns for all lenders here
Overview
Mintos Marketplace – offering higher returns (I'm getting 9.67%+ on GBP and 12.66% on Euros as of February 2019) on loans to consumers and businesses mostly in the EU, including Denmark, Latvia, Sweden, Spain, UK and more. However Mintos also lends to other countries around the world, Russia, Ukraine and many of the old Soviet Union countries included. Many (but not all) loans are secured on anything from property, cars, pawn shop items and various other items. It this Mintos review we will discuss the various items loaned against.
For extra security, many of Mintos loans also offer the "Mintos buyback guarantee". This is where Mintos loan originators will buy back loans that fall behind in payments more than 60 days. And also "Skin in the Game" where some mintos loan originators invest a percentage of their own cash in loans on a first loss basis which means in the event of a default, they take the first loss on the loan.
Mintos are an interesting proposition for anyone wanting to invest in their own currency. Or to diversify into other currencies. As mentioned above, Mintos is a little different to many other P2P companies because, for the bulk of its loans, Mintos acts more like a "middle man". Meaning that Mintos connects "originators" (local loan providers) to lenders, instead of making its own loans.
The Obvious Investor

– Easy-Info Table – Mintos Marketplace Review
Overall Rating*:
(3.8 / 5)
Who can invest:
Estimated Return:
Up to 15%+ depending on loans & currencies.
My Actual Return (Per Lender):
9.67%
My Calculated XIRR:
8.40%
Risk Rating*:
5/10 - Medium
Early Exit:
Yes.
Loans can be sold on secondary market.
No Mintos fees.
Min. Investment:
€10
Deposit Funds:
Bank account. Multiple currencies.
Typically 1 -2 days.
Auto Invest:
Yes
Manual Invest:
Yes
Lending To:
Borrowers (through originators)
Loan Types:
Personal loans, debt consolidation,
car finance, home improvement,
wedding loans, holiday loans, pawn shop loans.
Just about any type of loan you can imagine.
Also provide secured and unsecured business loans.
Loan Security:
Yes, with some loans.
Provision Fund:
No provision fund.
See review for "Buy Back Guarantee"
and "Skin in the Game".
Loans Amortize:
Some fully amortize.
Some partial.
Some bullet.
Time to Invest:
Fast: huge loan book.
Time to Mange:
None (auto-invest) to medium (manual invest)
Lender Fees:
No.
Payments Received:
Monthly, weekly. Various times.
Amount Lent:
€1 billion+
Number of Investors:
77,000+
Loan/Dflt Stats:
Click Here for Stats
Regulated:
No
Location:
Latvia

Launched:
2015
Website:
https://www.mintos.com
Email:
[email protected]
Telephone:
0157 893 0033 (UK)
+371 66 164 466 (Latvia)
IFISA/IRA:
No
Cashback**:
Yes! 1% of average daily balance cashback
for first 90 days. Click here for more info.
How to Sign Up**:
Sign Up Here!
History
Mintos Marketplace was launched in 2015 in Latvia. Currently they work with over 60 loan originators connecting them to lenders around the world.  In the 4 or so years Mintos has been in business, it has lent out over 1.6 billion euros from over 80,000 registered investors. Those figures are very good by any standard. And when you also hear that Mintos is already a profitable company, it becomes even more impressive!
I really like Mintos Marketplace. Having invested cautiously with them at first.  I have now started to expand my portfolio, more than doubling it.  My feeling is that, even though they are located in a country that is maybe not so well known. They are a good business, and a fairly safe investment.
Regulation
Mintos Marketplace is not regulated as the UK peer to peer lenders are by the FCA, however they are actively being scrutinized by the Latvian regulator and it wouldn't surprise me if regulation in Latvia came soon. Many of the European P2P platforms have settled in Latvia as the authorities there are friendly to the P2P business model.
Signup Process
Opening an account with Mintos is relatively easy. Just the usual ID & anti money-laundering checks. They typically need a copy of your passport or driving license, and a utility bill or bank statement to show your current address. Residents of any country that can comply with the ID checks can signup with Mintos, except the USA for some reason. I believe it has to do with some US regulation though, not Mintos rules.  If you don't have a European bank account with an IBAN number, see my TransferWise Borderless Account review for more information on how it may be possible to get European banking details.
Deposits & Withdrawals
Deposits and withdrawals are made by bank transfer, which bank is dependent on the currency you are depositing.  You will be provided with the relevant bank details when you select the currency you will be sending. Deposits usually show up in your account the same or next working day.  Withdrawals are only to a verified bank account, and typically take 2 – 3- business  days.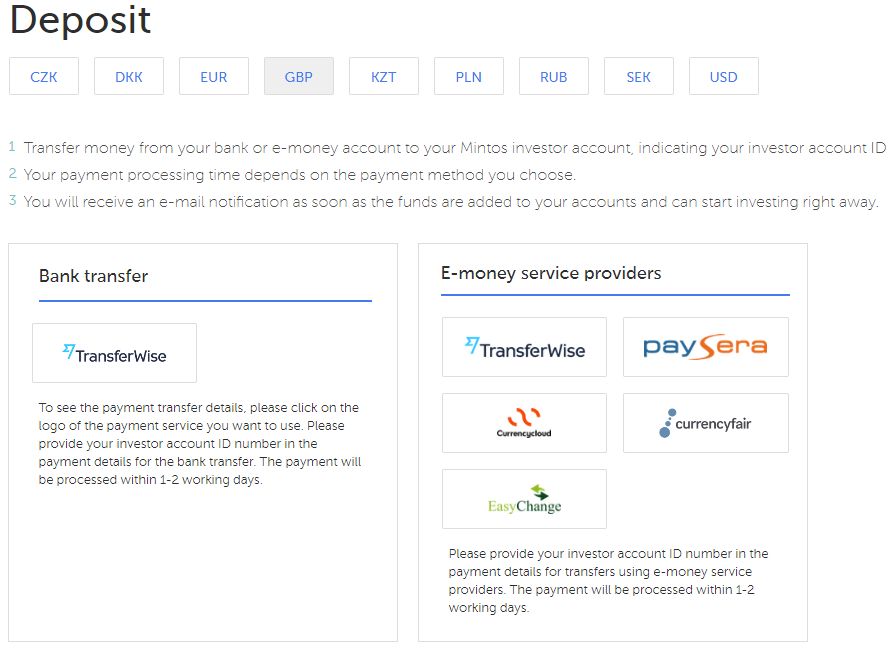 Time to Become Invested
Mintos Marketplace has a huge loan book, mostly in Euros. If you are investing in Euros you literally have tens of thousands of loan options, so getting invested in any of the predefined and regular auto-invest portfolios takes minutes. With the regular loan listings, it will take as long as it takes you to decide on which loans you want to be invested in.
In GB pounds there are really only two options available for investment at the moment, they are MoGo car loans which have buyback protection, or 1pm business loans which don't have buyback. Even just with MoGo there are usually a few hundred loans available, so it possible to get invested quite quickly. The screenshots in this Mintos review are mostly from GBP loans.
Who are we lending to?
Mintos Marketplace is a true Peer to Peer Lending Platform. Lenders are lending directly to borrowers. Although something that is a little different with Mintos is that Mintos itself doesn't originate most of the loans like most P2P companies. It has over 50 "mintos loan originator companies" it works with, and they originate the loans locally, then provide the loans to Mintos Marketplace for lenders to invest in.
Mintos Marketplace provides loans to consumers for personal loans, debt consolidation, car finance, home improvement, wedding loans, holiday loans, pawn shop loans. Just about any type of loan you can imagine. It also provides secured and unsecured business loans.
Loan Security
Mintos provides access to both secured and unsecured loans. It is easy to see on the Mintos website which loans have security and which don't. Remember the Mintos buyback guarantee offers further security.
As an extra layer of security, many of the Mintos originators offer "buyback guarantees" where they will purchase the loans back from you if they go in to default, usually at 60 days.
Default Rates

Mintos Marketplace default rates change daily because of their sheer size, loan types and currencies. You can see here what they are now as the figures in this Mintos review will likely be old ten minutes after writing it.
Amortization
There are all types of loans on Mintos Marketplace; fully amortizing, partially amortizing, interest only and bullet loans (balloon payment).  Amortization is the paying off of debt with a fixed repayment schedule in regular installments over time. Amortization reduces the risk of the loan compared to a non-amortizing loan in which nothing is received until the end of the loan period, or only interest is received monthly, and then the capital repaid at the end of the loan period. If you choose non-amortizing loans, please make sure you understand the risk-reward and also double check asset security values.
When listing loans with Mintos, it's easy to select the loan types you want from the loans filter.
Selling Loans and Withdrawing Capital
It's easy to sell Mintos Marketplace loans on the secondary market. Mintos do not charge a fee for selling loans, however in some cases you may need to sell loans at a discount in order to sell them. Mintos enables you to sell loans at either a discount, or at a premium.
If loans are in demand (such as GPB car loans are right now) you will often see them listed at a premium of up to 3% (which is the most that Mintos allows).
Diversification
Diversifying capital into loans is easy with Mintos because of the sheer size of their loan book. Their predefined auto-invest portfolios diversify automatically, and with the self-select loans, you can create an auto-invest rule which only places a predefined amount into each loan.
Provision Fund
There is no provision fund with Mintos. So is Mintos safe? Although I consider Mintos to be a little more risky venture than some of the UK P2P lenders. Mainly because of where it is located, and because they are not regulated by the FCA. I still think their sheer size adds some security to their offerings. On top of that, many of the loan originators put some of, what Mintos refers to as "skin in the game". Meaning they invest their own capital in a percentage of the loan (typically from 5% – 15%). So if the loan goes bad, they lose money as well as the Mintos lenders. Also the previously mentioned "Mintos buyback guarantee" really helps to put more confidence in Mintos loans.
Retirement Account
No retirement account options.
Website
The Mintos Website is one of the best I've seen from all of the P2P lenders. And their loan supply is out of this world.
Currently (February 2019) there are 172,904 loans available to invest in on the primary market. There are 192,000+ on the secondary market. Most loans are in Euros. So for larger investors with Euros, Mintos can gobble up huge amounts of investment capital, which means you can still only have a small amount invested in each loan. Easy to conform to the "Prime Directive" for huge diversification. Even in GBP there are usually enough loans available to diversify.
Return Rates
Mintos Marketplace return rates are very good, at an average of around 9.6%+ in GBP, and typically a little more in other currencies. They actually used to offer interest rates much higher (15% – 20%). However recently the rates have come down due to increased investor demand.  Also MoGo (one of the largest originators of car loans) stopped offering their higher paying car loans. These loans made a big difference to the return rate. It is still possible though to find loans in the 12% range, although most are available only in euro. I currently only have GBP's invested in Mintos. The 9.6%+ is about the best you can do in that currency as of the writing on this Mintos review.
Originator Default
One of the dangers to be aware of investing in P2P companies, Mintos Marketplace experienced back in 2017 when Eurocent, one of it's originators went out of business and was suspended from trading on the platform. Eurocent was one of the many originators offering "Mintos buyback guarantee", so with them gone now, no knows if lenders can expect to get all of their capital back or not on defaulted loans originated by them.
Here again, the "Prime Directive" comes in to play; not only diversify between loans, but also make sure you are diversified between originators. Even in the Eurocent situation, I would think that investors would still get most of their money back, simply because the loans we make through P2P platforms are usually directly with the borrower. So just because a platform goes bust doesn't mean that all borrowers will cease to pay their loans (I would hope). It's always important to remember when investing in P2P businesses that your capital is always at risk and there is no government backed insurance such as the FCSC in the UK to protect your capital in the event a platform goes out of business.
Selecting loans to invest in through the Mintos Marketplace website is very easy. Their loan filters make it simple to drill down to just loans that meet your criteria in both the primary and secondary markets:
Auto-invest
Another thing I really like about Mintos are their auto-invest portfolios which are very flexible in enabling us to pick the loans we want to invest in automatically as money is added to the account, and as new loans are added through the platform.
Mintos does offer some "pre-packaged" auto-invest portfolios. However I don't feel the rates are so great. They are good if you really don't want to put any time in to configuring Mintos investments though,  and just start earning a good rate from day 1.
If you use their "Custom Strategy" tool, you have a lot more flexibility on which loans you want, how much interest you want to earn, and how much diversification you would like. As well as several other settings:
Mintos Review – Summary
Mintos Marketplace is becoming one of my most favorite platforms. As I invest more into their loans and become more confident in them, I'm sure any hesitation I have because of their location and lack of regulation will dissipate. Their staff is professional whenever I need to contact them for anything, and they all speak English very well.
Thumbs Up Points for Mintos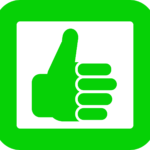 Unique Diversification  – focusing on consumers and businesses in many different countries and in many different currencies really is enticing.

Great Returns – even with the lower available rates now, 9%+ in GBP, is nothing to sniff at, and even better rates are available for loans in euros.

Multi-Currency – lots of options for currencies to invest in. Mintos also offer a reasonable money exchange service for changing money into other currencies.

Huge Loan Book – there should never be any cash drag with Mintos loans, especially if you invest in Euros.

Great Filters – very easy to drill down to loans you want to invest in

Auto-Invest –Mintos auto-invest options are (I believe) the most configurable of all of the P2P platforms I invest with. You can literally choose anything you like.

Skin in the Game – most lenders have their own interest in loans so they should take more care in loans they write.

Mintos Buyback Guarantee – Is Mintos safe? Most originators will buy back the loans if they go in to default, there making Mintos safer. 

Zero Early Exit Fees – Mintos does not charge for selling loans early on the secondary market, and even lets you sell at a premium or discount if you so see fit.

Website – very easy to use and understand, and still very configurable.

Mintos also won AltFi's "People's choice award" in 2016 and 2017 which adds a little more confidence around them for me. There are also many Mintos Reviews out there to refer to. This gives Mintos more credibility too.
Thumbs Down Points for Mintos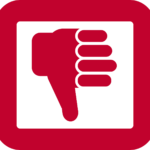 No Regulation – makes Mintos Marketplace a riskier proposition.

Lavian Based – for UK investors this means more risk as they are not regulated under normal UK FCA rules.

Currency Risk – for UK investors, investing in a foreign currency can have it's own inherent risks if it falls against your home currency.

No retirement IFISA – for interest free investing for UK investors.
Risk Factor – 5/10 – Medium

    
Is Mintos Safe? In my Mintos Review, I consider Mintos to be in the medium risk category. Even taking in to consideration that some loans are secured, originators have "skin in the game" and the "buyback guarantee". They are still an unregulated business in a foreign (to many of us) country.
I enjoy investing through Mintos and I hope they continue on the road they are currently on. TrustPilot reviews give them an great! rating but only 270 reviews so far so perhaps TrustPilot is not big in Latvia?
Who Can Invest with Mintos?
Residents of most countries in the EU can invest with Mintos, and also other countries that conform to the EU's money laundering regulations. Unfortunately (as far as I can understand) our USA friends aren't able to invest in Mintos at this time. This is because of some US regulation (not Mintos rules).  If you need help moving money to Mintos, or exchanging currencies; see my review on the TransferWise Borderless Account. Contact Mintos for more information.
New Mintos Marketplace customers receive 1% of their daily balance in a cashback reward for the first 90 days by using links here on Obviousinvestor.com!
Click here for more information on 1% Mintos cashback offer >>


* My opinions on ratings and risk rating factors refer to my personal experiences with a company or account. Including factual data such as interest rates, loan types, security, platform history, default numbers etc.

**Disclaimers: I'm not paid by any company to review them, nor am I employed by any of the companies I review. In most cases, I am actively investing my own personal capital through these companies which you can see with full transparency on my Lending Returns page. Some of the sign-up links on this website are referral links. When you click on these links, I may receive a small commission, at absolutely no cost to you. Your support helps me to run this website and continue to offer new reviews and updates.
Which companies are in my Top Peer to Peer Lenders List? Click to Find out!
Please read my full website Disclaimer before making investment decisions.