Mintos Review
My Personal Mintos Marketplace Auto-Invest Strategies – Mintos Review
Here explained are my personal Mintos strategies. I don't pretend to be a master at developing Mintos strategies, and frankly I don't have the time or the inclination to do so. I have simple settings that net me almost 10% in GBP and almost 13% in Euros which I am very happy with.
GBP Strategy.
For GBP I currently only use MoGo car loans. I consider these loans the best for GBP as MoGo (a big company with a strong financial background) offers buyback guarantees and the loans are asset secured with some type of vehicle, usually cars.
This strategy gets adjusted at times based on the available return rates of the loans, and the flow.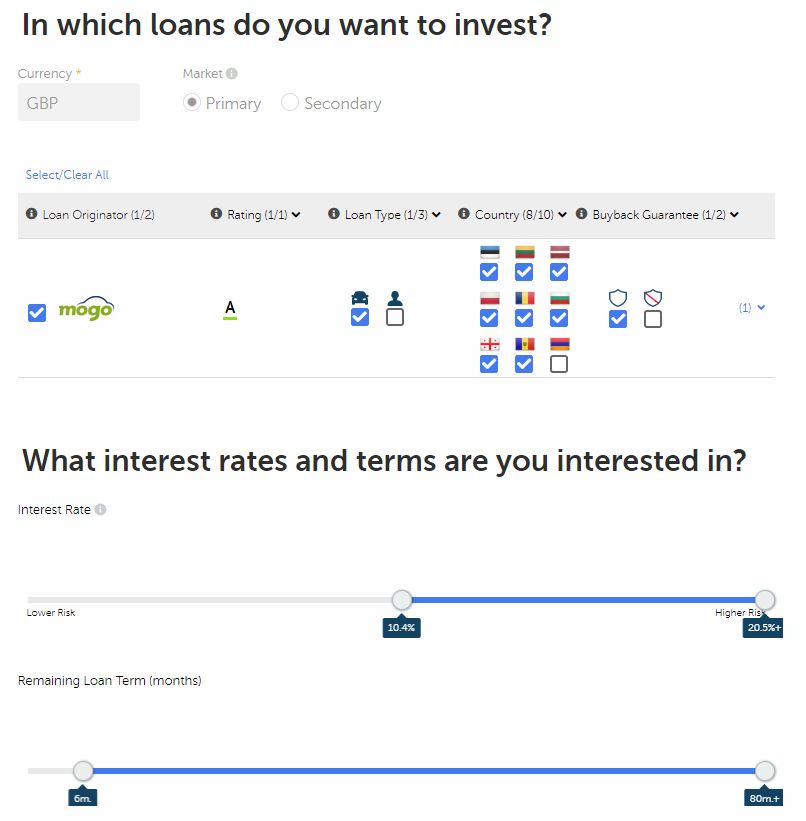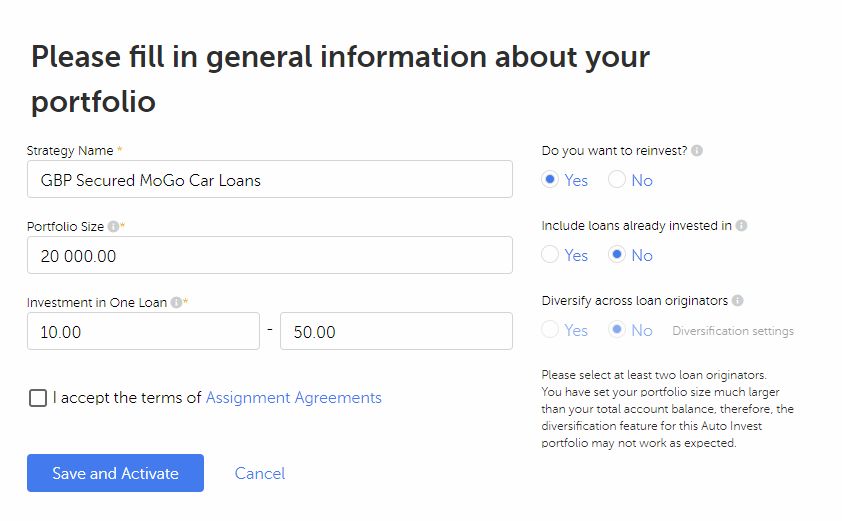 I have a couple of Euro strategies which I use. Each of them can get updated or switched on and off depending on the loans that are coming through and their ROI.
These are the strategies I use. Could be all or just one at any time dependent on how long I want to tie Euros up for and also how much I'm investing.
The first strategy (priority 1 above) is for short term loans (mostly) from Varks who are a strong short-term lender offering buyback guarantees, and who also pay interest on late or delayed loans (very important if you want to reach target interest rates).
This strategy is set to catch short term loans at above 14%. I like to keep loans as short term as possible in Euros most of the time. You'll note on the above screenshot it has the first priority and it has a portfolio size larger than my total Euro portfolio, so this will put all of my money in to 14% or higher short term loans IF they are available.
The second Euro strategy (2) is exactly the same as the first, except it is set to pick up loans of 13% and above instead of 14%. So if there are no loans available for the first strategy at 14%, the second strategy will pick them up at 13%.
The 3rd Euro strategy is what I call my "Top Lenders Strategy". This is a list of lenders that not only Mintos rates as high, but other sources I have researched also say the same. That coupled with loans above 13% but with longer terms. I will typically only use this strategy if there are no short term loans available, or I just want to tie money up in 13% or higher loans for the longer term. The other reason of course is if I wanted to diversify more between multiple loan originators for safety.
Mintos Review – Summary
Mintos Marketplace is certainly one of my most favorite platforms. Their return rates are unmatched by any other lender I know of this size who is also profitable. 
The Mintos buyback guarantee and Mintos originators "skin in the game", in my opinion it makes Mintos one of the safer – high-return lenders out there.
I have no hesitation investing a significant portion of my lending portfolio in Mintos, and I can definitely recommend them as part of an overall investment strategy. 
The Mintos staff are always professional whenever I need to contact them for anything, and they all speak English very well.
I enjoy investing through Mintos and I hope they continue on the road they are currently on. Returns of 9% to 15% are always welcome on my monthly income list 🙂
Thumbs Up Points for Mintos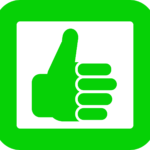 Unique Diversification  – focusing on consumers and businesses in many different countries and in many different currencies really is enticing.

Great Returns – even with the lower available rates now, 9%+ in GBP, is nothing to sniff at, and even better rates are available for loans in euros.

Multi-Currency – lots of options for currencies to invest in. Mintos also offer a reasonable money exchange service for changing money into other currencies.

Huge Loan Book – there should never be any cash drag with Mintos loans, especially if you invest in Euros.

Great Filters – very easy to drill down to loans you want to invest in

Auto-Invest – auto-invest options are (I believe) the most configurable of all of the P2P platforms I invest with. You can literally choose anything you like.

Skin in the Game – most lenders have their own interest in loans so they should take more care in loans they write.

Mintos Buyback Guarantee – Is Mintos safe? Most originators offer the "Mintos buyback guarantee" and will buy back the loans if they go in to default, therefor making Mintos safer. 

Zero Early Exit Fees – there is no charge for selling loans early on the secondary market, and you can even sell at a premium or discount if you so see fit.

Website – very easy to use and understand, and still very configurable.

Mintos also won AltFi's "People's choice award" in 2016 and 2017 which adds a little more confidence around them for me. There are also many Mintos Reviews out there to refer to. This gives Mintos more credibility too.
Thumbs Down Points for Mintos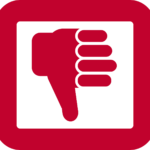 No Regulation – may make Mintos Marketplace a riskier proposition, however their sheer size and multiple Mintos loan originators makes up for it in my mind.

Lavian Based – for UK investors this may not be as comfortable as investing in UK companies. European investors don't seem to see this as an issue though.

Currency Risk – investing in a currency other than your home currency can have it's own inherent risks if it falls.

No retirement IFISA – for interest free investing for UK investors.
Risk Factor – 4/10 – Low to Medium


Is Mintos Safe? In my Mintos Review, I consider Mintos to be in the low to medium risk category.
Even taking in to consideration that some loans are secured, originators have "skin in the game" and the "Mintos buyback guarantee", Mintos is still an unregulated business with a short track record.
However the longer Mintos are in business, the better they seem to get.
Who Can Invest with Mintos?
Is Mintos Safe?
Residents of most countries in the EU can invest with Mintos, and also other countries that conform to the EU's money laundering regulations.
Unfortunately (as far as I can understand) our USA friends aren't able to invest in the platform at this time. This is because of some US regulation (not the platform's rules). 
If you need help moving money, or exchanging currencies; see my review on the TransferWise Borderless Account. Contact Mintos for more information.
Mintos Marketplace offers one of the best cashback offers out there – New customers receive 1% of their daily balance in a cashback reward for the first 90 days by using links here on ObviousInvestor.com!
Click here for more information on the 1% Mintos cashback offer >>
Open a Mintos Marketplace Investment Account & Claim Cashback Now >>
Similar Lenders to Mintos Marketplace
Click here to get my complementary Top 4 Lenders List
Click here to receive a free copy of my Excel Spreadsheet
New to Peer to Peer Lending?
Learn About Peer to Peer Lending
Ready to Get Started Lending?
Disclaimers:
* My opinions on ratings and risk rating factors refer to my personal experiences with a company or account. Including factual data such as interest rates, loan types, security, platform history, default numbers etc.
** I'm not paid by any company to review them, nor am I employed by any of the companies I review. In most cases, I am actively investing my own personal capital through these companies which you can see with full transparency on my Lending Returns page. Some of the sign-up links on this website are referral links. When you click on these links, I may receive a small commission, at absolutely no cost to you. Your support helps me to run this website and continue to offer new reviews and portfolio updates.
Please read my full website Disclaimer before making investment decisions.