Funding Circle Review
My Peer to Peer lending experience with one of the UK's largest Peer to Peer lenders.
– Review Updated October 2018
Funding Circle is one of the larger Peer to Peer – Peer to Business (P2P/P2B) lenders with operations in four countries.  Offering returns of 6%-7% or more on their balanced investment option, from their UK office, by providing loans to property developers and small businesses throughout the UK. I like Funding Circle and consider them to be one of the better options for high returns from a relativity safe, large company.
My Actual Account Growth
The 

Obvious Investor

–

Easy-Info Table
Overall Rating*:
(4.2 / 5)
Who can invest:
different rules per location
Estimated Return:
5.00% - 7.2% depending on account (my projected 7.2%)
My Actual Return (Per Lender):
8.7%
My Calculated XIRR:
6.44%
Risk Rating*:
4/10 - Low-Medium
Early Exit:
Yes, no cost under normal market conditions.
Min. Investment:
£100 initial deposit.
Deposit Funds:
UK bank, or a UK debit card.
Same or next working day.
Auto Invest:
Yes - 2 accounts
Manual Invest:
No
Lending To:
Borrowers
Loan Types:
Various Business Loans.
Mostly unsecured.
Default Rates:
Projected 4.4% - 6.4%
Loans Amortize:
Yes
Loan Security:
Some (not all) loans secured by property, land or
personal guarantees.
Provision Fund:
No
Time to Invest:
Usually Quick. few days depending on loan availability
Time to Mange:
None (auto-invest)
Lender Fees:
1% fee to lenders
Payments Received:
Monthly - Various times throughout the month.
Amount Lent:
£5 Billion
Number of Investors:
75k
Loan/Dflt Stats:
Yes, Click Here
Regulated:
Yes: FCA
Location:
HQ - London, UK. also have locations in USA,
Germany, and the Netherlands
Launched:
August 2010
Website:
http://fundingcircle.co.uk/
Email:
[email protected]
Telephone:
0800 048 8747 (UK)
IFISA/IRA:
Yes: IFISA
Cashback**:
Yes! Click here for more information!
How to Sign Up**:
Sign Up Here!
History
Funding Circle has been around since 2010 in the UK, so they have a good amount of experience under their belt.  Although they haven't had to deal with a major recession yet.  Current figures suggest that they have lent a total of  £5 billion with around £1 billion of it being lent in the last 12 months.  Funding Circle also has a German, Netherlands and a USA division lending to businesses in their respective locations.
I noted that in the USA, for investors to become lenders, they need to invest a minimum $250 thousand US dollars, which excludes many individual, non-corporate lenders. Luckily in the UK the minimum is only £1000 to start investing with Funding Circle. However they do recommend investing at least £2000 in order to get good diversification between loans, so a single default can't damage your portfolio too badly. I really like Funding Circle and it is another one of my larger P2P investments. I trust them with my money and I have no hesitation in giving them a good rating here.
Regulation
Funding Circle are regulated by the UK's Financial Conduct Authority (FCA) with full permissions under FCA number 722513.  They gained FCA permissions in May, 2017. It's important to note that the FCA is not the same as the FSCS (Financial Services Compensation Scheme), so capital is not protected as it would be in a bank.
Signup Process
Opening an account is fairly easy. Just the usual ID checks. If they can verify you though one of the UK's credit agencies, you will be approved immediately. If not, you may need to send them a copy of your passport or driving license, and a utility bill or bank statement. Residents of most countries can sign up with Funding Circle in the UK if they can pass the ID checks if they have a UK bank account. If you don't have a UK bank account, see my TransferWise Borderless Account review for more information on how it may be possible to get UK banking details if you're not a UK resident. Residents of countries where the company operates will need to contact their local Funding Circle for requirements for your specific location.
Deposits & Withdrawals
Deposits and Withdrawals are made by bank transfer from a UK bank, or a UK debit card. From a bank account, deposits usually show up in your account the same or next working day. Debit card deposits show up instantly. Withdrawals are only to a bank account and typically take 2 – 3- business  days.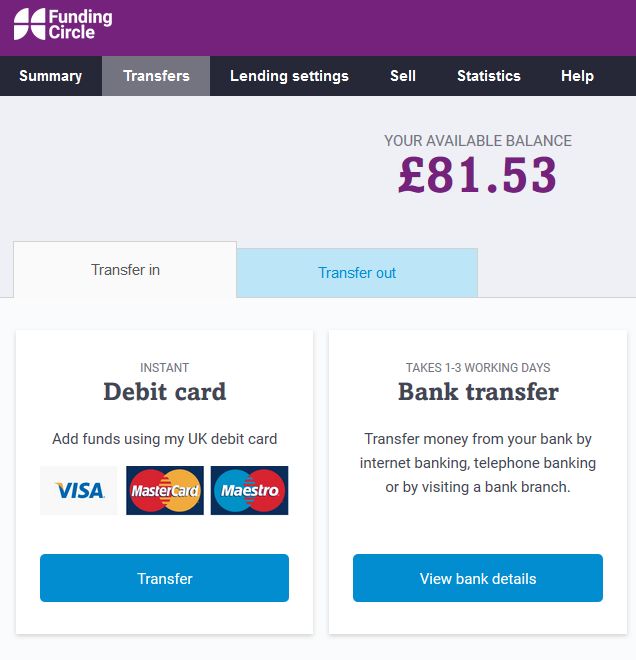 Time to Become Invested
It can take a few days to get into loans when in any of the accounts. I've found it varies based on the amount of capital I am investing, as well as the Funding Circle loan book. You can always see from the main screen dashboard how much is invested and how much is waiting to be invested.
Who are we lending to?
Funding Circle is a true Peer to Peer Platform. Lenders are lending directly to borrowers who are typically small to medium size British businesses. Loan agreements are directly between the lender and the borrower. Funding Circle just acts as a middle man, managing loans, payments and debt collection etc.
Loan Security
Most of Funding Circles loans are unsecured apart from director personal guarantees. There are a few loans, mostly property development loans, which are secured by property. On the Funding Circle website you can always drill down to see information on security. As you can see below, it clearly states if loans are secured or not.
Amortization
Most of Funding Circle's loans amortize, meaning you receive capital and interest payments every month. This reduces the risk of the loan compared to a non-amortizing loan in which nothing is received until the end of the loan period, or only interest is received monthly and then the capital repaid at the end of the loan period. Amortization is an accounting technique used to lower the cost value of a finite life or intangible asset incrementally through scheduled charges to income. Amortization is the paying off of debt with a fixed repayment schedule in regular installments over time. Any loans that are interest only are marked clearly on the Funding Circle website.
It's easy to see when payments have been made, and when payments are due by drilling down in any loan listing.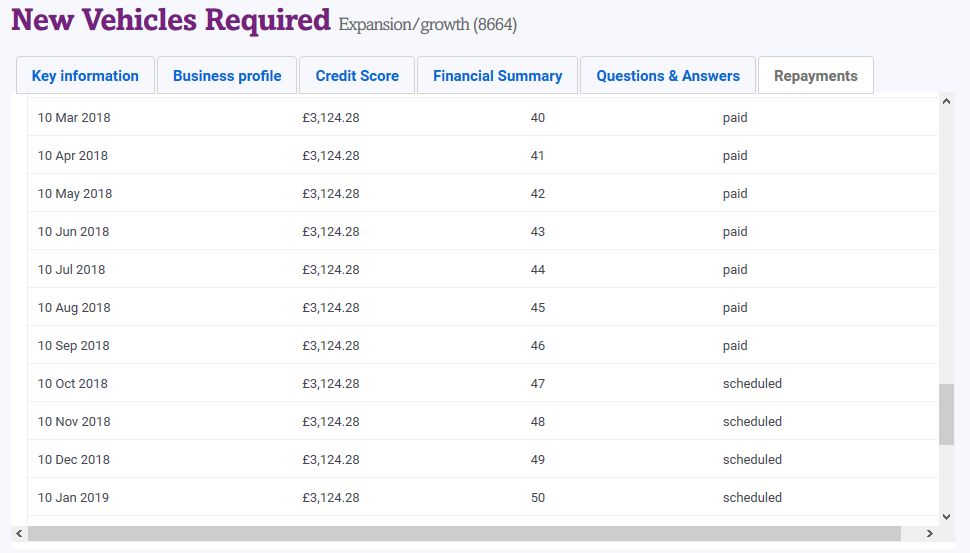 Selling Loans and Withdrawing Capital
There is no exit fee for selling loans with Funding Circle.  Under "normal market conditions", loans can be sold and capital withdrawn withing a few days, sometimes faster, providing there are enough other lenders to cover your loans (typically not a problem).
Here you can see the screen for selling loans and withdrawing capital.
Diversification
Diversifying loans is something that Funding Circle does an excellent job of. One of the best of all lenders out there with auto-invest for diversification. Their systems aim for diversification of 0.5% of your account balance per business you are lending to. Providing you have at least £2000 in your account, it will usually achieve that number or better. This means that when loans go bad,  there should not be a big chunk of capital disappear and affect your account too much.
As you can see below, I am lending to hundreds of businesses with no more than 0.5% in any single business.
Comments
Another thing you can see on the Funding Circle website is a page where loan comments are made. Typically you can see if loans are late, or other comments regarding the individual loans.
Provision Fund
There is no provision fund from Funding Circle. Their target rate takes into account expected default levels and loan losses under normal market conditions. It's always easy to see from the summary screen where your account stands with tracking those numbers.
You can see by the screenshot above that I have losses on this account. It's not necessarily as bad as it seems yet though. Even though this loan is marked as a loss, there is still a chance that some of the capital could be recovered. See comments below from drilling down.
Defaults are an expected and accepted a part of lending. Funding Circle's team are very experienced at loan recoveries, so there is always a chance down the road that some of this could be returned to my account.
Retirement Account
Funding Circle offers an Innovative Finance ISA which was launched in November 2017 for UK residents.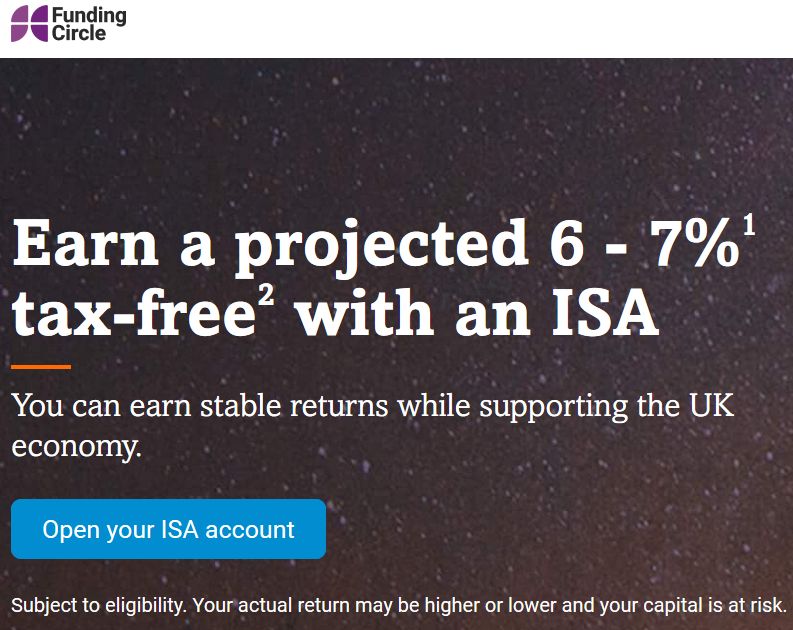 Account Options
There are 2 automated lending options, one a "Conservative" approach targeting 5 – 5.5% returns and what they call a "Balanced" approach targeting 6 – 7%.
Personally I only use the "Balanced" approach as it can take longer to get invested only investing in the two top (A & A+) risk bands, plus I really don't consider 5% to be a great return considering most of their loans are unsecured. And then they don't have any type of provision fund.
Loan Information
The website offers the ability to drill down and see what loans you are actually invested in, as well as information on the individual loan. As you can see there is a wealth of information available about who you are lending your money to.
Apps
Funding Circle is one of the few Peer to Peer lenders that have produced an app for phones and tablets. You can do with the app much of what you can do with the website, including adding or withdrawing funds.
The summary screen gives you similar information to the website. Portfolio total and orders etc.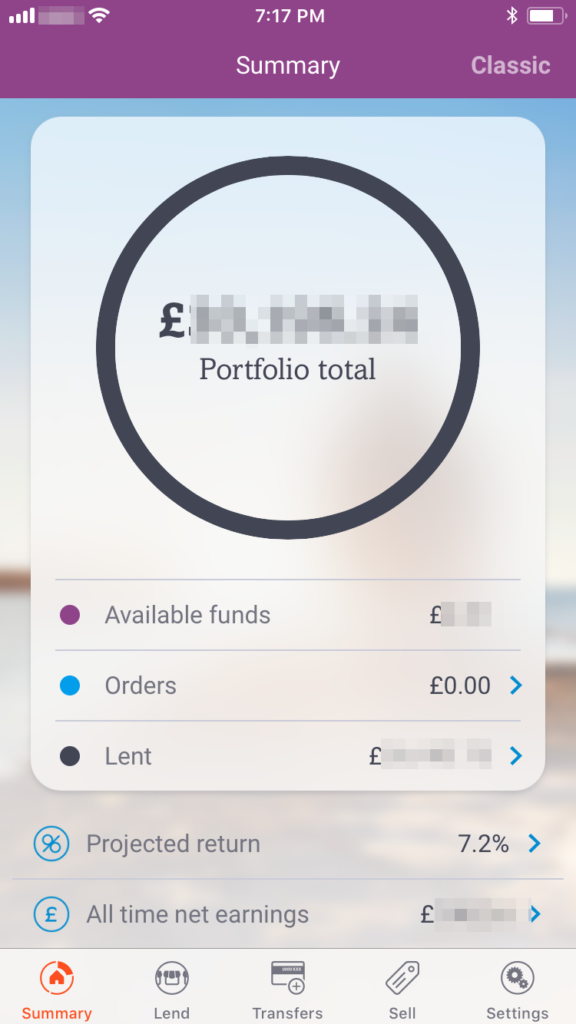 It is easy to drill down to see what actual and expected returns you are looking at.
There is even loan detail available.
Checking on loan diversification is easy.
Summary
Funding Circle continues to be one of my favorite UK Peer to Peer lenders. The returns they offer, coupled with their ease of use website, and the safety of one of the larger, older,  more established lenders makes them one of my largest Peer to Peer accounts.
 Thumbs Up Points for Funding Circle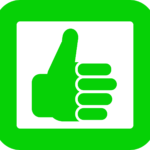 Safety – big company that is regulated by the UK Financial Conduct Authority and makes preservation of your capital one of their top objectives

Auto-Invest – means virtually no time managing investments. Just send your money over, decide which portfolio you would like to invest in (Conservative or Balanced). Once your money is invested (can take a couple of weeks, depending on the amount of available loans, and how much money you have to invest) you can sit back and watch the interest come in.

Great Rates – from one of the larger, peer to peer companies, the ability to get as much as 7% (as of 08/18) or more is not too bad at all.

Website – the Funding Circle website is very easy to use and understand. Some P2P websites leave a lot to be desired.

Large Investments – because the Funding Circles loan book is big, it can easily gobble up large amounts of capital, again reducing cash drag for larger investors.

£1000 minimum investment – if your portfolio is still small, it's still easy to invest.

Zero cost exit – Funding Circle dosen't charge any points for exiting your investment early (providing there are buyers available to buy your loan parts).

Low Default and Bad Debt Rates – this is important because there is no protection fund. Current expected bad debt rates are between 1.4% and 3%

Financial Conduct Authority (FCA) Regulated.

ISA available for UK investors
Thumbs Down Points for Funding Circle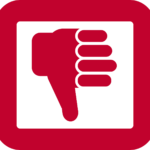 Initial Investment Time – It can take a couple of weeks to get your money invested initially. Depending on how much money is in line before yours, loan availability and how much money you have to invest. Overall I'm happy with the time it takes. Understanding that Funding Circle are diversifying my money over many loans for me.

Unsecured Loans – many of the Funding Circle loans are unsecured loans given to businesses, so if things were to go bad, you don't have any collateral. Diversification and low default rates should make us feel a little more comfortable.

Lender Fees – Funding Circle charge their lenders a 1% fee from the loan repayments. Most P2P companies charge their borrowers rather than lenders.
Risk Factor – 4/10 – Low – Medium
I consider Funding Circle to be at the lower to medium end of the risk scale. Taking in to consideration that many of its loans are unsecured. In most market conditions this is irrelevant, but in a severe recession it could come in to play. Either way, I have no worries about investing a significant portion of my Peer to Peer Portfolio with Funding Circle. I like them a lot and put a lot of trust in them. As you can see by the TrustPilot review above, so do many other people.
Who Can Invest with Funding Circle

Only UK residents with a U.K. address and bank account can invest with Funding Circle UK. USA and European residents can invest with the Funding Circle in their individual locations. However rules differ per location. Contact Funding Circle for further information.
Offers & Signup Links**
New Customers receive a £50 Amazon.co.uk Gift Certificate when they join Funding Circle using links here on obviousinvestor.com and invest £2000 or more!
Click here for further information on £50 gift certificate offer >>
Signup for Standard Account >>

* My opinions on ratings and risk rating factors refer to my personal experiences with the lender. Including factual data such as interest rates, loan types, security, platform history, default numbers etc. Read my Disclaimer before making investment decisions.

**Affiliated! –  I am an investor with this company! (I only review companies I invest with so I can provide an honest evaluation based on my own experience). If you click on an affiliate link, I may receive a small commission, at absolutely no cost to you. It helps me to run this website and continue to offer new reviews and updates.

Is this Company in my Top Peer to Peer Lenders List? Click to Find out!