Assetz Capital – Pros & Cons
PROs 👍
Track Record – medium size company with a decent track record
Auto-Invest – in all but one portfolio means virtually no time managing investments
All Loans Asset Secured – better chance of capital return in event of default (in theory).

CONs 👎
Easily go in to a "non normal market conditions" mode meaning "access accounts" that are supposed to be liquid can become a lot less so.
Debt Recovery – haven't been great on debt recovery so far (at least with the defaulted loans I'm in).
Manual Investment – to get the higher returns, you need to invest in the MLA which is time consuming and has no provision fund.
Provision Fund ""Discretionary" – not guaranteed to pay out with every default, and indeed hasn't on any of the defaulted loans I'm stuck in.
Visit The Assetz Capital Website
ASSETZ CAPITAL NOW CLOSED TO RETAIL INVESTORS
What is Assetz Capital?
Assetz Capital is a medium to large size Peer to Peer lender. Offering returns, from 3.75% for instant access, auto-investment portfolios. To over 15% for manually selected investments.
Providing loans to property developers and small businesses throughout the UK. With asset security on loans as a big plus (most loans are secured by property).
Read on to learn about my personal lending experiences with Assetz Capital. Monthly lending data, my investment strategy, and long term view of the platform are all outlined below. Read on for the full Assetz Capital Review.
Easy-Info Table© – Assetz Capital Review
Overall Rating*:
(2.8 / 5)
Who can invest:
Loan Currencies:
£
Estimated Return:
3.75% - 15.00% depending on account
Target Annual Return
(Platform Number):

4.62%

My Calculated XIRR:
My Current Investment:(click to see amount in £)

See My Investment £

Risk Rating*:
3/10 - Low-Med
Deposit Funds:
Bank Transfer.
Typically Available in 2 - 24 hours.
Early Exit:
Yes, no cost under normal market conditions.
QAA account instant assess.
Other auto-invest accounts 30 days and 90 days notice.
Manual Lending - sell on secondary market.
Min. Investment:
£1
Auto-Invest:
Yes - 3 accounts
Manual Invest:
Yes, higher returns but no provision fund.
Lending To:
Borrowers
Loan Types:
Various Business Loans.
Mostly Secured.
Default Rates:
Expected 5.5% actual below 1.4%
Loans Amortize:
Yes
Loan Security:
Yes.
Most loans secured by property and/or
personal guarantees
Provision Fund:
Yes.
On 3 auto-invest accounts, not on manual invest.
Time to Invest:
Usually Quick.
Couple of days depending on loan availability
Time to Mange:
None (auto-invest).
Depends on your research (manual)
Lender Fees:
No
Payments Received:
Monthly - Various times throughout the month.
Amount Lent:
£800m+
Number of Investors:
34,000+
Loan/Dflt Stats:
Yes, Click Here
Regulated:
Yes: FCA
Location:
Manchester, UK
Founded:
2013
Website:
www.assetzcapital.co.uk
Email:
enquiries@assetzcapital.co.uk
Telephone:
0800 470 0430
IFISA/IRA**:

Yes - IFISA - Click here for more info.

Cashback**:
None Currently
How to Sign Up**:

Sign Up Here!
My Overall Ongoing Investing Experiences…
Assetz Capital did great for a long time, however the COVID pandemic really threw them off and (in my humble opinion) they never recovered.
Their Access Accounts now have a habit of falling in to "non normal market conditions" which basically means that until things get back to normal, you might have a problem getting your money out. I'm not saying that you're going to lose it as the capital is obviously lent out to well-vetted businesses. However when I invest in something, I don't like changes that stop me getting at my money when it was promised. So, based on that I decided to start withdrawing from Assetz Capital at the end of 2021 and now I only have money left there which is in defaulted loans.
My latest lending experiences can always be found in my Monthly Portfolio Updates.
My Investment Strategy
As soon as they get more loans on the platform I will start increasing my investment again. Assetz Capital proved that not only can they come through a once-in-a-lifetime pandemic, but they were able to adapt their business to challenging situations and protect their investors capital. They just need to get more loans on the platform so there is no cash drag.
I'm happy & comfortable to be increasing my investment with them when the time comes. I believe they are still a strong company and offer some of the safer loans available in the P2P lending market. Writing those kinds of loans can take a while though so we just need to be patient.
There is still opportunity to buy loans manually in the Manual Lending Account but I don't have the time for that these days.
Visit The Assetz Capital Website
Latest Update & Current State of Account
See the "Overall Experience" section above. I'm still trying to get my money out of AC and all I have left there now are defaulted loans.
Account Screenshots
Latest Screenshots from my personal account.
Assetz Capital Return Charts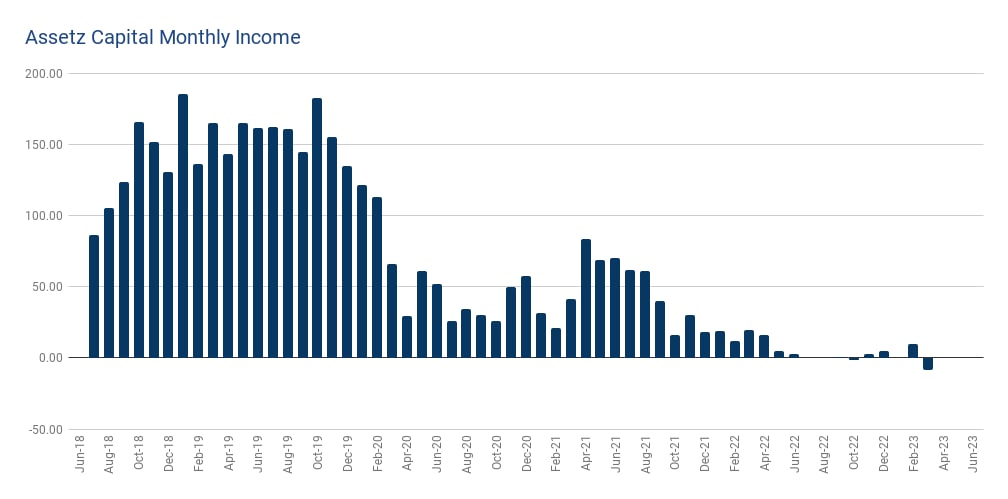 Detailed Overview – Assetz Capital Review
When Did Assetz Capital Launch? – History
Assetz Capital were launched in 2013 in the UK as the first secured Peer to Peer business lender. In the time they have been in business, they have become one of the best known and trusted P2P Lenders in the UK.
Current figures suggest they have lent over £1 billion from almost 50,000 investors in the time they have been in business.
Expected default rates are 5.5% and actual default rates are 1.4% (even after the pandemic). Extremely low rates for Peer to Peer companies lending to small businesses. Obviously low because of the asset security most loans come with. Add that with the Provision Fund and investors money is fairly well protected.
Assetz Capital have an loss rate of 0.6% for 2019 and 0.00% for 2020. You can see current loss rates on their website here.
Regulation – Is Assetz Capital Safe?
Assetz Capital is regulated by the UK's Financial Conduct Authority (FCA) with full permissions under FCA number 724996. They gained FCA permissions in September, 2017.
It's important to note in this Assetz Capital Review that the FCA is not the same as the FSCS (Financial Services Compensation Scheme). So capital is not protected as it would be in a bank.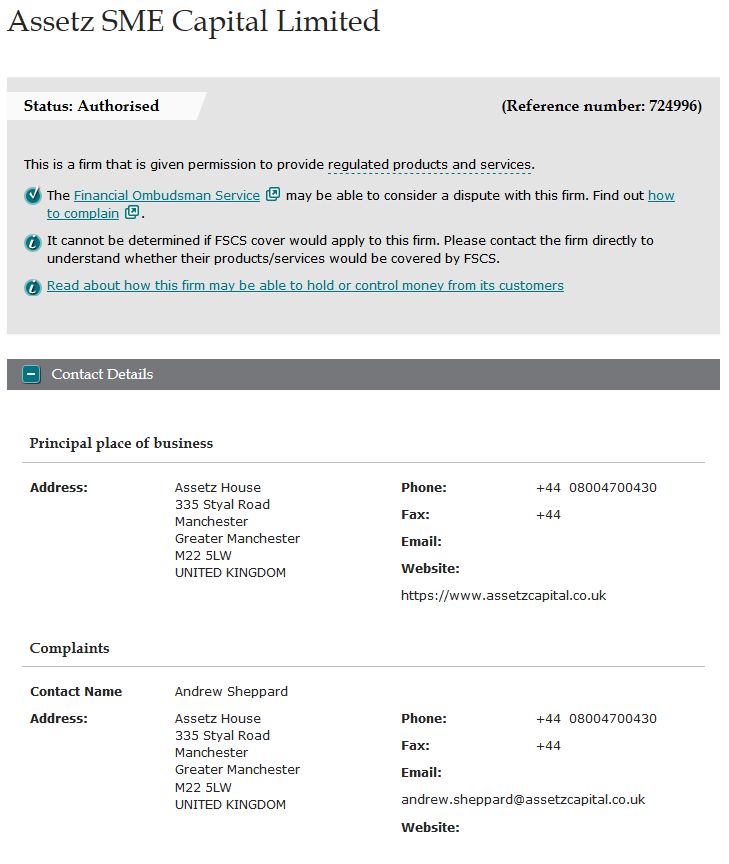 How to Open an Assetz Capital Investment Account – Signup Process
Opening an account is fairly easy. Just the usual ID checks.
If they can verify you though one of the UK's credit agencies, you will be approved immediately. If not, you may need to send them a copy of your passport or driving license. And perhaps a utility bill or bank statement.
As of the time of writing this Assetz Capital Review, residents of most countries can sign up, including USA residents (Assetz Capital ISA only United Kingdom).
How Can I Make Deposits & Withdrawals with Assetz Capital?
Deposits and Withdrawals are made by bank transfer from a UK bank. No debit or credit card deposits are available.
Deposits usually show up in your account the same or the next working day. Withdrawals typically take 2 – 3- business days.
It is possible to make deposits directly in to the individual lending account by using a special reference number supplied by them when you sign up.
How Long Does it Take to Invest with Assetz Capital?
It can take a few days to get capital distributed when in any of the auto-invest accounts (except the QAA which lends out the funds fairly quickly).
I've found investment time varies based on the amount of capital I am investing, as well as the loan book at the time.
On the MLA (Manual Lending Account) it entirely depends on how long it takes to research the loans, and how much diversification you want.
As you can see by the screenshot below, it's easy to see how much money in each account is waiting for investment.
Who are we lending to through Assetz Capital?
For the purpose of this Assetz Capital review, the platform is a true Peer to Peer Lender where lenders are lending directly to borrowers, who are typically small to medium size British businesses. Loan agreements are between the lender and the borrower.
Is Assetz Capital Safe? – Loan Security
All loans are secured by property, business assets or personal guarantees from company directors. As far as Assets Capital in Peer to Peer lending, I think they are as safe (if not safer) than similar peer to peer lending platforms with property secured loans. They offer a lot of detailed loan information so you can decide how safe individual loans are.
The Assetz Capital website always gives good information on asset security. It lists all items on the loan page, and if you hover over the item, it gives further detail.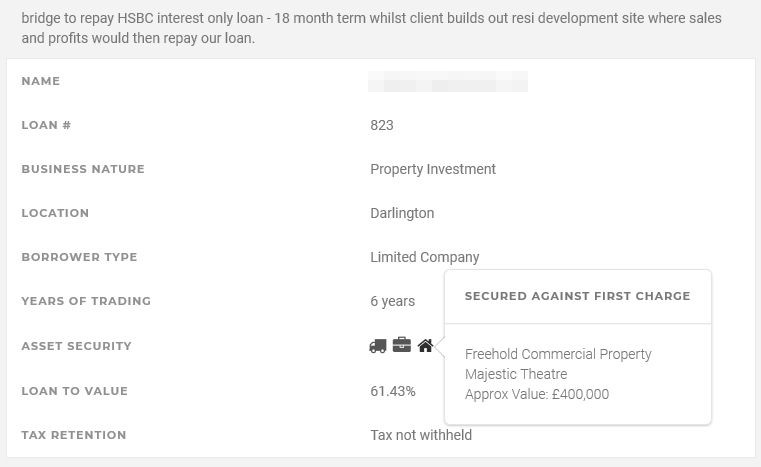 Default Rates – Is Assetz Capital Safe?
When researching this Assetz Capital review, I established an expected lifetime default rate of 5.5% with an actual rate of below 1.4%.
Non recoverable bad debt rate is what is really impressive though, at the actual rate of 0.6% & 0.00% for the last 2 years, meaning that so far they have been able to recover almost all of the lent capital. You can see current statistics here.
Do Assetz Capital Loans Amortize?
Most loans amortize, meaning you receive capital and interest payments every month.
When loans amortize, it reduces the risk compared to a non-amortizing loan, in which neither capital or interest is received until the end of the loan, or only interest is received monthly and then the capital repaid at the end of the loan period.
Amortization is paying off a debt with a standard repayment schedule in regular amounts over time. It is an book keeping technique used to reduce the cost value of an intangible asset little by little through scheduled payments.
It's easy to see if loans amortize and when loan payments have been made (when both interest and principle are paid). And when payments are due by drilling down in any loan listing.
How Can I Sell Loans and Withdraw Money from Assetz Capital?
As of the time of writing my Assetz Capital review, they don't charge an exit fee for selling loans under normal market conditions. However with the COVID situation, liquidity in the Quick Access Account dried up. So they had to implement a discounting structure to enable investors who needed to exit loans to be able to offer discounts in order to exit loans immediately. Already though things are almost back to normal so discounting is no longer necessary for smaller amounts of capital.
With the QAA under "normal market conditions", capital can be withdrawn from loans almost immediately, providing there is enough other lenders capital in the account to cover your loans (typically not a problem).
In the other auto-invest accounts, you will need to give either 30 or 90 days notice to withdraw funds depending on which account.
The MLA is hard to gauge. Exit time can vary as loans can only be sold to other investors. Meaning if and when another investor chooses to purchase the loans.
How Does Assetz Capital Diversify My Investment?
The platform takes care of diversifying loans in the auto-invest account. It is mostly good, however I have seen instances where it is possible to get a big chunk of capital in to a single loan.
In theory large loan chunks shouldn't matter because of the Assetz Capital Provision Fund, however the fund is discretionary (meaning they don't have to use it), and if it runs out, there could be a big chunk of capital go bad (default). This also applies to the Assetz Capital ISA account.
This doesn't worry me too much because the loans are asset secured with good LTV's. So, even if the loans were to go bad, I would more than likely be able to retrieve my capital.
If you get auto-invested into a loan with too much capital, you can always sell the loan on and diversify manually if you're not comfortable with it.
How Safe Is My Money with Assetz Capital? – Provision Fund
Assetz Capital's provision fund covers their auto-invest accounts including capital invested in the Assetz Capital ISA. It aims to cover up to 5% of interest and capital repayments from bad debt.
Under normal market conditions, this should cover any bad debt just fine, allowing the account to provide the indicated return rates.
The provision fund is discretionary though, meaning they don't "have" to use it if they don't think it is necessary. Although in my experience it hasn't been a problem. The fund has always paid when needed. See their T's & C's For more information on the provision Fund.
Is there a Tax Efficient Assetz Capital ISA Available?
The Assetz Capital ISA (Innovative Finance ISA) was launched in December 2017 for UK residents enabling potential tax free investments for Peer to Peer lenders. Read more about IFISA's here.
What Types of Investment Accounts Does Assetz Capital Offer?
Assetz Capital now has 4 different investment accounts. There used to be 6 accounts, however the GBBA (Great British Business Account) and the PSA (Property Secured Account) stopped accepting investment on the 13th of November 2019. This move actually made a lot of sense from a business perspective. The PSA was paying a rate of 5.50% and could take up to 5 years to exit. Also all Assetz Capital Loans now have asset security, so the PSA account no longer made sense.
The GBBA2 account again had lower liquidity, and lending rates were falling across the whole credit industry, so the 6.25% may not have been sustainable long term. Thus it made sense for Assetz to encourage investment into their accounts with better liquidity moving forward, even though the rates are a little less. The higher rates are still available in the MLA (Manual Lending Account) if that's what you're looking for, and Assetz have said they have no intention of changing that in the foreseeable future.
At the top of the accounts page on their website is displayed your average combined interest rates between all investment accounts.
The QAA is a really great option. It offers instant access to funds (under normal market conditions) contained within, similar to an easy-access bank account under normal market conditions. I have to say out of all the P2P lenders, the QAA sets Assetz Capital above the other options out there because it pays a reasonable return with instant access to your capital.
The other great thing about the QAA, when waiting to invest in the auto-lend accounts, money can be placed here to earn a fair return. This greatly minimizes cash drag on the other accounts.
Loan repayments from other accounts can also be swept here for the same reason.
Offers a little less percentage yield than the 90 Day Access Account. However under normal market conditions, Assetz Capital say you can make withdrawals with 30 days notice.
Offers a little more percentage yield than the 30 day account. Under normal market conditions, Assetz Capital say you can make withdrawals with 90 days notice.
With the MLA there are currently rates up to 15.00% available, however it takes time to invest and you need a little more experience with lending to know how creditworthy a company might be, and how good the asset security is.
So if you're not really interested in learning the ins and out of business credit, perhaps the auto-invest account are best (I personally use auto-invest accounts).
There is no provision fund on the MLA, so we are subject to direct defaults on this account. However if you choose loans with a good Loan to Value (LTV), you should be able to recoup most of your money eventually in the event of a default.
How Easy is the Assetz Capital Website to Use?
The loan listing page shows good initial detail on the loan and also LTV's for each loan.
If you drill down a bit further, you get even more details on each of the loans individually.
Should you choose to use the Manual Lending Account, please remember the "Prime Directive" and be sure to diversify accordingly as there is no provision fund.
Personally I don't like having more than 1% of my portfolio to any single loan, but providing the loan has a good LTV, I would go a little more with Assetz Capital as they have good asset security, and an excellent record of recovery with very low loss rates.
Summary – Assetz Capital Review
Assetz Capital is a good option for diversifying in the Peer to Peer lending space. They are a larger, experienced lender with several years of Peer to Peer lending under their belt. The website is easy to use & rates are reasonable for secured property loans. I personally only invest in their auto-invest portfolios, which allow faster access to capital when needed, require zero management time after initial investment, and they are covered by a provision fund. However these accounts pay lower return rates because of this.
To obtain the higher returns, you'll need to invest in the Manual Lending Account (MLA), however remember this account has no provision fund, so study loans accordingly. I hope you found my Assetz Capital Review useful.
The Assetz Capital ISA is another benefit for UK based investors if you're looking for potential tax free returns.
Points to Take into Consideration When Investing
Thumbs Up Points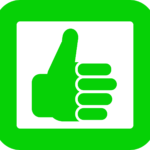 Safety – medium size company with a good track record and makes preservation of your capital one of their top objectives.
Auto-Invest – in all but one portfolio means virtually no time managing investments. Just send your money over and decide which portfolio you would like to invest in. Repayments can be reinvested automatically for hands off investing.
All Loans Asset Secured – better chance of capital return in event of default.
Great Rates – for a property secured auto-invest account, Assetz Capital interest rates are among the best in the business.
Website – the Assets Capital website is very comprehensive, but also very easy to use and understand once you get the hang of it. It can take a while to learn, it but once you get to know the interface it works well.
No minimum investment – if your portfolio is still small, it's still easy to invest with Assetz Capital. They have even put me in to loan parts of just 0.01p.
Quick Access Account (QAA) – is great for getting a good interest rate, especially for almost instantly accessible funds under normal market conditions (did have liquidity issues during pandemic).
Provision Fund – in the auto-invest account the fund should pay out on any defaults, although Assetz Capital does say that the fund is "discretionary" so it's good to keep that in mind.
Financial Conduct Authority (FCA) Regulated.
Assetz Capital ISA – available for UK investors – Assetz Capital ISA
Thumbs Down Points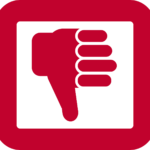 Cash Drag – there is currently more capital waiting to get invested into the Access Accounts than they have loans.
Manual Investment for Higher Returns – to get the higher returns, you need to invest in the MLA which is time consuming.
Provision Fund "Discretionary" – not guaranteed to pay out with every default.
Large Loan Chunks – keep an eye on the loans you get invested in through the auto-lend if you have a sizable account, as they seem to be lacking a bit of diversification when the account gets bigger.
Obvious Investor Risk Rating*
– 3/10 – Low-Med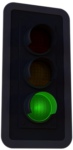 Is Assetz Capital Safe? I consider them to be at the lower to medium end of the risk scale.
Considering loans are secured, it's hard not to give them a lower risk rating. They also made it through the pandemic. However they are lending mostly to SME businesses, which are inherently more risky then lending to individuals, and their diversification is not always my favorite. I like Assets Capital a lot however and put a lot of trust in them.
Who Can Invest with Assetz Capital
Residents of most countries, who have a U.K. bank account (see Wise Borderless Account) who can pass the ID checks can invest with Assetz Capital. Contact Assetz Capital for further information.
Assetz Capital Cashback Offers & Signup Links**
Click here to Check for Assetz Capital cashback offers >>
Open Standard Investment Account >>
Open Assetz Capital ISA Retirement Account >>
Similar Lenders to Assetz Capital
Other UK Peer to Peer Lender Reviews
In this Proplend review I will provide in-depth information & background research on this P2P…
Disclaimers:
This page is presented for informational purposes only. I am not a Financial Adviser and therefore not qualified to give financial advice. Please do your own research and make your own investment decisions. Do not make investment decisions based solely on the information presented on this website.
* My opinions, reviews, star ratings and risk ratings are based on my personal investing experience with the company being reviewed. These ratings are personal opinions and are subjective.
** Some of the links on this website are affiliate referral links. When you click on these links, I can sometimes receive a commission, at absolutely no cost to you. This helps me to continue to offer new reviews & monthly portfolio updates here on my website. I don't receive commissions from all platforms and it has no effect on my ongoing opinions on investments & investment platforms. Income from my investments and capital preservation are my main motivations.
Platforms reviewed on this website I am currently investing with, or I have invested with in the past. You can see with full transparency on my Portfolio Returns page which assets & platforms I am invested with (or have previously been invested with) at any point in time. I am not paid a fee by any of the companies to write reviews, so the reviews are unbiased and purely based on my own personal experiences.
Please read my full website Disclaimer before making investment decisions.