Unbolted – Pros & Cons
PROs 👍
Great Returns – returns of 7% – 10% on secured, easily salable assets.
Auto-Invest makes for an almost hands-off investment experience.
Good Default Recovery – Unbolted have a good history of recovering on defaults.
CONs 👎
Smaller Company with no large corporate backing.
Basic Website – although easy to use, the website doesn't give much information
Cash Drag – larger sums can take a long time to become invested.
What is Unbolted?
Unbolted P2P is a UK Peer to Peer lender. Providing pawn shop-style loans on everything from gold jewelry and Rolex watches to diamond rings and imported art.
Offering upwards of 8% annual return on investment. Unbolted have a unique spin on Peer to Peer lending. Capital is loaned against various Items which are sent to Unbolted and stored at their premises as asset security.
Generally smaller, valuable items such as gold or diamonds which are easy to sell fast. This means when loans default, capital can be recovered very quickly.
They also lend against larger, more valuable items such as collector cars. However these types of items tend to be the exception rather than the rule. Unbolted have also started providing bridging and small business loans secured by business assets and Director guarantees.
Easy-Info Table© – Unbolted Review
Overall Rating*:
(4.4 / 5)
Who can invest:
Loan Currencies:
£
Estimated Return:
6% to 9.8%

Target Annual Return
(Platform Number):

8.40%

My Calculated XIRR:
My Current Investment:(click to see amount in £)

See My Investment £

Risk Rating*:
4/10 - Low to Medium
Early Exit:
Yes (for certain loans).
Some loans can be sold on secondary market.
Min. Investment:
£5
Deposit Funds:
By bank transfer. Usually takes 24 - 48 hours for BACS.
Can be same day for Faster payments.
Auto-Invest:
Yes
Manual Invest:
Yes
Lending To:
Agreements directly with borrowers
Loan Types:
Pawn Shop Loans. Bridging Loans.
Pre-Auction Financing. Small Business Loans.
Default Rates:
Not Published.
Loans Amortize:
No.
Loan Security:
Yes, some. Pawn Shop Items with Good LTV's (<75%).
Business loans secured by assets or
personal guarantees.
Provision Fund:
Yes. Discretionary Gold Provision Fund and Provision Trust.
See Review.
Time to Invest:
Medium depending on capital amount.
Time to Mange:
None (Auto-Invest).
Medium (Select-Invest)
Lender Fees:
No.
Payments Received:
Interest and Capital Received Monthly.
Amount Lent:
£50m +
Number of Investors:
Not Published.
Loan/Dflt Stats:
Not Published.
Regulated:
Yes: FCA
Location:
London, UK
Launched:
November 2014
Website:
www.unbolted.com
Email:
support@unbolted.com
Telephone:
0203 5671300 (UK)
IFISA/IRA:
Yes
Cashback**:
No Current Offers
Learn More >>.
How to Sign Up**:

Sign Up Here!
My Overall Experience With Unbolted So Far
Unbolted are still humming along and doing very well. Even better than before it seems. I keep getting repayments as agreed and defaulted items are still being sold. As I had thought, they are one of the companies that are benefiting from the COVID 19 situation.
The platform offers pawnshop style loans to the general public with very liquid assets. These types of assets can be sold very quickly upon default. Pawnshops typically do better in economic downturns than they do in times of prosperity as people will borrow against personal assets when they are unable to get an unsecured personal loans. LTV's are usually very low as defaults can be high, so pawnshops need to make sure they can always recoup capital.
I have been lending with the platform for a few years now, and although there have been many defaults, assets have always sold at more than the outstanding loan principle and I have always been paid back both principle and interest very quickly. Loans are short to medium term in nature so a complete exit can be had by turning off auto-invest within 3 to 12 months.
My Unbolted Investment Strategy
I'll continue to increase my investment as long as I'm not seeing cash drag. They came through the COVID situation without a hiccup, and still averaging around 8% return on my investments, so no complaints here. My XIRR is always updated automatically here in my Unbolted Review (in the Easi-Info© Table above) so you can always see my current return rate.
I was having trouble getting capital lent out again, more capital than available loans I guess, but it seems to be getting better now. I recently increased my investment again so we'll see if I can keep all capital invested moving forward.
Latest Update & Current State of Account
As cash drag was getting a bit better in December 2021, I sent over another £2k to see how long it took to get invested. Unfortunately, by January 20th 2022 I still had £1,700 waiting to be invested so I withdrew £1,000 and sent it elsewhere. Once I get down to almost zero cash balance again, I'll trickle over some more at that time.
Even with the recent cash drag, Unbolted are still averaging almost 8.5% returns, so really can't complain.
Unbolted are a great lender and I love the fact that they are not real estate property loans. Just something different to diversify into & they have a great track record. In case you're unfamiliar; Unbolted offer pawnshop style loans to the general public with very liquid assets. These types of assets can be sold very quickly upon default so the demand for Unbolted loans exceeds the available loans.
I have been lending with Unbolted for several years now, and although there have been many defaults, assets have always sold at more than the outstanding loan principle and I have always been paid back both principle and interest very quickly. Loans are short to medium term in nature so a complete exit can be had by turning off auto-invest within 3 to 12 months.
Below is how my account looked at the last update:
Account Screenshots
Latest Screenshots from my personal account.
Unbolted Return Charts
(Click on image for interactive chart)
Detailed Overview – Unbolted Review
When Did Unbolted Launch? – History
The Peer to Peer lending business was launched in November 2014 in London United Kingdom.
The platform does not publish their lending figures as far as amounts lent out. So I am unable to publish that information for this lender.
Their last filed financial accounts are publicly available from Companies House.
Is Unbolted Regulated?
Unbolted (AKA Open Access Finance Ltd.) are regulated by the UK's Financial Conduct Authority (FCA) with full permissions under FCA number 741896.
They gained FCA permissions in June, 2017.
It's important to note in this Unbolted Review that the FCA is not the same as the FSCS (Financial Services Compensation Scheme), so capital is not protected as it would be in a bank.
How Can I Signup with Unbolted? – Signup Process
Opening an investment account with is fairly easy. Just the usual ID and anti-money laundering checks. If they can verify you though one of the UK's credit agencies, you may be approved immediately. If not, you may need to send them a copy of your passport or driving license, and a utility bill or bank statement.
Any resident of the United Kingdom who is 18 years old or over can signup with Unbolted if they can pass the ID checks & anti-money laundering checks as of the time of writing my Unbolted Review.
A UK bank account is also required to signup.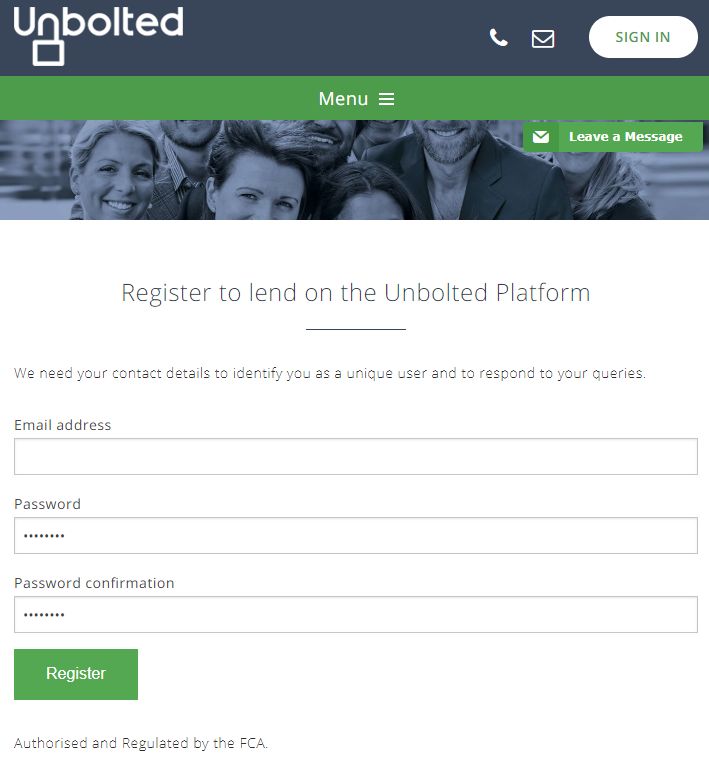 How To Deposit & Withdraw Money with Unbolted P2P
Deposits and withdrawals are made by bank transfer from any bank in the United Kingdom as of the time of this Unbolted Review.
Typically deposits show up in your account the same or next working day.
Withdrawals can typically take 1 – 2 business days.
The deposit and withdrawal screens are very simple.
Just Unbolted bank details for transfer in, and amount for transfer out.
Note: there is no confirmation after the withdrawal screen. Hit submit and it's happening.
How Long Does it Take to Become Invested with Unbolted?
The platform has both auto-invest and manual-invest accounts.
In the manual-invest accounts, it's very difficult to get good diversification as the loans are taken very quickly by manual investors, and there are not many of them.
Auto-lend is what most investors do I believe, so I just get in line with everyone else and let the auto-invest do it's job.
Capital has been getting lent out much faster recently with auto-invest, so I think it's a good option. I have also been able to pick up a few good loans with Manual Invest while writing this Unbolted Review and looking at my account.
Who are we lending to with Unbolted?
Unbolted is a true Peer to Peer Platform.
Lenders are lending directly to borrowers who are typically consumers with assets to pawn, or small to medium size British businesses (bridging loans against business assets are available).
Loan agreements are directly between the lender and the borrower. Unbolted just acts as a middle man, managing loans, payments and debt collection etc.
How are Loans Secured with Unbolted? – Loan Security
Unbolted provide pawn shop-style loans secured with assets, typically with LTV's of less than 75%. Gold, jewelry, art, antiques, pretty much anything that would historically have been taken to a pawn shop. The benefit to these types of loans is they are very easy to sell and retrieve capital on. I've had several loans default over the last couple of years and literally they are sold and the revenue back in my account with in days. Zero losses so far which is really good.
They also provide Sale Advance Loans, where they loan up to 50% of an items reserve auction value, Bid Now – Pay Later Loans, and business loans secured by company stock and/or Director personal guarantees:
Here is a list of a few of my current loans:
As you drill down into the loan information, it is easy to see the details on each individual loans.
Unfortunately, that is all of the information available on the asset.
No pictures or further information, so even if you were an expert on asset valuation, it would be difficult to make educated lending decisions in the manual lending account.
Personally I just use the auto-invest account and make sure the capital is well diversified. I trust the platform after dealing with them for a couple of years. They really do know what they're doing with these types of loans.
Do Unbolted Loans Amortize?
Most loans do not amortize as of the time of this Unbolted Review, as the loan terms are short (3 – 12 months typically).
Capital and interest are paid back at the end of the loan term, or the loans are sometimes renewed for another period.
You can see on the screenshot below, both principle and interest are being repaid at the end of the loans.
How to Sell Loans and Withdraw Capital with Unbolted
Recently they added the ability to sell (some) loans. It's not pretty but it works quite well. I tested one just now while writing this Unbolted review, and half of the loan was sold in a few seconds.
Not all loans can be sold. Even if a particular loan couldn't be sold, they are typically only 3 to 12 months in term anyway so you should be able to get most of your capital out within that time period if you set your auto-reinvest option to "off".
How is Capital Diversified in to Loans with Unbolted? – Diversification
Auto-Invest loans are diversified automatically when you initially invest.
Capital is spread between available loans in each loan portfolio.
In the auto-invest section of the website, you can set the amounts you want to invest in any single loan, and loan type.
As you can see from the screenshot below, I have my investment set to £25. That doesn't mean £25 is the amount that will be lent, it is the maximum.
I find that typically a much lower amount per loan gets allocated out, so here you can see why it has been difficult to get much money lent.
There is a little trick I came across to help with this. If you set the amounts to a much larger value than you really want lending out, I find that a larger amount gets put into each loan. I have my setting now at £1000 per loan. It increases the amounts lent out on each loan but it never gets close to the £1000 number. Be aware though, it technically could put the whole £1000 into a single loan, so that is a risk if you use this tactic. Not that I think that would be a terrible thing as loan recoveries are very fast and always cover the amount loaned in my experience.
These where my previous settings:
And these are my current settings which seem to be working well. You'll note I only put £5 into "Bespoke Loans", that's because most of them don't have provision fund protection so I don't want to get too much lent out with one of those. They are generally safe, but I'm not comfortable putting too much money into a single loan. See next section for a more detailed explanation.
Does Unbolted Have a Provision Fund?
There are no provision funds now. They used to have a Gold Trust fund, but that was removed as it was rarely needed. The platform does an excellent job of valuing assets it's lending on and I have always received both capital and interest from any defaulted asset sale.
Is There a Tax Efficient Unbolted ISA?
Unbolted offers an IFISA (Unbolted ISA) for residents of the United Kingdom as of the time of this Unbolted Review, enabling potential tax efficient investments for Peer to Peer lenders. Read more about ISA's here.
What is the Unbolted Website Like to Use?
The Unbolted website is very basic and easy to use.
It really only gives a few options. Buy manual loans, or set auto-lend options. Add or withdraw funds.
Frankly it's one of the less-impressive interfaces, but it does the job just fine. For 8%+ returns I can deal with a basic website.
The screenshots shown previously in the review, plus the one below are pretty much all that there are, so at least you won't get lost 🙂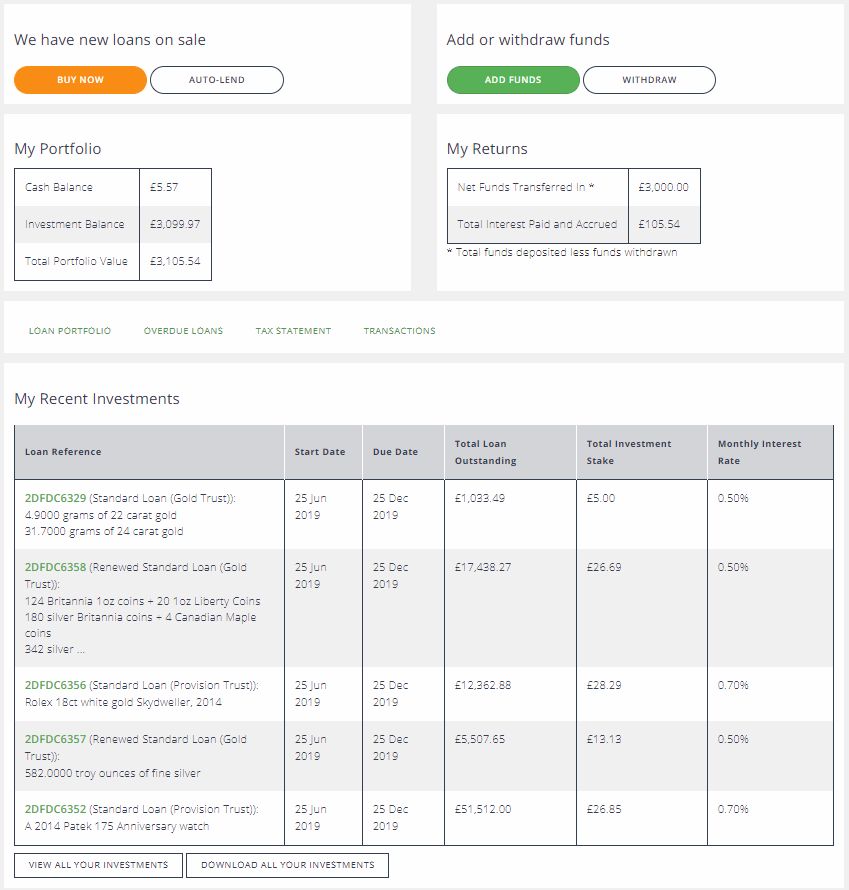 Summary – Unbolted Review
Overall I think Unbolted are a great option for diversification into unique assets. Lending on pawn items that are easy to sell upon default has its place when you have loans on property that can take months or years to sell if defaulted. They have a really good business in this area and they know what they are doing with these types of loans.
The auto-invest makes it easy for the lazy investor average rates of 7%-8% certainly are nothing to sniff at.
One issue is the possible cash drag because there are so few loans available, and so much capital waiting to be invested. You may be able to minimize this by using the method I outlined earlier in my Unbolted Review.
I keep adding more and more capital to my account as I am able to get it lent out. The good news is that lately the loan book has been growing so getting larger amounts of capital lent out is getting easier.
Points to Consider when Investing – Unbolted Review
Thumbs Up Points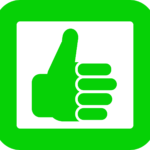 Good Returns – returns of 7% – 10% on secured, easily salable assets with provision funds is certainly worth taking note of. Considering some larger lenders are offering only 5% on non-secured assets, with no provision fund (cough Zopa).
Easily Salable Assets – secured with good loan-to-value numbers, which means that in the event of a default investors should be able to recover most of their investment relativity quickly.
Auto-Invest – I really don't see any other way to invest with this platofm, and once you're invested, it really is a hands-off investment.
Diversification – with the auto-invest account, the platform does a good job of spreading your investment over as many loans as possible based on your lending settings.
Low minimum investment – The minimum investment and you can put in to any loan type is £5, so if you don't have a lot of money to lend, you can still invest.
Good Default Recovery – good history of recovering on defaults, which is good to know when things go bad.
Financial Conduct Authority – (FCA) Regulated.
Unbolted ISA (IFISA) – tax efficient savings account available for investors in the United Kingdom – Unbolted ISA
Thumbs Down Points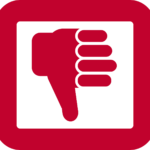 Smaller Company with no large corporate backing.
Cash Drag – larger sums can take a long time to become invested, so cash can sit un-lent making no returns for days or weeks. My tip about setting investment values earlier can help with this though.
Asset Information – not much information at all on the assets you're lending on, making manual investing even more difficult.
Basic Website – although easy to use, the website doesn't give much information for choosing loans and automating investments.
Obvious Investor Risk Rating*
– 4/10 – Medium
Is Unbolted Safe? I consider them to be in the low to middle area of the risk scale.
Even though they are a smaller company, loans are secured with easily salable assets at very low LTV's. I've been lending with the platform for several years now. I've seen many defaulted items, but I have yet to lose a penny. Unbolted TrustPilot Review gives them a "Great" rating too, which I agree with.
Who Can Invest with Unbolted
Residents of the United Kingdom who have a U.K. bank account can invest. Contact them for further information.
Unbolted Cashback Offers & Signup Links**
No unbolted cashback available at this time.
Click here to check for new Unbolted cashback offers >>>
Signup for Standard Account >>
Similar Lenders to Unbolted
Other UK Peer to Peer Lender Reviews
In this Proplend review I will provide in-depth information & background research on this P2P…
Disclaimers:
This page is presented for informational purposes only. I am not a Financial Adviser and therefore not qualified to give financial advice. Please do your own research and make your own investment decisions. Do not make investment decisions based solely on the information presented on this website.
* My opinions, reviews, star ratings and risk ratings are based on my personal investing experience with the company being reviewed. These ratings are personal opinions and are subjective.
** Some of the links on this website are affiliate referral links. When you click on these links, I can sometimes receive a commission, at absolutely no cost to you. This helps me to continue to offer new reviews & monthly portfolio updates here on my website. I don't receive commissions from all platforms and it has no effect on my ongoing opinions on investments & investment platforms. Income from my investments and capital preservation are my main motivations.
Platforms reviewed on this website I am currently investing with, or I have invested with in the past. You can see with full transparency on my Portfolio Returns page which assets & platforms I am invested with (or have previously been invested with) at any point in time. I am not paid a fee by any of the companies to write reviews, so the reviews are unbiased and purely based on my own personal experiences.
Please read my full website Disclaimer before making investment decisions.