Ablrate Review
Updated on
12%+ Annual Returns Easily Obtainable By Lending On Secured Assets Like Private Jets & Power Generating Stations! – Ablrate P2P Review
My Lending Experiences & Actual Investment Returns Published Monthly Below.
What is Ablrate?
Ablrate is a smaller size, UK based Peer to Peer lender. 
Providing loans mostly to businesses on a selection of interesting assets from private jets, luxury yachts and power generating stations, to property development and bridging loans.
Offering annual returns of up to 15% on secured loans, Ablrate have a unique spin on Peer to Peer lending and offer some of the best rates in the business for secured lending.
Ablrate's loan flow is unfortunately quite slow, so it's hard to diversify into a lot of different loans. This means you will need to do due diligence on each loan you decide to invest in to ensure you are comfortable with the asset value provided and the terms available for the loan. 
That being said, Ablrate P2P have a very good reputation and history with the Peer to Peer lending community and their loans are known as some of the safer asset secured loans where borrowers are vetted very well by Ablrate with very in-depth due diligence.
Ablrate are also known for having very good default recovery success on the limited number of loans that have defaulted on their platform.
My Experience With Ablrate So Far……..
My experience with Ablrate has been good so far. I started out small in order to see how they were and study their high paying loans and how safe they are.
Now after lending with them for several months, I am realizing that Ablrate are a great find. So much so that I have increased my investment in them five fold (in January 2020) and will continue to add capital as new loans come out up to my diversification limit.
Although they are a viable investment option for very good returns. Lending out larger amounts of capital will either take a reasonable knowledge of asset value, and understanding of corporate accounts and credit risks etc. Or, as more is the case with me, a high level of trust in the Ablrate team and platform, that they will do the best due-diligence on my behalf. Then be sure do diversify appropriately. 
As I have become more comfortable with Ablrate, watching their loans, and more importantly communicating with their team. I am getting that level of comfort which has allowed me to increase my investment significantly.
As mentioned earlier, their rates are some of the best in the business for asset secured loans, so it would be hard to let the opportunity pass.
Click here to see account screenshots and the latest monthly update.
Ablrate –

Return On Investment

 

Charts
View Consolidated Monthly Investment Returns from All Lenders
Click Here to See Screenshots & Detailed Monthly Updates From My Personal Ablrate Account
The 

Obvious Investor

– Easy-Info Table© – Ablrate Review
Overall Rating*:
(3.6 / 5)
Who can invest:
Loan Currencies:
£
Estimated Return:
6% to 15%

My Actual Return
(Per Lender):
12.00%
My Calculated XIRR:
13.11%
Risk Rating*:
5/10 -Medium
Early Exit:
Yes.
Secondary Market.
Min. Investment:
£1 for account.

Min Amt Per Loans Varies.
Deposit Funds:
By Bank Transfer or Debit Card.

Usually same day.
Auto-Invest:
No
Manual Invest:
Yes
Lending To:
Agreements directly with borrowers
Loan Types:
Various Asset Secured Loans.

Corporate Aircraft, Generating Stations,
Property Development etc.
Default Rates:
Not Published.
Loans Amortize:
Some do but not all.

Some interest only.
Loan Security:
Yes, most loans asset secured.
Provision Fund:
No
Time to Invest:
Manual
Time to Mange:
Manual
Lender Fees:
No.
Payments Received:
Interest or Interest and Capital Received Monthly.

Depending on loan type.
Amount Lent:
Not Published.
Number of Investors:
Not Published.
Loan/Dflt Stats:
Not Published.
Regulated:
Yes: FCA
Location:
Henley-on-Thames, UK
Launched:
August 2014
Website:
www.ablrate.com
Email:
[email protected]
Telephone:
01491 410 400 (UK)
IFISA/IRA:
Yes. ISA
Cashback**:
Yes! £50 cashback for £1,000 investment
Use this referral link to qualify for Ablrate cashback >>
How to Sign Up**:
Sign Up Here!
Some of the links on this website are affiliate referral links. For cashback offers, you'll generally need to use these links to qualify for the cashback. If you use these links I can sometimes receive a commission, at absolutely no cost to you. This helps me to run the website, write new platform reviews and publish monthly portfolio updates. I don't receive commissions from all lenders, and it has no effect on my ongoing opinions on platforms, which are entirely focused on generating Income from my investments and preserving capital.
Ablrate Review – Overview
History
Ablrate's Peer to Peer business was incorporated in February 2014 and their platform was launched in July 2014 in Henley-on-Thames, UK.
Ablrate do not publish their lending figures as far as amounts lent out and default statistics. So I am unable to publish that information for this lender.
Their last filed financial accounts are publicly available from Companies House.  
Regulation
Ablrate P2P (AKA Aviation and Tech Capital Ltd.) are regulated by the UK's Financial Conduct Authority (FCA) with full permissions under FCA number 724444  
They gained FCA permissions in March, 2017.
It's important to note that the FCA is not the same as the FSCS (Financial Services Compensation Scheme), so capital is not protected as it would be in a bank.
Signup Process – Ablrate Review
Opening an account with Ablrate is fairly easy. Just the usual ID and anti-money laundering checks.
If they can verify you though one of the UK's credit agencies, you may be approved immediately. If not, you may need to send them a copy of your passport or driving license, and a utility bill or bank statement.
Any resident of the UK who is 18 years old or over can signup with Ablrate if they can pass the ID checks & anti-money laundering checks.
A UK bank account is also required to signup. 
Deposits & Withdrawals
Deposits are made by bank transfer from a UK bank or a debit card drawn on a UK bank.
Typically card deposits are in your account immediately and bank transfers show up in your account the same or next working day.
Withdrawals are directly to a UK bank and can typically take 1 – 2 business  days.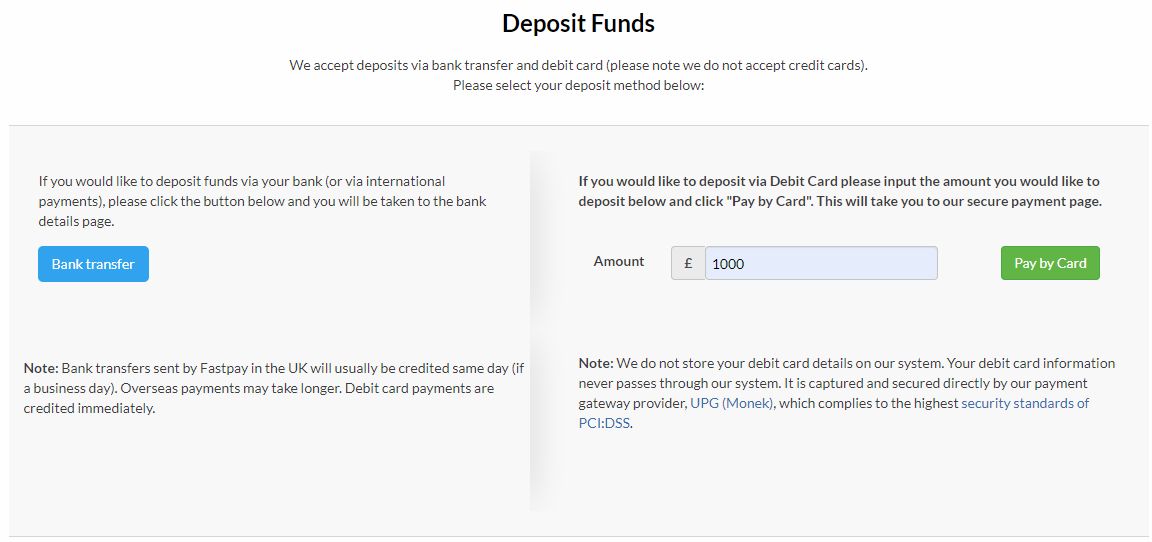 Time to Become Invested – Ablrate Review
Ablrate P2P loans are all self-select manual investments. No auto-invest accounts. So loans must be selected and invested into individually.
When you choose "Available Loans" from the main screen menu, you can see loans that are still available for investment on the primary market.
As you can see in the screenshot above, there are currently only two loans available for investment. One of the loans is a standard Self Select Loan, and the other is an Ablrate Portfolio Loan.
Portfolio Loans are a new type of loan offered by Ablrate P2P. The description of how these loans work are here on Ablrate's website and an overview is below.
Who are we lending to?
Ablrate is a true Peer to Peer platform.
Lenders are lending directly to borrowers who are typically small to medium size British businesses.
Loan agreements are directly between the lender and the borrower. Ablrate just acts as a middle man, managing loans, payments and debt collection etc.
Loan Security – Ablrate Review
Ablrate provide very good and detailed information about their loans, including detailed explanations of the deal and descriptions of assets, including LTV's and all documents associated with the valuation.
Also available are borrower credit documents and all other documentation relating to a specific asset such as ecological reports and flood assessments depending upon the asset in question.
Here is a list of a few of my current Ablrate P2P loans:
You can see the top-level information on each loan. And when you drill down, you can see the detailed information is still available, and it is updated regularly.
I know this is probably one screenshot too many for a review, but I wanted to show the different loans available, and who doesn't want to brag that they own (part of) a private jet. Even if it is being broken up for parts 🙂
You'll notice below the red number "1" indicating a new document is available for this loan. 
Again if you switch to the "Documents" tab, you'll see that a new document is available for download (in this case the document was added in 2018 but it was after the loan was established).
Amortization
Many of Ablrate's loans amortize, meaning you receive capital and interest payments every month. Many loans are interest only though, mostly the shorter term bridging loans and capital equipment loans. The interest only loans tend to have higher return rates associated with them as they are typically classed as higher risk.
When loans amortize, it reduces loan risk compared to a non-amortizing loan, in which nothing is received until the end of the loan period, or only interest is received monthly and then the capital repaid at the end of the loan period.
Amortization is the paying off of debt with a fixed repayment schedule in regular installments over time. It is an accounting technique used to lower the cost value of a finite life or intangible asset incrementally through scheduled charges to income.
It's easy to see if Ablrate's P2P loans amortize from the detail on the loans listing screen where it is clearly marked.
Selling Loans and Withdrawing Capital – Ablrate Review
Selling loans is done through their Secondary Market. Ablrate have a very active secondary market where you can buy and sell loans.
There is even the ability to bid on loans at a price you want to pay.
Or offer loans you want to sell at a price you're comfortable with. 
The Ablrate P2P secondary market is a little complicated. However once you get the hang of using it, it's not so bad.
It is actually very versatile once you understand it. Enabling you to name the price you want to pay for a loan through bidding.
I actually bought most of my loans on the secondary market.
I placed low-ball bids on some loans which got accepted after a couple of weeks. This makes the actual return rate higher than it would have been purchasing the loans when they were initially offered. You can see on the bids and offers screen what rates are equivalent to different sales and purchase prices.
Diversification – Ablrate Review
Because Ablrate loans are all self-select loans, diversification is a manual process.
As mentioned previously, although Ablrate  loans are very well secured, their loan flow is not huge. So if you have a lot of capital to invest, you're going to end up with more than you would probably like to have in each loan.
So best to make sure you do due diligence to a level your comfortable with before investing any of your hard-earned capital.
Provision Fund
There is no provision fund with Ablrate.
You are relying on your ability to seek out safe profitable loans, and the asset security on the loan it'self in case of default.
Retirement Account – Ablrate Review
The Ablrate ISA was launched in August 2017 for UK residents enabling tax free investments for Peer to Peer lenders.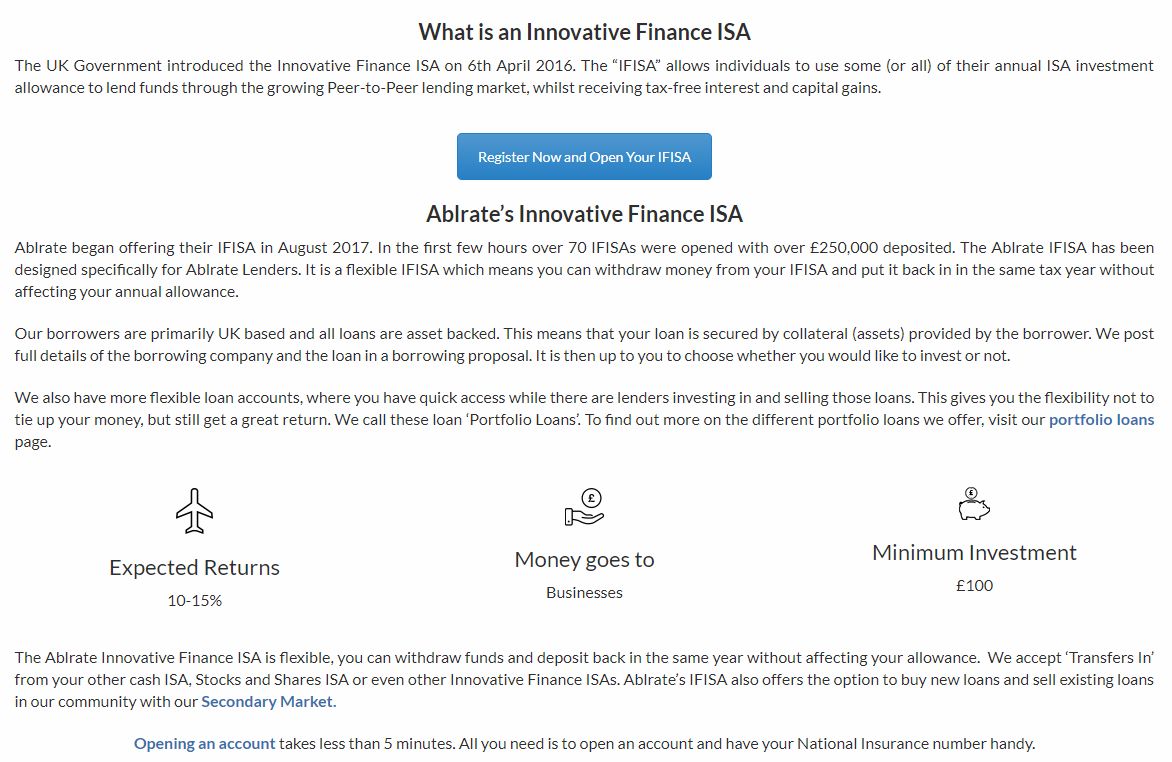 Website – Ablrate Review
Ablrate's website is relativity easy to use. Everything makes sense and is easy to access.
All of the account information is right there in front of you on the main account screen all laid out in a manner which is self explanatory.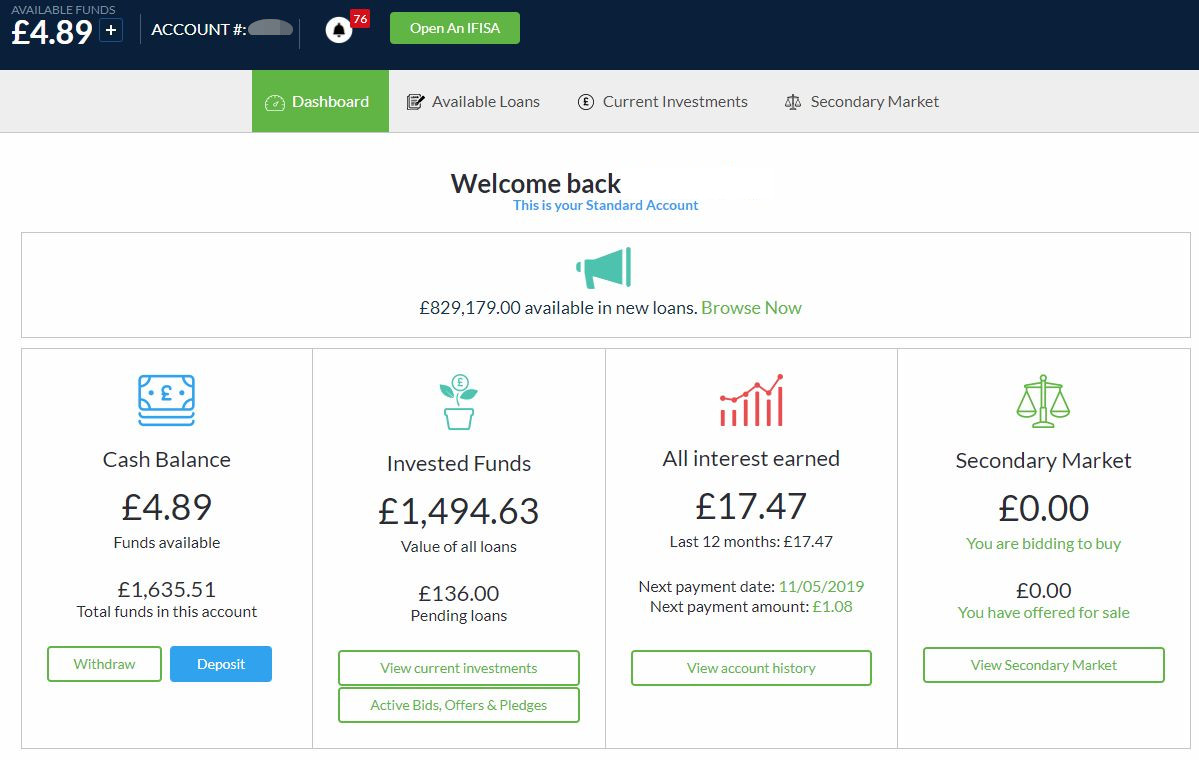 Summary – Ablrate Review
Overall I think Ablrate's P2P loans are a good option for diversification with high rates achievable if you take the time to do due diligence on each loan.
All of Ablrate's loans are secured by assets typically with good LTV's (Loan to Value ratios). So even if you were to make a mistake on a loan, you would likely still get your capital back. It just might take a while if it has to go through a long legal situation.
I do intend to add more capital to my Ablrate account to see how the lending goes as I learn more about them. I will increase the amounts as and when I become more comfortable.
Thumbs Up Points for Ablrate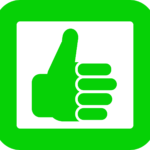 Good Returns – returns of 6% – 15% on secured assets with good LTV's.

Interesting Diverse Loans – loaning on items like private jets and boats is out of the norm for Peer to Peer lending, so it enables you to diversify away from the typical bricks & mortar assets.

Low minimum investment – There is no minimum to open an account. Minimum investment in loans is on a case-by-case basis but is typically small.

Good Default Recovery – Ablrate have a good history of recovering on defaults, which is good to know when things go bad.

Retirement Account – the Ablrate ISA is available for tax free investing.

Financial Conduct Authority – (FCA) Regulated.
Thumbs Down Points for Ablrate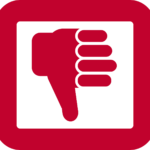 Smaller Company – with shorter track record, launched in 2014 Ablrate are still proving themselves.

Low New Loan Flow – Loan flow is very sporadic.  I've only been lending with them for a few months but loans have averaged only one new loan per month so far.

Smaller Loan Book – This is really just a function of the last bullet point, not many loans with too many investors trying to get them.

Secondary Market Complex – can take a while to get familiar with using the secondary market.

Although

 once you do, it's very flexible.

Manual Investing Only – time consuming and requires due diligence to pick out the best loans.
Risk Factor – 5/10 – Medium
Is Ablrate Safe? I consider Ablrate to be in the middle area of the risk scale.
Even taking in to consideration that loans are asset secured, they are still a small company. Plus with a smaller loan-book means it's harder to diversify to minimize risk. There is the secondary market to help with this though.
Who Can Invest with Ablrate
UK residents with a U.K. bank account can invest with Ablrate. Contact Ablrate for further information.
Offers & Signup Links**
Use the link below when you sign-up with Ablrate and receive £50 cashback on your first investment of £1000 or more.
Similar Lenders to Ablrate
Unbolted, Funding Circle, Lending Crowd
Click here to get my complementary Top 4 Lenders List
Click here to receive a free copy of my P2P Lender Tracking Spreadsheet
New to Peer to Peer Lending?
Learn About Peer to Peer Lending
Ready to Get Started Lending?
Disclaimers:
* My opinions, reviews, star ratings and risk ratings are based on my personal investing experience with the company being reviewed. These ratings are personal opinions and are subjective. You should do your own research before investing any capital and not base investments solely on the opinions published on this site. 
**  Some of the links on this website are affiliate referral links. When you click on these links, I can sometimes receive a commission, at absolutely no cost to you. This helps me to continue to offer new reviews and monthly portfolio updates here on my website. I don't receive commissions from all lenders and it has no effect on my ongoing opinions on lenders. Income on my investments and capital preservation are my main motivations.
Platforms reviewed on this website I am currently investing with, or I have invested with in the past. You can see with full transparency on my Lending Returns page which lenders I am invested with (or have previously been invested with) at any point in time. I am not paid a fee by any of the companies to write reviews, so the reviews are unbiased and purely based on my own personal experiences.
Please read my full website Disclaimer before making investment decisions.