Lending Works Review
Lending Works review, based on my ongoing lending experiences with one of the UK's safest Peer to Peer lenders.
– Review Updated October 2018
Lending Works is a medium to large Peer to Peer lender. Offering up to 6% returns, with little to no time required to manage investments. Loaning capital to consumers for personal loans, debt consolidation, car finance, home improvement, wedding loans and holiday loans among others. Lending Works is one of the safer Peer to Peer lenders out there and a good option for investors looking for a hands-off investing experience with reasonable returns for the risk.

My Actual Account Growth
See consolidated returns for all lenders here
The Obvious Investor

– Easy-Info Table
Overall Rating*:
(4.2 / 5)
Who can invest:
Estimated Return:
4.5% to 6.0% depending on account.
My Actual Return (Per Lender):
6.02%
My Calculated XIRR:
4.08%
Risk Rating*:
3/10 - Low
Early Exit:
Yes. Exit fee is the greater of 0.6% of the amount or £20
Min. Investment:
£10 minimum classic accounts. £5000 ISA
Deposit Funds:
UK bank account 24-48 hours.
Debit card - usually same day.
Auto Invest:
Yes
Manual Invest:
No
Lending To:
Borrowers
Loan Types:
Personal consumer loans.
Debt consolidation, car finance, home improvement,
wedding loans and holiday loans among others.
Default Rates:
Bad debt at 2.2% against an estimated rate of 3.8%.
No lender has lost capital.
Loan Security:
No
Provision Fund:
Yes: Lending Works Shield. One of the best in the business.
Loans Amortize:
Yes. Full amortization.
Time to Invest:
Medium: Can be up to 2 weeks depending on loan supply.
Time to Mange:
None (auto-invest).
Lender Fees:
No.
When are Payments Received:
Monthly. Various times.
Amount Lent:
£130m +
Number of Investors:
5000+
Loan/Dflt Stats:
Click Here for Stats
Regulated:
Yes: FCA #723151
Location:
London, UK.
Launched:
Jan 2014
Website:
https://www.lendingworks.co.uk
Email:
[email protected]
Telephone:
020 7096 8512 (UK)
IFISA/IRA:
Yes: IFISA
Cashback**:
Yes! £50 Cashback! Click here for further information.
How to Sign Up**:
Sign Up Here!
History
Lending Works launched in January of 2014. In the 4 years or so they have been in business, they have lent almost £130m to consumers throughout the UK. They have almost 5000 active investors with an average account value of almost £22,000 per lender. Loans have an average diversification of 250 loans per lender.
Regulation
Lending Works are regulated by the UK's Financial Conduct Authority (FCA) with full permissions under FCA number 723151.  They gained FCA permissions in October, 2016. It's important to note that the FCA is not the same as the FSCS (Financial Services Compensation Scheme), so capital is not protected as it would be in a bank.
Signup Process
Opening an account with Lending Works is fairly easy. Just the usual ID & anti money-laundering checks. If they can verify you though one of the UK's credit agencies, you will be approved immediately. If not, you may need to send them a copy of your passport or driving license, and a utility bill or bank statement. Residents of any European country can signup with Lending Works, however you will need UK bank account details. If you don't have a UK bank account, see my TransferWise Borderless Account review for more information on how it may be possible to get UK banking details if you're not a UK resident.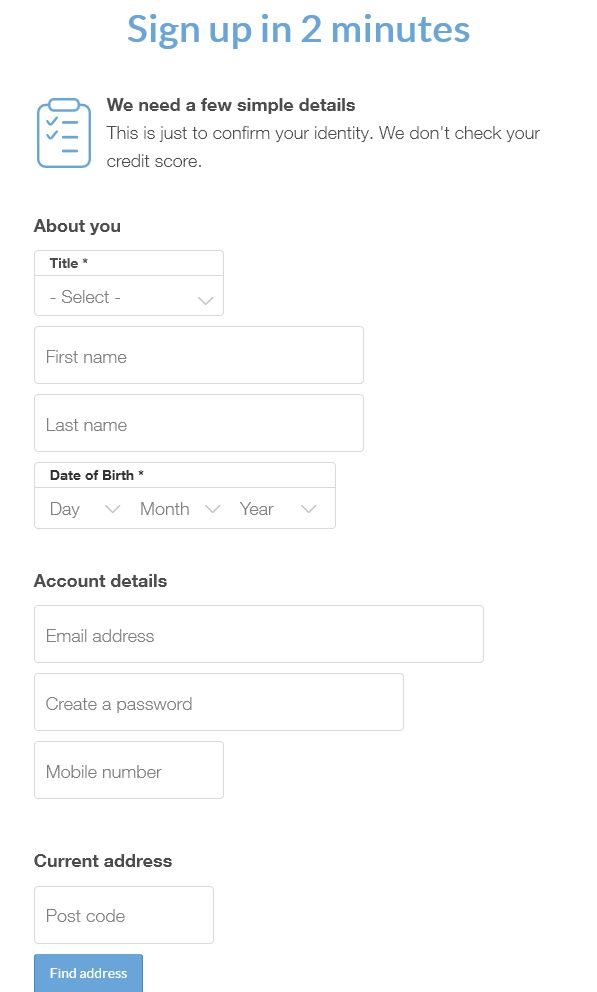 Deposits & Withdrawals
Deposits and withdrawals are made by bank transfer from a UK bank, or a UK debit card. From a bank account, deposits usually show up in your account the same or next working day. Debit card deposits are typically the same day depending on what time you make the deposit. Withdrawals are only to a verified bank account and typically take 2 – 3- business  days.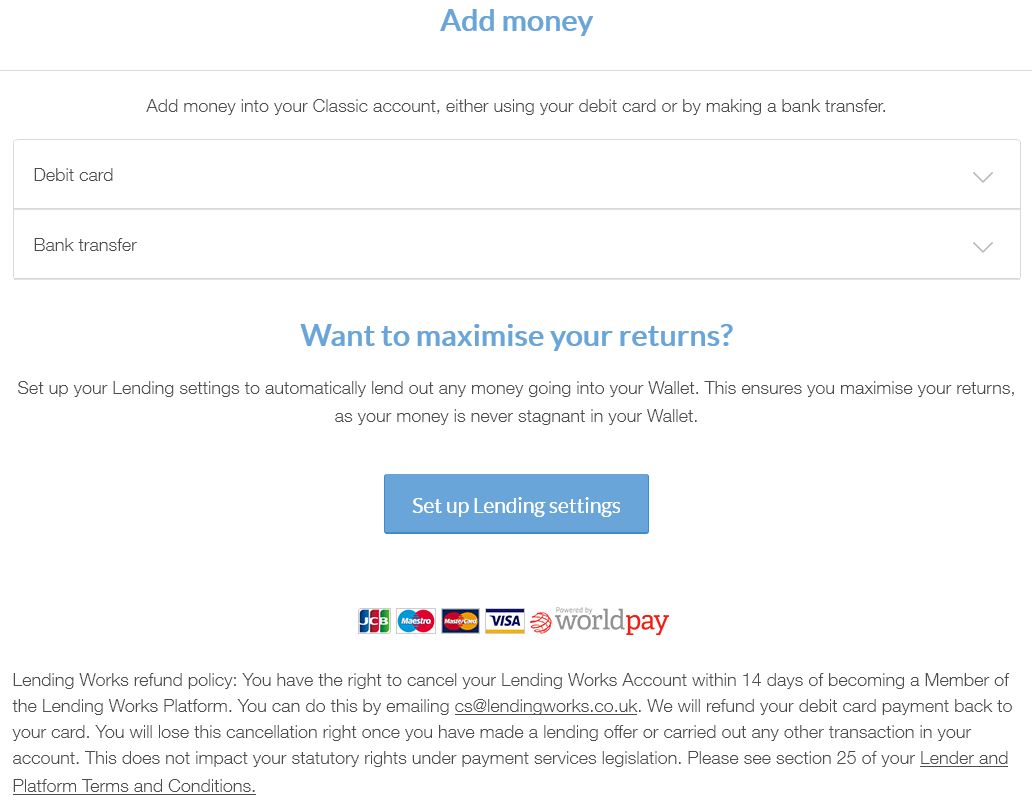 Time to Become Invested
It can take a few days, to a couple of weeks to get funds completely invested in to Lending Works loans. Their loans are in heavy demand so there can be a lot of money in the queue before you. New funds always fall behind reinvested funds in the queue, which is good once you are fully invested, but not so good when you first deposit your funds. Lending Works do not pay interest on un-invested funds.
It's always easy to see where your capital is in the queue, along with an estimate of how long it's going to take to get invested.
Who are we lending to?
Lending Works is a true Peer to Peer Platform. Lenders are lending directly to borrowers. Lending Works just acts as a middle man, managing loans, payments and debt collection etc. Lending works provides loans to consumers for personal loans, debt consolidation, car finance, home improvement, wedding loans and holiday loans among others.
Loan Security
Lending Works loans are mostly unsecured personal loans to credit-worthy borrowers.
Default Rates

Lending Works lifetime bad debt rates currently stand at 2.2%, against an estimated rate of 3.8%.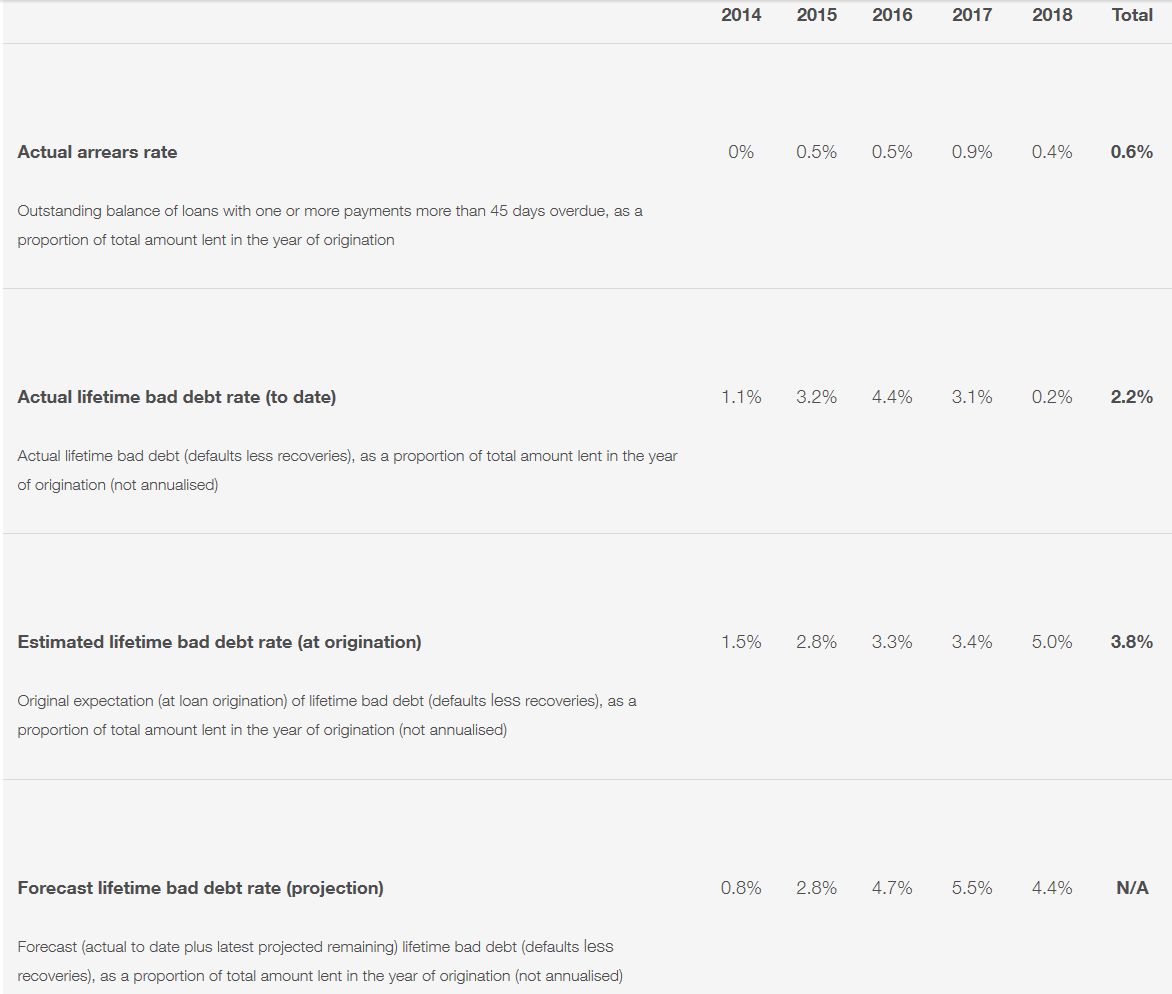 Amortization
Generally Lending Works personal loans all amortize.  Amortization is the paying off of debt with a fixed repayment schedule in regular installments over time. Amortization reduces the risk of the loan compared to a non-amortizing loan in which nothing is received until the end of the loan period, or only interest is received monthly, and then the capital repaid at the end of the loan period.
If you list the loans that your capital is invested in on the Lending Works website, you can see that both capital and interest are being repaid.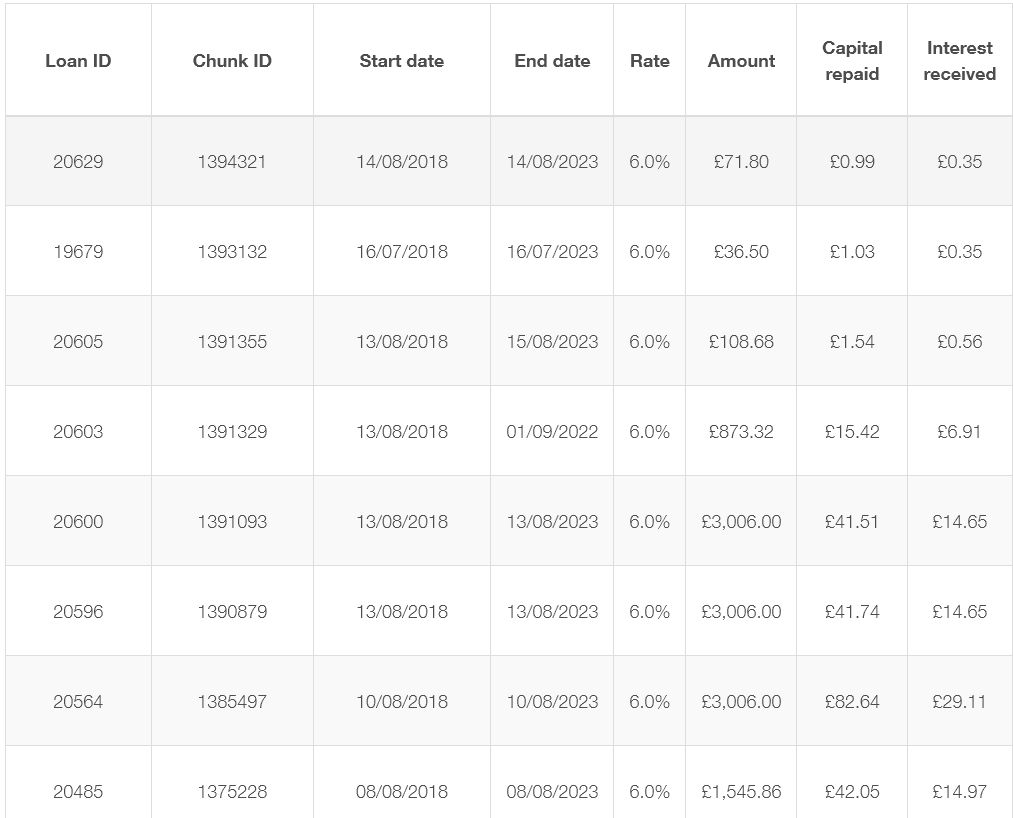 Selling Loans and Withdrawing Capital
Lending Works charges an exit fee for withdrawing capital early. It is the greater of either 0.6% of the amount, or £20. It can take anywhere from a few minutes to a few days to sell loans and withdraw capital in normal market conditions.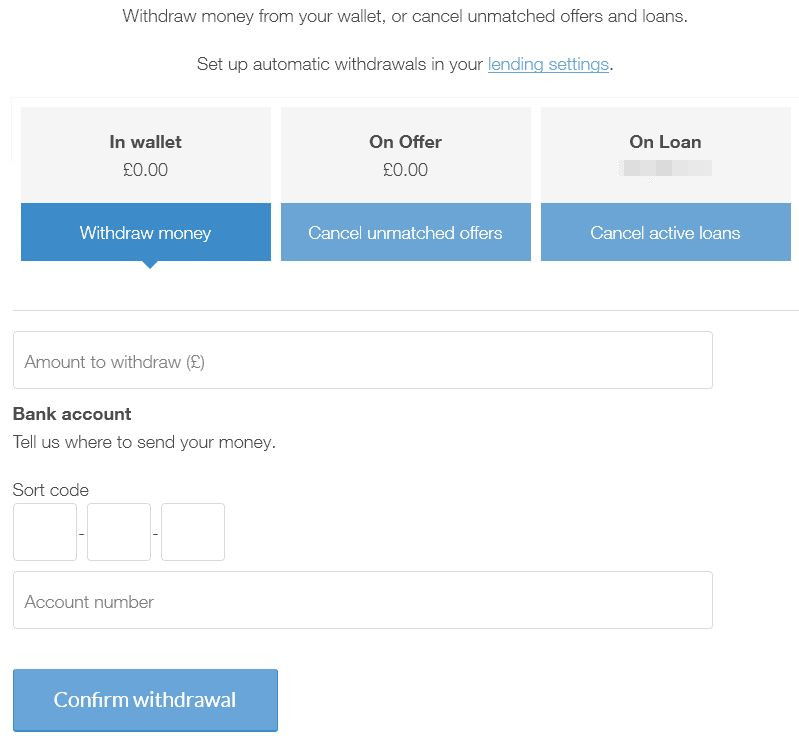 Diversification
Diversifying loans is something Lending Works does automatically. Because of the way their platform works, diversification is all done in the background. Diversification is not as important with Lending Works as it is with some other platforms as they have the Lending Works Shield, part of which is designed to diversify risk automatically for all investors.  See below under "Provision Fund" for more information.
Provision Fund
Lending works Provision fund is called the "Lending Works Shield" and is one of the best in the business. It protects its investors from bad debt and defaults in a few ways. The first is it's reserve fund that covers every consumer-funded loan in case of late payments or default. Next is a very unique insurance policy that is backed by 3 of the UK's largest insurance companies. Each with a balance sheet of more than £2bn. The insurance policy protects and pays the borrowers loan payments in the event of loss of employment, accident or sickness. Or in the unfortunate event of the borrower's death.
Another protection with Lending Works is that if there is a default that the shield somehow can't cover, and capital was to be lost (has never happened so far), the defaulted investments would be put in to a pool and each investor would be party to that loss. This takes away the focus from a few investors that were part of the loan. Obviously it is beneficial because it spreads the losses between thousands of investors, instead of just a few having to take a big hit. Another point that Lending Works likes to note is their rigorous borrower screening process and higher credit-quality borrowers.
Retirement Account
Lending Works offers an Innovative Finance ISA which was launched in January 2017 for UK residents. The minimum investment for their ISA is £5000.
Website
The Lending Works website is easy to use. You simply choose which account you want to lend with, the term, then put money in to the "offers" wallet, and that's it! Don't forget to set reinvestment to reduce cash drag.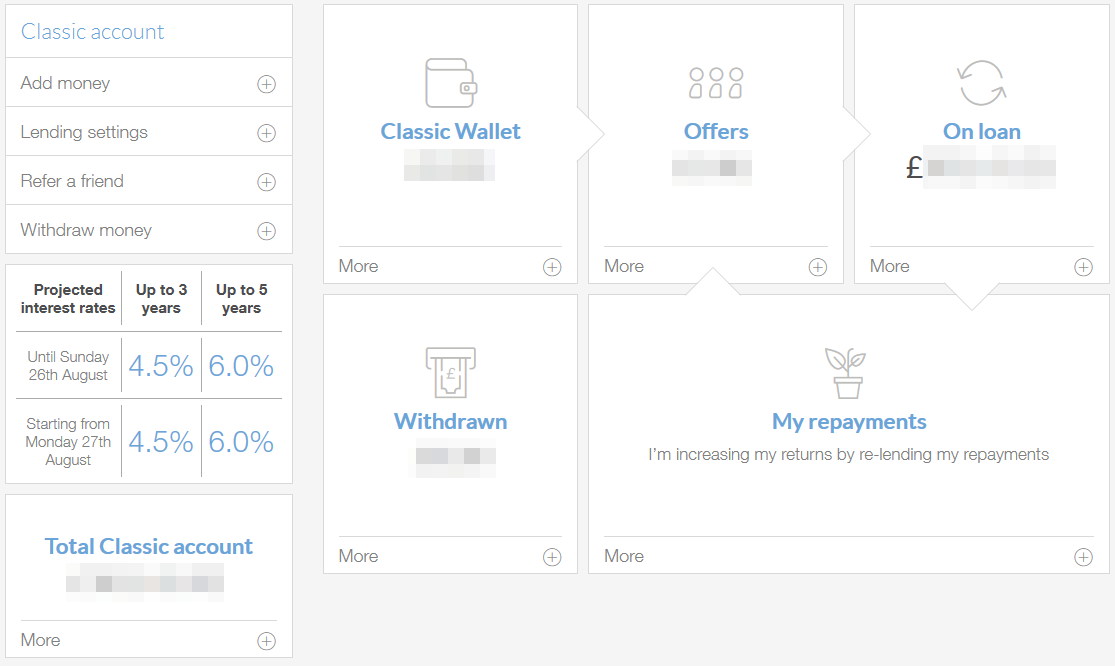 Lending Accounts
There are 2 lending accounts. The first currently offering 4.5% return for loans up to 3 years. The second is a portfolio offering 6% for loans up to 5 years (as of October 2018).  Withdrawing your capital from Lending Works before the end of the loan agreement period will require a 0.6% payment of the amount withdrawn.

It's easy with Lending Works to see what loans you're invested in:
However that's all the information on the loan you get access to. I think that's ok though because as it's all automatic investing through Lending Works, even if you had more information on the loan, what difference would it make because it's not like you had any part in making the decision on investing in it. Plus everything is covered by the Lending Works Shield which spreads any loan losses between all investors.
Summary
I use Lending Works as part of my overall diversification strategy. Lending works are a safer, legit peer to peer lender. The loan return rate of 6% is very good considering their safety record (no lender has ever lost capital). I also like that they mostly loan to consumers as most of the peer to peer lenders seem to be leaning more towards businesses. Business lending is inherently more dangerous than lending to consumers, and diversification between loan types is a welcome part of lending.
Thumbs Up Points for Lending Works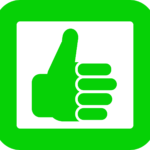 Safety – Lending Works is thought to be one of the safest P2P lenders in the U.K. To date, no lender has lost any of their capital, and the"Shield" always seems to cover all possible losses

Auto-Invest – means virtually no time managing investments. Just send your money over, decide which portfolio you would like to invest in (3 year or 5 year). Once your money is invested (can take a couple of weeks), set the reinvestment switch, and you can sit back and watch the interest come in!

Good Rates – from one of the larger, safer peer to peer companies, the ability to get as much as 6% (as of 08/18) is not too bad at all.

Website – the Lending Works website is very easy to use and understand. Some P2P websites leave a lot to be desired.

Large Investments – because the Lending Works loan book is big, it can easily gobble up large amounts of capital, again reducing cash drag for larger investors.

£500 minimum investment – if your portfolio is still small, it's still easy to invest with Lending Works

Financial Conduct Authority (FCA) Regulated.

Innovative Finance ISA (IFISA) available for UK investors
Thumbs Down Points for Lending Works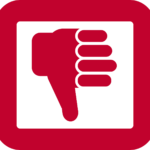 Initial Investment Time – It can take a couple of weeks to get your money invested initially. Depending on how much money is in line before yours. Reinvestment (repayments from prior loans) are invested in the new loans before new money is invested. This is a good thing once your in to the system, but can slow things down a bit for a new investor.

Exit Fees  – Lending Works charge a .06% or minimum £20 (plus any difference in rates between current rates and the rates of the loan you are selling).  This can be seen as a bit of a negative, but where else can you get 6% return on your money and still be able to get out in an emergency?

Unsecured Loans – many (but not all) of the Lending Works loans are unsecured loans given to individuals or businesses, so if things were to go bad, you don't have any collateral. In theory the Shield  should take care of defaults, so this shouldn't matter. In practice though, no one will know how this works until we go though another recession.
Risk Factor – 3/10 – Low – Medium
I consider Lending Works to be on the lower end of the risk scale. Stopping Lending Works from a lower rating is the fact that many of its loans are unsecured. In most market conditions this is irrelevant, but in a severe recession it could come in to play, even with their Shield. Either way, I have no worries about investing a significant portion of my portfolio with Lending Works.
Who Can Invest with Lending Works?
Residents of most European countries with a U.K.  bank account (see review on TransferWise Borderless Account) can invest with Lending Works. Contact LendingWorks for further information.
Offers & Signup Links**
New Customers receive £50 cashback when they join Lending Works and invest £1000 or more using the links here on obviousinvestor.com
Click here for more information on Lending Works £50 cashback offer >>
Signup for Lending Works standard account >>
Signup for Lending Works ISA account >>

* My opinions on ratings and risk rating factors refer to my personal experiences with the lender. Including factual data such as interest rates, loan types, security, platform history, default numbers etc. Read my Disclaimer before making investment decisions.

**Affiliated! –  I am an investor with this company! (I only review companies I invest with so I can provide an honest evaluation based on my own experience). If you click on an affiliate link, I may receive a small commission, at absolutely no cost to you. It helps me to run this website and continue to offer new reviews and updates.

Is this Company in my Top Peer to Peer Lenders List? Click to Find out!