Peer to Peer Lending
Overview
What is Peer to Peer Lending? Is Peer to Peer Lending Safe? Read on to find out! – Offering returns anywhere from 3% to 25%. Peer to Peer Lending in the UK is the new kid on the block. Especially as far as alternative investments are concerned. It's only been around as a sector for about 13 years. However in that time it has become a formidable alternative investment option. Having lent billions in investment capital to consumers and business around the world. Individual investors have many investment options, including lending to consumers & businesses though standard lending accounts. Or though tax efficient retirement accounts such as Peer to Peer Lending ISA's & IRA's. Just about anyone can become a Peer to Peer Lender! Now bringing this new investment vehicle within reach of anyone who has any amount of capital to invest. Is Peer to Peer Lending Safe? Read on to find out! See Peer to Peer Lending Reviews and more here!
What is "Peer to Peer Lending (P2P Lending)"?
Peer to Peer lending is a method of financing that enables individuals and businesses to borrow and lend money. No need for a bank or building society. Peer to Peer lending removes the middleman (Bank/Building Society/Credit Union etc.) from the process. It connects lenders (investors) directly with borrowers. Peer to Peer lending involves more time, effort and risk than lending through other financial institutions. However it also offers much better rates of return.
How does Peer to Peer lending work?
How does Peer to Peer Lending work exactly? For the past 100 or more years, individuals and businesses who want a loan typically apply through the bank. The bank would run many financial and credit checks on the applicant's financial history to determine if the party would qualify for a loan. And if it does, determines the interest rate that will be charged on the loan. Anyone having less than perfect credit would be refused or charged outrageous interest rates.
Loan Agreements Directly Between Lender and Borrower
With Peer to Peer lending, borrowers get loans from individuals or corporate investors. These investors lend their own money for an agreed interest rate directly to the borrower. The loan agreement is typically directly between the investor and the borrower. All the P2P company/website does is put the two together.
The credit history and other information is typically displayed for the investor to see so they can make an informed decision on the borrower.
Auto-Investing
Many companies now also have "auto-investing" which enables almost hands-off investing, similar to a bank. It's important to note that P2P Lending is not banking and as such the interest income is much higher than banks (anywhere from 3% to 25% or more) but the risk is also a little higher.
Regulation
P2P – Peer to Peer Lending in the UK is not insured by government banking insurance like the FSCS in the U.K. or FDIC in the U.S.A.  However in some countries P2P Lending companies are regulated by some entity like the Financial Conduct Authority (FCA) in the U.K. and the Securities and Exchange Commission (SEC) in the U.S.A.
How Safe is Peer to Peer Lending?
Is Peer to Peer Lending Safe? If you do your research, Peer to Peer lending is as safe as virtually any other form of investment. However do not compare P2P Lending to storing your capital in a bank account with government insurance.
Peer to Peer Lending in the UK is an investment, not a bank account. When investing through Peer to Peer lenders, as with most other investments, your capital is at risk and technically you could potentially lose it all. Although in my opinion, providing you remember the investment "Prime Directive" and diversify properly, it would take a financial disaster much worse than the 2008 financial crisis to lose everything. It would mean that every entity you loaned capital to would default. Unlikely in even the very worst scenarios. 
A couple of companies like Zopa.com in the U.K. and Prosper.com in the U.S.A came through the 2008 crisis and are still around today! When the 2008 crisis hit, investment returns went down for lenders, but most did not lose their capital. See other Peer to Peer Lender reviews for Zopa and other P2P Lenders here.
Personally I don't invest anything that I can't afford to lose in a wort case scenario. That doesn't mean it's money that I can just throw away, it means that if the worst-case scenario did happen, I wouldn't be bankrupt, but it sure as heck would hurt and cause me a lot of problems!
Risks of Peer to Peer Lending
What are the perceived risks with Peer to Peer Lending? The new Alternative Investment.
Defaults
The first of course are "defaults". Borrowers don't repay their loans. This happens all of the time and is an acceptable part of lending. Pretty much all companies will display to you an expected default rate based on your portfolio, and the interest rate you might expect to get after losses and fees. These statistics are based on "normal market conditions" and would likely go out the window in a severe recession, high unemployment or other situation which caused borrowers to default on their loans.
Statistics
Most Peer to Peer Lenders will publicly display their loan default statistics along with many other statistics so you can see how they're doing. The key here is to try and loan to borrowers with acceptable credit ratings, and even better when the loan is secured by an asset, which they often can be.
Here are Zopa's (the oldest P2P Lender) default statistics, which they publicly display on their website: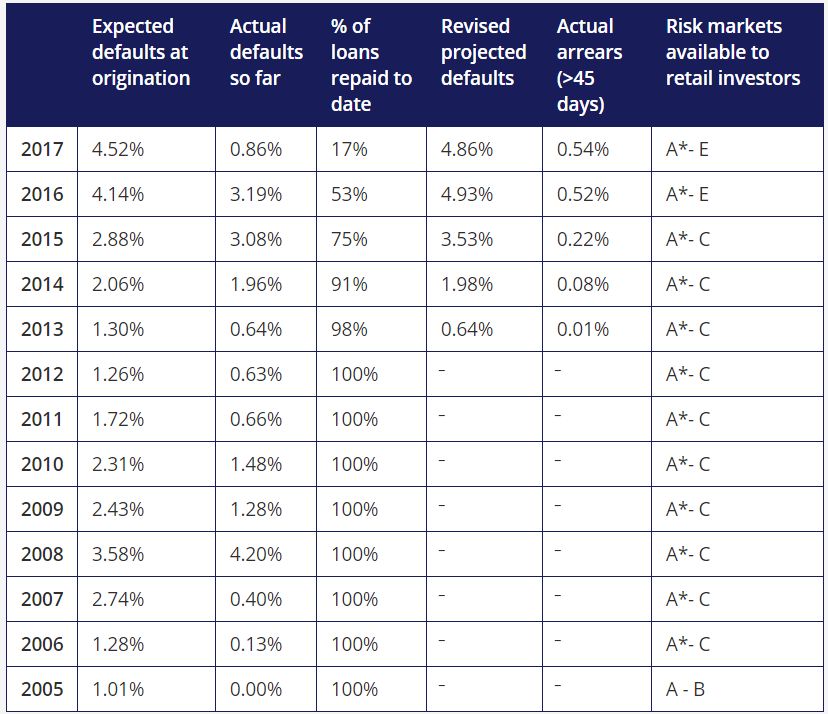 Peer to Peer Lender Failure
The next risk is the Peer to Peer platform (Company) your are lending through goes out of business. If this happened, who would service the loans and make sure you are getting your loan payments on time? Remember you are mostly lending to the end borrower, not to the Peer to Peer platform.
Most Peer to Peer lenders have provisions in place in case the company was to go in to liquidation, in fact they have to if they are FCA regulated. They will need to have designated some other entity who would continue to service the loans until they are all paid off, and borrowers recoup their investments. These provisions are usually publicly available for investors to see on the Peer to Peer lenders website. If they are not, then before you consider investing, make sure you contact the company and make sure you are comfortable with the provisions they have in place.
Fraud
Another risk is if owners of the Peer to Peer lender just decided to close shop. And run off with your money! This is why it's a good idea to invest in the larger and mostly regulated Peer to Peer lenders. Until you understand how they work it's a good idea.
Most of my P2P investments are in the UK because most of the Peer to Peer Lenders in the UK are regulated. Monitored by the FCA, which means they must adhere to certain standards around where they hold, and how they treat clients money. I feel fairly safe with the Peer to Peer lenders I invest with that this won't happen, but again, you never really know. So make sure you diversify correctly and don't invest anything that you couldn't afford to lose if the very worst happens. 
Summary
I'm sure there are many other potential risks that I'm not discussing here, but I think these are the main risks to consider. The key is to do some research on the companies you are looking to invest with, and decide if the return you can potentially get is worth it for the risk you will be taking. Remember; it's your money and you're responsible for investing it wisely. Peer to Peer Lending in the UK is certainly a great option.
Here you can see Peer to Peer Lending Reviews and the P2P Lenders I currently invest with. You can also see the actual return rates I am getting from each lender here. 
THE HISTORY OF PEER TO PEER LENDING UK
History of Peer to Peer Lending UK
The first company to offer Peer to Peer loans in the world was Zopa. Since its founding in February 2005, it has issued over £3.5 billion in loans. Funding Circle became the first significant peer-to-business lender launching in August 2010 and offering small businesses loans from investors via the platform. Funding Circle has lent over £1.93 billion as of January 2017. Both Zopa and Funding Circle are members of the Peer 2 Peer Finance Association (P2PFA).
In 2011, Quakle, a UK Peer to Peer lender founded in 2010, closed down with a near 100% default rate after attempting to measure a borrower's creditworthiness according to a group score, similar to the feedback scores on eBay; the model failed to encourage repayment.
£250 million of loans issued 
By June 2012, the top three Peer to Peer companies in the UK – RateSetter, Zopa, and FundingCircle – (Peer to Peer lender reviews here) had issued over £250 million of loans. In 2014 alone, they issued over £700 million.
In 2012, the UK government invested £20 million into British businesses via Peer to Peer lenders. A second investment of £40 million was announced in 2014. The intention was to bypass the high street banks, which were reluctant to lend to smaller companies. This action was criticised for creating unfair competition in the UK, by concentrating financial support in the largest platforms.
Innovative Finance Individual Savings Account (IFISA)
Investments have qualified for tax advantages through the Innovative Finance Individual Savings Account (IFISA) since April 2016. In 2016, £80bn was invested in ISAs, creating a significant opportunity for P2P platforms. By January 2017, 17 P2P providers were approved to offer the product.
Many more Peer to Peer lending companies have also set up in the UK. At one stage there were over 100 individual platforms applying for FCA authorisation, although many have now withdrawn their applications.
Regulation
Since April 2014, the Peer to Peer lending UK industry has been regulated by the Financial Conduct Authority (FCA). This increases accountability with standard reporting, and facilitate the growth of the sector. Peer to Peer investments do not qualify for protection from the Financial Services Compensation Scheme (FSCS). Which provides security up to £75,000 per bank, for each saver. Regulations mandate the companies to implement arrangements to ensure the servicing of the loans even if the platform goes bust.
In 2015, UK Peer to Peer lenders collectively lent over £3bn to consumers and businesses although on an annual equivalent basis the value of the loan book figure was £2.3bn in 2015 which increased to £3.2bn in 2016.
According to the Cambridge Centre for Alternative Finance (Entrenching Innovation Report), £3.55B was attributed to Peer to Peer alternative finance models, the largest growth area being property showing a rise of 88% from 2015 to 2016.
History of Peer to Peer Lending in the USA
The Peer to Peer lending industry in the U.S.A started in February 2006 with the launch of Prosper.com. Followed by LendingClub.com and other lending platforms soon thereafter. Both Prosper and Lending Club are located in San Francisco, California. Early Peer to Peer platforms had few restrictions on borrower eligibility. This resulted in adverse selection problems and high borrower default rates. In addition, some investors viewed the lack of liquidity for these loans. Most of which have a minimum three-year term, as undesirable.
SEC
In 2008, the Securities and Exchange Commission (SEC) required that Peer to Peer companies register their offerings as securities, pursuant to the Securities Act of 1933. The registration process was an arduous one; Prosper and Lending Club had to temporarily suspend offering new loans, while others, such as the U.K.-based Zopa Ltd., exited the U.S. market entirely.Both Lending Club and Prosper gained approval from the SEC to offer investors notes backed by payments received on the loans. Prosper amended its filing to allow banks to sell previously funded loans on the Prosper platform. Both Lending Club and Prosper formed partnerships with FOLIO Investing to create a secondary market for their notes, providing liquidity to investors. Lending Club had a voluntary registration at this time, whereas Prosper had mandatory registration for all members.
Liquidity
This addressed the liquidity problem and, in contrast to traditional securitization markets, resulted in making the loan requests of Peer to Peer companies more transparent for the lenders and secondary buyers who can access the detailed information concerning each individual loan (without knowing the actual identities of borrowers) before deciding which loans to fund.The Peer to Peer companies are also required to detail their offerings in a regularly updated prospectus. The SEC makes the reports available to the public via their EDGAR (Electronic Data-Gathering, Analysis, and Retrieval) system.
Financial Crisis
More people turned to Peer to Peer companies for lending and borrowing following the financial crisis of late 2000-s because banks refused to increase their loan portfolios. On the other hand, the Peer to Peer market also faced increased investor scrutiny because borrowers' defaults became more frequent and investors were unwilling to take on unnecessary risk. The interest rates range from 5.6%-35.8%, depending on the loan term and borrower rating. In the U.S.A. The default rates vary from about 1.5% to 10% for the more risky borrowers through Prosper and Lending Club. Also we are seeing big-shot executives from traditional financial institutions are joining the Peer to Peer companies as board members, lenders and investors,indicating that the new financing model is establishing itself in the mainstream.
Here you can see reviews on the Peer to Peer Lenders I currently invest with in my Peer to Peer Lending Reviews.
Need more information? Try my Peer to Peer Lending Guide – Where to Start?

* My opinions on ratings and risk rating factors refer to my personal experiences with a company or account. Including factual data such as interest rates, loan types, security, platform history, default numbers etc.

**Disclaimers: I'm not paid by any company to review them, nor am I employed by any of the companies I review. In most cases, I am actively investing my own personal capital through these companies which you can see with full transparency on my Lending Returns page. Some of the sign-up links on this website are referral links. When you click on these links, I may receive a small commission, at absolutely no cost to you. Your support helps me to run this website and continue to offer new reviews and updates.
Which companies are in my Top Peer to Peer Lenders List? Click to Find out!
Please read my full website Disclaimer before making investment decisions.