P2P Lending Portfolio Update For April 2019
Last Updated on 29th August 2019 by Mark
Overview
April was the best month yet for my P2P Lending Portfolio! It finally crossed the £1000 per month income barrier with a return of £1,028.67 in GBP.  I mentioned "in GBP" at the end there because I decided to buy some euros and add some euro lenders this month so I now need to distinguish between the two currencies. I mentioned I was hoping to buy some euros in last month's update. More on that later.
XIRR rose again from 5.38% to 5.54% in April, continuing its progression each month since the portfolio was started. I'm still expecting overall performance to be above 6% once we have about 12-14 months of data.
Move money
I had to move some money from RateSetter this month for the first time because rates got so low I was getting some cash drag at my 6.1% reinvestment setting. The good news is that Mintos added some new GBP car loans again right after I did the update last month, so I was able to keep fully invested there. And it looks like it's going to continue as they have added more since then.
Anyway, on to the individual updates!
There are some great cashback incentives for new investors right now. I have listed them at the end of each lender update, or you can always see my cashback page for current offers on all lenders. If you are considering investing in any of the lenders I write about, and you think my website is helpful in your research, please consider using my links as I can sometimes get a small commission from the lenders which costs you absolutely nothing and helps me continue to run the website.
Charts and spreadsheet updates are below. You can see live versions of these anytime here
As a side note, if you missed my article I promised to write on early retirement in Portugal in last months update, here it is: FIRE – Financial Independence, Retire EARLIER! in Portugal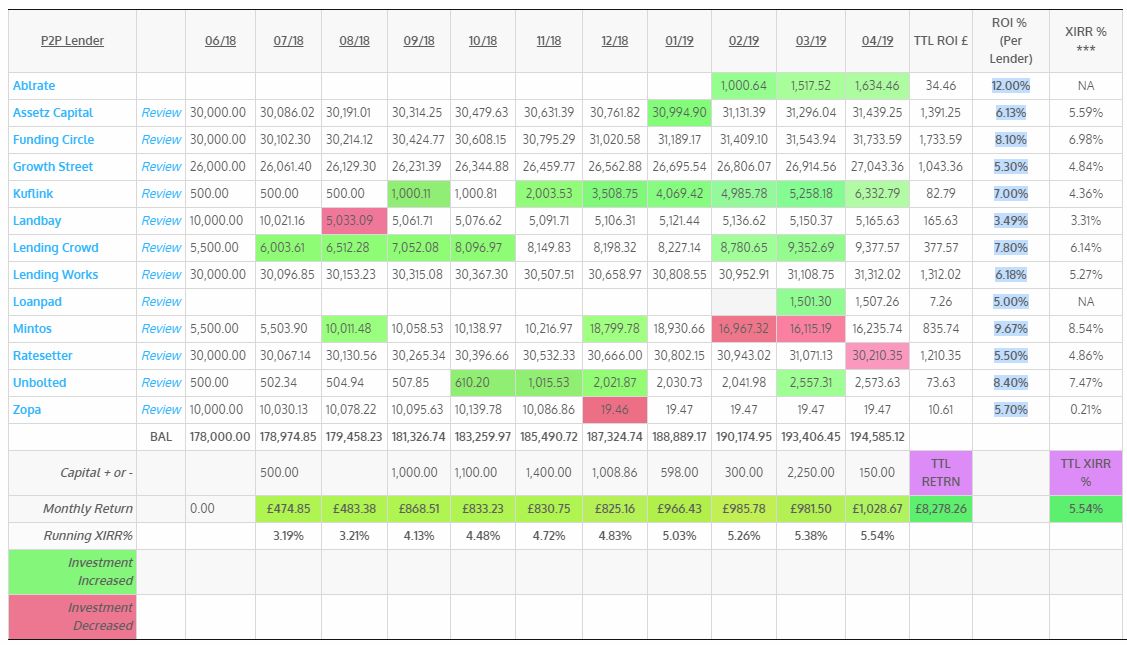 Individual Lender Updates
No Review for Ablrate Yet
I'm learning that Ablrate seems to be a decent lender with some good loans to invest in. However there are not so many loans (only saw 1 new loan in April). This makes is difficult to diversify as I would like. The answer of course is to put more capital in to each loan as I do with Kuflink on the low LTV loans.
I'm not quite there with Ablrate yet though. I'll watch them for a little longer with my small investment and see how things progress.
You can see below a list of the loans I've picked up so far. All pay very decent returns.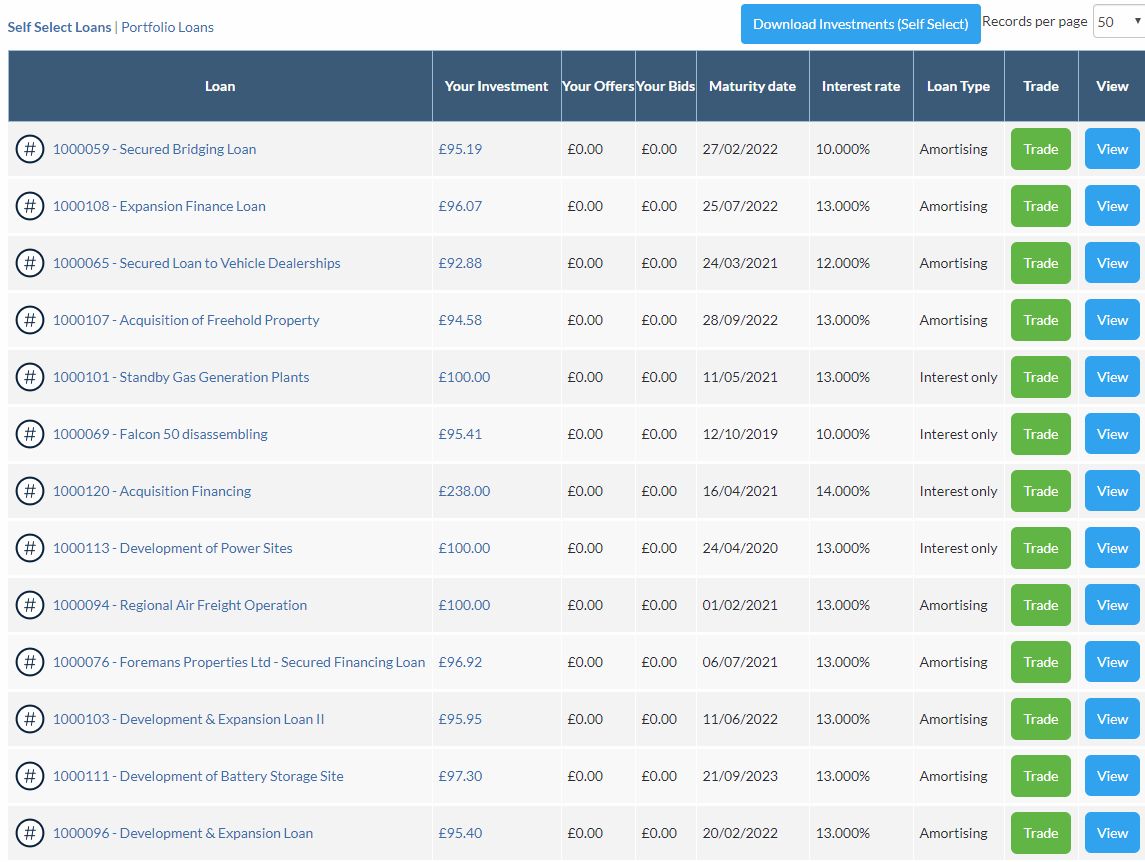 As of today (April 30th 2019) there are only 2 loans available on the primary market (see below). I did send in another £100 to get into the Industrial Land Purchase loan when that come up at 14%.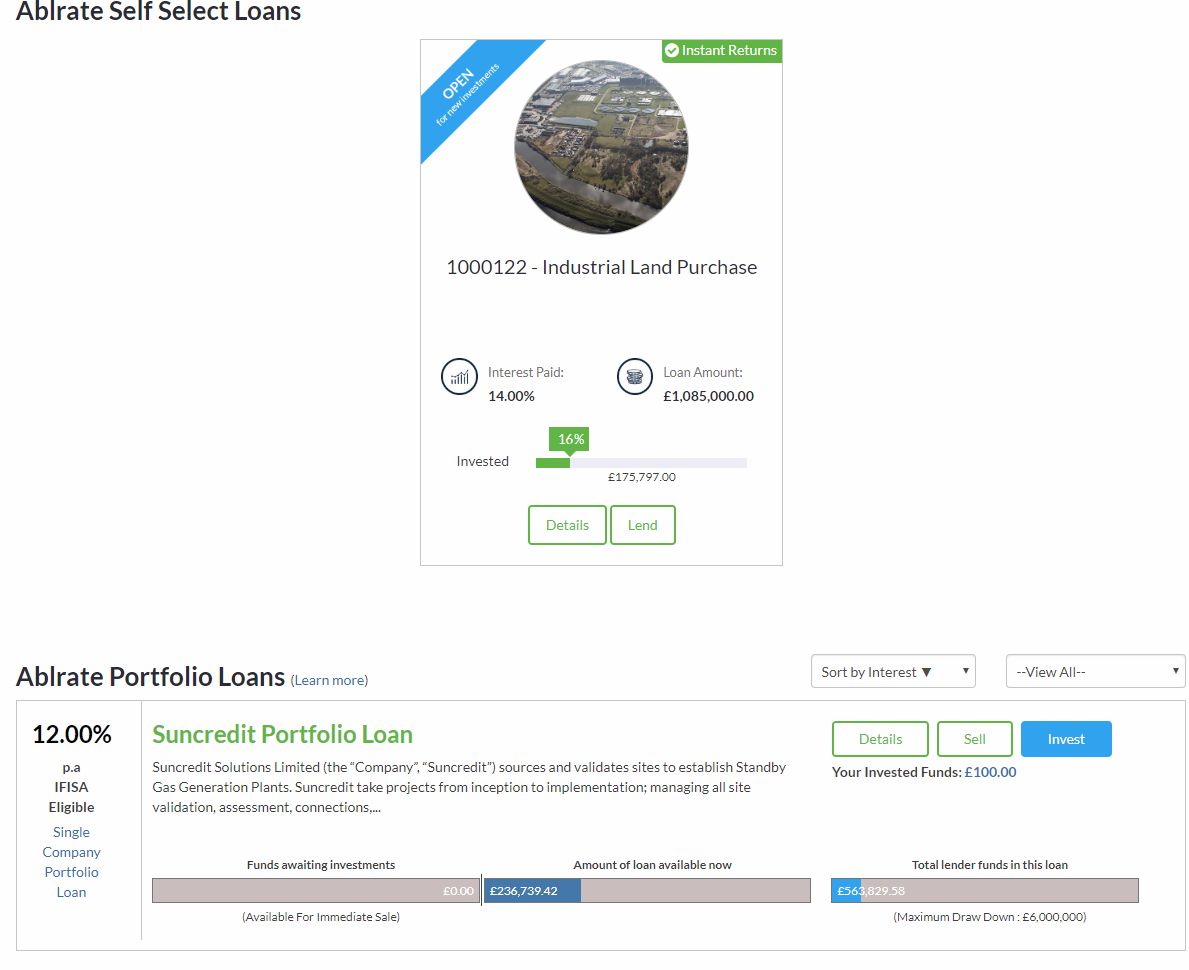 See Screenshots & Detailed Monthly Updates From My Assetz Capital Account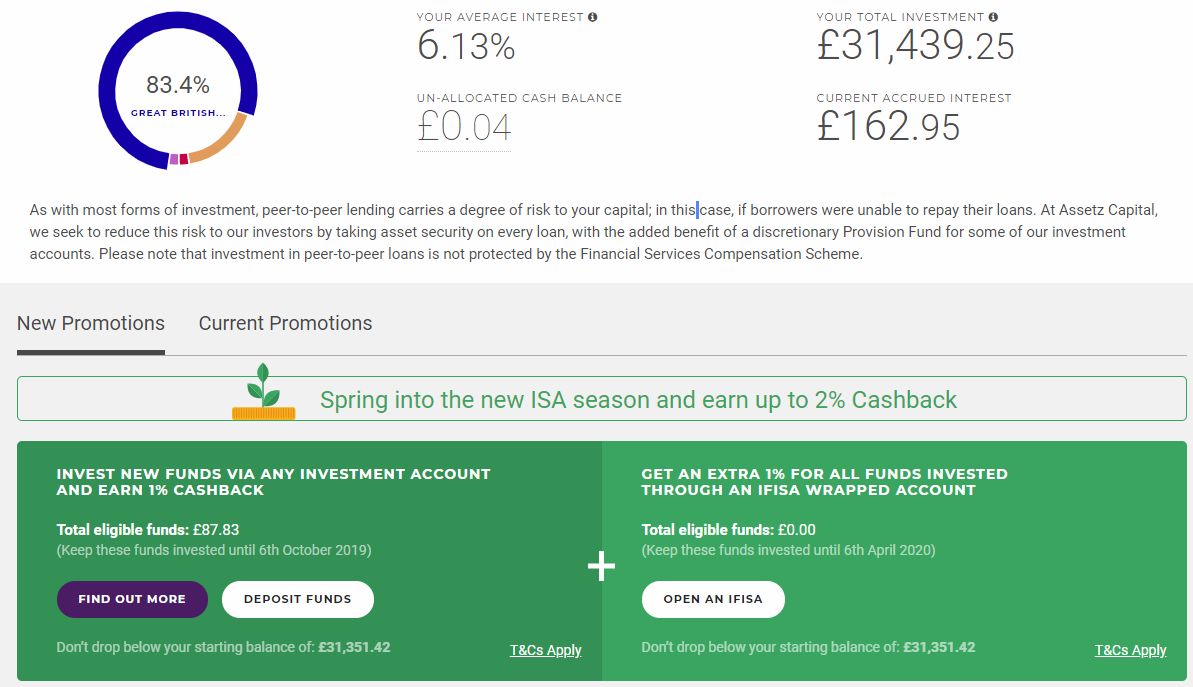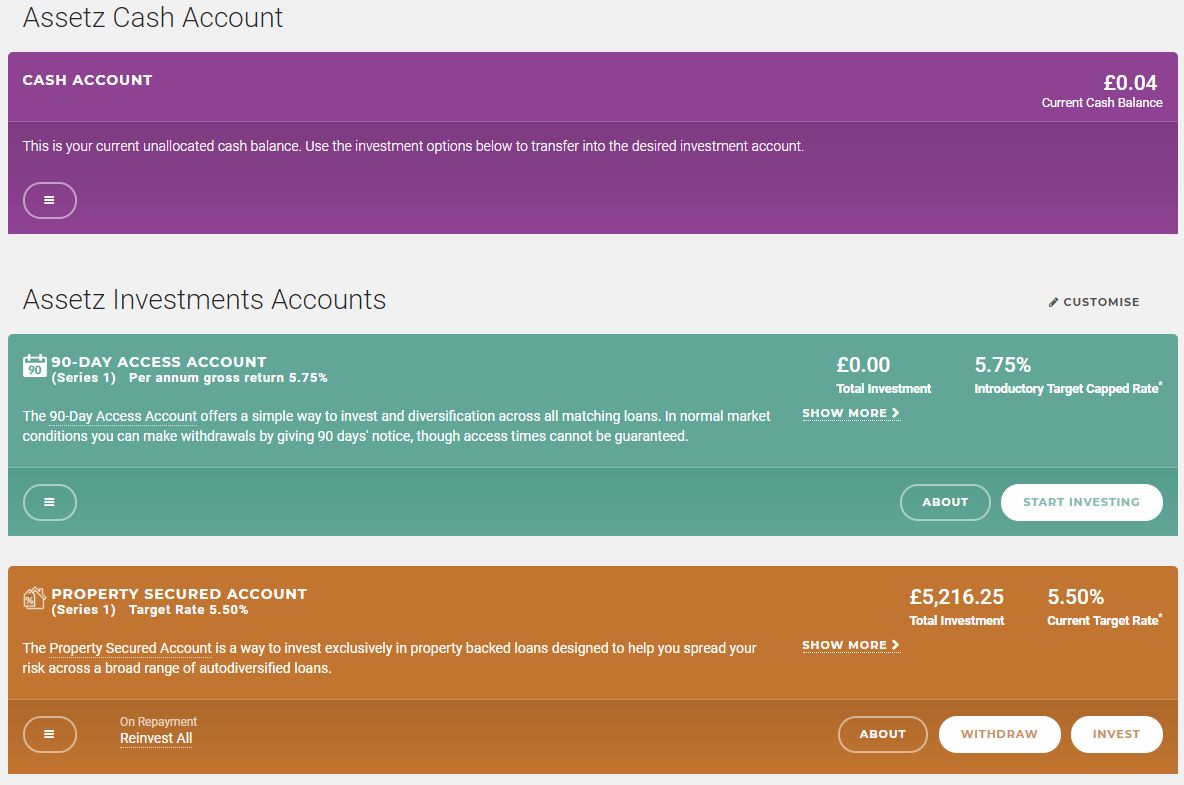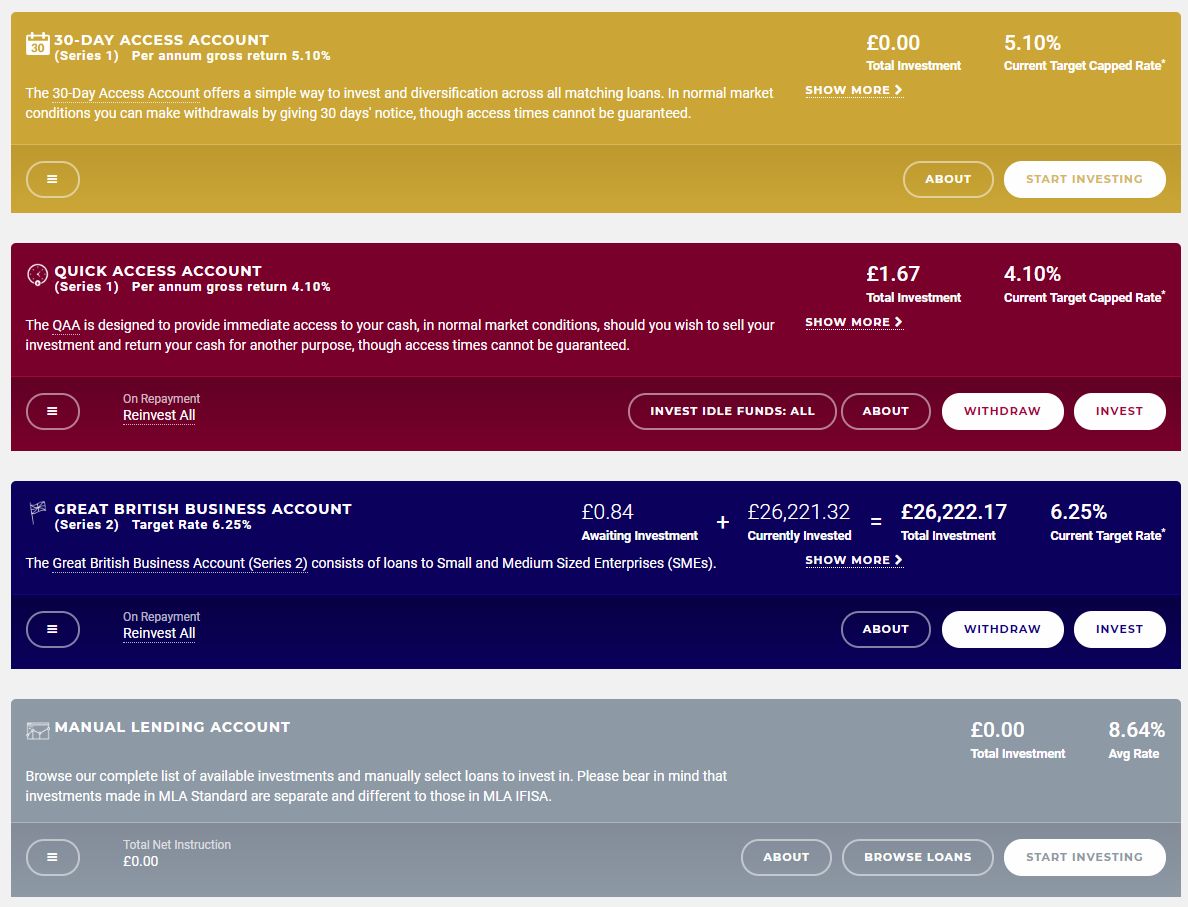 Assetz Capital are still going strong with the XIRR increasing a little again in April from 5.58% in March to 5.59%. 
I've actually been getting closer to Assetz Captial over the last few weeks so I can understand the companies vision a bit better moving forward. Earlier this week I had a phone conversation with Stuart Law (Managing Director and CEO) regarding Assetz plans for the future (among other things). Stuart is a very progressive, clever and interesting guy so it's understandable why Assetz are doing so well. They have some interesting things in the works for 2019 and are always looking for feedback from investors and borrowers alike on how to improve their business. In the coming weeks, I plan on meeting with Stuart at his offices in Manchester and doing an interview with him which I will publish here on my site for you all to read.
If you're thinking about investing with Assetz but are not quite sure yet. Give them a call. Even ask to speak with Stuart if you like. If he's available he is typically happy to speak with investors to discuss Assetz vision moving forward. As well as listening to ideas on how to improve their service. I think you'll be impressed.
Personally I still think Assetz is one of the best and safest investments out there. Their growth rate confirms that perspective. With mostly secured loans, their return rates are very reasonable in my opinion.
Assetz Capital have launched a new cashback offer for spring – Up to 2% cashback! It's only available until May 31st though – Open to both new and current investors – click here for more info.
They are also offering 1% cashback on all cash lent from their new 90 Day Access Account at 5.75% return. Click here for more info.
See Screenshots & Detailed Monthly Updates From My Funding Circle Account
Funding Circle added another £43 for bad debt to my lending account in April. Not too bad this month and they are still returning 8.1% return on my account (per Funding Circles' figures).  Actual XIRR rose this month from 6.91% in March to 6.98% in April, so it looks like we're back on track for good returns after the little downturn we had last month. Actual returns were back up around £189 for April as well.
Below is a listing of my current loan parts (everything that is not current). You can see below that 6 are "Processing", typically meaning they have just had investment and are getting going. There are 15 loans marked as "Late" which could potentially turn in to bad debt. Although typically I've noticed Funding Circle seem to be able to get at least 50% of these back on track. We'll see how they do moving forward but I'm not too worried at this point.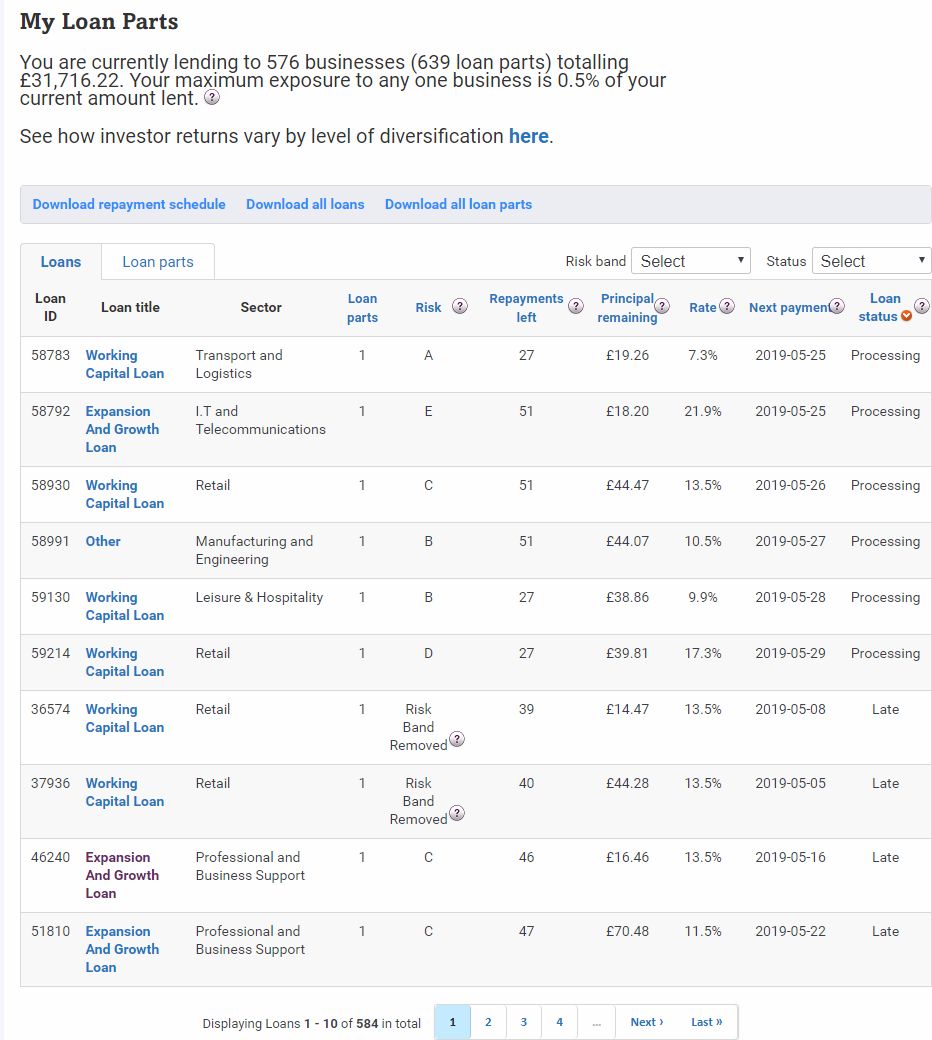 If you're thinking about investing with Funding Circle, they currently have a decent cashback offer for new investors: Invest £2000 and receive £50 Amazon Gift Certificate. Click here for more info.
See Screenshots & Detailed Monthly Updates From My Growth Street Account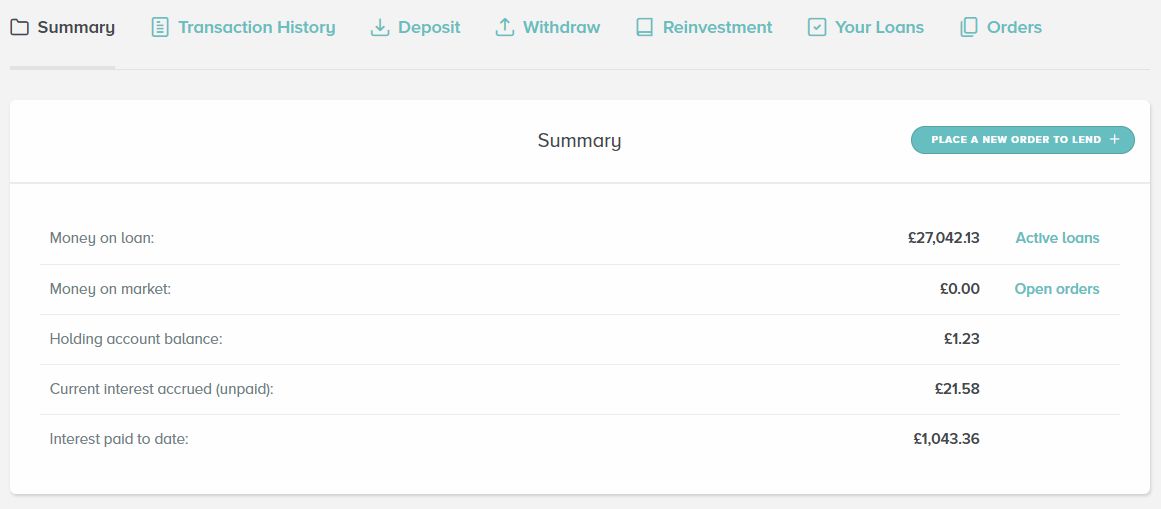 Growth Street are still delivering on 30 day loans. All I really do with Growth Street are look at the account once per month when I post this update on my website. It's all automatic and I haven't seen any cash drag at all for the last several months.
If you have some cash you need to keep relativity liquid, but want to get a decent return on, you could do a lot worse than Growth Street. Also don't forget Assetz Capital's 30 Day Access Account paying 5.1%. And also the new lender, Loanpad has a similar account paying 5% actual (about 5.3% compounded), read on for more information on Loanpad further down the post.
You can see below how Growth Street works automatically. Loan parts were broken up into £100 chunks when I first invested. Then each 30 days, the loan part and it's income are reinvested in to new loans.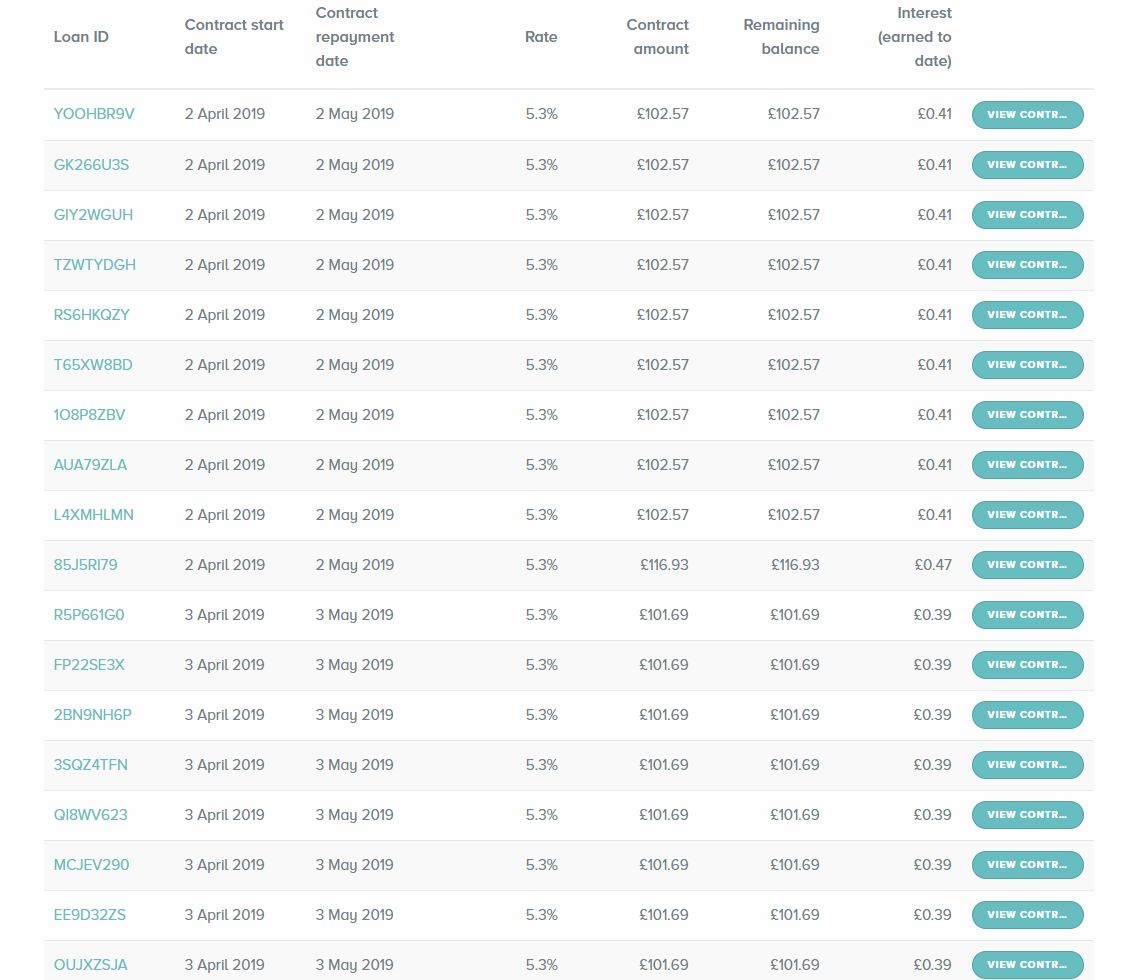 For new investors, Growth Street have a good cashback offer: Invest £5000 or more for 1 year for £200 cashback. Click here for more info.
See Screenshots & Detailed Monthly Updates From My Kuflink Account


When I first began investing with Kuflink, I only sent over £500 just to give them a try so I could see how they operate and how solid their loans were. Now I have over £6k invested with them and that will likely increase significantly moving forward. The main reason being of course their low LTV (Loan to Value) loans.
For example; see below on the "Mansfield Road" investment. To lose money on this loan, the property would first need to lose 71% of it's value (never happened on a correctly valued property, not even in the 2008 financial crisis).  On top of that, it would need to lose a further 5% of it's value as Kuflink take the first 5% loss on any default with their "skin in the game" guarantee. I know I keep harping on about this every month, but where else can you get 6.50% return with that kind of security?
XIRR
The XIRR on Kuflink rose a bit this month from 3.95% to 4.36%. Interest is coming in more frequently now, plus I've had capital & interest paid back from some of the earlier loans I got into.
One thing I sometimes forget to point out is that some Kuflink loans pay interest at the end of the loan period, or annually, so XIRR for Kuflink looks low now, but when the payments from some of the delayed loans come in (mainly in the auto-invest portfolio), overall XIRR should jump up significantly, probably to around 6.5% – 7%. 
Kuflink really are a very good option for lower risk – higher return investments in my opinion. I'll be shooting more money over to them as more loans come out as I have done for the past year.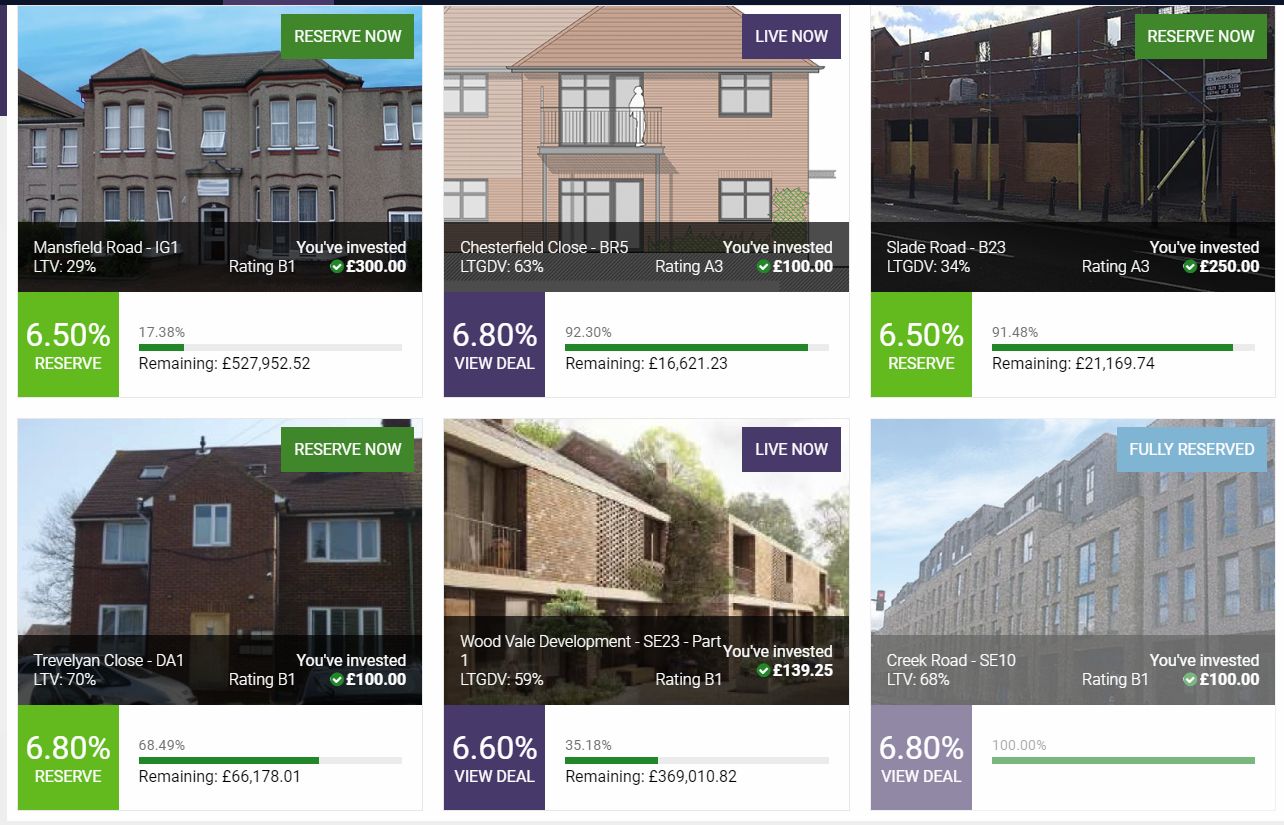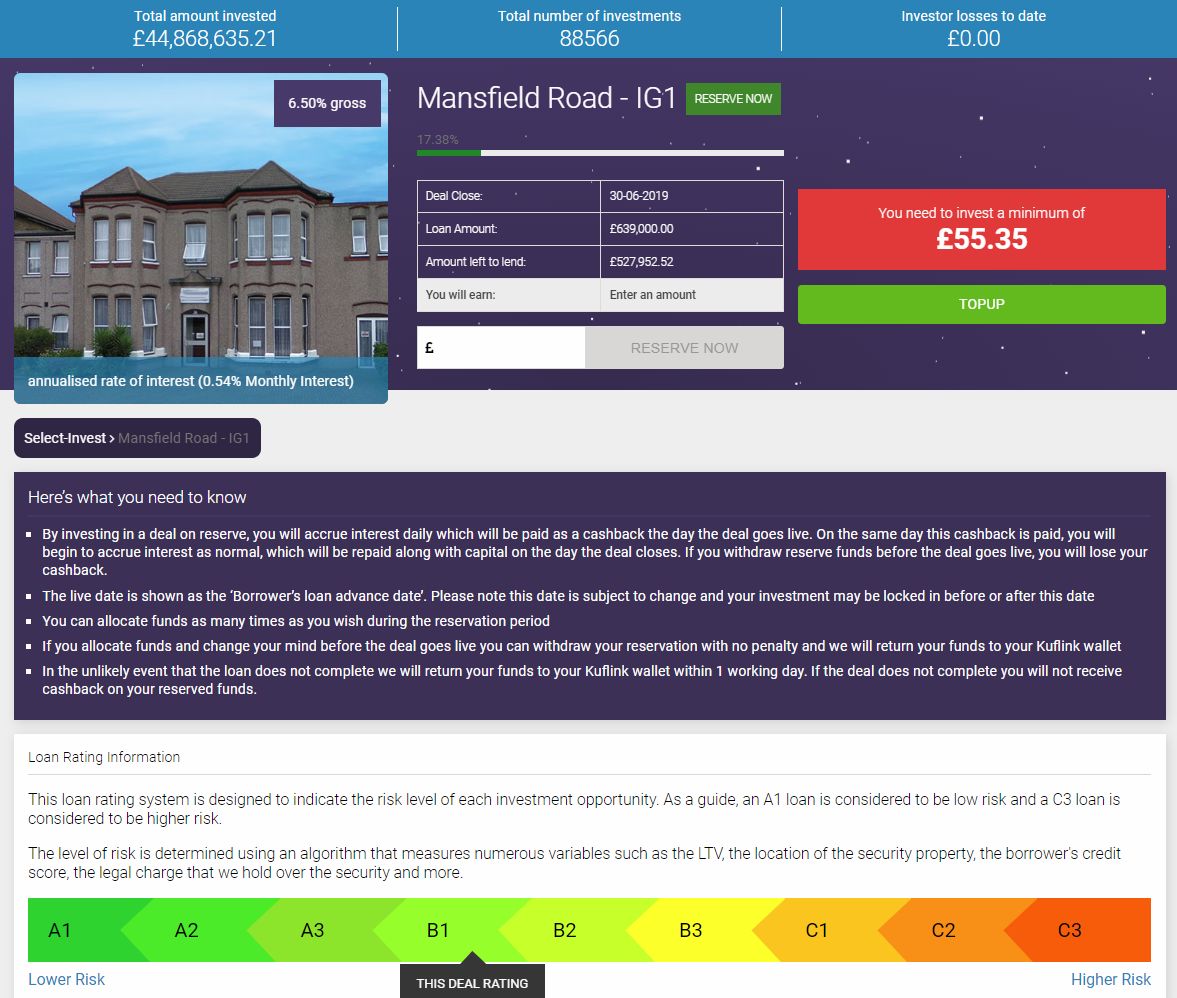 Kuflink valuation reports are fairly detailed. If you would like to check out the LTV's for yourself; I put a link to a valuation report here that you can download if you're interested in taking a look
Kuflink currently have a really great cashback offer for new investors –  from £50 to £250 for a £500 to £5000 investment which is huge (5% on 5k is excellent). Click here for more information. 
See Screenshots & Detailed Monthly Updates From My Landbay Account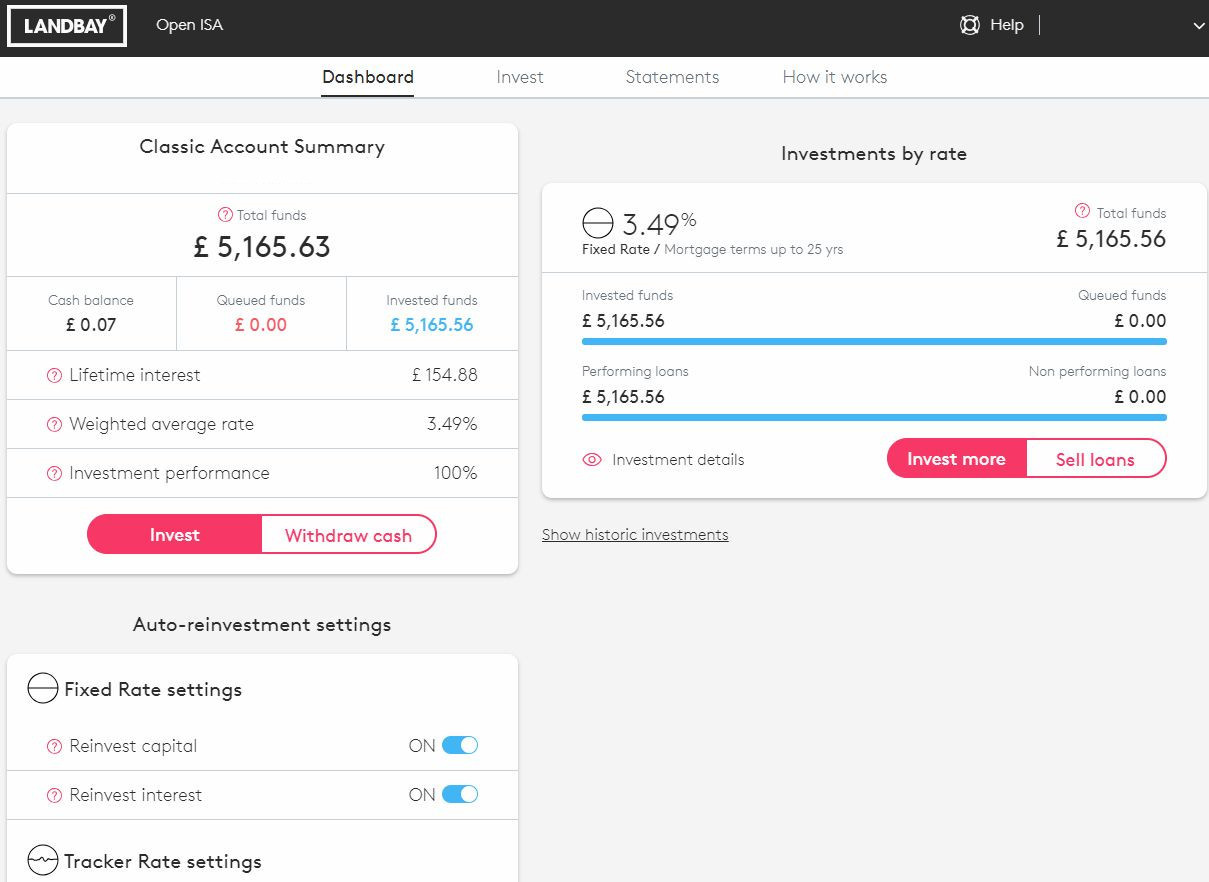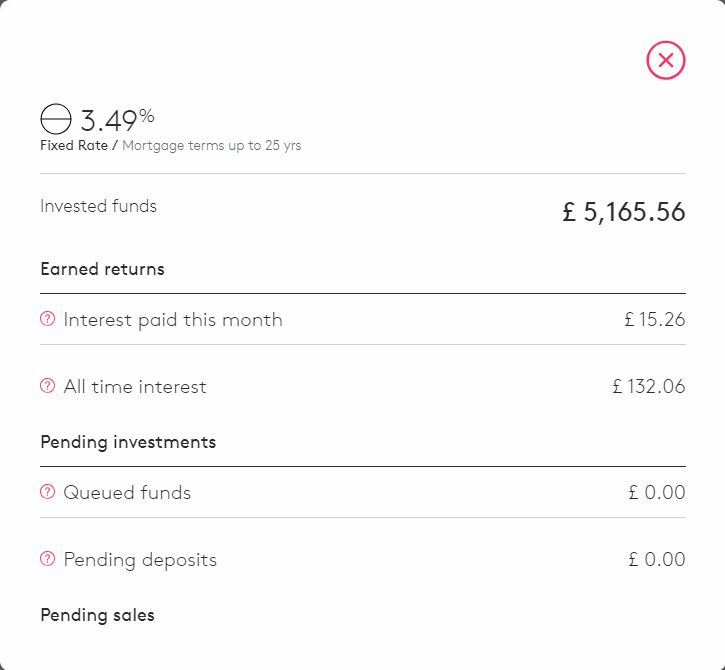 Most of my Peer to Peer Lending capital I consider to be "low to medium risk capital". Not meaning I'm prepared to gamble it all away and lose it in some "get rich quick" scheme. But I'm prepared to take a little more risk than just putting it all in a bank for better returns. My point here is; I don't keep a lot in Landbay because of this fact.
Now, if I was really risk adverse, this is probably where much of my capital would be sitting. That being said though, I think there are some safe options out there now with risk similar to Landbay but better returns. As previously mentioned Kuflinks' low LTV loans I consider to be fairly safe, as well as the new lender Loanpad who also have loans with very low LTV's.
For the said-to-be-safer option for your money, or just for some diversification, Landbay currently have an incentive for new investors: £50 cashback when investing £5000 or more. Click here for more information. Taking this cashback offer increases your income on this investment by 1% for the first year which helps.
See Screenshots & Detailed Monthly Updates From My Lending Crowd Account
Lending Crowd had a couple more defaults this month, so I ended up taking another £40 in losses. The actual rate of return they are quoting now is 7.8% which is a little lower than the expected rate of 8%. XIRR is still only showing 6.14% however that doesn't take into account compounding. Only time will tell if we reach the 8.00% mark. It would be nice to get there but honestly 7.00% would be a good number to get to for this type of lender.
I still enjoy investing with Lending Crowd so hopefully the default losses will settle down a bit. They are not looking too bad now (see below screenshot) considering out of 367 loans only 8 are late, and 7 of those are less than 30 days late. Lending Crowd seem to be doing a good job of helping the late payers get back up to date so that is encouraging.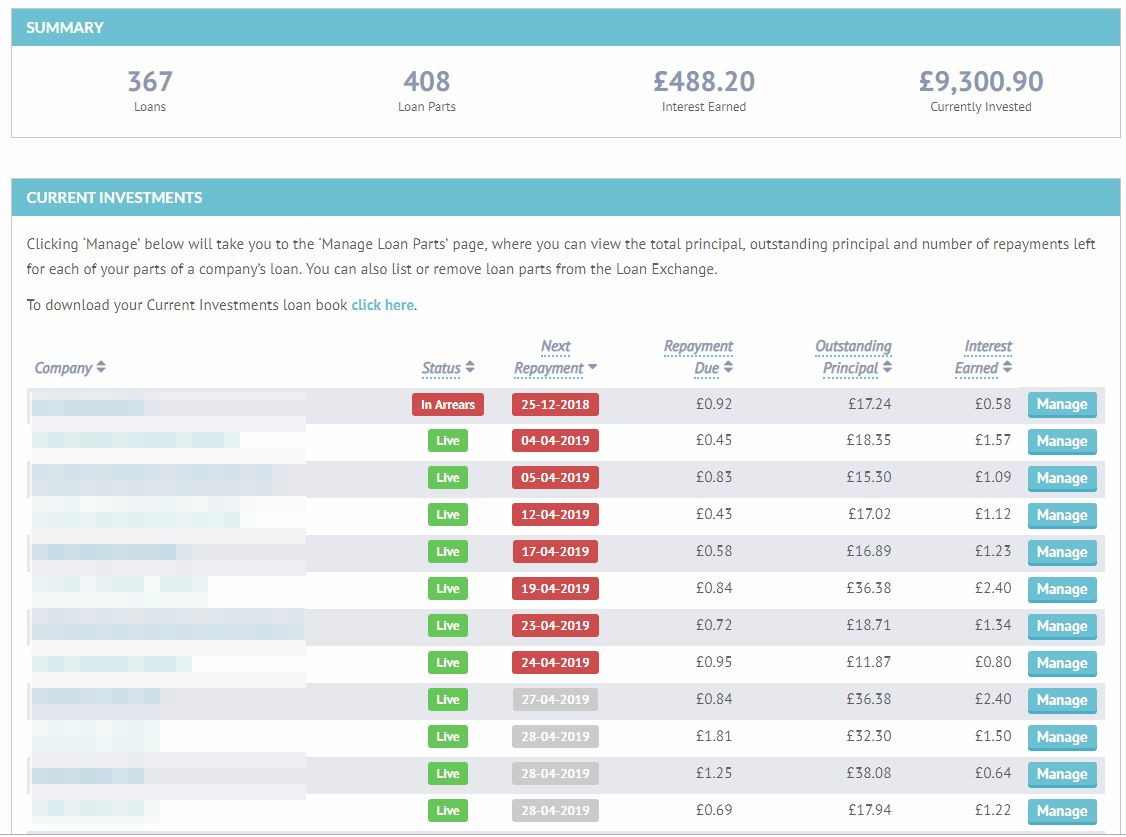 Take a look at one of the last P2P lenders that still allow bidding on loans! Lending Crowd have Up to £400 cashback for £10,000 investment. Click here for more info. See my Lending Crowd Review if you would like to read about bidding on loans.
See Screenshots & Detailed Monthly Updates From My Lending Works Account
Lending Works had its best month by far for income this month with £203.27 posted.  For a lender with this kind of safety (Lending Works Shield) on £30k initial investment, I can't complain at all. 
The only thing that could be better was if I could have entered the loans at the current rate of 6.5% instead of the 6% which was available when I initially invested.
Lending Works still have this 6.5% available so if you're thinking of investing with them, don't delay. Use this link to get £50 cashback for investing just £1000 with Lending Works (for new investors).
You'll notice further down the review that RateSetter rates have plummeted over the last month, so it wouldn't surprise me if that happened to some other lenders too (on the consumer loans side). Lending Works being one of them of course.
Even though I got into Lending Works at 6%, you can see below that repayments are being invested at the new 6.5% rate which is increasing my overall monthly return currently sitting at 6.18%.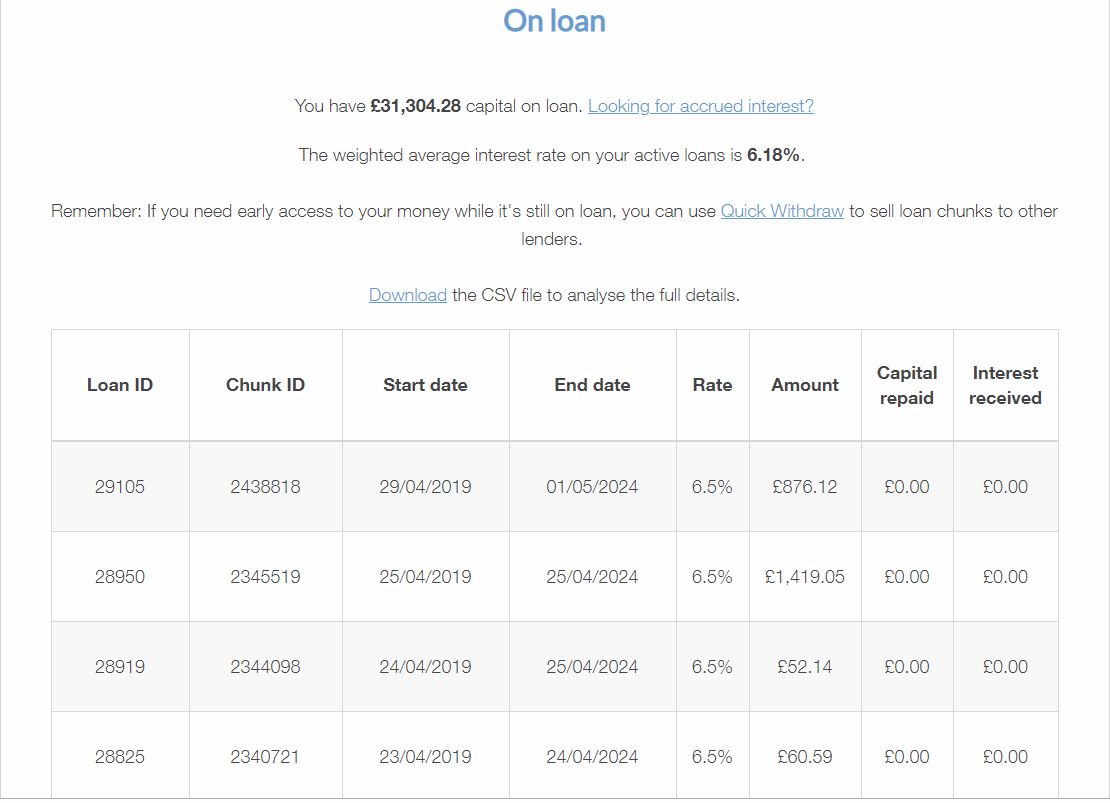 See Screenshots & Detailed Monthly Updates From My Loanpad Account
In April I did an Initial Review of Loanpad. Although it's early on for my investing experience with Loanpad, I wanted to do the initial review to highlight the research I have been doing on them. Initially Loanpad really does look like they will be a formidable force in the P2P Lending market. See the review for more detailed information, but it's mainly due to the low LTV's on ALL of their loans (see screenshot below), plus their loan originators 20% – 60% "skin in the game". On top of that, both of Loanpads' accounts have relatively early exit available (immediate on the Loanpad Classic Account, and 60 days notice on the Loanpad Premium Account for free, or immediate exit for a fee of 0.5%).
You can also see below how Loanpad pay interest. Every day, the equivalent of 5% per annum is credited to your account. Remember that 5% is the actual rate Loanpad offers. It does not take into account future compounding effects. So, if you reinvest the interest, actual returns should be around 5.3%.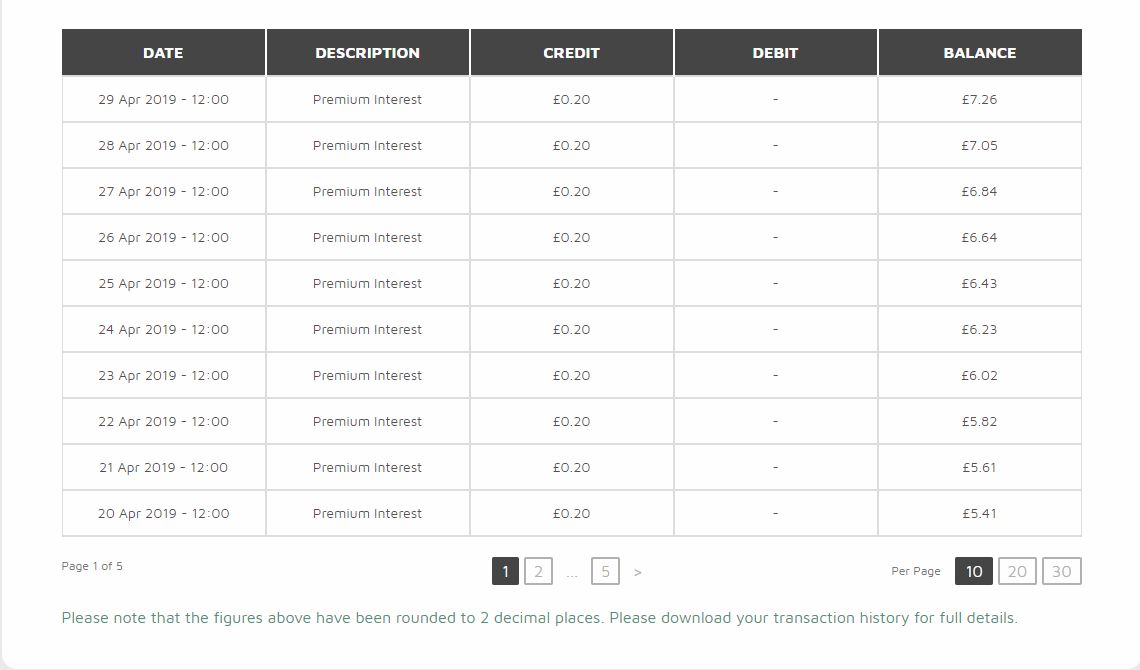 Just found out that Loanpad introduced a new cashback offer! Up to £150 cashback for new investors. Click here for more information on the cashback offer and get the special cashback bonus code.
Loanpad also enable tax free investing through an ISA so click here if you are interested in reading more about the ISA.
See Screenshots & Detailed Monthly Updates From My Mintos Account
Mintos are still (by far) my best account as far as XIRR income percentage is concerned. Going from 8.4% actual income in March, to 8.54% in April. If you remember in last months update post, and in February's post I had to withdraw some money from Mintos because there were no more GBP car loans coming into the market.
That all changed a few days in to April when a stream of GBP loans became available. This is great news as it means my GBP funds in Mintos keep invested and earning the wonderful returns. As a side note, I started investing in Mintos with euros in April (see further down the review). I'm getting 13% to 14%, 30 day loans with buyback guarantees. Read in the Euro Lenders section further down the post for more info. 
As an FYI, there have been even more GBP car loans added toward the end of April so if you're looking at throwing some GBP's over to Mintos, now is a good time.
The more I invest in Mintos, the more I like them. Many UK investors are afraid of Mintos because they are not regulated by the FCA. They have lent over €2 billion to date, and they are also a profitable company. There is something to be said for safety in those kind of numbers. If I didn't have some capital in Mintos, I would feel like I was missing out on one of the best investment opportunities around 🙂 
These are the GBP car loans available as of April 30th (269) paying between 9% and 10% with buyback guarantees.
Mintos are another lender who have a wonderful cashback bonus, one of the best in fact. Mintos offer 1% of the value of your investments cashback for the first 90 days you are investing with them! Click here for more info on this very good offer! 
See Screenshots & Detailed Monthly Updates From My RateSetter Account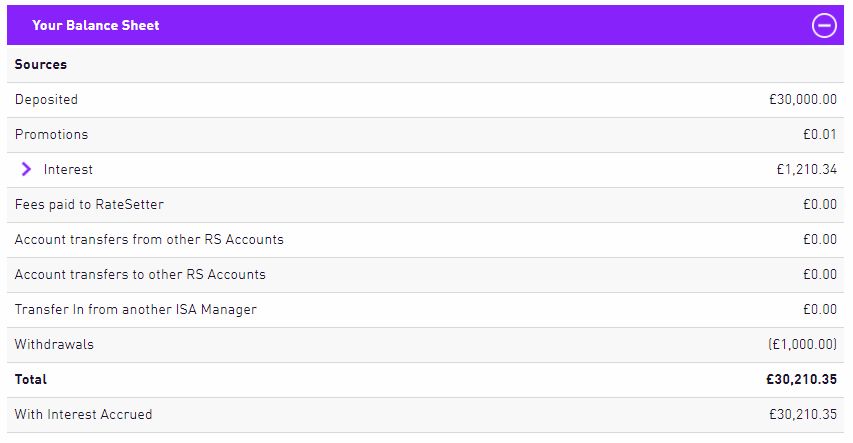 As you can see in the above screenshot, I moved £1000 out of RateSetter in April and placed it (mostly) into Kuflink loans. This was because the rates for RateSetter have become so low now, it's no longer worth reinvesting my income from them back into these low rate loans. 5% returns on 5 year unsecured personal loans is just getting a little low for me. On top of that, now I've become more experienced with lenders like Kuflink, I intend to diversify some of my capital with them from these relatively large accounts that I have going with the big boys.
All that being said, if RateSetter rates get back up around 6.5% as they have been, you might see some of my capital migrate back over there 🙂
Below is a screenshot of RateSetters current rates and rate trends. You can see they have been falling for some time now.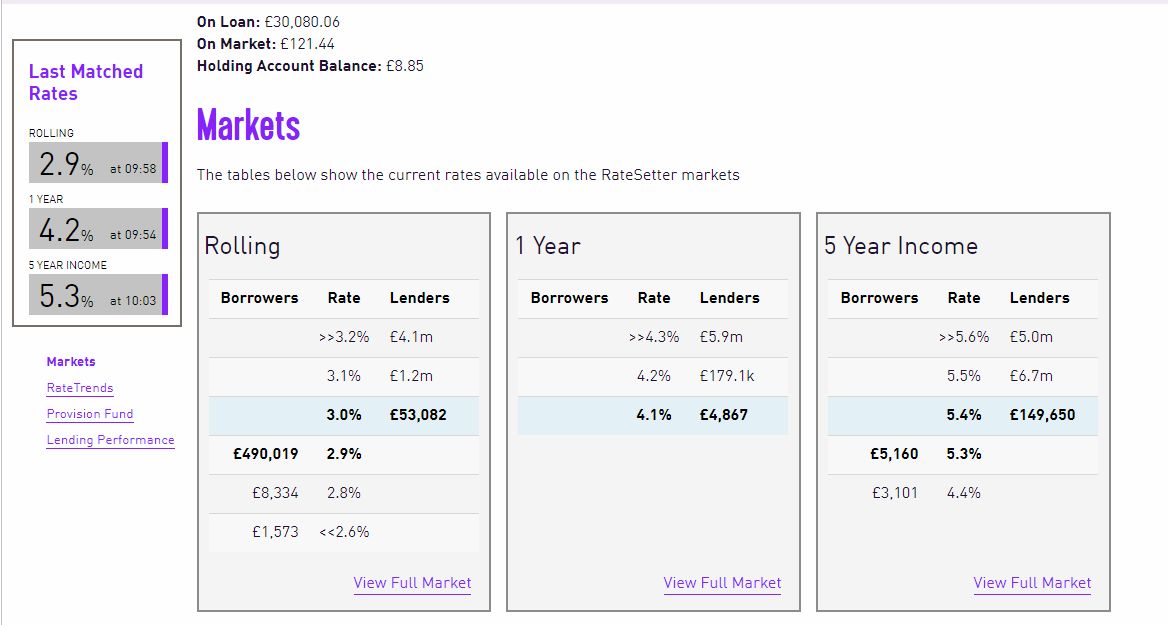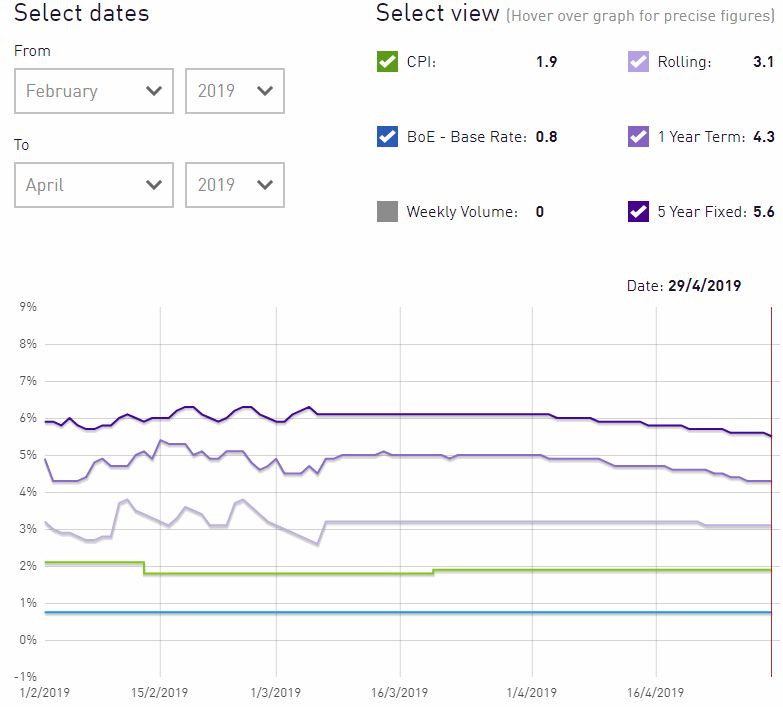 RateSetter is still an excellent option for diversification and safer lending with a big lender. RateSetters' very well funded provision fund doesn't hurt either. Use this link to take advantage of a very decent cashback offer. RateSetter is offering £100 cashback for investing £1000 for a year (10% ON TOP OF standard returns), it is definitely worth considering. Click here for more information on the cashback offer.
See Screenshots & Detailed Monthly Updates From My Unbolted Account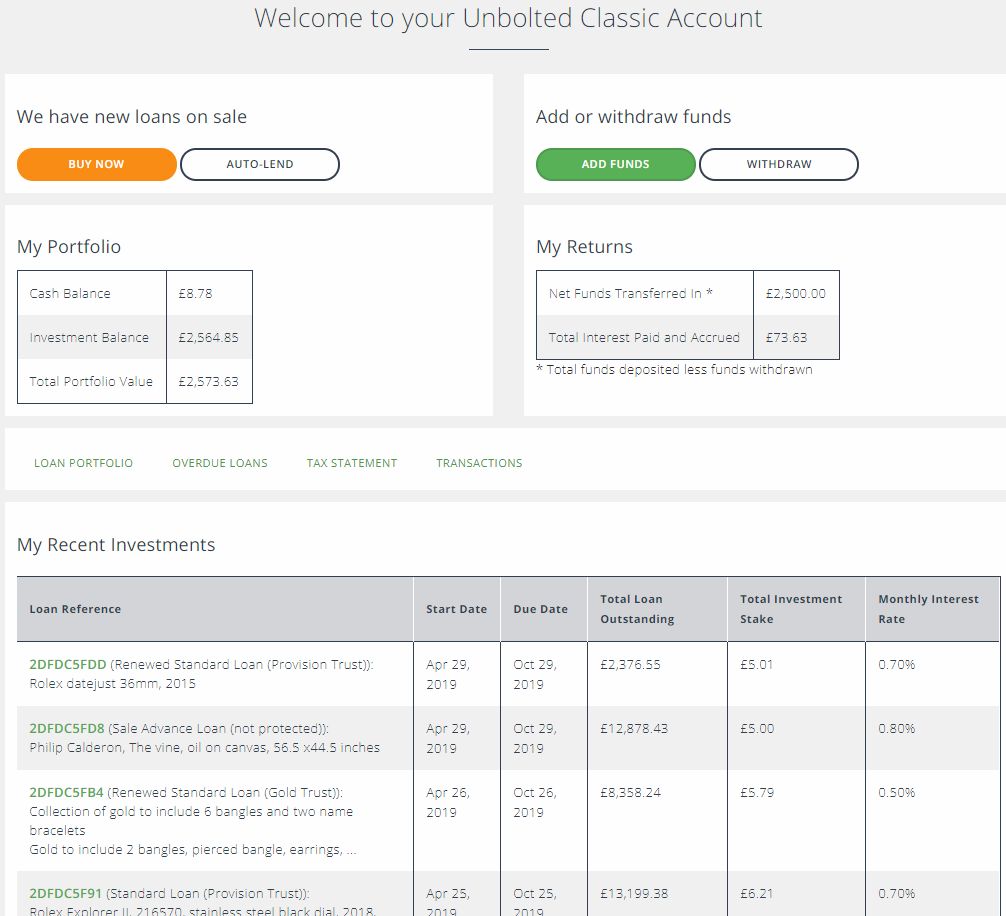 The cash drag has subsided on Unbolted now so I seem to be getting into loans fairly easily. I didn't send anymore capital over to Unbolted this month as they have a borrower that has filed a law suit against them and is alleging some kind of problem with the way his loan was dealt with. I'm not sure of the compete details, and I'm not going to waste any of my time researching it as I'm not sure it would change anything. I don't think it's that serious from what I've read, so I'll just wait until it plays out before sending over any more capital to Unbolted.
There are a few loans outstanding as usual. Unbolted seem to do a great job of selling off defaulted assets very quickly and reclaiming capital. Here is a list of overdue loans: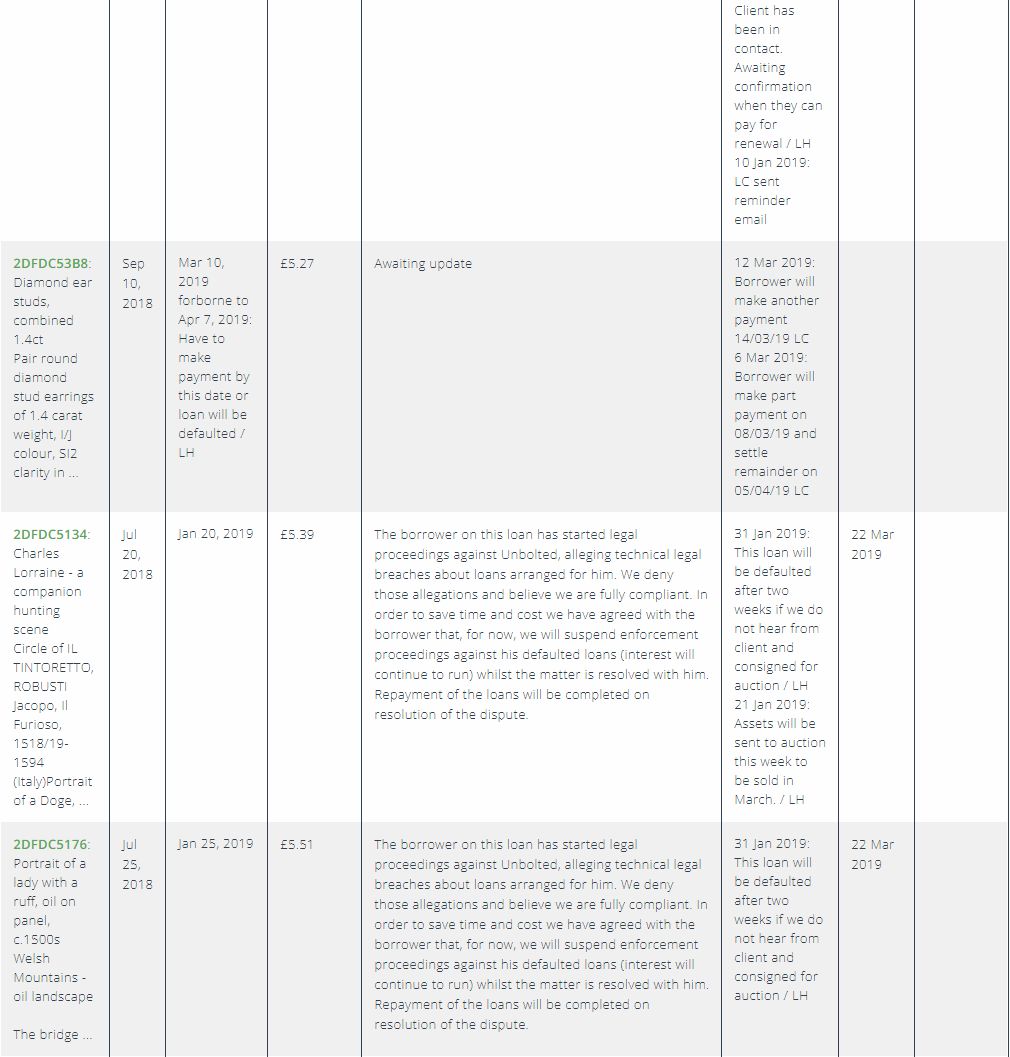 Euro Lenders
In April the euro hit a new 2 year low at 1.11 against the USD, so I decided to buy some! Most of my expenses are in euros anyway living in Portugal most of the time. I have also been wanting to get into some of the euro based loans out there as they pay huge interest rates compared to some of the U.K. lenders. I have been watching some of the more popular euro lenders for some time now, so I sent some capital over to a few of them.
RISKY I can hear some of you shout! And in many respects you could be correct. Although I personally don't think as risky as some people imagine. For example; I can buy 9% or 10% car loans with buyback guarantees in GBP through Mintos, which I consider to be relativity safe. At the same time I can buy 30 day loans through Mintos in euros at 13% or 14% return with buyback guarantees while only tying my capital up for 30 days. Why would the euro loans be so much more risky than the GBP loans? I have been monitoring the other euro lenders below for a little over a year now as well. And I think there is some opportunity there.
Take Envistio below for example with some 18% return, secured asset loans. More risky than say Kuflink? Perhaps, but at 3 times the return, is the risk 3 times as much? Personally I don't think so. Either way, I hope I understand most the risks, and if I'm wrong, then I get to pay. It's all part of investing  😉
Below are the new lenders and information on each. Eventually I will publish growth & income charts, and write a reviews with in-depth information similar to my other reviews, but I need to get some more experience with them first so I can speak with a little more insight.
See Screenshots & Detailed Monthly Updates From My Mintos Account
One of my favorite GPB lenders is also one of my favorite euro lenders. Mintos is just a huge lender, the largest in Continental Europe in fact. With my Mintos euros, I decided to set up an auto-invest portfolio for short term (30 day) loans with 14% interest or higher. With my quite stringent auto-invest settings, there are currently over 7,000 loans of this type available that meet my criteria. Crazy numbers compared to the GBP car loans! And I'm only tying my capital up for 30 days at a time.
The originator Varks are the main company who provide these short term loans. They get a B rating on Mintos loan originator chart, so in my eyes, they are relativity stable. The best thing about Varks is they still pay interest on delayed loans. So if a loan goes delayed and will likely go in to default (which means that Varks will end up buying it back). Varks pay interest on the loan even when the borrower is not paying until they buy the loan back! How great is that?
Just to show you the opportunity on Mintos in euro based loans, here is a screenshot of all available loans in euros as of April 30 2019.
Almost half a million loans available. I have no idea what that equates to in actual cash value, but I'm betting there's not much cash drag 🙂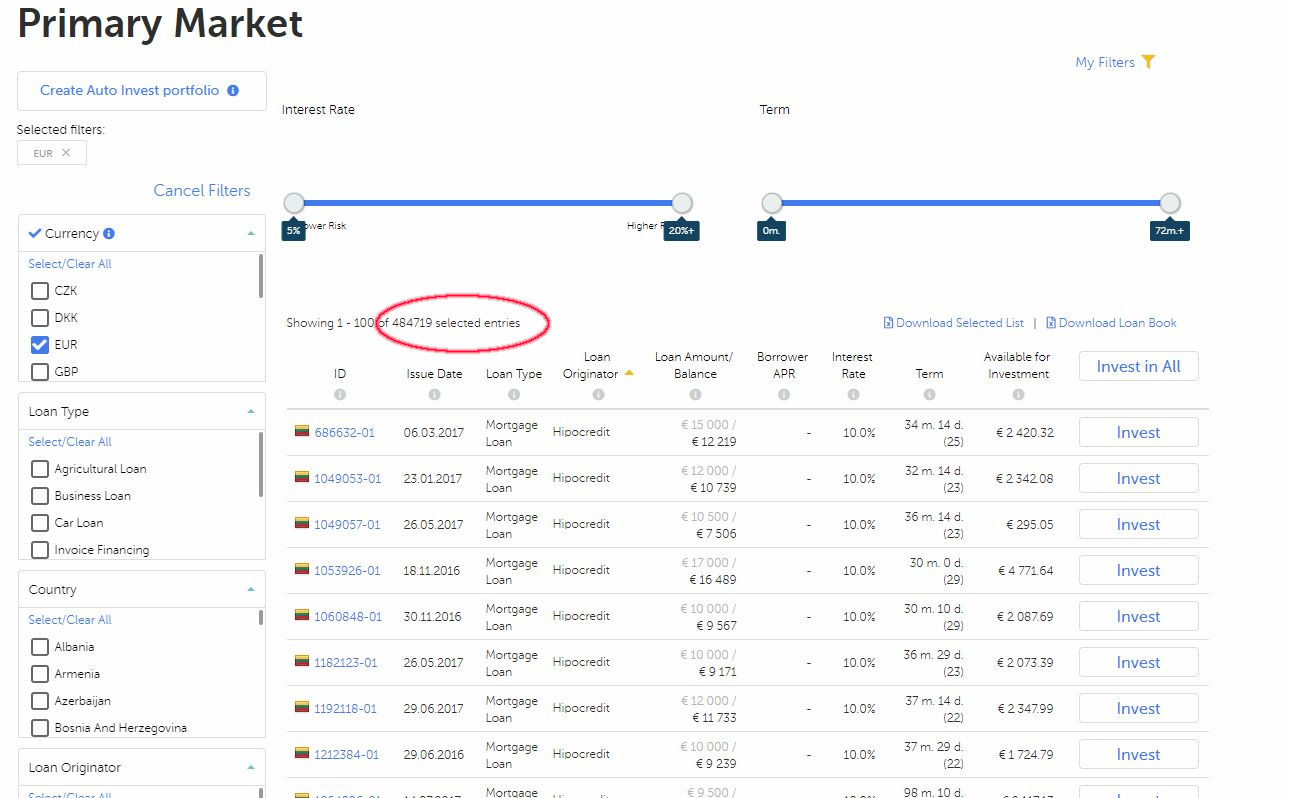 Remember, if you are new to Mintos, they have a wonderful cashback bonus, one of the best in fact. Mintos offer 1% of the value of your investments cashback for the first 90 days you are investing with them! That means on the 30 day loans above, you could be earning 15% for the first 3 months at least. Click here for more info on this fabulous offer! 
No review yet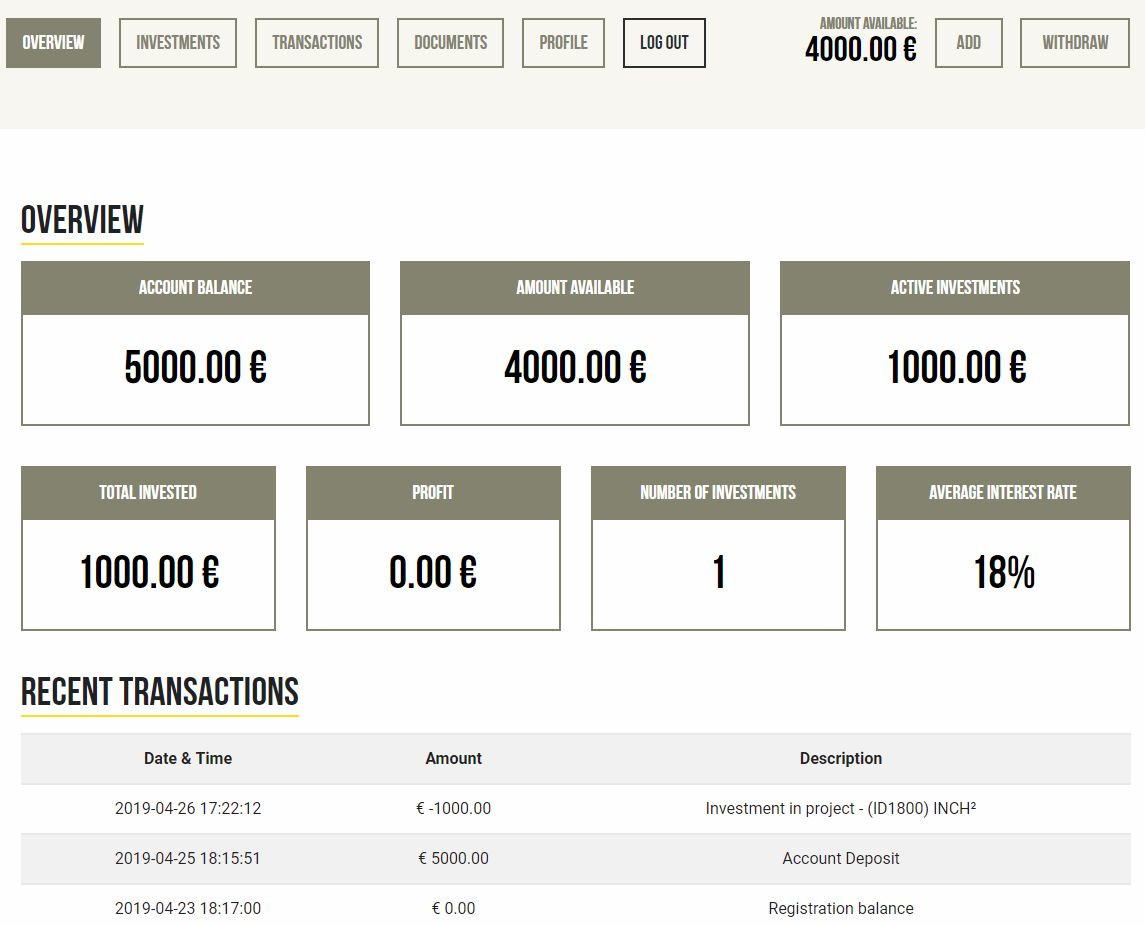 Crowdestor is a euro lender I have been watching for around a year now. They have some short term (typically 3 to 24 months), very interesting loans with small & large European borrowers (typically businesses). Crowdestor provides a buyback guarantee on its loans should they default.
Crowdestor are really focused on loan security and looking after their lenders it appears. First of all, each loan is secured against some type of asset with decent LTV's. Then should the sale of the asset fall short, Crowdestors' buyback guarantee should cover the shortfall.
That's all providing Crowdestor is still in business of course. So far, it seems to me they are relativity careful and have good experience in the lending market. Still a young company with associated risks, however I think they'll do well.
You'll notice in the screenshot above, I was only able to get into 1 loan in the few days I had an account with Crowdestor. It's an 18% return loan with a company called INCH2. You can see below for more info on this opportunity.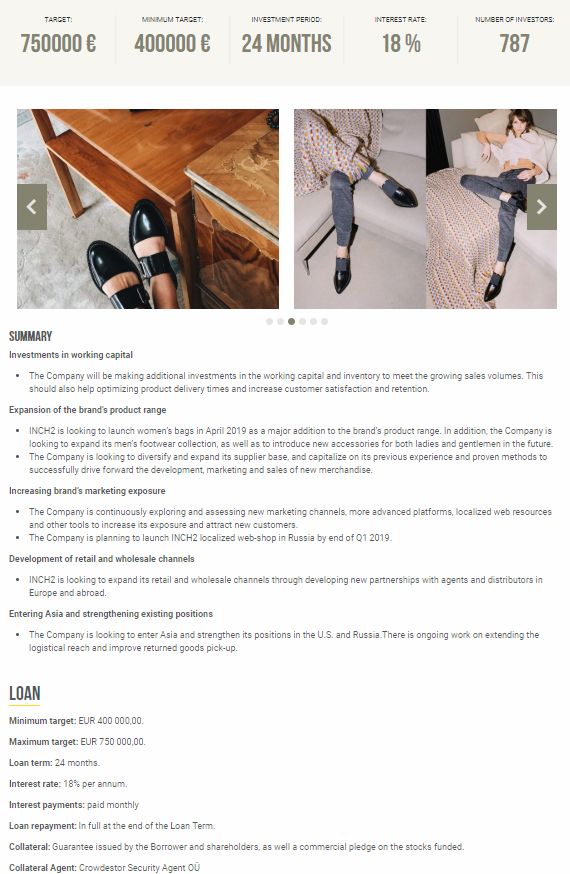 The thing is with many of the high-return euro lenders, the loans go very fast. This was the only loan available for investment at the time of publishing this update!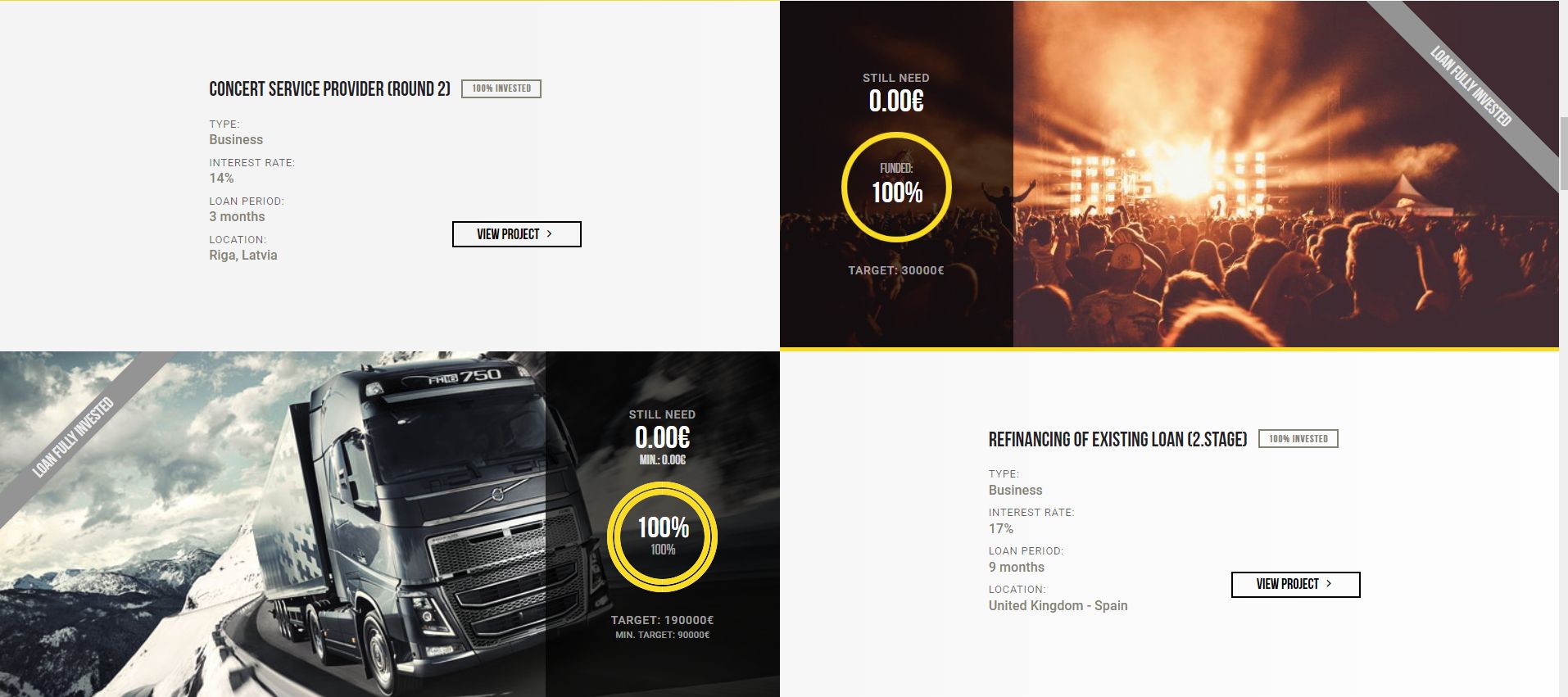 If you're interested in giving Crowdestor a try, click here to go to their website and see current offers
No Review Yet
Envestio is another euro lender similar to Crowdestor I have been watching. Envestio is a hot commodity at the moment. When they introduce a loan, it often sells out in minutes. This is again because they have some interesting and different loan ideas. Envestio loans typically have good asset backing with director guarantees. Envestio also operate a buyback guarantee allowing investors to exit loans early if needed (at a fee). You can read more about Envestios' buyback guarantee here.
Just after I opened my Envestio account, I got an email saying that a new loan was available on the platform so I shot over there and got me a piece of it. It was for a Crypto Mining outfit which sounds REALLY dodgy, I have to admit. Then you look at the information a bit deeper and you see that the loan is asset secured and has personal guarantees, plus this outfit has had loans from Envestio in the past. And they paid everything back on time previously! At this point, the loan really doesn't seem a lot different to some of the loans I see on Ablrate at 10% or 12%, except this loan is at almost 18%. Some of the loans are huge, like this one is for €850,000.
Only time will tell how risky these loans really are, but as I mentioned previously, I've been watching these lenders and they seem legit. The loans get gobbled up so quickly it's almost unbelievable.
If you're interested in investing with Envestio, there is a €5 bonus for the first €100 deposit + 0.5% cashback from all investments for 270 days. Click here for further info.
No Review Yet
Grupeer are kind of like a "mini Mintos" in my opinion. They are based on the same principles at least. They have their platform, with multiple loans available which come from loan originators instead of directly from Grupeer. All of Grupeers' loans have buyback guarantees and they offer interest rates upward of 13% typically. I've been watching Grupeer since they started. They've had a few teething problems but nothing too serious. Recently their biggest problem was cash drag because of so many investors and not enough new loans. They seem to have pretty much fixed that now though, adding a bunch of new loans for investors to get into.
Investing with them is easy. Just like Mintos. Set up your auto-invest setting per the screenshot below, and off you go!
When I sent my capital over to Grupeer, I got into several loans at around 13%, then changed the setting to try and grab 14% or above loans as they are added. The 14% and above loans go in seconds through auto-investing accounts so we'll see how many I get seeing as I'm a relativity new lender.
I'll report back in next months update how that all went.
Here is a brief listing of some of the loans available. Just to point out here, some of the loans below are the same loan broken up into multiple parts, so you need to be aware of diversification of capital if that's something you monitor like I do. It's possible to manually invest in order to get the required levels of diversification if you have the time and inclination.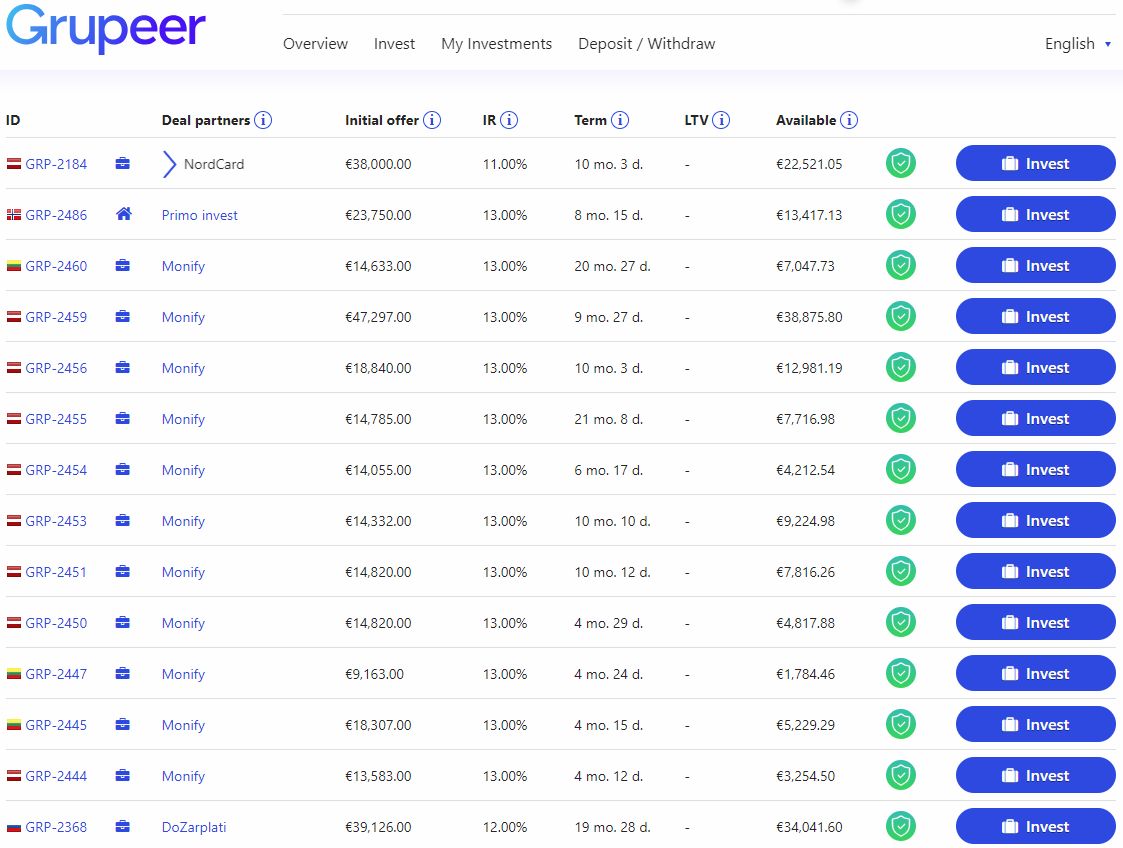 Grupeer are a good option for diversification of a euro portfolio in my eyes. If you're interested in investing with Grupeer, click here to go to their website and see their current offers.
No Review Yet
Robo.Cash is another "mini Mintos" I really like. Similar to Mintos and Grupeer, Robo.Cash has loan originators it brings to the platform. A recent change to the platform is that all loans now come with a 12% return. That rate has gone down quite a bit in the last few months, but that's because (in my opinion) the loans are getting safer. All come with buyback guarantees, and you can choose between short term or longer term loans. The rate is the same on either.
Cash drag is non existent with Robo.Cash right now. I opted for 30 day loans and my cash was gobbled up very quickly. See below for the settings. Also see in the screenshot below the number of loans that met my lending criteria (almost 23,000!).
Robo.Cash have a great cashback offer on now (up to 1% cashback depending on the amount you lend) but you would need to invest before May 31st as it ends then. Click here to go to Robo.Cash website and read more about the offer.
Summary
That's all for this month (a somewhat lengthy post, hopefully not too long?). April turned out to be the best month for my P2P lending so far, surpassing the £1000 mark. I'm excited about my new euro lender accounts and to see how they all fair. I'm still expecting the euro to come down even more against the USD, that's the reason I didn't change more USD to euro yet. As it comes down, I will buy more euros and then start some more euro P2P investments!
Finally I hope the month of May goes well for everyone and I wish you all the best of luck with your investments. I will update you on my P2P Portfolio around the same time next month.
Thanks for reading my blog! Please feel free to comment below if you have comments, questions, criticisms or suggestions. You can also email me if you prefer. I love feedback!
Please note that most of the cashback offers on this site are for new lenders to a company. I suggest you do your own research before investing as cashback offers change daily.
If you're new to Peer to Peer Lending, you can learn more about it on my page About Peer to Peer Lending. Also take a look at my Peer to Peer Lending Guide, Where to Start if you're just thinking about getting your feet wet. Individual lender reviews are all here.
Last Updated on 29th August 2019 by
Mark
Disclaimers:
* My opinions, reviews, star ratings and risk ratings are based on my personal investing experience with the company being reviewed. These ratings are personal opinions and are subjective. You should do your own research before investing any capital and not base investments solely on the opinions published on this site. 
**  Some of the links on this website are affiliate referral links. When you click on these links, I can sometimes receive a commission, at absolutely no cost to you. This helps me to continue to offer new reviews and monthly portfolio updates here on my website. I don't receive commissions from all lenders and it has no effect on my ongoing opinions on lenders. Income on my investments and capital preservation are my main motivations.
Platforms reviewed on this website I am currently investing with, or I have invested with in the past. You can see with full transparency on my Lending Portfolio Returns page which lenders I am invested with (or have previously been invested with) at any point in time. I am not paid a fee by any of the companies to write reviews, so the reviews are unbiased and purely based on my own personal experiences.
Please read my full website Disclaimer before making investment decisions.