Lending Crowd Account Information
Updated May 1st 2019
Detailed Account Information & Screen Shots
First Investment –   June 2018
Initial Investment – £5,500.00
Total Invested       – £9,000.00
Total Return          – £377.57
ROI% (per lender) – 7.80% 
XIRR                       – 6.14% 
See My Full Lending Crowd Review Here
My Lending Crowd Actual Account Growth & Income Charts
Each month I send out an update on all of my Peer to Peer lending accounts. Below are the excerpts specific to Lending Crowd.

    Click here for all lender updates
Lending Crowd had a couple more defaults this month, so I ended up taking another £40 in losses. The actual rate of return they are quoting now is 7.8% which is a little lower than the expected rate of 8%. XIRR is still only showing 6.14% however that doesn't take into account compounding. Only time will tell if we reach the 8.00% mark. It would be nice to get there but honestly 7.00% would be a good number to get to for this type of lender.
I still enjoy investing with Lending Crowd so hopefully the default losses will settle down a bit. They are not looking too bad now (see below screenshot) considering out of 367 loans only 8 are late, and 7 of those are less than 30 days late. Lending Crowd seem to be doing a good job of helping the late payers get back up to date so that is encouraging.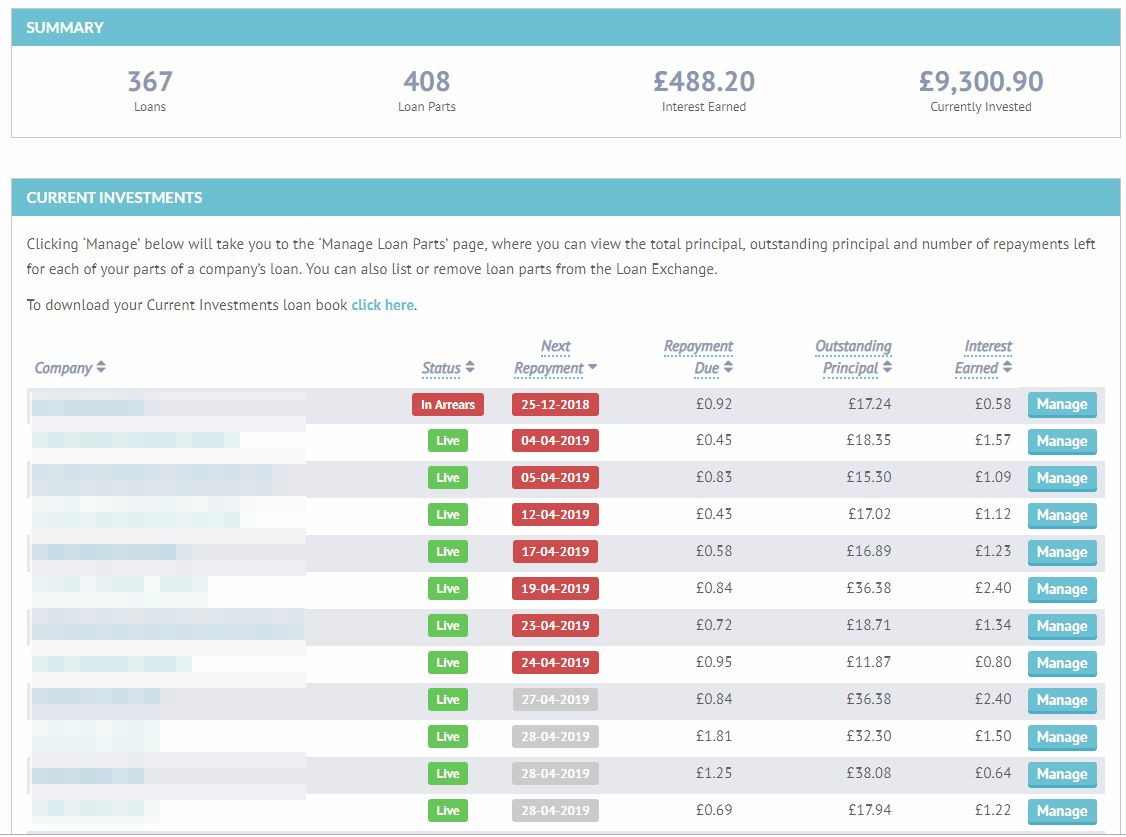 Take a look at one of the last P2P lenders that still allow bidding on loans! Lending Crowd have Up to £400 cashback for £10,000 investment. Click here for more info. See my Lending Crowd Review if you would like to read about bidding on loans.
Ok, so it's official, I have some kind of addiction to Lending Crowd. I literally cannot stop sending money over there! Every month their loans gobble up the money I send over, then I start getting emails about new loans coming out when my money runs out, so I have to send over more so I don't miss the loans! Lending Crowd really do have a great loan supply and their rates are very good. Currently Lending Crowd are saying that I'm getting an actual return of 8.42% with an estimated 7.98% over time.
That being said though, XIRR is running at 6.53% which is much less than Lending Crowd are saying. I think this is probably because of the couple of defaults recently and also maybe a bit of cash drag. I guess we'll see as time goes on.
They certainly are managing to clear down the late loans every month. Out of 360 loans that I am in now, only 6 are in arrears (technically 3 in arrears and 3 late). These numbers are really not bad at all.
Take a look at one of the last P2P lenders that still allow bidding on loans! Lending Crowd have Up to £400 cashback for £10,000 investment. Click here for more info. See my Lending Crowd Review if you would like to read about bidding on loans.
I sent another £500 over to Lending Crowd in February to continue bidding on their loans. They are saying that my actual rate of return is 8.11% against an estimated return of 7.94%. XIRR is up to 5.99% from 5.58% this month  compared to last month, but there is still a big gap there between what Lending Crowd say I'm getting and what XIRR is showing. Hopefully it will keep closing as repayments from loans come in.
Late loans are still only 7 in February so it seems like Lending Crowd are keeping on top of them. 
If you're looking to invest with one of the last P2P lenders that still allow bidding on loans, then Lending Crowd have Up to £400 cashback for £10,000 investment. Click here for more info. See my Lending Crowd Review if you would like to read about bidding on loans.
I'm a lot more comfortable with Lending Crowd in January than I have been for a while. You'll remember last month and the month before there were 11 loans either in default or in arrears which was annoying me a little.  Well, I'm happy to report that Lending Crowd have taken that number down a bit. As of today (Jan 31st 2019) there are only 6 loans in arrears, and one that looks like it could go in to arrears (red circle) on the image below.
They did default and take a loss of 2 loans as bad debt but according to an email I received the other day, they are still chasing the bad debt and think they have a good chance of recovery based on directors guarantees and asset security (see below).
Email from Lending Crowd regarding one of the companies that was written off as bad debt.
Lending Crowd's suggested Return on Investment seems to be right on target by their calculations, but income and Peer to Peer XIRR this month is a little less at 5.58% because of the bad debt hit.
Lending Crowd are another company who are having a good cashback offer right now from £100 – £400 for lending out £2,500 to £10,000. Click here for more information on the cashback offer.
Read my Lending Crowd Review for more information on how they work.
Lending Crowd are a little bit different to the previous accounts as I use the "Self Select" account with "Auto-Bid". The "Annual Rate of Return" they are giving is 9.17% however XIRR is running at 5.85% but that doesn't take in to account any of the potential bad debt for which is seems there could be quite a bit.
As you can see below, there are currently 11 loans in arrears which is way too many for the time I have been invested with them. I'm still watching recovery efforts very closely.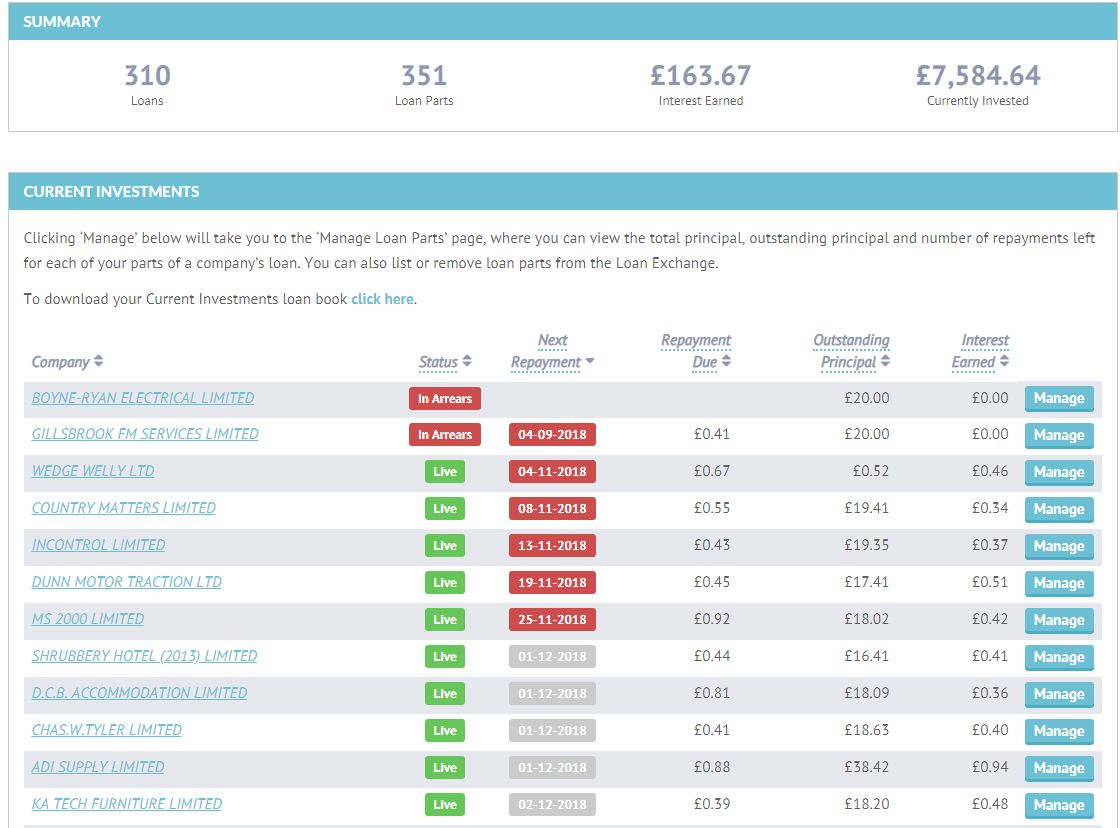 With Lending Crowd unfortunately I can't say "easy, safe investment" like Landbay. However the return is (hopefully) far superior. That being said, I have worries about Lending Crowd. As you can see from the screenshot above, I currently have 7 loans which are late or in arrears. Compare this number to Funding Circle with two that have gone bad, and you can see where my worries lay.
I have been in communication with Customer Service and they assure me that this is normal and just a coincidence that these loans are going bad all at the same time, but I obviously don't like it. My strategy was to sell loans when they become late, however they have stopped investors from doing that now, so when I loan is late, I can't sell it, which locks us in to the losses with no way out.  I will be keeping an eye on Lending Crowd and if this carries on, I may have to cut my losses and sell some good loans to get out. That may be a bit hasty but we'll see. The XIRR is at 5.40% which is reasonable, however that does not include any losses from the 7 bad loans (as they are still hoping to collect on them).
I increased my investment with Lending Crowd by £1000 in October so I can continue to bid on loans. Lending Crowd continue to be a hobby for me as well as an investment. I still bid on loans almost every day, as they have had a really good new loan flow recently. In the last month I have increased my loan number from 274 to 299. All of these loans were through bids.
With every new loan I'm at around 1% higher return than the overall rate on each loan. This not only means better return rates, but it also makes the loans easier to sell if I ever need to exit early, as investors seem to buy loans more quickly when they are above the average return. You can see from the screenshot below what I mean about the average rate and my rate. This loan hasn't fully funded yet so chances are the average rate will drop quite a bit before it goes live.
Loans in Arrears
I have a couple of loans that are in arrears, and a couple that are just late in the screenshot below (although while writing this post, I just received an email from Lending Crowd that said one of the loans is now up to date). I have learned that loans are marked as late 5 days after the payment was supposed to be made. So what I have started to do is to try to sell loans on the secondary market on the 4th day they are late and let someone else take the risk of default if they want to. I managed to sell 2 loans last week that then went in to arrears. Hopefully if I can keep on top of this method, it should help keep my returns on the higher side.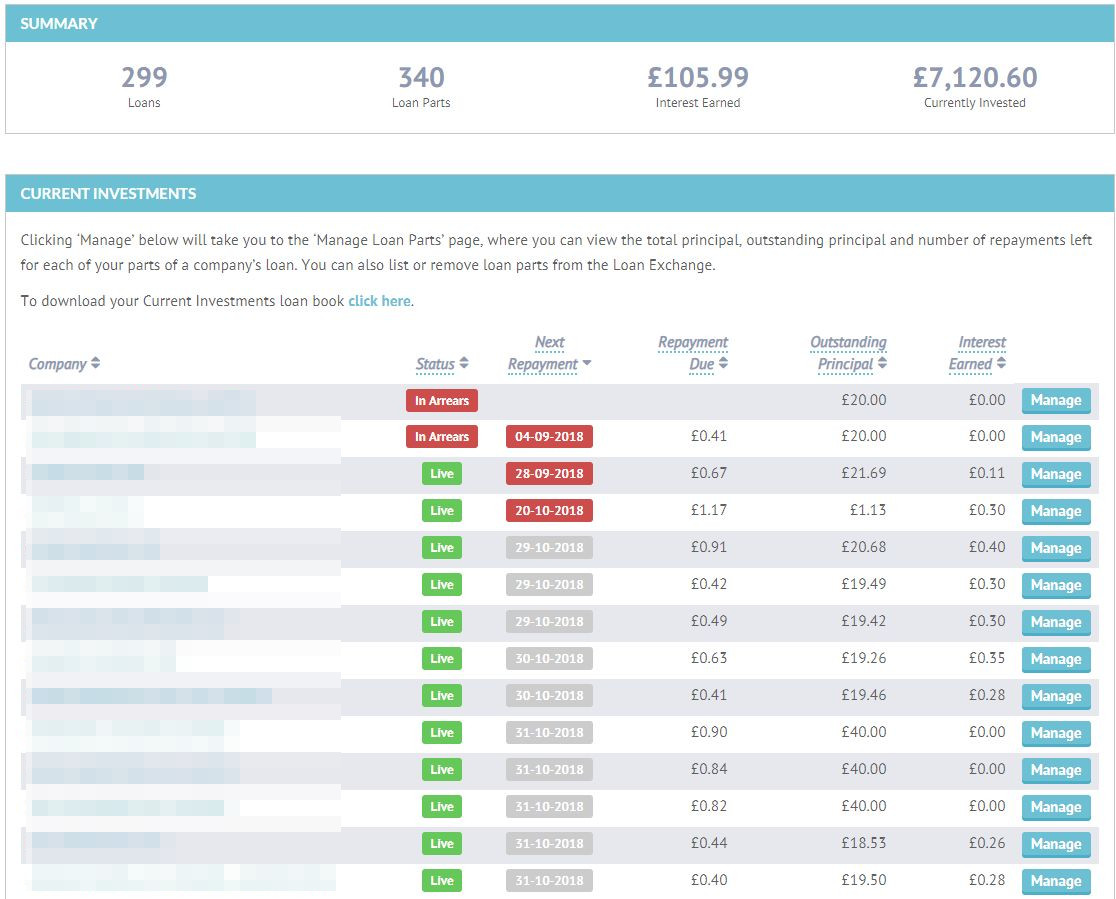 You can see in the screenshot below how to sell loans. Simply move the "Loan Exchange Status" slider to "Listed for Sale" and then the loan becomes available on the secondary market. After a loan is marked by Lending Crowd as "In Arrears" though, after being 5 days late, the "Loan Exchange Status" slider then becomes unavailable

I increased my investment with Lending Crowd by £500 again in September so I can continue to bid on the self-select loans. You can see by the summary screenshot that I am well diversified into Lending Crowd loans with a total of 274 to date.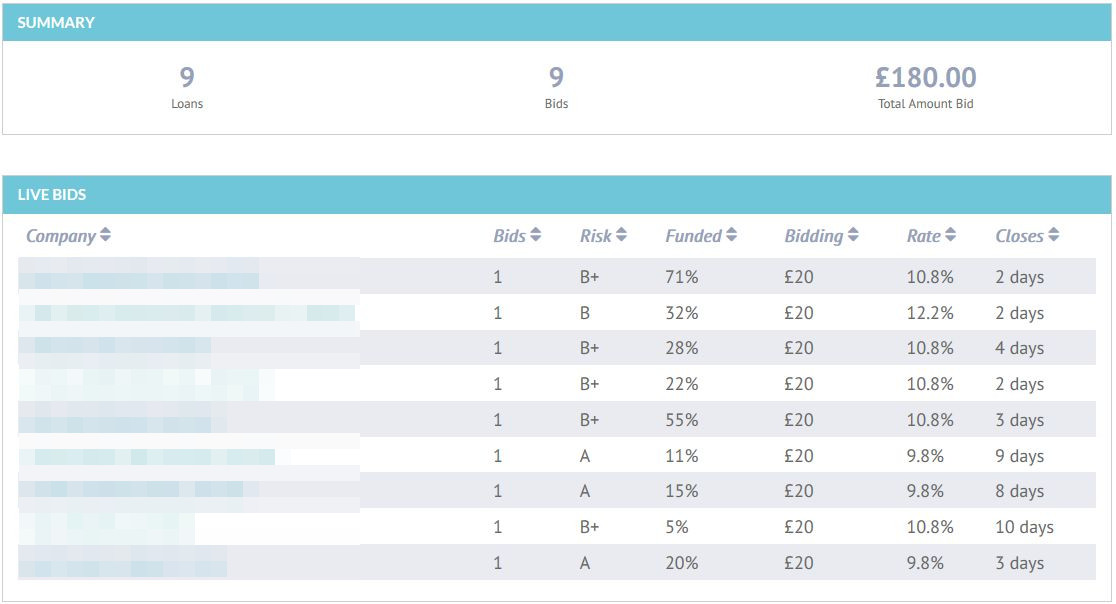 I have the Auto-Bid feature set to automatically bid on new loans. I'm really happy with the Lending Crowd new loan flow. The 9 loans in the screenshot above have been bid on automatically. My strategy is to wait until a few minutes before each loan closes, and see where the bids are, then bid again on each loan at the highest rate available. Typically using this strategy helps to get a higher rate than the overall rate accepted on the loan.
Unfortunately there are a couple of loans in arrears. This is bound to happen with any lender. I will watch to see how well Lending Crowd recoup any defaulted loans to ensure they are getting capital back in a timely manner.
Prior to September 2018, no screenshots were published, however you can still see the full updates below:
April was the best month yet for my P2P Lending Portfolio! It finally crossed the £1000 per month income barrier with a return of £1,078.67 in GBP.  I mentioned "in GBP" at the end there because I…