Unbolted Account Information
Updated July 1st 2019
Detailed Account Information & Screen Shots
First Investment Date          – June 2018
Initial Investment Amount   – £500.00
Total Added                          – £2500.00
Total Withdrawn                   – £0.00
Invested Currently               – £3,000.00
Current Account Balance   – £3,108.75
Total Return            – £108.75
ROI%                       – 8.40% 
XIRR                        – 7.76%
See My Full Unbolted Review Here
My Unbolted Actual Account Growth & Income Charts
Each month I send out an update on all of my Peer to Peer lending accounts. Below are the excerpts specific to Unbolted.

    Click here for all lender updates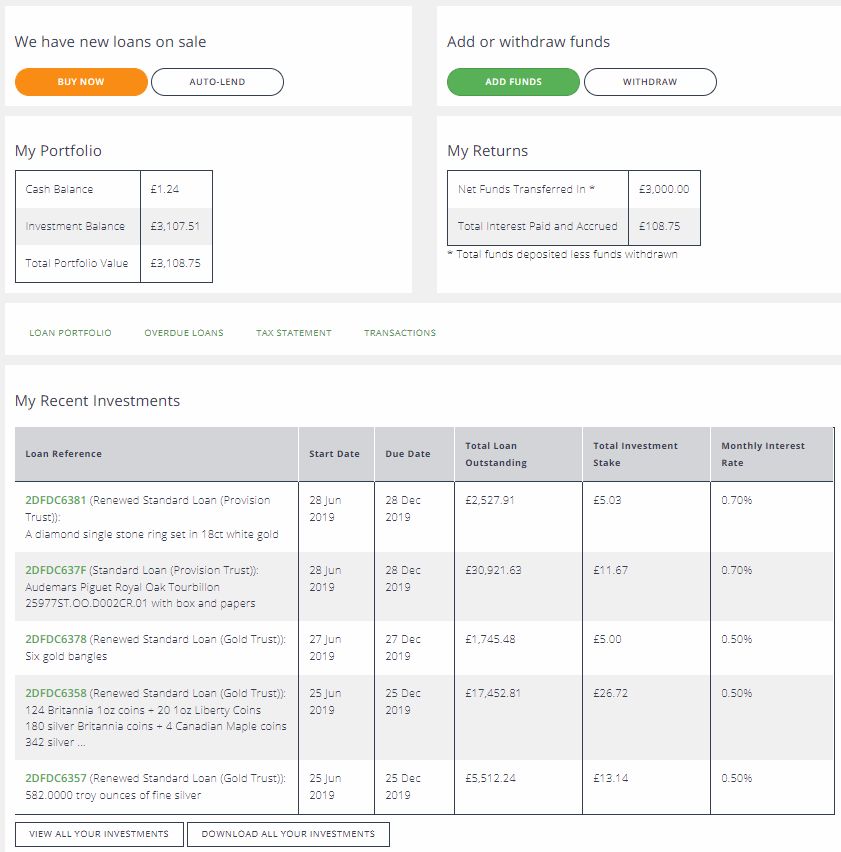 I decided to send another £500 over to Unbolted in July to see if my newly found method for getting capital lent out faster was still working. I'm very happy to say that it does! And the capital was lent out in the first week 🙂 
XIRR rose again this month from 7.57 in May to 7.76% in June making Unbolted my second highest GBP account based on XIRR. See my Unbolted Review for more info. on how I'm getting more capital lent out.

My Unbolted account keeps ticking along. If you remember in last months update, I showed a screenshot of loans which were overdue. This month I started to get emails about some of the assets being sold off at auction and within a few days the items are sold and capital is repaid.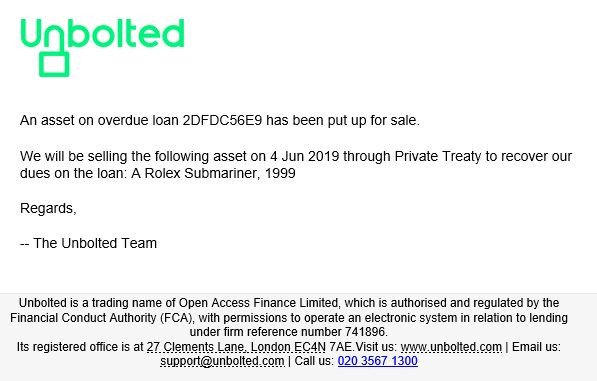 Something I really like about the Unbolted business model is how quickly (most) assets can be sold and capital recovered.
XIRR rose again this month from 7.47 in April to 7.57% in May on a target rate of 8.40%.
I wish there was a way to get more capital distributed with Unbolted. Either way, I'll likely trickle some more capital over to them as I draw down some of my larger lending accounts with other lenders.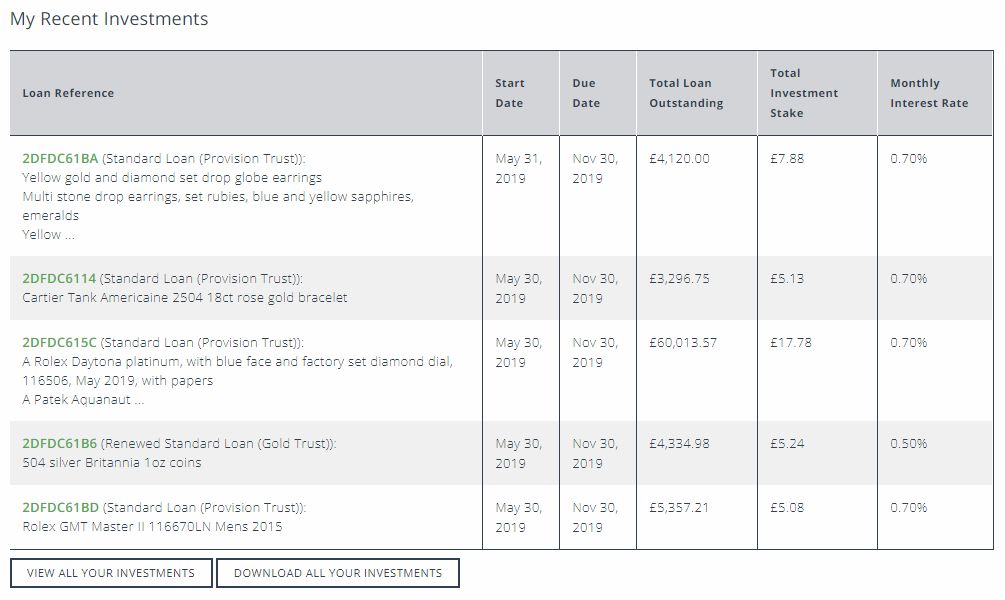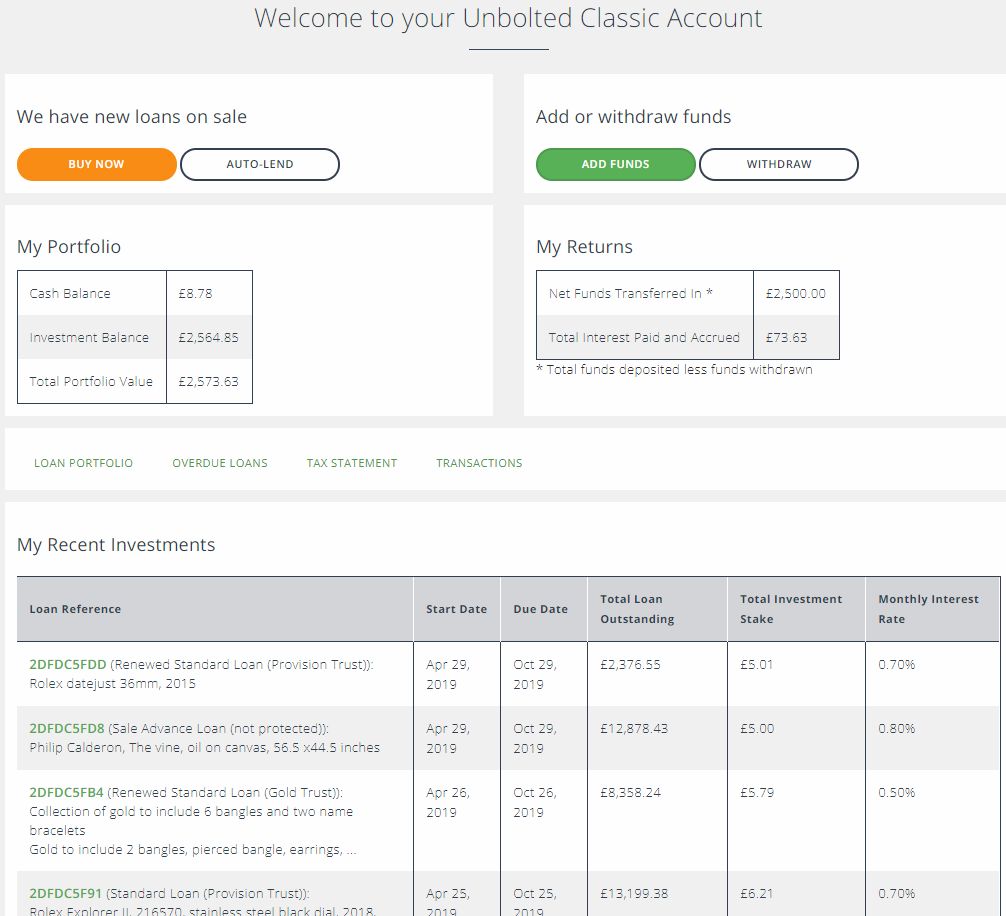 The cash drag has subsided on Unbolted now so I seem to be getting into loans fairly easily. I didn't send anymore capital over to Unbolted this month as they have a borrower that has filed a law suit against them and is alleging some kind of problem with the way his loan was dealt with. I'm not sure of the compete details, and I'm not going to waste any of my time researching it as I'm not sure it would change anything. I don't think it's that serious from what I've read, so I'll just wait until it plays out before sending over any more capital to Unbolted.
There are a few loans outstanding as usual. Unbolted seem to do a great job of selling off defaulted assets very quickly and reclaiming capital. Here is a list of overdue loans: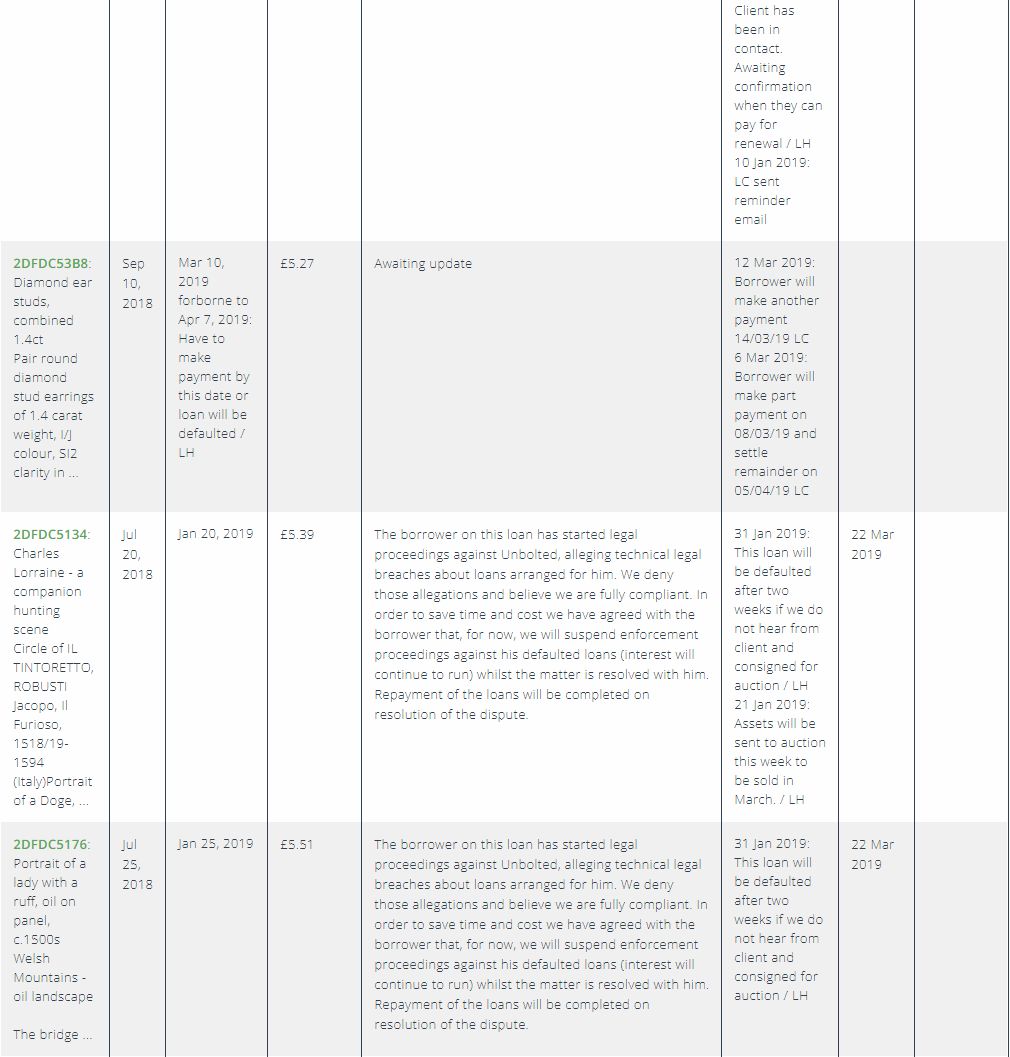 I sent another £500 over to Unbolted in March and once again most of it has been lent out! I think the investment settings highlighted last month are working quite well 🙂
Although I don't have a lot of capital with Unbolted, the return rates are still some of the best in the business. For (mostly) easily salable asset secured pawn shop style loans. XIRR once again increased from 6.83% last month to 7.33% in March.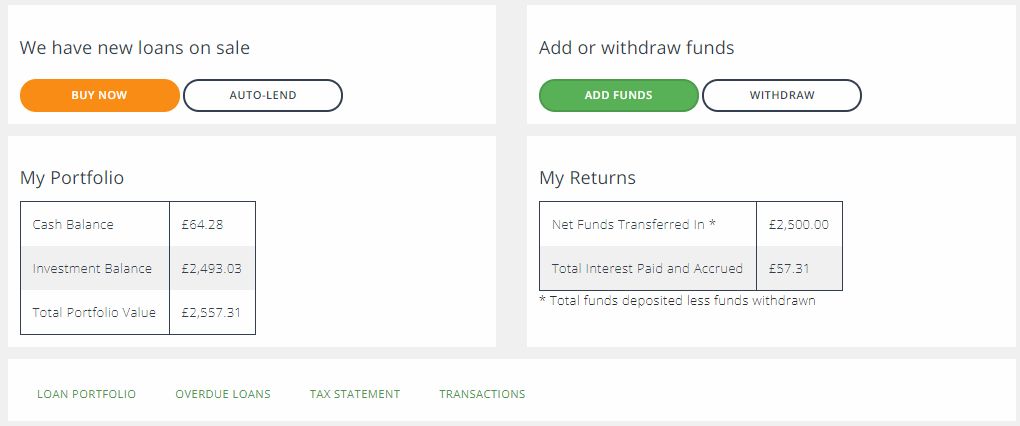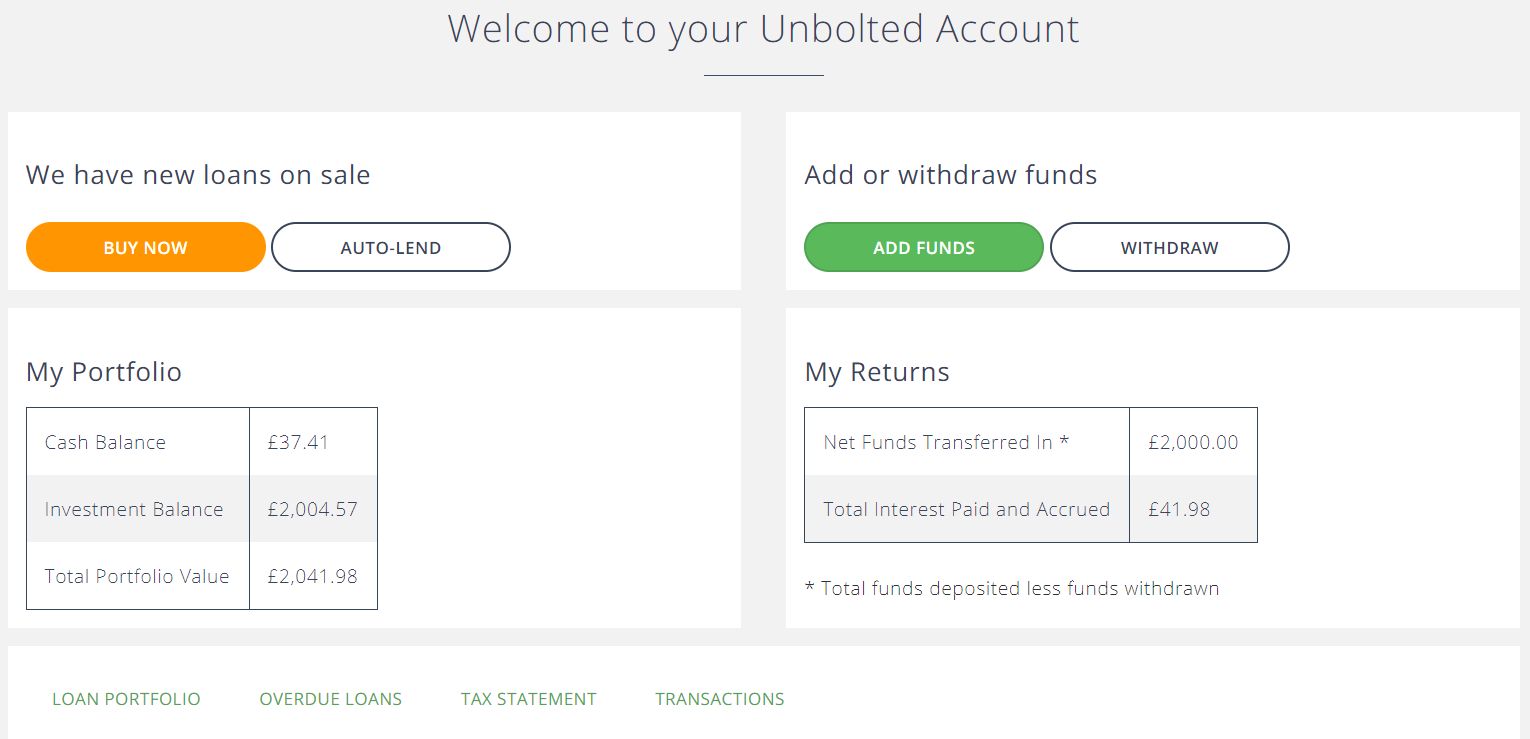 I finally managed to get most of my capital lent out at Unbolted. A reader of my website emailed me after last months update and suggested setting my auto-lend settings much higher than I really wanted in order to get more capital in to each loan.
So I did that and it worked! As you can see below, I'm now getting some larger chunks of loans. Before I was getting maximum £5 – £6 into each loan which just wasn't getting it done.
I got my first notice from Unbolted that an asset was going to be sold because of non-payment this month. This is actually one of the best things about Unbolted believe it or not. Why? Because most of the items loaned on through them are very easy to sell. In this case it is a gold watch which can be sold at auction and the money recouped very quickly. This in comparison to a building which can take months or even years to sell because of all the legalities of repossession and then selling a large value asset such as a house or office building.
Unbolted continue on with the returns on pawnshop type loans currently running at an XIRR of 6.63% which is down quite a bit from last month's 7.37% XIRR. This is mainly because of the cash drag. You may remember I sent over another £1000 to invest with Unbolted to see how long it would take to get invested. Unfortunately as of today (Jan 31st 2019) there is still £491 not yet invested from that £1000.
There en-lies the problem with Unbolted. Honestly if I thought I could get invested substantially with them, I would send over a lot more capital as I feel very comfortable being in these types of loans. Mainly because they have a provision fund, but more importantly because the items the loans are secured against are typically very easy to sell and recoup capital from in the event of default. It does not seem at this time that it is a viable large investment solution, so I'll just leave what I have there for now and keep an eye on them for the future. You can read more in my Unbolted Review about how they operate.
December 2018 Update

In December I decided to double my investment in Unbolted. Their XIRR is running only second to Mintos so I thought it made sense to send some of the money drawn from Zopa there. With secured loans that are typically easy to sell upon any default, it just makes more sense. The one downside of course is the time it takes to get invested. I sent the capital over about 2 weeks ago and as you can see from my account screenshot, there have only been about £140 lent out. I increased the auto-invest settings to £50 max per loan, however I am still only getting £5 – £10 per loan lent out.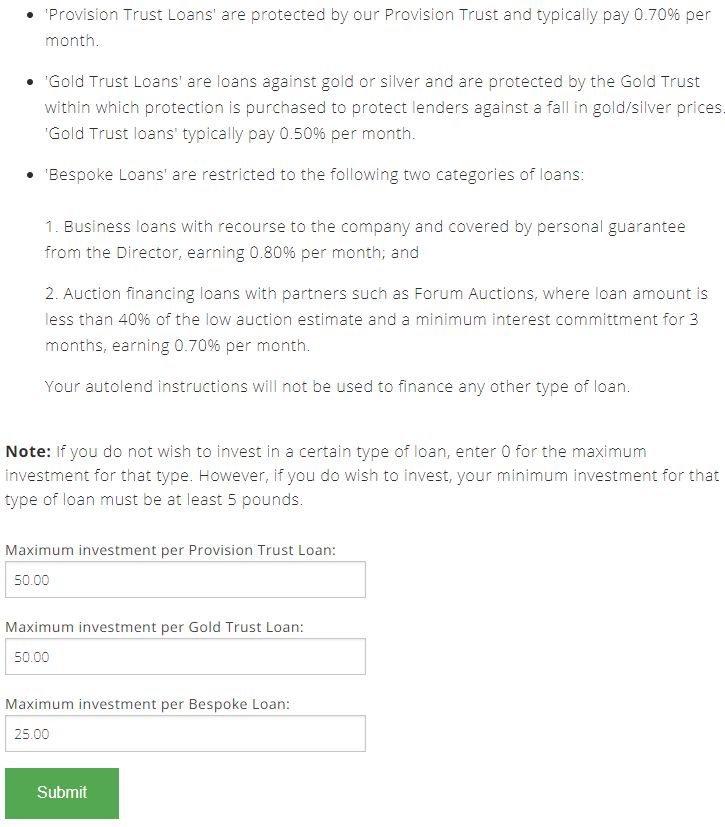 I increased my investment in Unbolted again this month as the XIRR shows how good they really are at 6.27%. This will put us between 8% and 9% once we get 12 – 14 months of data. I would increase my investment even more with Unbolted but unfortunately it just takes a LONG time to get any sizable amount lent out. I'll keep trickle feeding capital in there but it's going to take a long time before Unbolted becomes a significant part of my portfolio.
After finishing up a review on Unbolted a few days ago, I decided to send over another £100 to see how long it took them to lend it out. This screenshot is from the day after I sent it, so they already lent about 40% of it out, which is not too bad. However lending out small amounts is one thing, not sure how they would do if I upped the investment by 10 or 20 times. I'm guessing not so well, but I'll continue to send bits of capital over there and see how they do. I like being able to get in to these loans as they pay well, and when there is default, items are easier to sell than property in order to recoup capital.
Here is a list of where the recent capital deposit went. Rolex watches and diamond earrings were a couple of items 🙂 
I have mixed feelings about Unbolted. I originally sent 2.5k over there to try them out, but after 1 month only £400 of the capital had been invested so I withdrew the rest and invested it elsewhere. Cash drag is not a good thing. The account is set to auto-invest so there is nothing to do with it except watch. I will do some more research on Unbolted moving forward and see if I can figure out how to get more capital invested with them. I like the unique short term loans they have for a little more overall portfolio diversification.
Prior to September 2018, no screenshots were published, however you can still see the full updates below: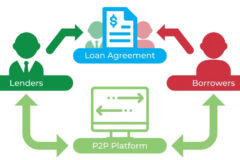 GBP Portfolio Overview June 2019 was (again) the best month yet for the GBP Peer to Peer Lending Portfolio! The £1000 per month income barrier was blown away in June, with a…