Overview
First of all, I'm sorry this update was so late. I moved houses (Portugal house) on February 28th and it took over a week to get internet switched on. My phone data connection from the UK phone works in Portugal but it doesn't allow me to use my mobile hotspot to share data when abroad so I was pretty much stuck. I was a bit busy as well as you can imagine.
On to the update! Even though February was a short month, we still did £985.14 in total income for the month which was the second only to January. For all of the FiRE folks out there, if you were living in Portugal, a single person could retire on that if they were frugal. The minimum wage here is about 600 euros per month so compared to some you would be doing quite well. Although you would be living a very non-materialistic life 🙂
As mentioned in last months post. I started to look at some new lenders in February and decided to invest a little in Ablrate. More below on Ablerate and my reasoning for doing so. I had to withdraw some capital from Mintos because loans in GBP have become scarce again.
P2P XIRR is still growing slowly going from 5.03% last month to 5.26% this month. I'm still expecting overall performance to be above 6% once we have about 12-14 months of data.
There are some great cashback incentives for new investors right now and I have listed them at the end of each lender update below. If you are considering investing in any of the lenders below, and you think my website is helpful in your research, please consider using my links below as I can sometimes get a small commission from the lenders which costs you absolutely nothing and helps me continue to run the website.
Charts and spreadsheet updates are below. You can see live versions of these anytime here
Individual Lender Updates
Ablrate is a lender that has been around for a few years. They have historically mostly offered loans on airplanes, however now they have several different loans available. They are not like some of the bigger players with hundreds or thousands of loans available, so I consider them much higher risk than most of my other Peer to Peer investments. The interest rates they offer tend to reflect this though. Their loans are all secured and they have a very good reputation in the industry for due diligence on loans so have a very low default rate. They also have a very good track record for recovery of defaulted loans.
This is my first month with Ablrate so I won't go in to a lot of detail here. Let's see how they go moving forward and give me a bit of time to understand their lending model better.
Here are a couple of the loans currently available with Ablrate
This is the kind of detail available on each loan.
Assetz Capital are still going strong. £136.49 income in February which is down from last month, but Feb is a short month and it is still more than December 2018 (just).  I say it every month but Assetz are just as easy as pie. Really you don't need to do anything if you use their auto-invest accounts and the income just rolls in with the protection of their (discretionary) provision fund.

You'll also notice below that Assetz have added a new 90 day access account enabling a bit more interest than their QAA account and 30 Day Access account with just 90 days notice required to withdraw capital under normal market conditions.
To incentivize investments in to the new account, Assetz Capital is offering 1% cashback on all capital invested in their new account. Click here for more information and to get 90 Day Account Cashback
Assetz just continues to grow and go from strength to strength.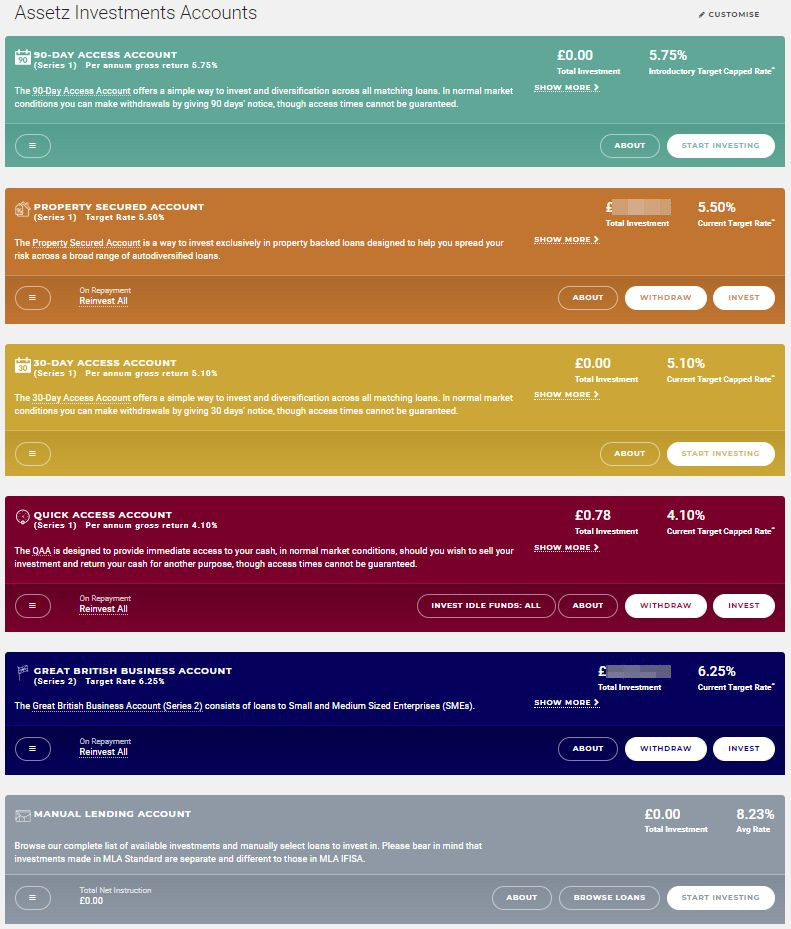 Assetz Capital have extended their excellent cashback incentive for new investors until the 31st of March 2019! Click here to read more about it. Up to £350 cashback which is wonderful! It's only available until March 31st though so don't delay!
Funding Circle are getting some bad press lately because of a few more than usual loans going bad. Luckily I'm not seeing too many of them (touch wood). I've had a couple of small write offs but nothing too significant. In fact they are still my highest grossing account by actual income with net earnings (so far) of £1,409.10 and a lender calculated ROI of 8.6% and an XIRR of 7.14%. Not quite as high as Mintos, however no work at all required. Personally I think all lenders go through periods of higher than normal defaults (look at Lending Crowd a couple of months ago) but they adjust their lending criteria and learn by their mistakes and the loan market.
If you're looking to start investing with Funding Circle, they currently have a cashback offer: Invest £2000 and receive £50 Amazon Gift Certificate. Click here for more info.
For a decent rate with 30 day access to your capital, Growth Street is a great option at 5.3% return. Of course you can get 5.10% in Assetz Capital's 30 day account as well so diversification is easy for people who need relatively liquid capital.
For new investors, Growth Street have a good cashback offer: Invest £5000 or more for 1 year for £200 cashback. Click here for more info.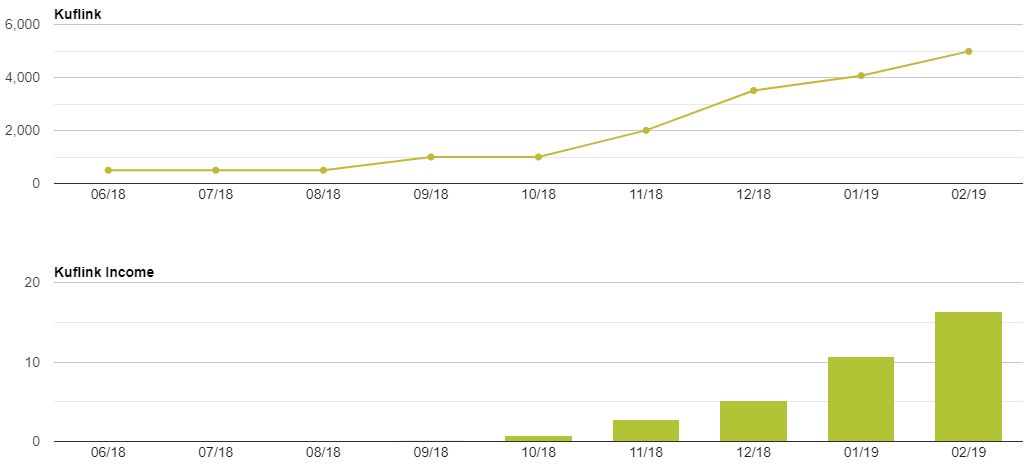 I sent more money over to Kuflink in February bringing my total to almost £5k. The more Kuflink loans I see, the more comfortable I get with them. Great rates with low LTV's and their own "skin in the game" really does take some beating.
See below the LTV's on some of the latest loans. 
Kuflink now have a secondary market for buying and selling loans which really is a welcome addition. I picked up a few loans, the best of which was Brampton Road. If you remember, this was the loan with the crazy 28% LTV that I missed as it was gobbled up by investors within a couple hours of it being listed. £325 of it became available so I took the lot very quickly and I'm very happy with that decision. In order to lose money on this loan, the building would literally need to lose over 72% of its value, plus another 5% of Kuflinks "skin in the game". If the economy got so bad that this happened, I think there would be a lot more to worry about than the £325 invested in this loan.
 If you're looking to invest with Kuflink, now is a great time as they have a great cashback going on from £50 to £250 for a £500 to £5000 investment. Click here for more information. You can see my latest Kuflink Review here.
Boring old Landbay is really the closest thing to a bank, for hands off investing and low returns they can't be beat (yes, that was sarcasm). Supposedly one of the safer lenders, but remember they are not a bank and your funds are not insured as they are in a bank.
If you're looking for the safer option for your money, Landbay currently have an incentive for new investors: £50 cashback when investing £5000 or more. Click here for more information.
I sent another £500 over to Lending Crowd in February to continue bidding on their loans. They are saying that my actual rate of return is 8.11% against an estimated return of 7.94%. XIRR is up to 5.99% from 5.58% this month  compared to last month, but there is still a big gap there between what Lending Crowd say I'm getting and what XIRR is showing. Hopefully it will keep closing as repayments from loans come in.
Late loans are still only 7 in February so it seems like Lending Crowd are keeping on top of them. 
If you're looking to invest with one of the last P2P lenders that still allow bidding on loans, then Lending Crowd have Up to £400 cashback for £10,000 investment. Click here for more info. See my Lending Crowd Review if you would like to read about bidding on loans.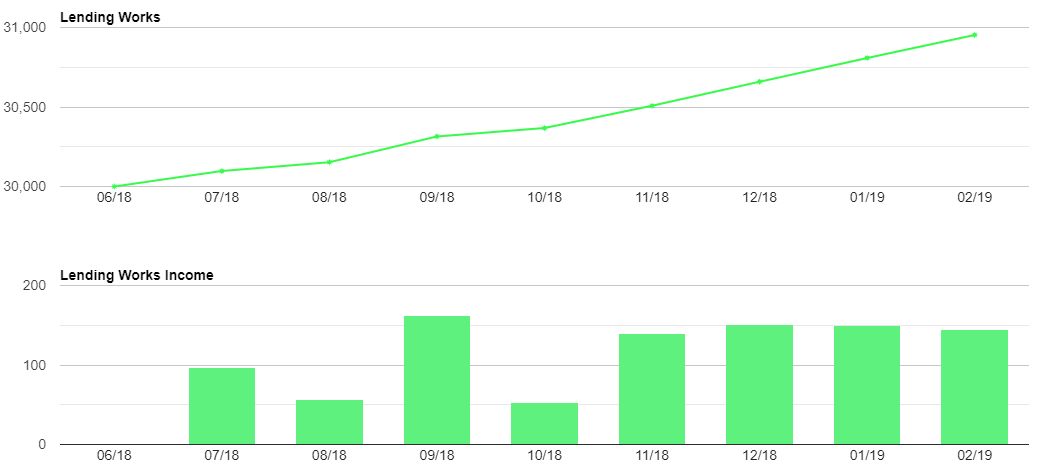 Lending Works are still pitching a 5 year target rate of 6.5% which is great for a hands off investment with the safety of their Lending Works Shield. Read my  Lending Works Review for more info on how that works if you are not familiar with it.
If you're looking for a safer place to put some of your capital, then Lending Works have a great cashback offer of £50 for investing just £1000 with them for new investors. Click here for more information on the offer.
Unfortunately I had to move some capital out of Mintos this month because there were no more GBP loans available. I say "unfortunately" because Mintos is my top lender for actual XIRR returns at 7.95% and I really like Mintos. You can read about why I love Mintos so much in my Mintos Review. As mentioned in last months update, I am going to invest some euros in Mintos, but I'm waiting for the exchange rate to become a little better. I think after Brexit the pound will rise against the euro and also I think the euro will fall against the US dollar as it broke key support last week (see red line on daily chart below).
Also the euro is in a long term downtrend against the US dollar (see monthly chart below) and I think it's just a matter of time until it hits 1:1 or even less maybe?
Mintos are another lender who have a wonderful cashback bonus, one of the best in fact. Mintos offer 1% of the value of your investments cashback for the first 90 days you are investing with them! Click here for more info on this fabulous offer! 
Ratesetter are one of my biggest accounts and they are likely to stay that way for the foreseeable future. Easy "fire and forget" investment with one of the largest P2P lenders in the UK.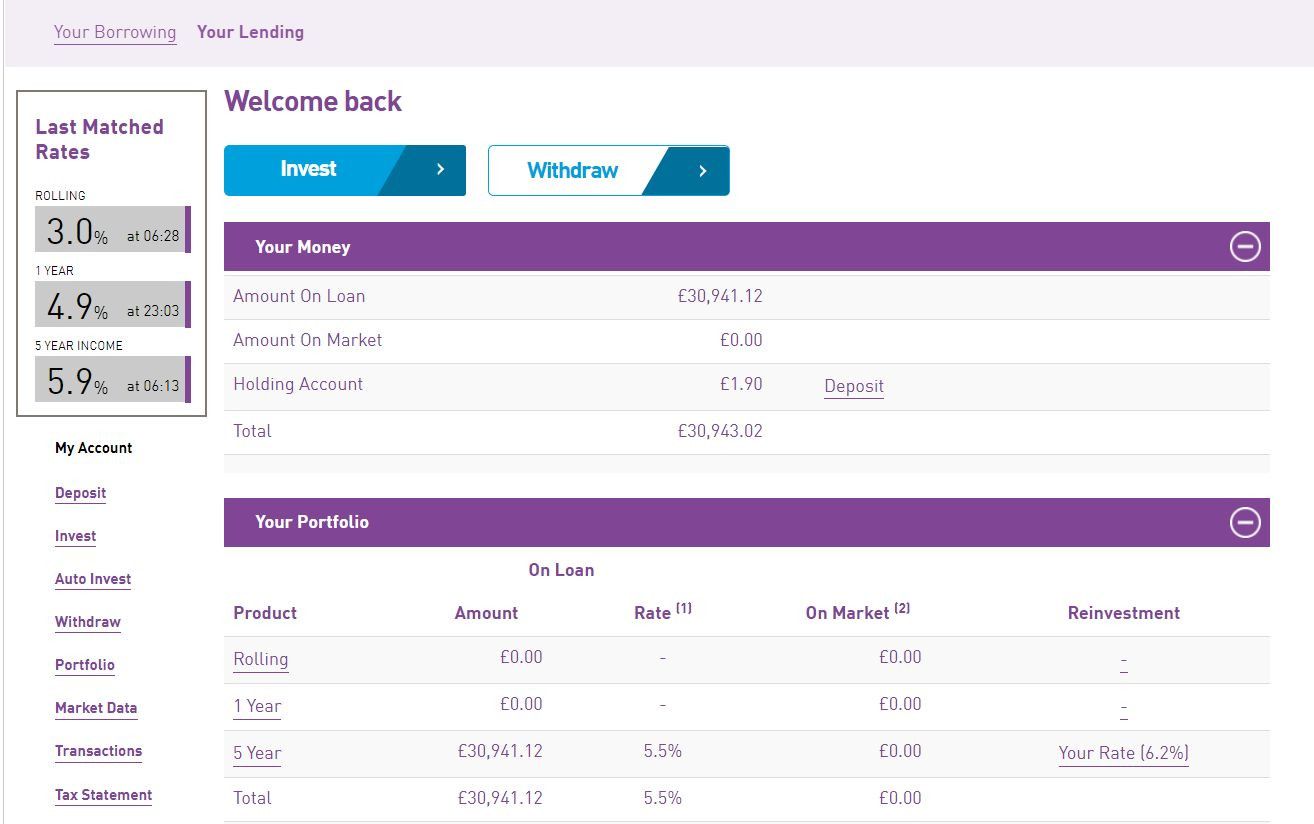 Still seeing rates up to 6.3% in February, so still a good time to get in if you're looking to diversify to one of the larger, safer UK lenders. That coupled with the very decent cashback offer RateSetter is having right now of £100 cashback for investing £1000 for a year (10% ON TOP OF standard returns), it is definitely worth considering. Click here for more information on the cashback offer.
Once you've opened a RateSetter account, I would suggest looking back at rates for the last month and setting a rate near the high. I notice that rates seem to climb higher at weekends for some reason so don't be too eager to take a lower rate. Wait a while and see if they come up at the weekend to the top rates.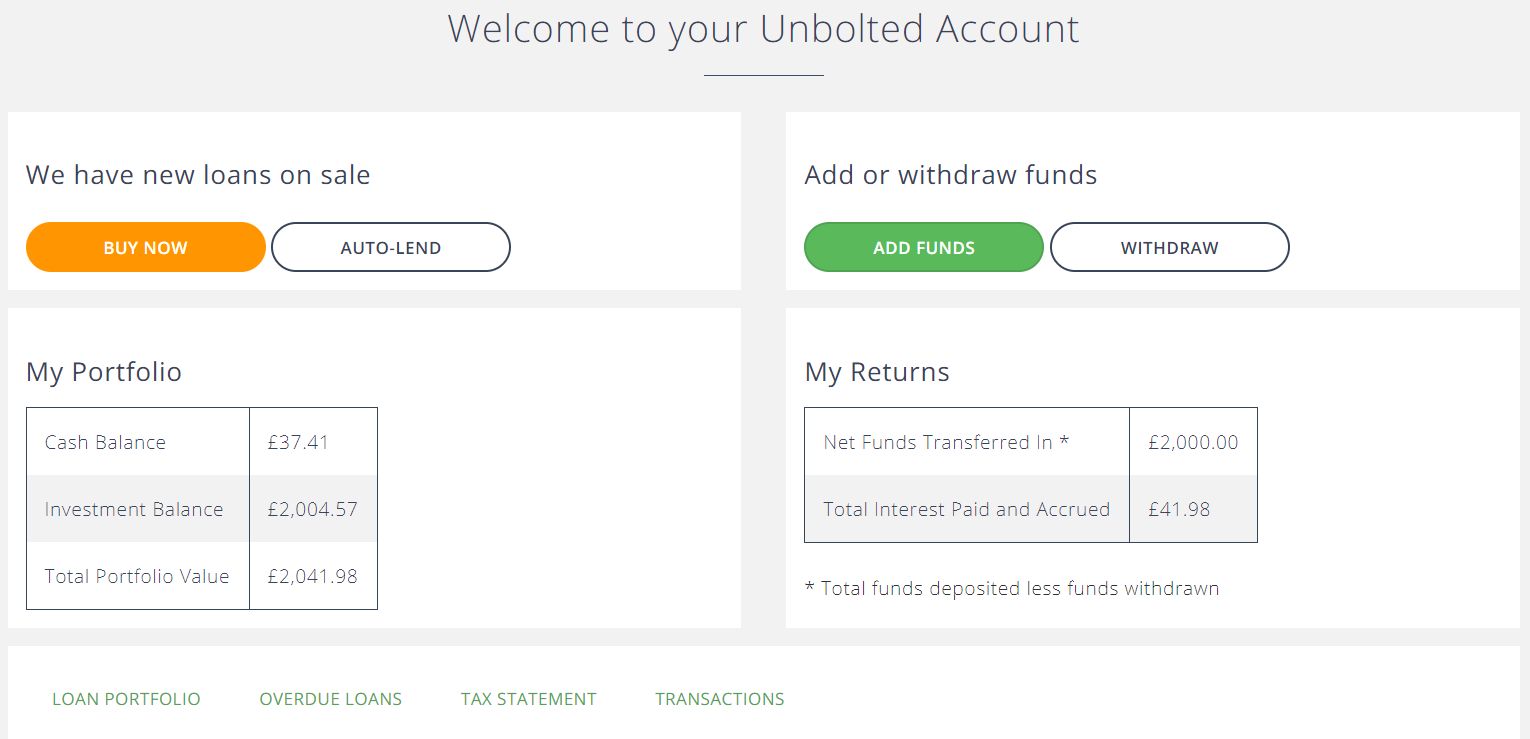 I finally managed to get most of my capital lent out at Unbolted. A reader of my website emailed me after last months update and suggested setting my auto-lend settings much higher than I really wanted in order to get more capital in to each loan.
So I did that and it worked! As you can see below, I'm now getting some larger chunks of loans. Before I was getting maximum £5 – £6 into each loan which just wasn't getting it done.
I got my first notice from Unbolted that an asset was going to be sold because of non-payment this month. This is actually one of the best things about Unbolted believe it or not. Why? Because most of the items loaned on through them are very easy to sell. In this case it is a gold watch which can be sold at auction and the money recouped very quickly. This in comparison to a building which can take months or even years to sell because of all the legalities of repossession and then selling a large value asset such as a house or office building.
Summary
Another month gone and my P2P investments are still doing well. I'm looking forward to adding some new GBP lenders in the near future as well as some euro lenders as soon as I feel the time is right to buy some euros to invest.
I hope the rest of March goes well for everyone and I wish you the best of luck with your lending. I will update you on my P2P Portfolio hopefully earlier next month now we are settled in the new place. If you are waiting for an update to my Growth Portfolio, that will be out in the next couple of days.
Thanks for reading my blog! Please feel free to comment below or email me if you have comments, criticisms or suggestions.
Please note that most of the cashback offers on this site are for new lenders to a company. I suggest you do your own research before investing as cashback offers changes daily.
If you're new to Peer to Peer Lending, take a look at my Peer to Peer Lending Guide, Where to Start
Disclaimers:
This page is presented for informational purposes only. I am not a Financial Adviser and therefore not qualified to give financial advice. Please do your own research and make your own investment decisions. Do not make investment decisions based solely on the information presented on this website.
* My opinions, reviews, star ratings and risk ratings are based on my personal investing experience with the company being reviewed. These ratings are personal opinions and are subjective.
** Some of the links on this website are affiliate referral links. When you click on these links, I can sometimes receive a commission, at absolutely no cost to you. This helps me to continue to offer new reviews & monthly portfolio updates here on my website. I don't receive commissions from all platforms and it has no effect on my ongoing opinions on investments & investment platforms. Income from my investments and capital preservation are my main motivations.
Platforms reviewed on this website I am currently investing with, or I have invested with in the past. You can see with full transparency on my Portfolio Returns page which assets & platforms I am invested with (or have previously been invested with) at any point in time. I am not paid a fee by any of the companies to write reviews, so the reviews are unbiased and purely based on my own personal experiences.
Please read my full website Disclaimer before making investment decisions.