Assetz Capital Account Information
Updated September 1st 2019
Detailed Account Information & Screenshots
First Investment Date          – June 2018
Initial Investment Amount  – £30,000.00
Total Added                          – £48.00 (Cashback Bonus)
Total Withdrawn                   – £0.00
Invested Currently               – £30,048.00
Current Account Balance   – £32,088.47
Total Interest Return           – £2,040.47 (plus £48 cashback)
ROI% (per lender)               – 6.10% 
XIRR                                     – 5.95% 
See My Full Assetz Capital Review Here
My Assetz Capital Actual Account Growth & Income Charts
Each month I send out an update on all of my Peer to Peer lending accounts. Below are the excerpts specific to Assetz Capital.

    Click here for all lender updates
Assetz Capital have just become my top lender by return value in August, just taking over Funding Circle because of the bad debt hit. Assetz have returned a total of £2,040.47 since I began with the public portfolio.
I really would like to send over more money to Assetz Capital and I will once I sell out some of my Funding Circle account. Assetz really are one of the top lenders in the UK right now. Asset security and great return rates can't be beat!
On top of all that, Assetz Capital has launched a great new cashback offer for September! £150 cashback for investing £5,000. Here are the details;
Open to new customers to the Assetz Capital platform from 1st September
Customers must complete their registration by midnight on 30th September
They must invest £5,000 or more by midnight on 7th October

If they keep the funds invested for 12 months, they will receive £150 cashback
If you missed their last cashback offer, don't miss this one!  Click here to take advantage of Assetz Captial's latest £150 cashback offer. You're missing out if you you're not lending with them.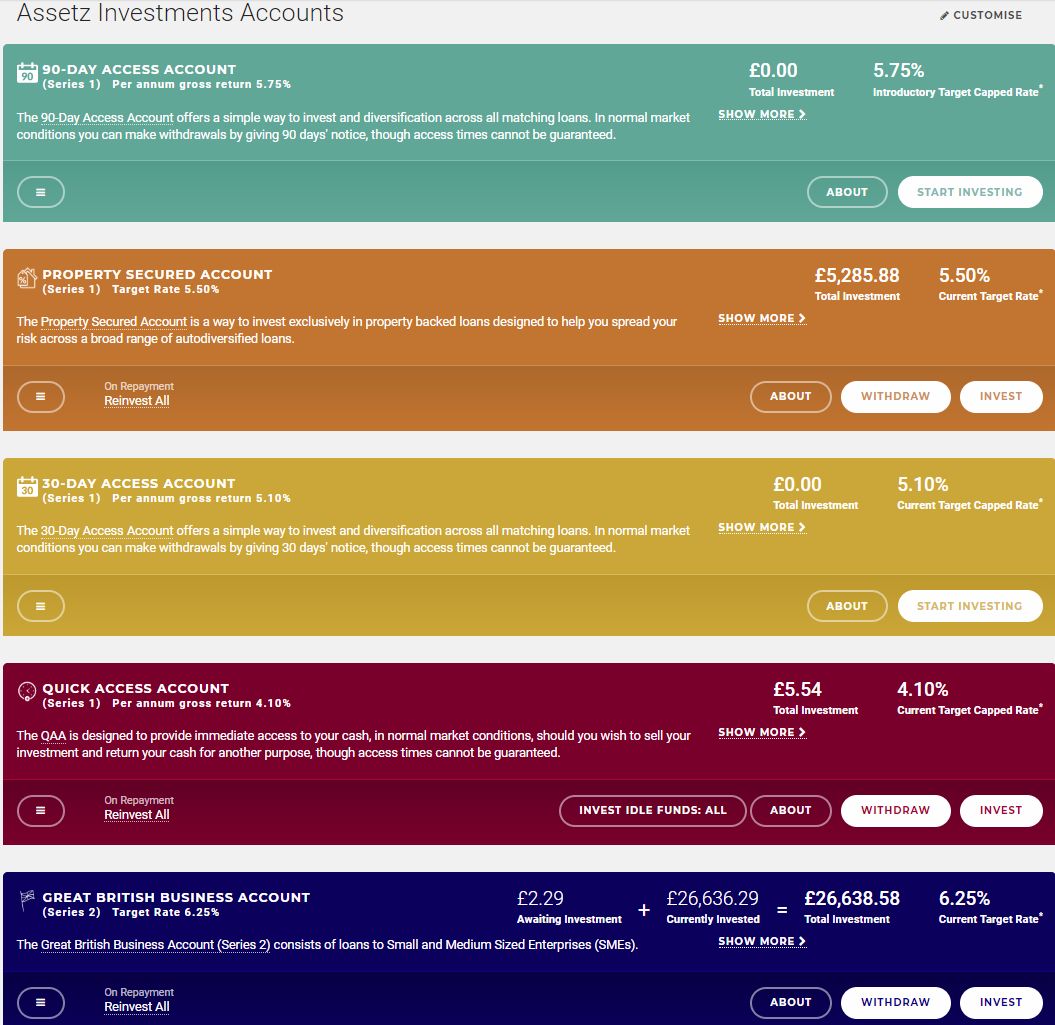 Assetz Capital's stated rate for my account has again increased in July to 6.13% from 6.12% in June. XIRR is up to 5.76% from 5.72% last month, so everything is proceeding nicely.
Once I sell out some of my Funding Circle account, I'll likely increase my Assetz Capital account as it has to be one of (if not the) most reliable lender on a month-to-month basis. Add to that most loans are secured by property and Assetz just makes a lot of sense.
Assetz Capital's cashback finished at the end of May so there is none currently. It won't stop me from investing more money with them soon though, cashback or not. 
Click here to see Assetz Captial's latest offers or to open an account. You're missing out if you you're not lending with them.

You'll notice above the rate Assetz Capital says I'm getting now has increased again to 6.12% after taking a little dip last month to 6.06%. XIRR is up to 5.72% from 5.66% last month so everything is proceeding nicely.
Someone emailed me last week and asked which lenders I thought were the safest out of my larger lending accounts. Out of all of my larger (£30k+) lending accounts, I think I feel most safe with Assetz Capital first, then Lending Works, RateSetter and then Funding Circle. I don't feel unsafe with any of them, but the first 3 have provision funds, Funding Circle doesn't, however it's a massive company and at the top for returns. So you can't have everything 🙂
It's so difficult to choose between Assetz Capital and Lending Works for the first spot because they are both super-safe lenders in my eyes. Assetz has asset security though, and I think that's what takes it. RateSetter is just big and your money is also relatively safe there too. It would take a lot for a problem to occur in any of them and put your capital at risk. It could happen though, so always remember that.
Assetz Capital's cashback finished at the end of May so there is none currently. It won't stop me from investing more money with them soon though, cashback or not. 
Click here to see Assetz Captial's latest offers or to open an account. You're missing out if you you're not lending with them.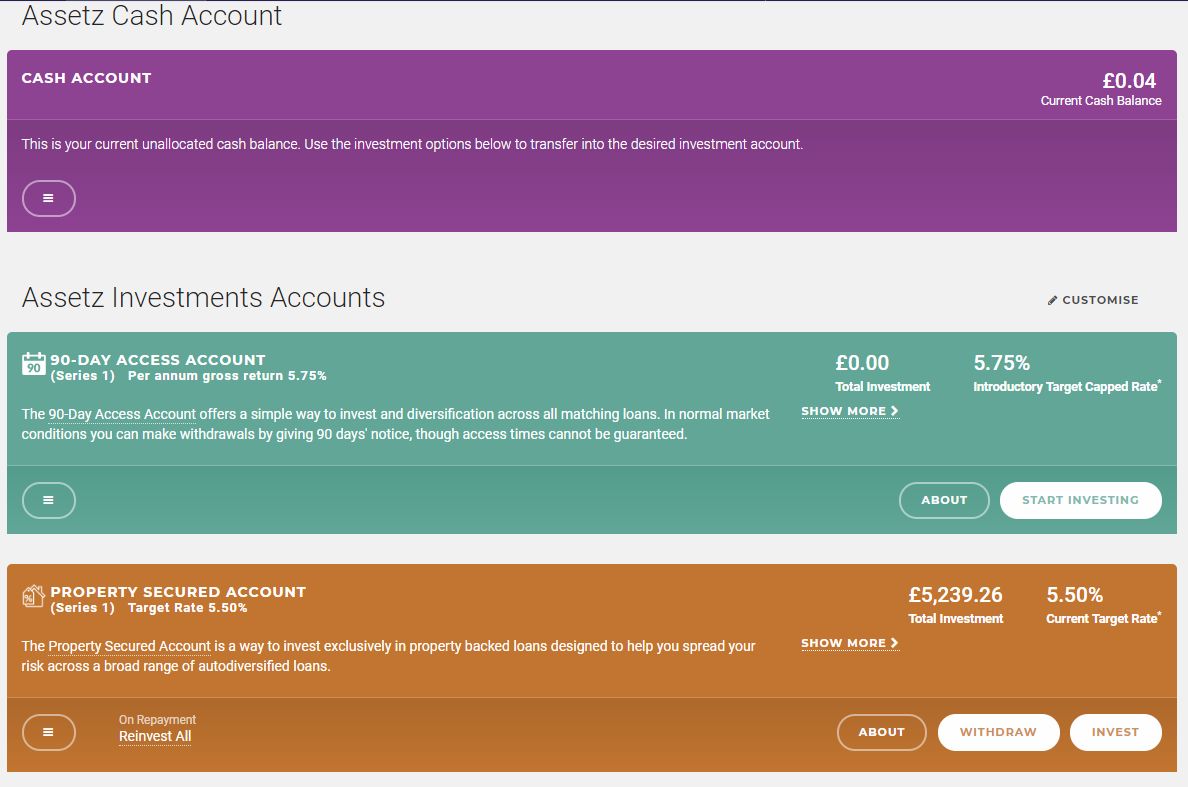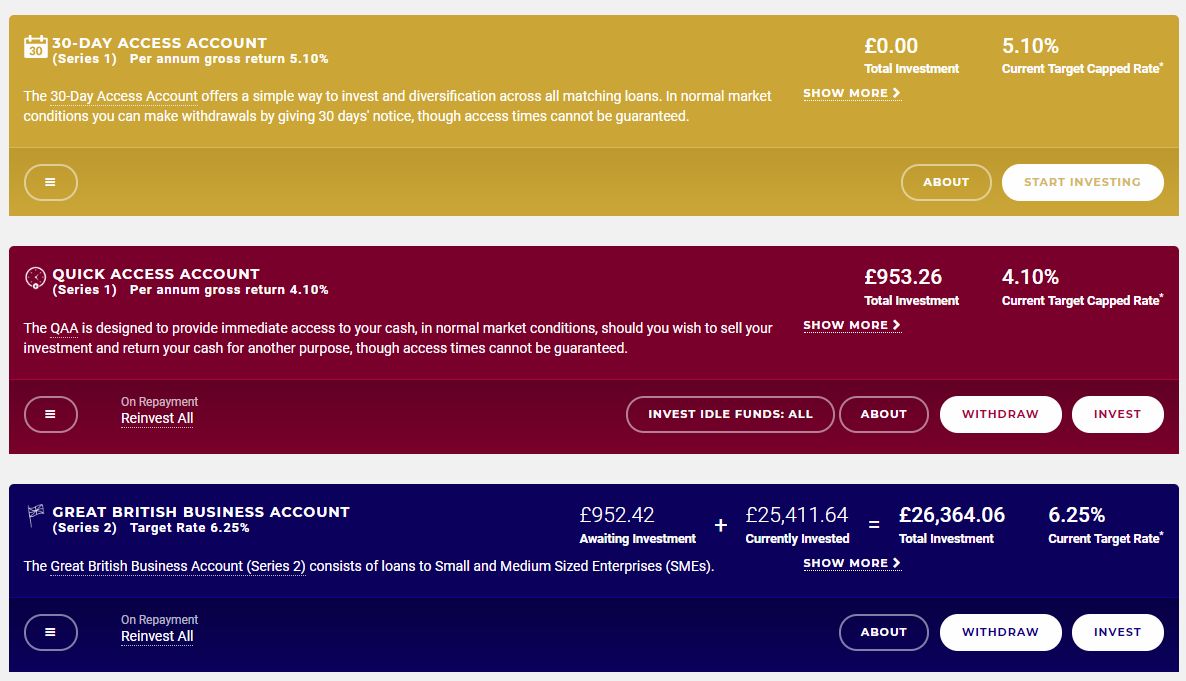 Assetz Capital never fail to impress. I had a call from one of their representatives last week saying that one of my loans had been paid off early so I might want to check my reinvestment settings to make sure I didn't have cash drag. The amount was around £600 I had into the loan in question so if I wasn't doing auto-invest I could have had some unexpected cash drag.
It looks like they may have had a couple of loan bumps this month as I noticed both their target rate, and the XIRR had dropped a little. Once we get to the 12 month mark in the portfolio, which is where we just arrived at. It is likely we will see fluctuations in return rates. As long as they are not too big, it doesn't' worry me.
Assetz Capital's cashback finished at the end of May so there is none currently. It won't stop me from investing more money with them soon though, cashback or not. 
Click here to see Assetz Captial's latest offers or to open an account.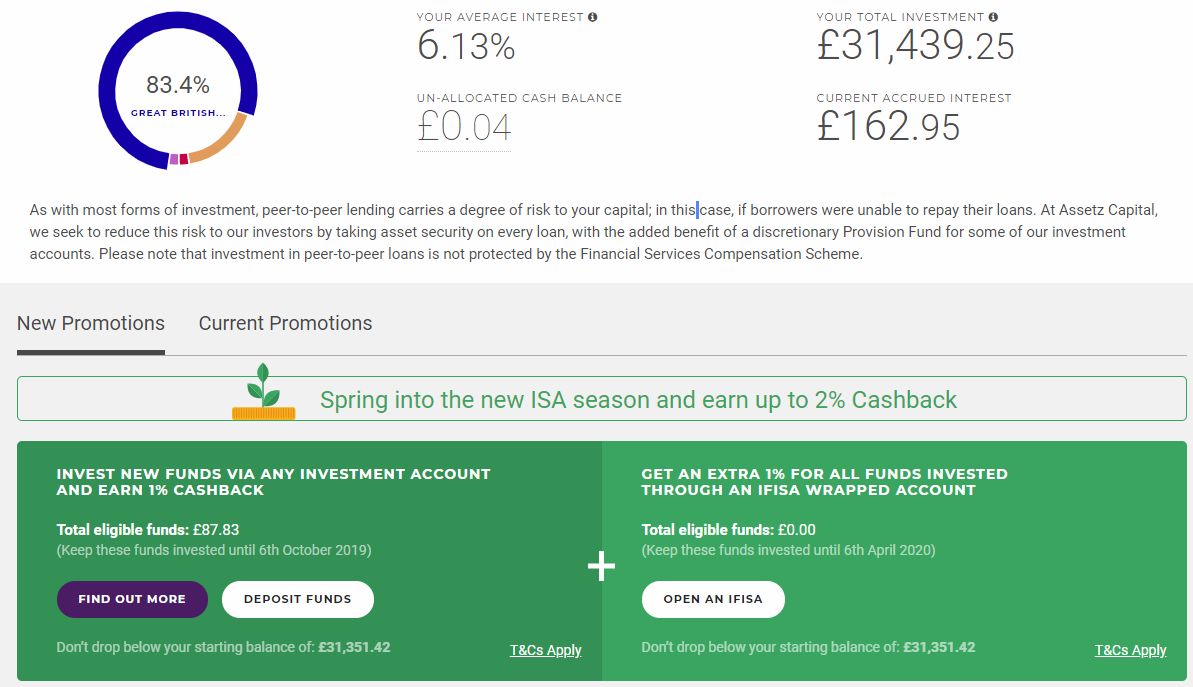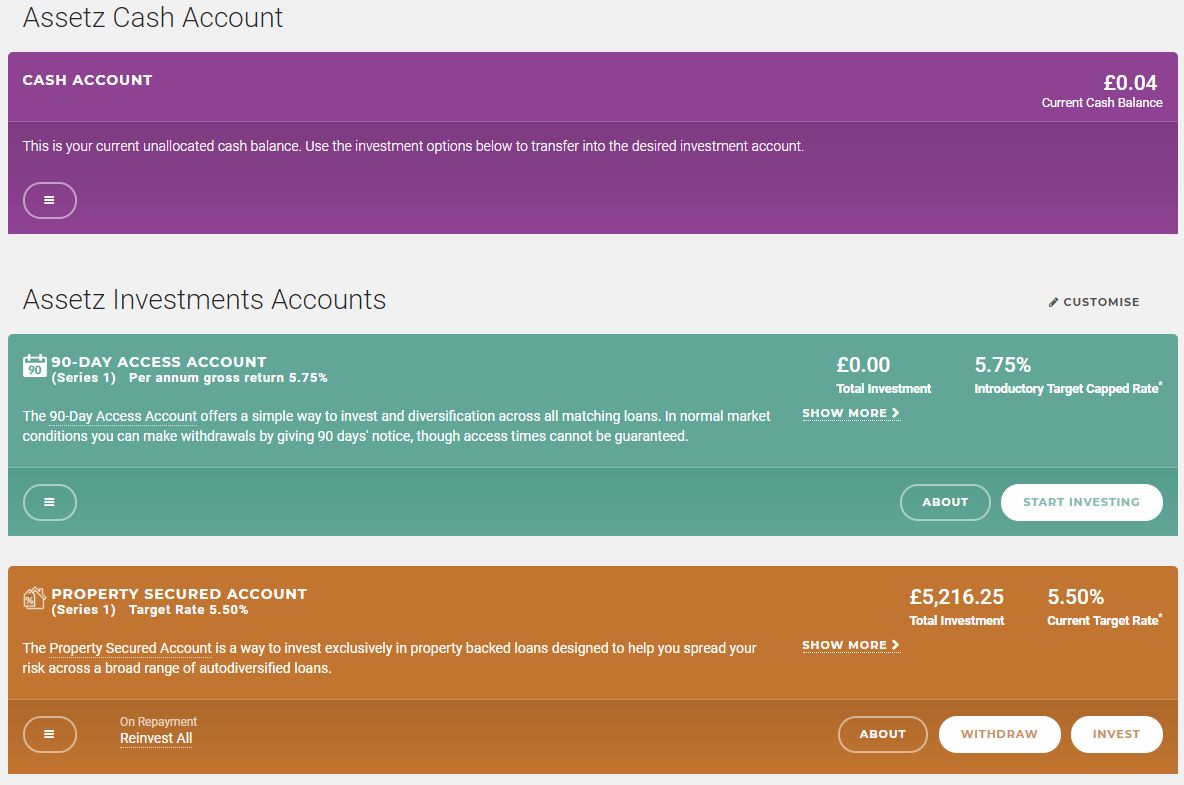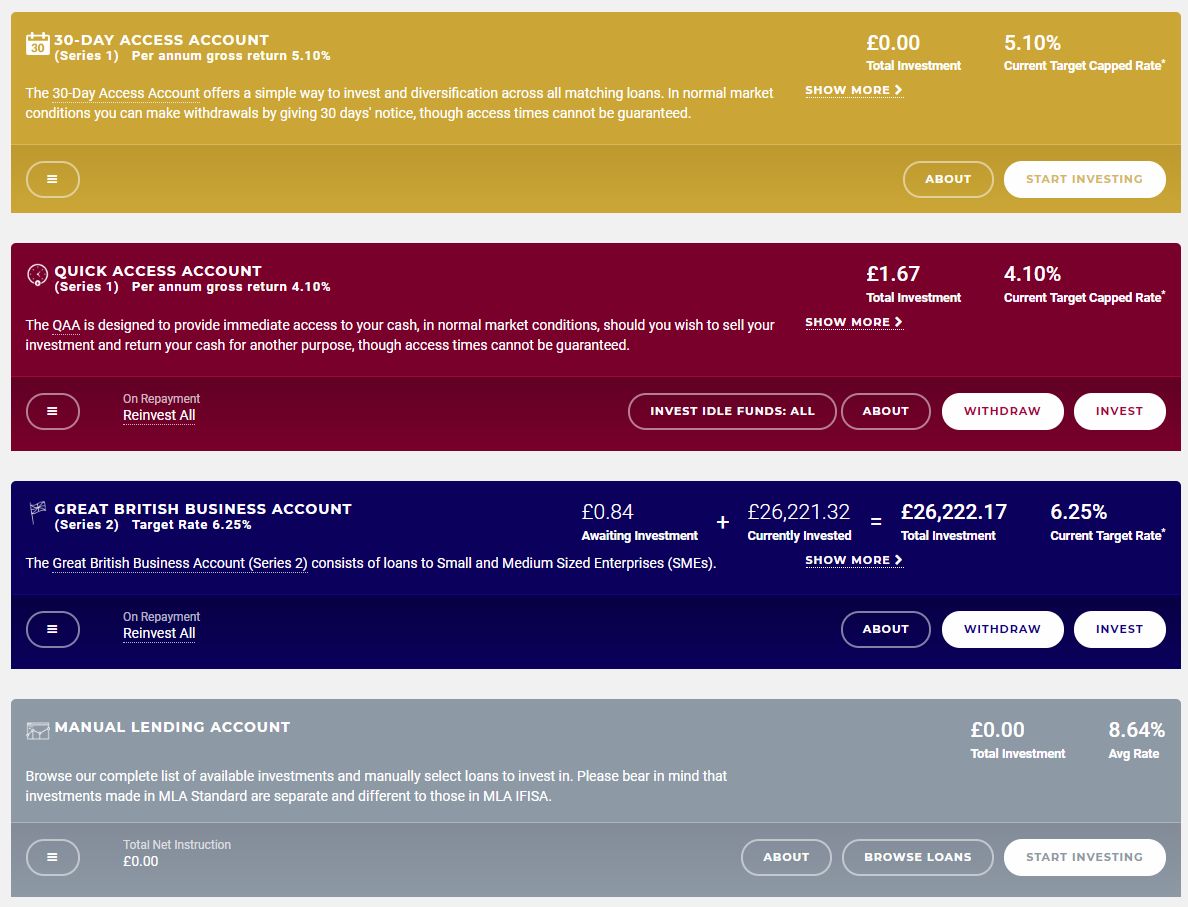 Assetz Capital are still going strong with the XIRR increasing a little again in April from 5.58% in March to 5.59%. 
I've actually been getting closer to Assetz Captial over the last few weeks so I can understand the companies vision a bit better moving forward. Earlier this week I had a phone conversation with Stuart Law (Managing Director and CEO) regarding Assetz plans for the future (among other things). Stuart is a very progressive, clever and interesting guy so it's understandable why Assetz are doing so well. They have some interesting things in the works for 2019 and are always looking for feedback from investors and borrowers alike on how to improve their business. In the coming weeks, I plan on meeting with Stuart at his offices in Manchester and doing an interview with him which I will publish here on my site for you all to read.
If you're thinking about investing with Assetz but are not quite sure yet. Give them a call. Even ask to speak with Stuart if you like. If he's available he is typically happy to speak with investors to discuss Assetz vision moving forward. As well as listening to ideas on how to improve their service. I think you'll be impressed.
Personally I still think Assetz is one of the best and safest investments out there. Their growth rate confirms that perspective. With mostly secured loans, their return rates are very reasonable in my opinion.
Assetz Capital have launched a new cashback offer for spring – Up to 2% cashback! It's only available until May 31st though – Open to both new and current investors – click here for more info.
They are also offering 1% cashback on all cash lent from their new 90 Day Access Account at 5.75% return. Click here for more info.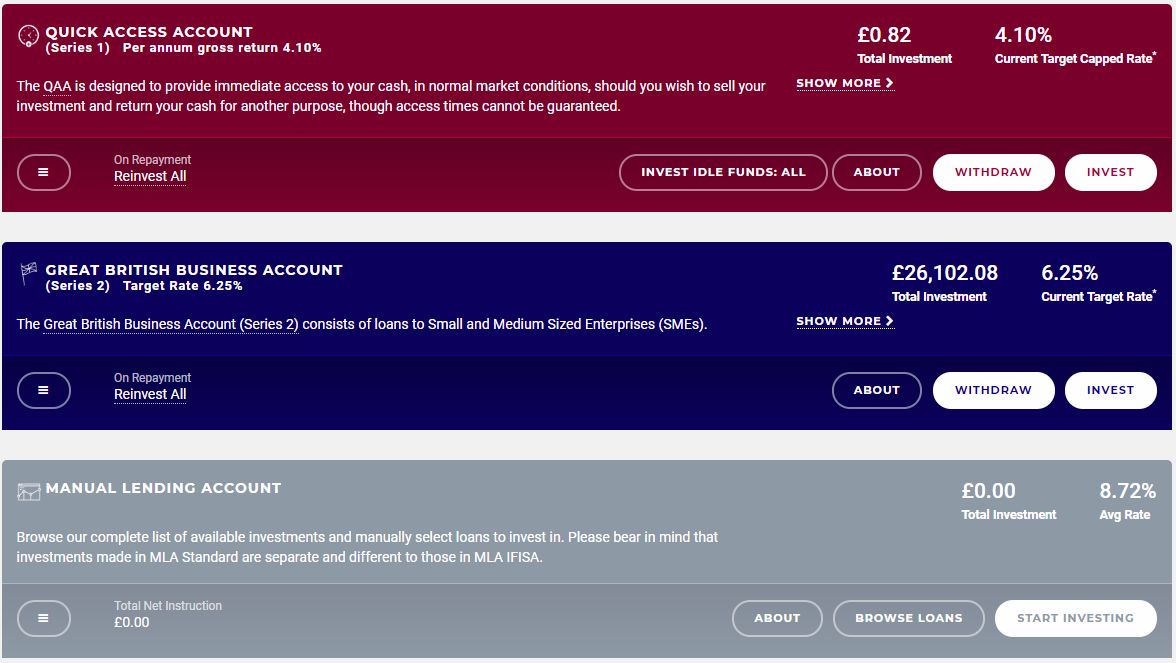 £164.65 in income from Assetz Capital this month with XIRR increasing to 5.58%. More than last month but not as good as January with £185.08. Assetz are really killing it right now with all their new loans and also their growth figures as a company. They basically do what they say they're going to do on the tin. Returns are very good for (mostly) asset secured loans. I hope that rates don't come down with Assetz in the future as they become more successful. It seems to be that the more a platform gains size and stability, the lower the rates go.
So, if you've been thinking about getting in to Assetz Capital, now is a good as time as any to lock in their best rates! See below for link to the cashback offer. If you're already in Assetz and looking to diversify further, take a look at the new lender Loanpad further down the post which also offers some short term, secured investments.
Assetz Capital are still going strong. £136.49 income in February which is down from last month, but Feb is a short month and it is still more than December 2018 (just).  I say it every month but Assetz are just as easy as pie. Really you don't need to do anything if you use their auto-invest accounts and the income just rolls in with the protection of their (discretionary) provision fund.

You'll also notice below that Assetz have added a new 90 day access account enabling a bit more interest than their QAA account and 30 Day Access account with just 90 days notice required to withdraw capital under normal market conditions.
To incentivize investments in to the new account, Assetz Capital is offering 1% cashback on all capital invested in their new account. Click here for more information and to get 90 Day Account Cashback
Assetz just continues to grow and go from strength to strength.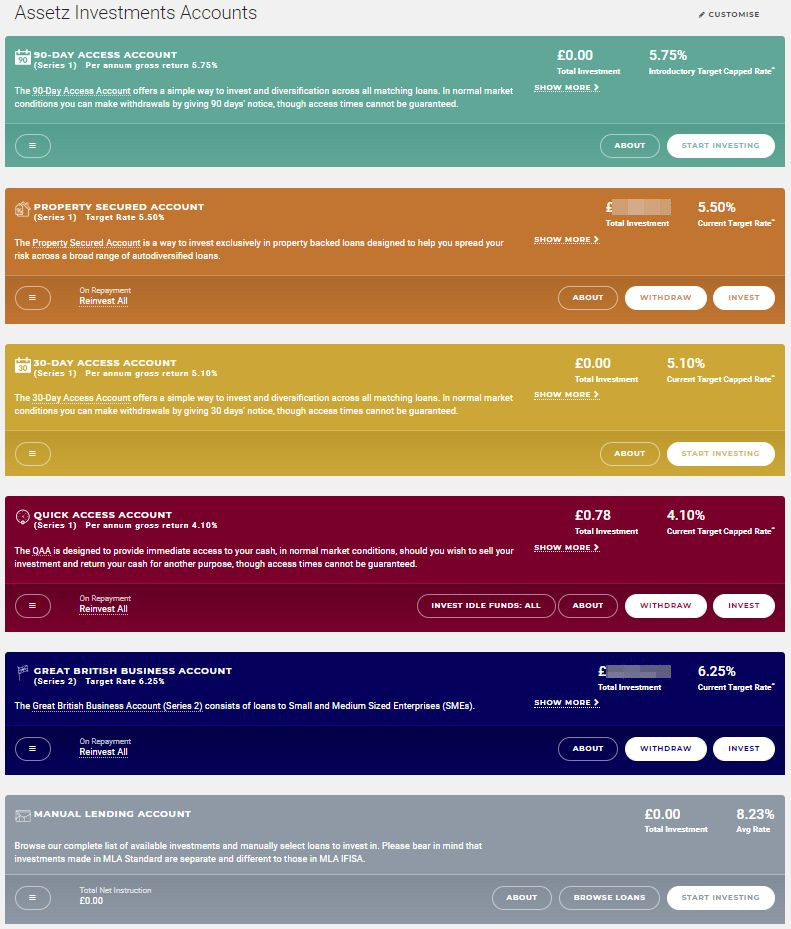 Assetz Capital continues to impress with (mostly) secured business and property loans. Income this month was highest so far at £185.08 and that DOES NOT include the £48.36 Peer to Peer cashback which was paid in to my account for the summer bonus offer of .5% which Assetz had. My Assetz Capital account balance has almost increased by £1000 in the last 7 months! 
Returns (per Assetz calculations) rose a little to 6.13% and so did Peer to Peer XIRR which rose to 5.42% from 5.10% last month which would still put it in line with Assetz calculations when compounding is taken in to consideration.  Assetz Capital is pretty much hands-off investing. The only thing I had to do this month was move the cashback bonus from the cash account to an investment account which took about 2 seconds. See my Assetz Capital Review for more information on how their accounts work.
My Assetz Capital account requires no maintenance at all. The income keeps coming in, and the account keeps growing. I check all my accounts weekly and so far no surprises with Assetz, and that's the way it should be!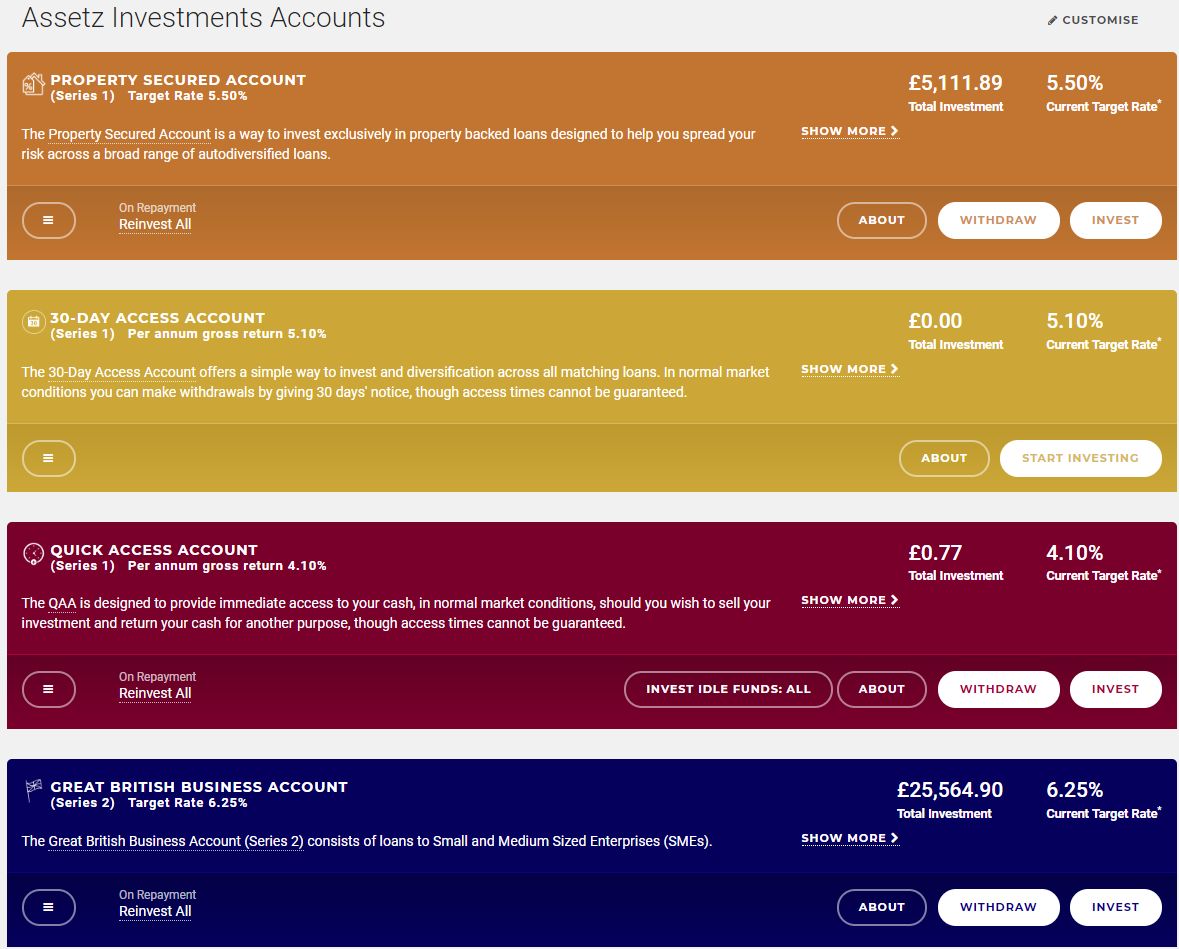 It seems that Assetz is one of the easy to deal with lenders. It really is a fire and forget it investment when using the auto-invest accounts. It's interesting when adding the XIRR calculations to see what returns they are really producing. Assetz is showing 5.09% this month which should be fairly accurate with what they are suggesting I'm getting (6.12%) because XIRR doesn't take in to consideration future interest compounding. Most of the lenders assume that you are going to leave your money in their accounts, so their calculations include future compounding. XIRR will be much more accurate once we get 12-14 months of data as this will then take in to account any compounding from the previous year.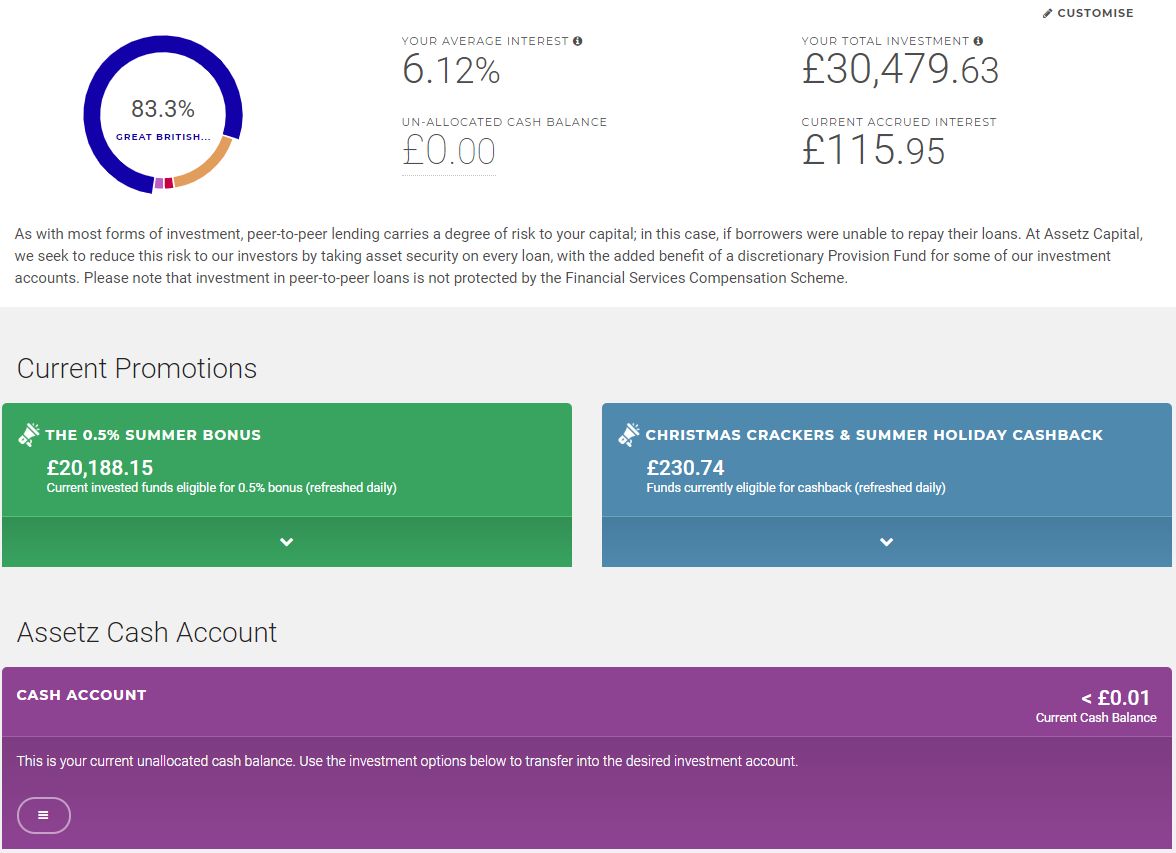 Assetz Capital continues to do well, second highest return (amount) overall so far only after Funding Circle. The only single thing I don't like about Assetz is the diversification in their auto-invest accounts. As you can see from the screenshot above, they have over £1011 in just one account which is almost 4% of the overall account balance. Even with their provision fund (which remember is discretionary) and their asset security, it still makes me a bit uncomfortable. Not much I can do about it if I want to use auto-investing though, Assetz platform decides on the diversification. 
I've actually been thinking about removing some money from the 2 accounts I'm in with Assetz and giving their manual investing a try. The target rate over all loans in their manual invest is a little over 9%, and there are over 400 loans right now so it would be quite easy to get invested and diversified. Only thing is there is no provision fund in the manual-invest account, so I would need to spend more time watching the loans so I can sell them if they go bad before they get frozen. I'll watch and think on it some more.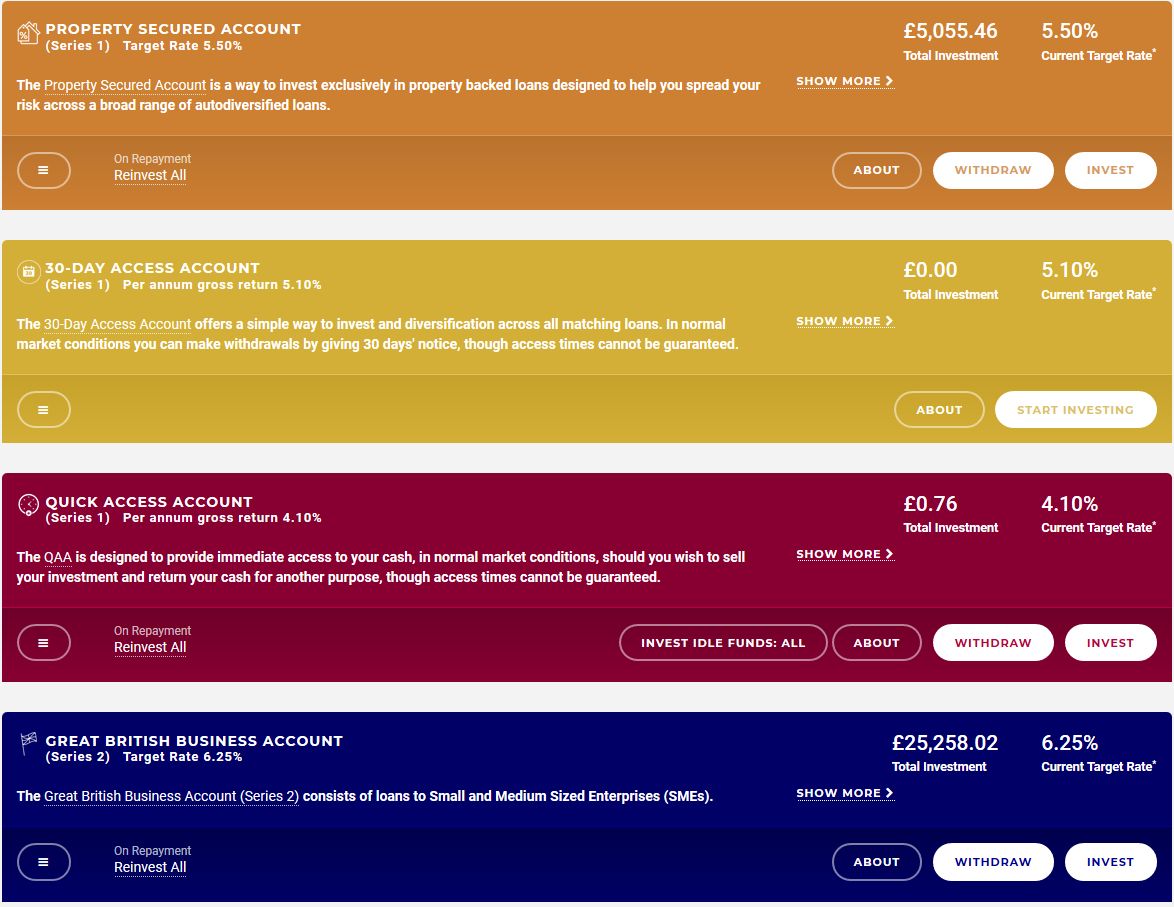 With Assetz Capital I am invested in the PSA and the GBBA which are auto-invest accounts. I don't even look at the loan parts on these investments as they don't really matter because they are covered with the Provision Fund so if the accounts go late or in to default, the fund should pay out. Also because most of the loans are covered with property, Assetz should be able to get back most of any principle eventually.
Prior to September 2018, no screenshots were published, however you can still see the full lender updates below:
GBP Portfolio Overview In August 2019, income from the Peer to Peer Portfolio again took a small dip. The problem this time was all Funding Circle which once again hit my account…