Funding Circle Account Information
Updated May 1st 2019
Detailed Account Information & Screen Shots
First Investment –   June 2018
Initial Investment – £30,000.00
Total Invested       – £30,000.00
Total Return          – £1,733.59
ROI% (per lender) – 8.10% 
XIRR                       – 6.98% 
See My Full Funding Circle Review Here
Each month I send out an update on all of my Peer to Peer lending accounts. Below are the excerpts specific to Funding Circle.

    Click here for all lender updates
Funding Circle added another £43 for bad debt to my lending account in April. Not too bad this month and they are still returning 8.1% return on my account (per Funding Circles' figures).  Actual XIRR rose this month from 6.91% in March to 6.98% in April, so it looks like we're back on track for good returns after the little downturn we had last month. Actual returns were back up around £189 for April as well.
Below is a listing of my current loan parts (everything that is not current). You can see below that 6 are "Processing", typically meaning they have just had investment and are getting going. There are 15 loans marked as "Late" which could potentially turn in to bad debt. Although typically I've noticed Funding Circle seem to be able to get at least 50% of these back on track. We'll see how they do moving forward but I'm not too worried at this point.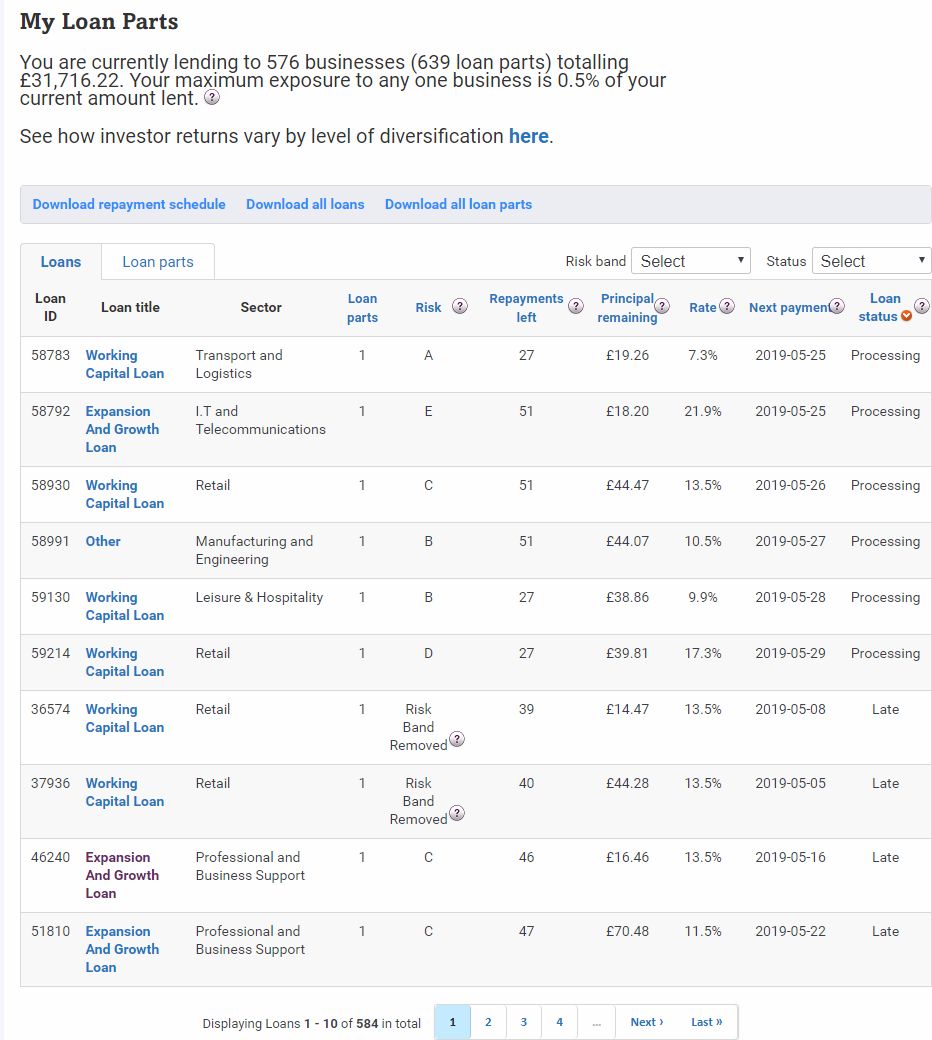 If you're thinking about investing with Funding Circle, they currently have a decent cashback offer for new investors: Invest £2000 and receive £50 Amazon Gift Certificate. Click here for more info.
It kind of feels like Funding Circle did me wrong this month for some reason. As I said in last months update, Funding Circle have been getting some bad press recently about loans defaulting. Well, I caught some of that this month. My defaults went from around £148 total for the previous 6 months, to £305.09. They doubled in just one month! Without that happening, I would have broken the £1000 monthly income mark.
Can't really complain though as lender stated actual income rate is still high at 8.1% (down from 8.6% last month). XIRR dropped from 7.14% last month to 6.91% this month. Still a very respectable return rate by any measure.
When looking at my loan holdings with Funding Circle, I can see there are still another 10 loans late in paying. That sounds bad, but when you consider I'm diversified between 550 different companies, I guess it's really not that bad. From the beginning Funding Circle have said my expected overall expected rate of return would be around 7.2%, so I think that the defaults we are seeing here have already been factored in to the end number. Funding Circle are a huge company with £ billions lent out already so I'm not too worried about my capital. They'll adjust their lending criteria and the defaults will die down in the future I'm sure. If I wasn't, I would be withdrawing capital 😀
If you're looking to start investing with Funding Circle, they currently have a cashback offer: Invest £2000 and receive £50 Amazon Gift Certificate. Click here for more info.
Funding Circle are getting some bad press lately because of a few more than usual loans going bad. Luckily I'm not seeing too many of them (touch wood). I've had a couple of small write offs but nothing too significant. In fact they are still my highest grossing account by actual income with net earnings (so far) of £1,409.10 and a lender calculated ROI of 8.6% and an XIRR of 7.14%. Not quite as high as Mintos, however no work at all required. Personally I think all lenders go through periods of higher than normal defaults (look at Lending Crowd a couple of months ago) but they adjust their lending criteria and learn by their mistakes and the loan market.
If you're looking to start investing with Funding Circle, they currently have a cashback offer: Invest £2000 and receive £50 Amazon Gift Certificate. Click here for more info.
Funding Circle is still the overall highest grossing lender with a total income of £168.59 for January. Down a little from the previous month due to a couple of small default losses which were taken. Funding Circle's Return on Investment calculations still put my account at 8.4% though. Which is still a good bit above their suggested annual income of 7.2%. XIRR has decreased a little to 6.82% (from 6.86 last month) due to the loss, however it is still the second highest Peer to Peer XIRR only to Mintos, which is running at 7.51%.
Funding Circle changed their Account Summary screen this month per below. Not sure if it's any better but it's still easy to see all of the figures, and that's what really matters. You can see how it used to look in my Funding Circle Review.
These are the loans that are currently late with Funding Circle. Not too bad at all. "Processing" typically means that they are new loans just being made, or payments have been made and not been added to the account yet.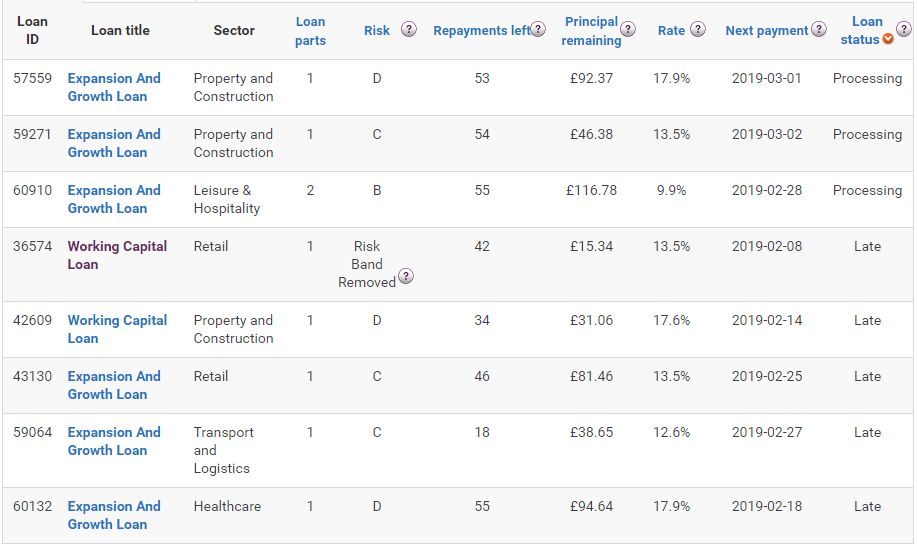 Funding Circle is about the same as Assetz Capital, totally hands off investing. My account surpassed 31k this month with over £1000 profit overall since it started it as part of this portfolio. Not too shabby at all. Still only 2 defaults which have turned to bad debt which is pretty amazing when you consider I'm lending to almost 500 separate businesses.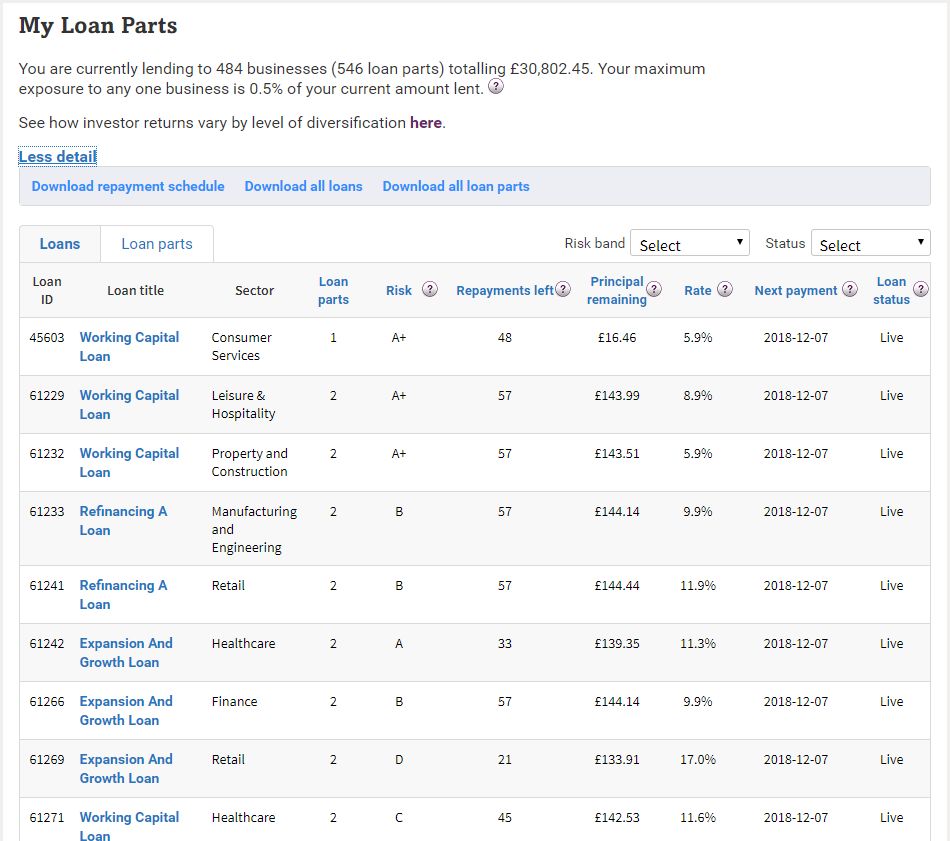 Similar to Assetz Capital, with Funding Circle there is literally nothing to do once you deposit your money for investment. Funding Circle still hold the top spot for actual £££ income at £795 with an XIRR of 6.44%. There was another loss this month which now brings my actual annualized return (according to FC) to 8.7%. Currently lending to 484 different businesses which is just great diversification.
Funding Circle continues to out-perform the rest of the lenders as far as actual returns go. My target rate is 7.2% however my actual is running at 9.0%.
I did have my first loan go bad since the portfolio was restarted in June, so there is a £48 loss which has been taken from the profit. Defaults are expected and accounted for in the target 7.2% return rate quoted, so they are just something you have to expect with P2P lending. Payments on all of the other loans look to be up-to-date though, so hopefully no more defaults in the immediate future.
I've said it before but one thing I do really love about Funding Circle is the way they diversify. My money is lent between 462 business as of today, with no more than .05% of my account value in any single business.
As you can see from the screenshots above, Funding Circle continues to deliver. It has produced the top actual returns to date, plus there is another £155 interest accrued but not yet paid.
All of the loans are up to date so far with the next payment due in October.
I really like the way Funding Circle automatically diversifies my investment. My capital is currently distributed between 448 separate businesses with 508 different loan parts.
Prior to September 2018, no screenshots were published, however you can still see the full updates below:
April was the best month yet for my P2P Lending Portfolio! It finally crossed the £1000 per month income barrier with a return of £1,078.67 in GBP.  I mentioned "in GBP" at the end there because I…