RateSetter Review
Updated on
How I Make Safe, Easy 5.7%+ Annual Returns Investing With One Of The UK's Largest Peer to Peer Lenders! – RateSetter Review + ISA & Rolling Market
My Lending Experiences & Actual Investing Returns Published Monthly Below.
What is RateSetter?
RateSetter is one of the largest and (what I consider to be) best and safest Peer to Peer lending platforms in the world today.
They offer a hands-off investment experience through their auto-invest portfolios, with reasonable returns for the risk and the option to access capital instantly when required.
You simply set the rate you are willing to accept, and wait until the market rate gets there. Or you accept the market rate and get a very quick investment.
RateSetter was the first company to introduce the concept of a "Provision Fund" to reimburse lenders in the event of a late payment or default. So investor safety has been a priority since day one. To date, no investor has lost money. 
My Experience With RateSetter
I really like RateSetter, my experience thus far has been very good, they are one of my largest lending accounts in fact. One reason I like them is because it's possible to invest a significant amount of capital quite quickly. RateSetter's loan book is huge! Also because they are such a large company who have been in business for over 10 years now, safety is improved significantly over some other, smaller lenders.
Another thing I like is the RateSetter "Rolling Market" account witch enables instant access to capital at a reasonable rate of return. The RateSetter ISA for tax free investing is also worth mentioning.
Read on for more details, or if you're ready to take a closer look at RateSetter click here to go to RateSetters website and see current cashback offers.
My Actual RateSetter Returns, Account Growth & Income Charts
View Consolidated Monthly Investment Returns from All Lenders
See Screenshots & Detailed Monthly Updates From My Personal RateSetter Account
The Obvious Investor

– Easy-Info Table© – RateSetter Review
Overall Rating*:
(4.4 / 5)
Who can invest:
Loan Currencies:
£
Estimated Return:
3.4% to 6.5%
Varies daily depending on account and market demand.

RateSetter Average rates for September:
Rolling: 3.4%
1 Year: 4.6%
5 Year: 5.6%
My Actual Return
(Per Lender):
5.70%
My Calculated XIRR:
5.16%
Risk Rating*:
2/10 - Medium
Early Exit:
Yes.
No fee on Rolling Market Account.
0.3% on 1 year.
1.0% on 3 year.
1.5% on 5 year.
Min. Investment:
£10
Deposit Funds:
UK bank account 1-24 hours.
Debit card - usually same day.
Auto-Invest:
Yes
Manual Invest:
No.
However you can set your own rate as opposed to market rate.
Lending To:
Borrowers
Loan Types:
Various types of consumer, business & property Loans.
Default Rates:
Bad debt at 2.32%, against an estimated rate of 3.41%.
Loans Amortize:
Yes
Loan Security:
Both secured and unsecured.
Provision Fund:
Yes
Time to Invest:
Fast: huge loan book.
Time to Mange:
None (auto-invest)
Lender Fees:
Only on early exit.
Payments Received:
Monthly. Various times.
Amount Lent:
£2.7 billion+
Number of Investors:
67,000+
Loan/Dflt Stats:
Click Here for Stats
Regulated:
Yes: FCA
Location:
London, UK
Launched:
2010
Website:
https://www.ratesetter.com
Email:
[email protected]
Telephone:
0203 1426226 (UK)
IFISA/IRA:
Yes: IFISA Click here for more information
Cashback**:
Yes! New investor offer: £100 bonus when you invest £1000+
for a year. Ts & Cs apply. Click here for more info.
How to Sign Up**:
Sign Up Here!
RateSetter Review – Overview
History
RateSetter's holding company, Retail Money Market Ltd, was founded in October 2009 in London.
In the 10 or so years they have been in business, RateSetter has lent upward of £2.7 billion to almost 500,000 borrowers.
Their active investors total over 67,000 & they have originated almost 600,000 loans with an average loan term of 26 months.
In November 2014, RateSetter opened in Sydney, Australia. There were the first peer-to-peer lending platform in the country open to retail customers. 
Regulation
RateSetter (AKA Retail Money Market Ltd.) is regulated by the UK's Financial Conduct Authority (FCA) with full permissions under FCA number 722768.  
They gained FCA permissions in October, 2017.
It's important to note that the FCA is not the same as the FSCS (Financial Services Compensation Scheme). So capital is not protected as it would be in a bank.
Signup Process – RateSetter Review
Opening an account with RateSetter is fairly simple. Just the usual ID & anti money-laundering checks. Same for the RateSetter ISA account unless you're transferring it from another company in which case there is a little more paperwork.
If they can verify you though one of the UK's credit agencies, you will be approved immediately. If not, you may need to send them a copy of your passport or driving license, and a utility bill or bank statement.
Deposits & Withdrawals
Deposits and withdrawals are made by bank transfer from a UK bank, or a UK debit card.
From a bank account, deposits usually show up in your account the same or next working day, depending on what time of day you make the deposit.
Debit card deposits are typically the same day also.
Withdrawals are only to a verified bank account and typically take 1 – 3- business  days.
Time to Become Invested – RateSetter Review
Time to become invested depends on the rate of return you are willing to accept.
If you take the current market rate, investment can be almost instantaneous. In the RateSetter Rolling Market account, investment is typically instantaneous.
If you want to set your own rate, then it depends on what rate you set, and when/if rates get to that rate.
You can also set up an "auto-invest" instruction  which debits your bank account and invests a set amount each month which is great for hands-off investing.
Who are we lending to?
RateSetter is a true Peer to Peer Platform. Lenders are lending directly to borrowers.
Loan agreements are directly between the lender and the borrower. RateSetter just acts as a middle man, managing loans, payments and debt collection etc.
RateSetter provides loans to consumers for personal loans, debt consolidation, car finance, home improvement, wedding loans, secured and unsecured property loans and holiday loans among others.
They also provide secured and unsecured business loans.
Borrowers can apply for a loan for between 6 and 60 months.
RateSetter has strict lending criteria, only accepting between 12 and 15 per cent of borrower applications.
Loan Security
RateSetter loans are mostly unsecured personal loans to credit-worthy borrowers.
There are a few business and property loans that have asset security.
Default Rates – RateSetter Review
RateSetter provides a large amount of statistic data on their website here.  Current lifetime loss rates currently stand at 2.32%, against an estimated rate of 3.41%.
However better to check RateSetter's website for current statistics as they change day-by-day.
Amortization
Generally RateSetter loans all amortize. 
Amortization is the paying off of debt with a fixed repayment schedule in regular installments over time. It reduces the risk of the loan compared to a non-amortizing loan in which nothing is received until the end of the loan period, or only interest is received monthly, and then the capital repaid at the end of the loan period.
If you list the loans that your capital is invested in on their website, you can see that both capital and interest are being repaid showing the amortizing loans.
Selling Loans and Withdrawing Capital – RateSetter Review
RateSetter charges fees for early exit on their loans from 1 to 5 years.
RateSetter Rolling Market loans can be exited at no cost. 
The fees for the other accounts are as follows:
RateSetter Rolling Market  = no fee 
1 year = 0.3%
3 year = 1.0%
5 year = 1.5%.
Diversification
RateSetter does not automatically split your loans across multiple borrowers for diversification. The RateSetter Provision Fund is there to mitigate the risk of individual borrowers defaulting – if a borrower fails to pay, then the Provision Fund steps in to compensate the Lender. That being said, I have noticed funds are typically well diversified anyway, especially in the RateSetter Rolling Market account which typically contains a lot of smaller short term loans.
Every borrower on the platform has contributed to the Fund: this means that there should be no reason to diversify your loans, because the risk of default is already diversified across all the borrowers and has accumulated in the Provision Fund.
You will often find that you do have multiple loans or contracts as your money is matched in the normal course of things, but there is no reason to actively manage your savings to seek out multiple borrowers.
Provision Fund
RateSetter's Provision Fund is well capitalised, meaning it typically has enough funds to cover most foreseeable loss situations (£29m as of May 2019).
RateSetter was the first company to introduce the concept of a "Provision Fund" to reimburse lenders in the event of a late payment or default.
Just as important as the Provision Fund is the borrower screening. RateSetter currently declines over 85% of the applications made for this reason.
As of May 2019, they claim that none of its individual investors have ever lost any money because of their Provision Fund.
Retirement Account – RateSetter ISA Review
RateSetter offers an Innovative Finance ISA (RateSetter ISA) which was launched in February 2018 for UK residents.
Account Options
RateSetter is based on the principle of an exchange. Price is determined by the supply of money from lenders, and demand for money from borrowers. With both sides of the market specifying the rate they will accept.
They have 3 different standard account options plus the RateSetter ISA.
The RateSetter "Rolling Market" which is a lower rate option, however (under normal market conditions) offers almost instant access to your capital with no penalty for withdrawal.
The "1 Year Market" offers a reasonable "mid rate return" for loan terms of up to 1 year with a small 0.3% penalty for withdrawal .
RateSetter's "5 Year Market" portfolio offers the best interest rates for loans of up to 5 years duration, but there is a larger penalty of 1.5% for withdrawing your money before the 5 years is up.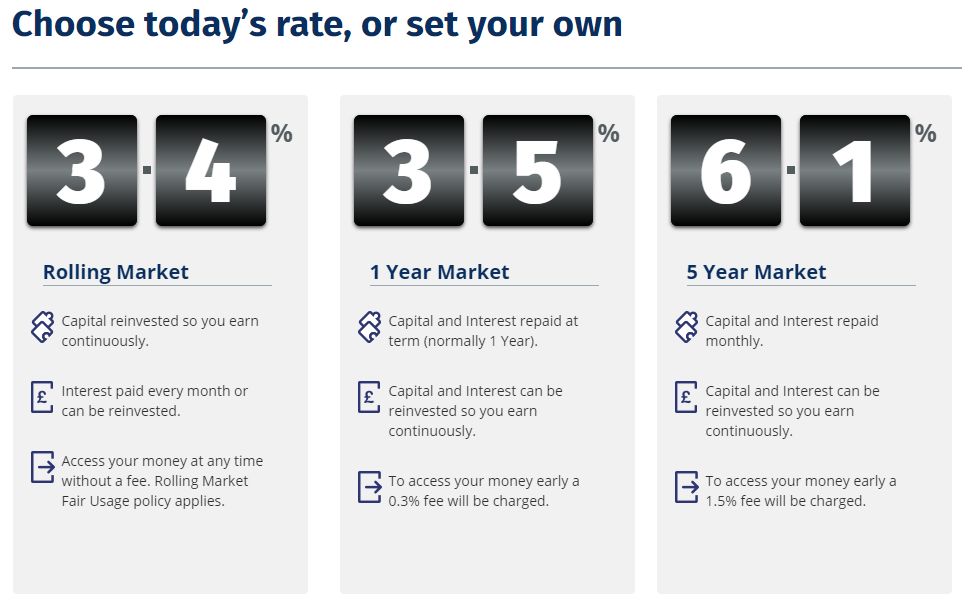 Website – RateSetter Review
RateSetter's website is extremely easy to use. Once you log in to your account, the initial screen gives you a breakdown of your investments and where money is sitting.
If you choose the "invest" option from the left hand column, you'll get a screen which gives you the available options of which account you would like to invest in, and the current rates.
Choose which account your would like to invest in, then how much and at what rate and your done. It's as simple as that!
Of course you'll need to add funds to your account first (or if you're using the RateSetter ISA, you may need to wait for a previously established ISA account to be transferred over) .
The last thing is to tell RateSetter if you would like to reinvest loan repayments, and if so at what rate, and you're done.
Kick back and watch your money grow!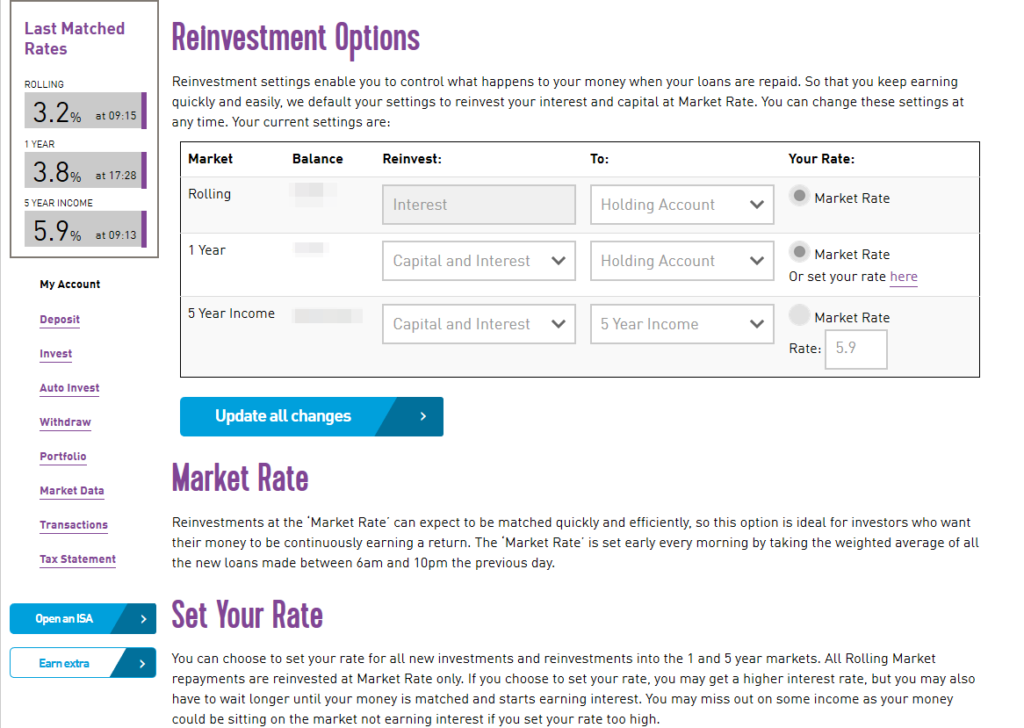 Summary – RateSetter Review
RateSetter continues to be one of my favorite Peer to Peer lenders, although return rates have been declining over the last couple of months.
I have a good chunk of my diversified portfolio with RateSetter, they are one of my largest lending accounts and will likely continue to be.
Reasonable rates for the risk, and a good Provision Fund from one of the larger, safer P2P companies means I have no hesitation recommending RateSetter as part of a diversified portfolio. Both their standard accounts, and the RateSetter ISA retirement account are definitely worth considering.
Thumbs Up Points for RateSetter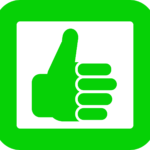 Safety – Is RateSetter Safe? They are thought to be one of the safest P2P lenders in the U.K. To date, no P2P lender has lost any of their capital, and the RateSetter provision fund always seems to cover a good percentage of possible losses.

Auto-Invest – means virtually no time managing investments. Just send your money over, decide what rate you would like (or accept the market rate). Then sit back and watch the interest come in.

RateSetter Rolling Market – should you need to access your money quickly, the RateSetter Rolling Market is a great way to achieve more than double what the best savings account will give you. However you still have almost instant access to your cash under normal market conditions.

Good Rates – from a company that has lent over £2.7 billion with zero lender capital loss. 

Website – RateSetter's website is very easy to use and understand. 

Fast Invest – depending on the rate you choose, investing in RateSetter can be very fast indeed (few minutes). 

Large Investments – because RateSetter's loan book is so big, it can easily gobble up large amounts of capital very quickly. Again reducing cash drag for larger investors.

£10 minimum investment – if your portfolio is still small, it's still easy to invest with RateSetter.

Financial Conduct Authority –  (FCA) Regulated.

RateSetter ISA available for UK investors – the RateSetter ISA is available to UK Peer to Peer Investors.
Thumbs Down Points for RateSetter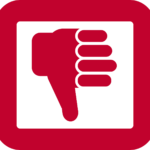 Exit Fees in Longer Term Portfolios – this can be seen as a bit of a negative, but where else can you get around 6% and still be able to get out in an emergency?


Unsecured Loans – many (but not all) of the RateSetter loans are unsecured loans given to individuals or businesses. So if things were to go bad, you don't have any collateral. In theory the Provision Fund should take care of defaults, so this shouldn't matter. In practice though, no one will no how this works until we go though another financial crisis.
Risk Factor – 2/10 – Low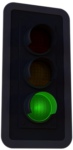 Is RateSetter safe? I consider RateSetter to be on the lower end of the risk scale taking in to consideration their size and time in business.
You can also see by the TrustPilot reviews above that so do many other people. RateSetter could get a higher rating except for the fact that many of RateSetter loans are unsecured.
In most market conditions this is irrelevant because of their provision fund. However in a severe recession it could come in to play as it is much more difficult to collect on unsecured loans if the provision fund were to become depleted.
Either way, I have no worries about investing a significant portion of my Peer to Peer lending portfolio with RateSetter.

Who Can Invest with RateSetter?
Residents of the U.K. can signup with RateSetter and you will need UK bank account details.
Offers & Signup Links**
New Customers receive £100 RateSetter cashback when they join RateSetter and invest £1000 or more for 1 year using links here on ObviousInvestor.com
Click here for more information on the £100 RateSetter cashback offer >>
Signup for Standard Investment Account >>
Open a RateSetter ISA Retirement Account >>
Similar Lenders to RateSetter
Growth Street,  Loanpad,  Lending Works,  Zopa
RateSetter Intro Video
Click here to get my complementary Top 4 Lenders List

Click here to receive a free copy of my P2P Lender Tracking Spreadsheet
New to Peer to Peer Lending?
Learn About Peer to Peer Lending

Ready to Get Started Lending?

Disclaimers:

* My lender reviews, star ratings and risk ratings are based on my personal investing experience with the company being reviewed. These ratings are personal opinions and are subjective. You should do your own research before investing any capital and not base investments solely on the opinions published on this site. 

**  Some of the links on this website are affiliate referral links. When you click on these links, I can sometimes receive a commission, at absolutely no cost to you. This helps me to continue to offer new reviews and monthly portfolio updates here on my website.

Platforms reviewed on this website I am currently investing with, or I have invested with in the past. You can see with full transparency on my Lending Returns page which lenders I am invested with (or have previously been invested with) at any point in time. I am not paid a fee by any of the companies to write reviews, so the reviews are unbiased and purely based on my own personal experiences.

Please read my full website Disclaimer before making investment decisions.