Peer to Peer Lending Portfolio Update for November 2018
The update for November 2018 is a little late this month. I was away traveling in Spain with some friends for a week so I didn't get the time to provide the full update. I did however update the portfolio returns so they are still accurate as of the end of the month.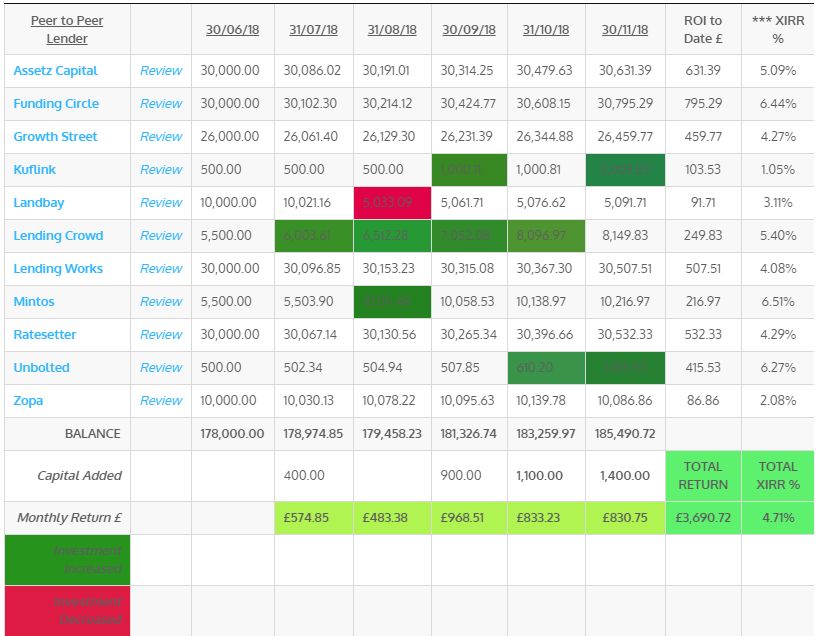 Overview
A little over £830 return this month. It seems that we have found the monthly average income which can be expected now after cashback payments etc. Kuflink is the only one to skew the payments a little as they pay annual interest on their auto-select account so I won't see any of that for another few months. I only have a small amount of money in there though so it shouldn't make too much difference.
You may have noticed that I added XIRR calculations to the return figures this month, and on the main P2P returns page. They are not too accurate yet as we need to get more data, however you can start to see where the returns are coming from. I have not included cashback bonuses as part of the number. Also XIRR calculations do not take in to account future compound interest. 
I had a nasty little write-off with Zopa in November, you can see how that affected the income and XIRR. Zopa really have lost the plot with P2P now they have their new bank which was announced also in November. Unsecured personal loans with no provision fund paying very low interest rates. I can get 2% in a government insured bank right now and that's about what I'm getting out of Zopa.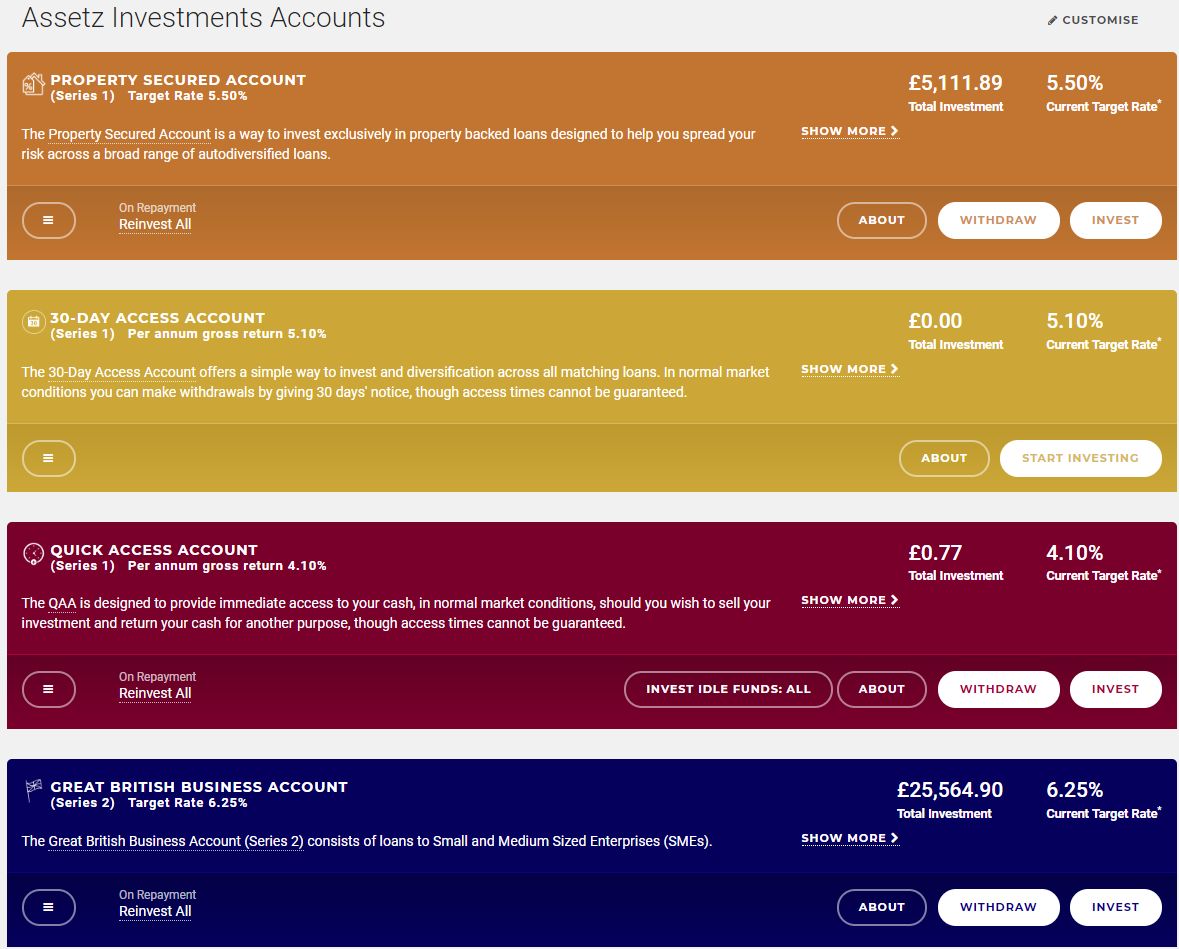 It seems that Assetz is one of the easy to deal with lenders. It really is a fire and forget it investment when using the auto-invest accounts. It's interesting when adding the XIRR calculations to see what returns they are really producing. Assetz is showing 5.09% this month which should be fairly accurate with what they are suggesting I'm getting (6.12%) because XIRR doesn't take in to consideration future interest compounding. Most of the lenders assume that you are going to leave your money in their accounts, so their calculations include future compounding. XIRR will be much more accurate once we get 12-14 months of data as this will then take in to account any compounding from the previous year.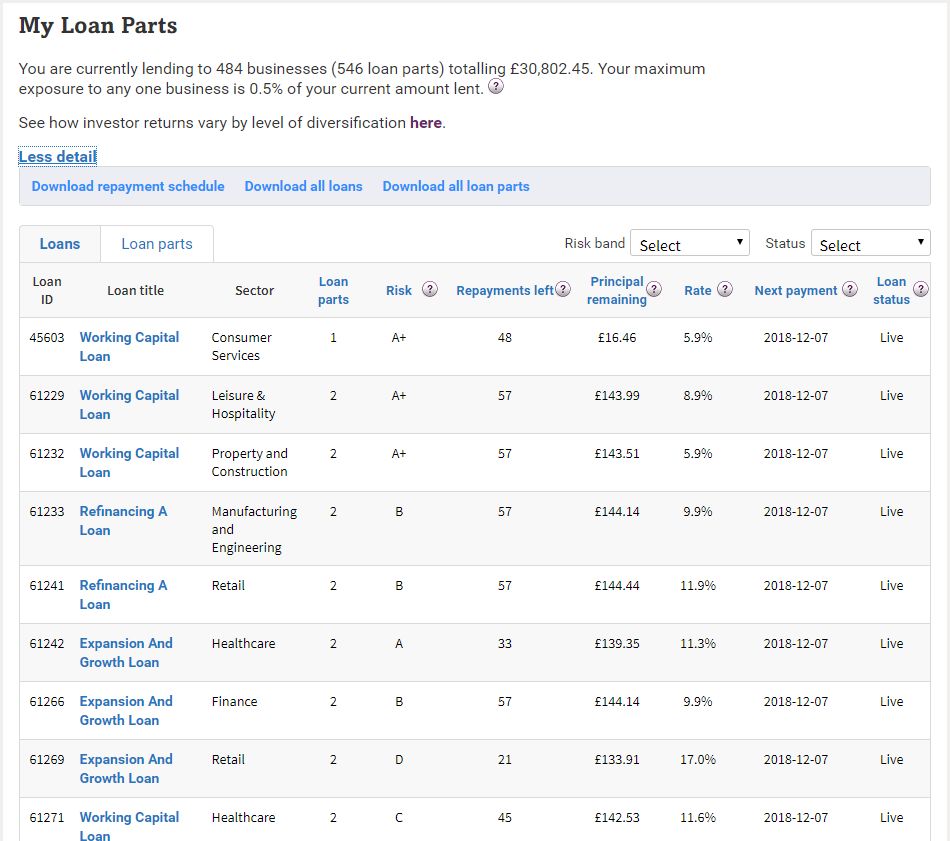 Similar to Assetz Capital, with Funding Circle there is literally nothing to do once you deposit your money for investment. Funding Circle still hold the top spot for actual £££ income at £795 with an XIRR of 6.44%. There was another loss this month which now brings my actual annualized return (according to FC) to 8.7%. Currently lending to 484 different businesses which is just great diversification.

Growth Street just keeps plodding along. According to their calculations, I will have achieved 5.3% return by the end of the first 12 month period. XIRR is showing 4.27% which would seem about right considering the short data points we have, and no future compounding considered. Growth Street are running a great short term cashback bonus until December 14th for investing specific levels of capital (click here for more info). I considered sending more cash over there to take advantage of the cashback, but it would take me a while to get it there as it is tied up. I'm also trying not to put too much cash with a single lender so I think I'll give it a miss this time unless something unexpected happens to where I have to move cash from another lender for some reason.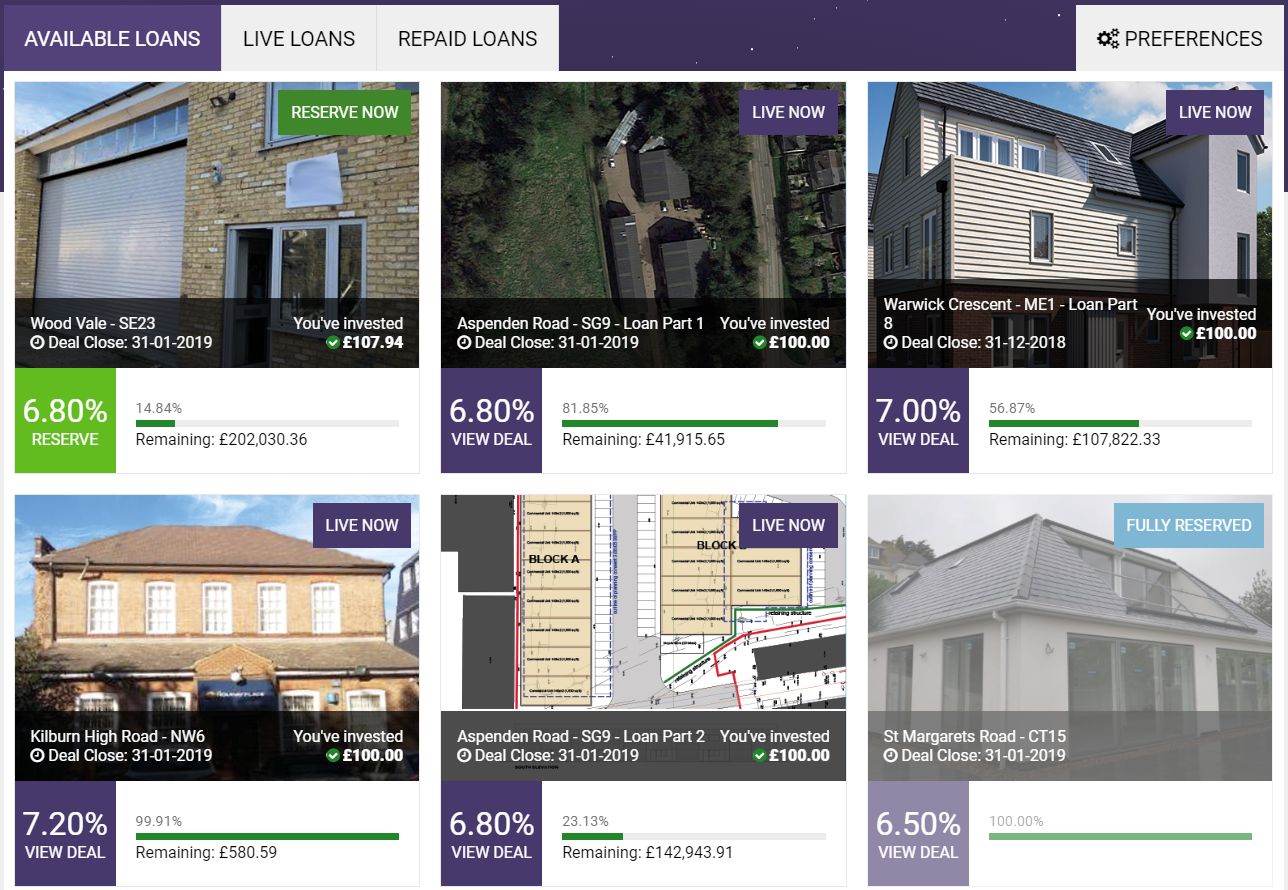 In last months update I mentioned that I might be willing to put more money into Kuflink loans, and that's exactly what I did. I have decided with their "Skin in the Game" and the low LTV's, I can put a bit more into their loans now. So, I sent another £1000 over to Kuflink. I increased my investment in loans that were still available to £100, and I now invest £100 into each new loan. We'll see how it goes but I'm fairly comfortable. Most of Kuflink's loans are relativity short term (typically 12 – 18 months) and to this point, no investor has lost any money. I've noticed when some of their loans come through, you have to be quick to get in. I got an email about the St Margarets Road  loan saying that it had a LTV around 17% which is very, very good and low risk, but by the time I had gone to the site to invest, it was full with nothing available to invest in! With that LTV, there is very little risk of losing capital if the loan goes bad. The asset would literally have to lose 80%+ of it's current value for that to happen. I can see why it went quick. I would be very comfortable putting more money in to a loan like that, but I would need to keep the money available in the Kuflink account so I can quickly invest it.

LandBay. What can I say (yawn). Easy investment, low maintenance, low risk, low returns. About as close to a bank account you can get without it being a bank. XIRR is right on target for 3.49% overall annual return (currently at 3.11%). Really nothing else to say here. They did update their website so you can choose to invest just the capital, interest or both (before it was all or nothing). That's the excitement for this year with LandBay 🙂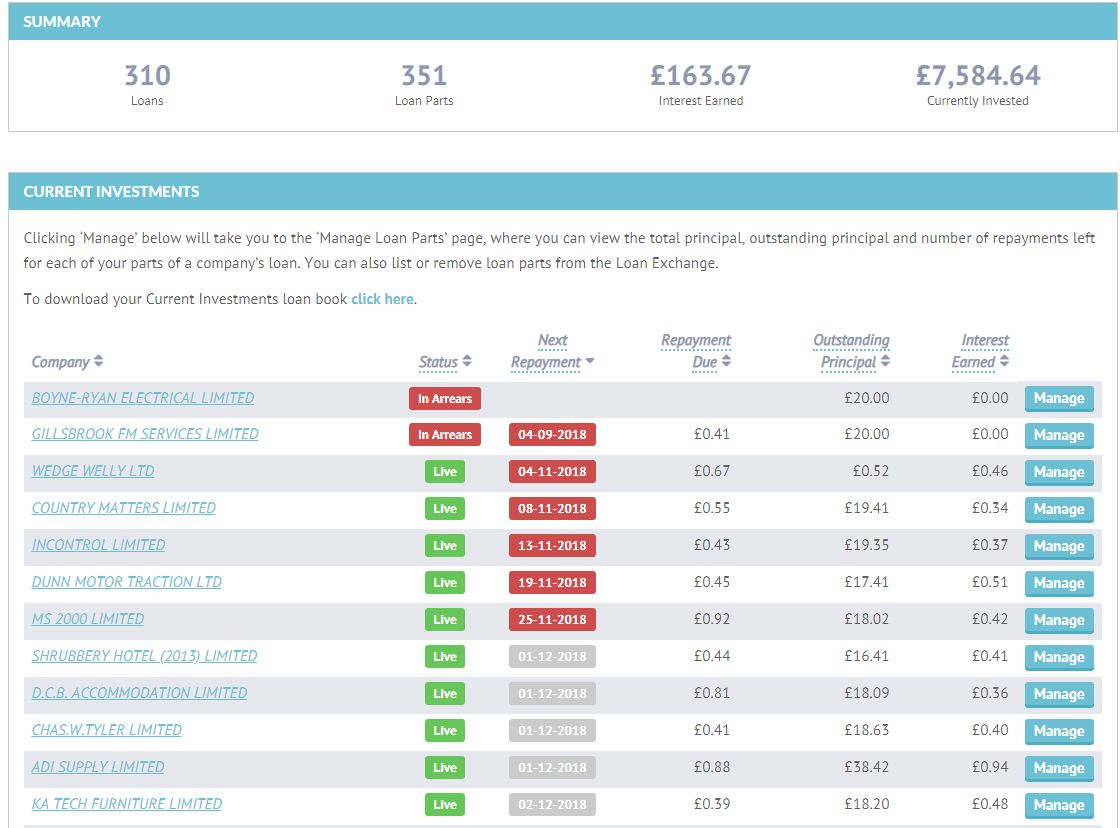 With Lending Crowd unfortunately I can't say "easy, safe investment" like Landbay. However the return is (hopefully) far superior. That being said, I have worries about Lending Crowd. As you can see from the screenshot above, I currently have 7 loans which are late or in arrears. Compare this number to Funding Circle with two that have gone bad, and you can see where my worries lay. I have been in communication with Customer Service and they assure me that this is normal and just a coincidence that these loans are going bad all at the same time, but I obviously don't like it. My strategy was to sell loans when they become late, however they have stopped investors from doing that now, so when I loan is late, I can't sell it, which locks us in to the losses with no way out.  I will be keeping an eye on Lending Crowd and if this carries on, I may have to cut my losses and sell some good loans to get out. That may be a bit hasty but we'll see. The XIRR is at 5.40% which is reasonable, however that does not include any losses from the 7 bad loans (as they are still hoping to collect on them).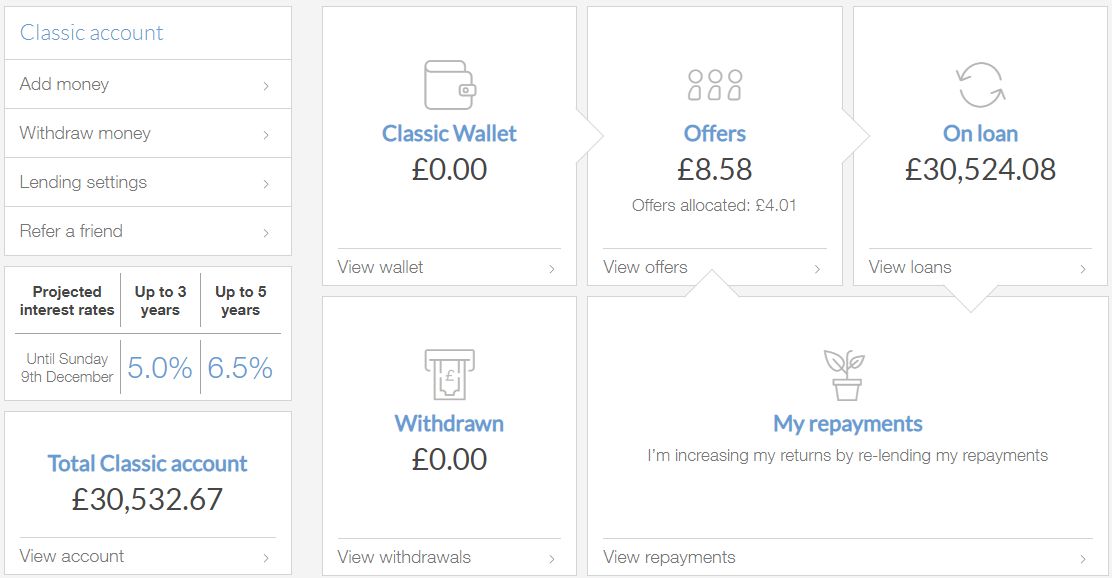 Lending Works has to be one of the best investments out there. With their "Lending Works Shield" protection and higher returns; I really like their business model. Added to that, they just upped their 5 year investment return from 6% to 6.5% which is really great with the level of protection and hands-off investments they offer. XIRR is showing 4.08% but again, we need more data for a good read, and I really do expect LW's calculations to be accurate once we get 12 months of investing data.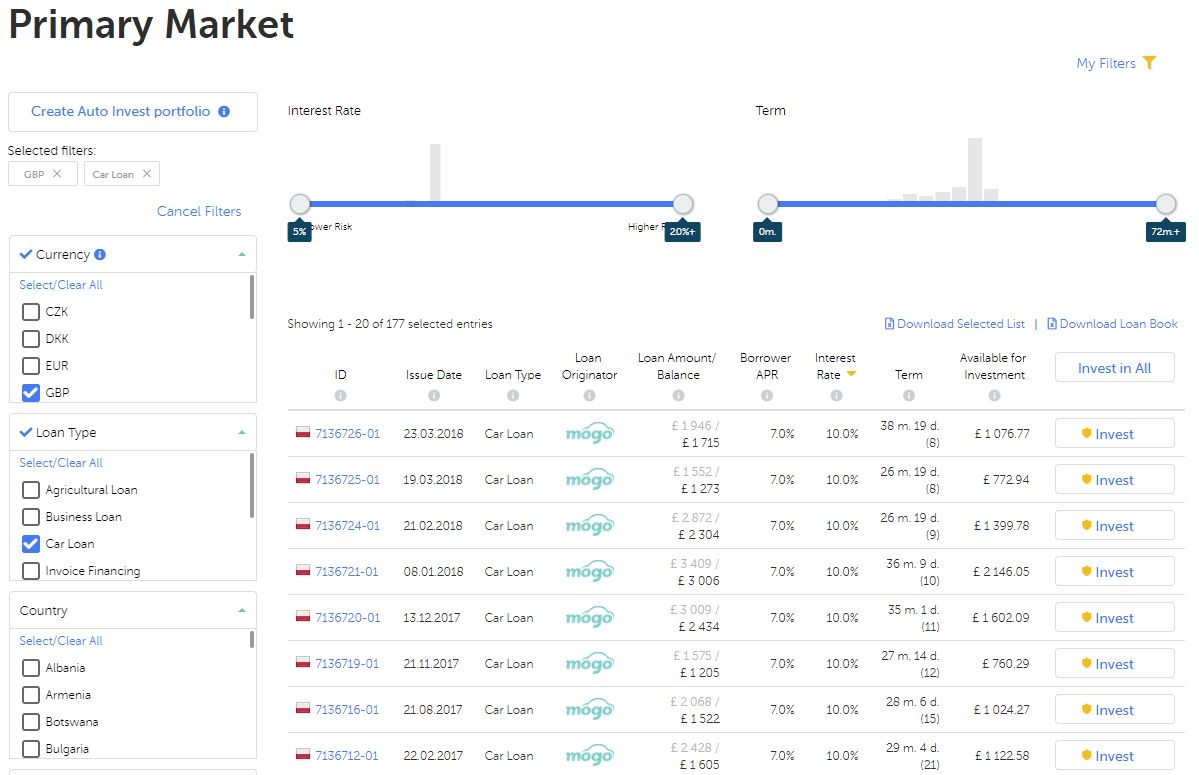 Mintos holds the top spot for target returns (9.64%) and for actual XIRR (6.51%). I was actually getting kind of frustrated at Mintos as I had a bunch of cash (about £1,300) that had been repaid or from bought back loans which was sitting in the holding account making no return. This was because there were no new car loans available in GBP. Thousands available in Euros but not in GBP. Just when I decided to consider withdrawing the un-invested money and putting it elsewhere, a new stream of loans came in. As you can see, there are many new loans to chose from now (177 as of today). So I was able to get invested with everything. 
I just wanted to show you something with Mintos. I do have a few Euros that I don't report here because it is so small with Mintos. However, just to see the difference between GBP and Euro returns, here is my account screenshot. As you can see, much better in Euros. I may at some point change some money from GBP or USD in to Euros to take advantage of some of the rates available with Euro lenders. Not right now though as I think the Euro is going to crash hard next year so I think I'll be able to buy them much cheaper.
Ratesetter AKA "Old Faithful" keeps on delivering with the safety of a fairly large company. For the last couple of months there have been 6%+ rates available for new investors, which is really good considering the size of the company and also their provision fund. For anyone looking to invest in P2P, surely Ratesetter has to be in your portfolio! If you would like to see my recommendations for the top lenders in various categories, signup for my complementary Top Lenders List.
Instead of setting my reinvestment capital to go back in at the market rate, I have been trying to capture some of the higher rates. Unfortunately that meant I had a few hundred £ sat there waiting for a couple of weeks so a little bit of cash drag.

I increased my investment in Unbolted again this month as the XIRR shows how good they really are at 6.27%. This will put us between 8% and 9% once we get 12 – 14 months of data. I would increase my investment even more with Unbolted but unfortunately it just takes a LONG time to get any sizable amount lent out. I'll keep trickle feeding capital in there but it's going to take a long time before Unbolted becomes a significant part of my portfolio.
As mentioned at the beginning of the post, I had a little loss with Zopa in November (about £100). Zopa XIRR is running at 2.08% now against a projected annual return of 3.9%. I am unsure if Zopa will even be able to reach the 3.49% returns advertised. Time will only tell.
Honestly unless you really want to be with the oldest P2P company, there are better places to put your capital. I keep my amount in there as I need it for diversification, but I won't be adding any more to Zopa. 
Summary
That's all for this month. This post is not as long as some of the other updates, but I wanted to get it posted as it's late. Feel free to email me if you have any questions on this post or anything. I always try to reply promptly.