Zopa Account Information
Updated July 1st 2019
Detailed Account Information & Screenshots
First Investment Date          – June 2018
Initial Investment Amount  – £10,000.00
Total Added                         – £0.00
Total Withdrawn                  – £9,991.14
Invested Currently              – £8.86
Current Account Balance  – £22.28
Total Return                        – £13.42 (after exit charges)**
ROI% (per lender)               – 5.70% 
XIRR                                     – 0.27% 
**I withdrew from Zopa in December 2018. See December monthly update below for information on why.
My Zopa Actual Account Growth & Income Charts
[supsystic-table-diagram id='70']
[supsystic-table-diagram id='84']
Each month I send out an update on all of my Peer to Peer lending accounts. Below are the excerpts specific to Zopa.

    Click here for all lender updates
Last update for Zopa was January 2019
January 2019 Monthly Update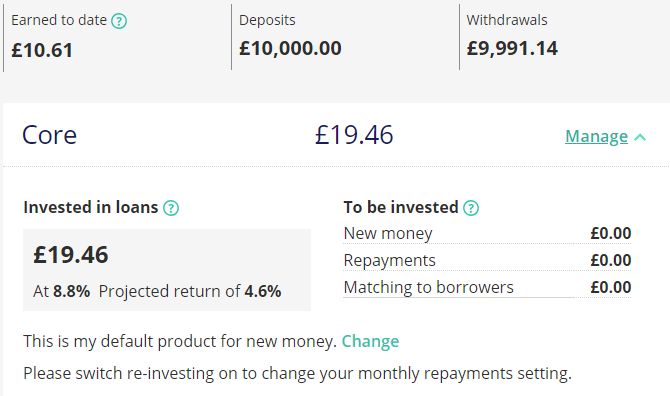 If you read my update last month you'll remember that I decided to exit Zopa effectively. Not because Zopa is bad, but because I feel there are better rewards for similar risks, and I am willing to take those risks. Zopa is still a good investment if you're just looking for easy, safe (ish) returns (unsecured debt with no provision fund remember). As you can see in the screenshots below, I still have a very small amount in my Zopa account. That is capital that is late in repayments so I can't sell it.
In my opinion, similar Lenders to Zopa but with safer, asset secured loans (most with better return rates) would be:
Assetz Capital,  Landbay,  Lending Works,  Loanpad,  Kuflink
December 2018 Update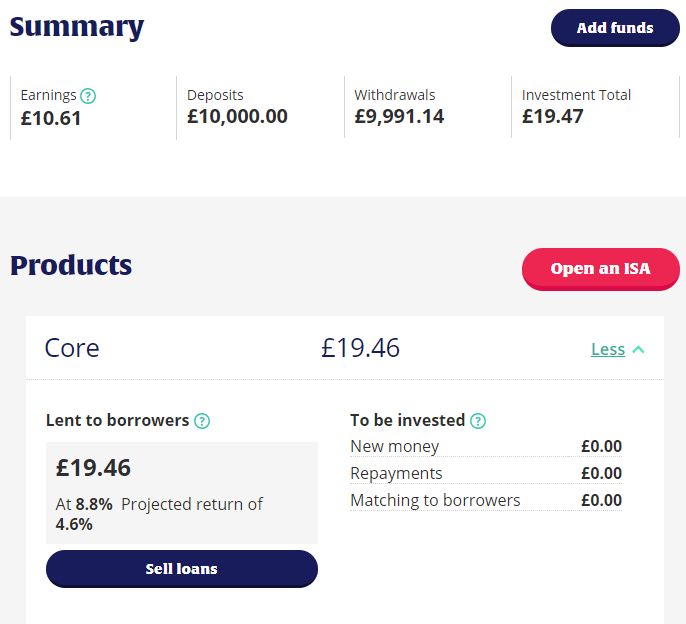 So let's talk a little bit about Zopa. In November I took a default loss of about £100. If you do the math, that's about 1% of my total investment. With expected returns of around 4%, and an actual XIRR of around 2%, it wouldn't take too many of these losses to put me in the red. I had been looking at the risk/return model for Zopa for a few weeks, and when this loss came about it encouraged me to think more. I have no control over loan diversification with Zopa so the fact that they are putting 1% of my capital in to an unsecured loan with no provision fund just doesn't make sense to me.
Oldest Lender
Yes they are the oldest and one of the largest P2P lenders in the UK, and yes they have a huge loan book, however since they changed their model and removed the provision fund, to me the risk/reward ratio is not worth it. I decided to sell most of my loans and move to other lenders that offer much higher returns with secured loans AND a provision fund (in Mintos case "buyback" which is pretty much the same deal). I had to pay the 1% fee for selling loans early with was painful, but now I'm in Mintos (9.66% return) and Kuflink (around 7%) and Unbolted (around 8%), I figure that amount will be made up quickly and over the 5 year term I would have needed to wait with Zopa to get my money out without a fee, I'll be up a lot by the end.
I'm not saying Zopa is a bad investment for some diversification, however my capital is risk capital so I expect a better return for this kind of risk.As mentioned earlier, for cash investments I can currently get 3.5% from a bank, so why would I want the risk of Zopa for the (possibe) extra 0.5%?
You can see below that I couldn't sell all of the loans because some of the payments are in arrears. Luckily it's only £19.46 so not the end of the world.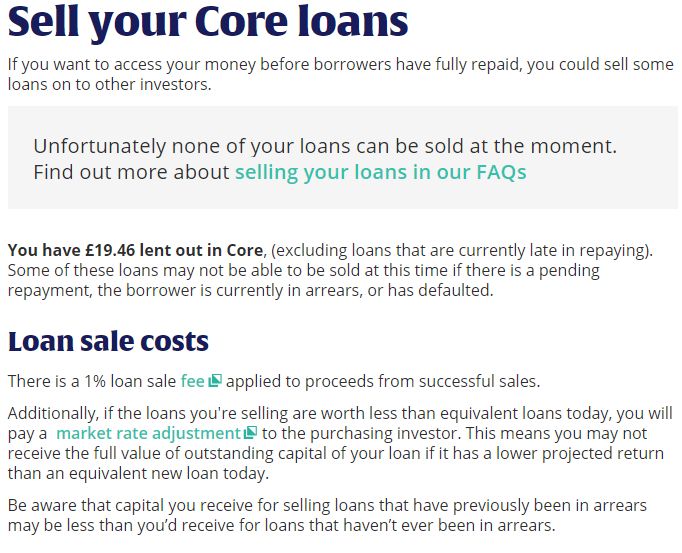 In my opinion, similar Lenders to Zopa but with safer, asset secured loans (most with better return rates) would be:
Landbay, Lending Works, Loanpad, Kuflink
November 2018 Update
As mentioned at the beginning of the post, I had a little loss with Zopa in November (about £100). Zopa XIRR is running at 2.08% now against a projected annual return of 3.9%. I am unsure if Zopa will even be able to reach the 3.49% returns advertised. Time will only tell.
Honestly unless you really want to be with the oldest P2P company, there are better places to put your capital. I keep my amount in there as I need it for diversification, but I won't be adding any more to Zopa. 
October 2018 Monthly Update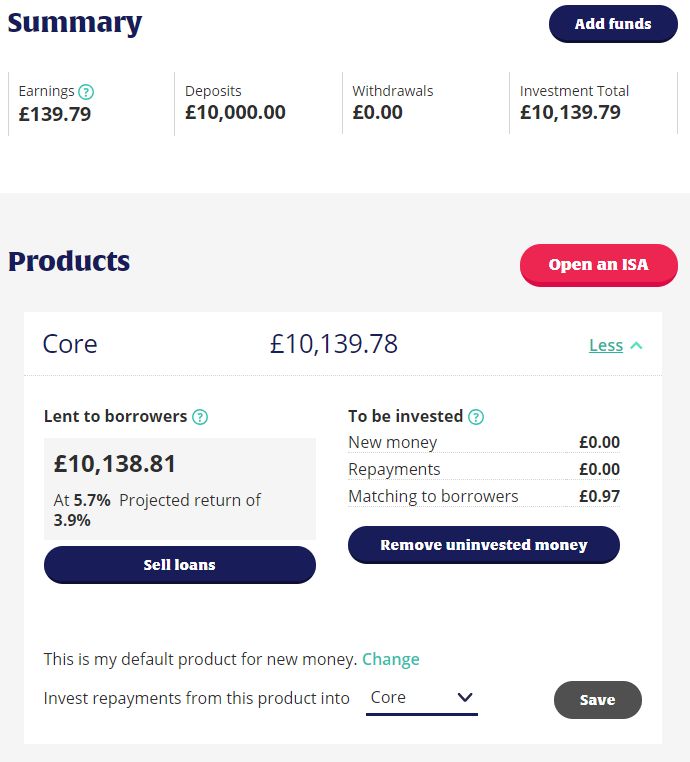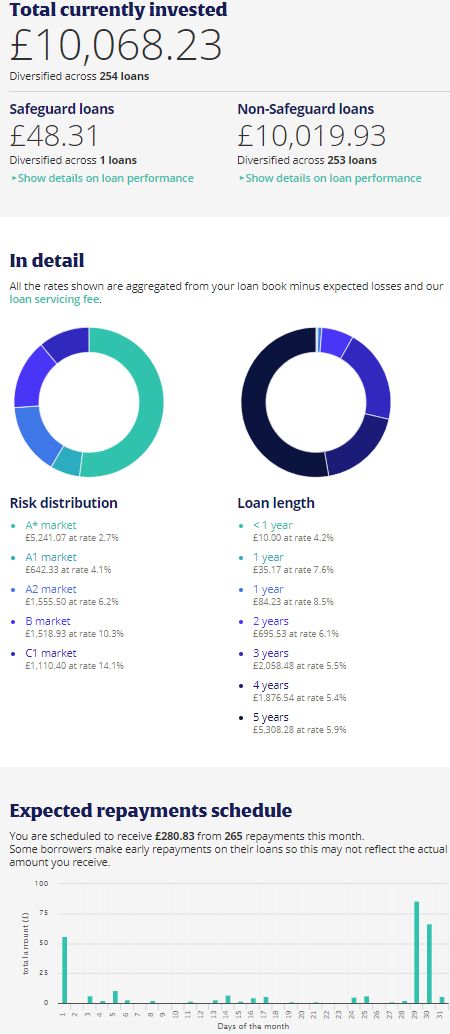 Zopa always gives good information on where your money is and when payments are coming in. It's all quite useless though as their auto-invest (only) accounts distribute the capital between loans for you and don't offer any way to exit bad loans. If you try to sell your loans so you can withdraw capital, Zopa will tell you how much you have in loans that are in arrears. It won't let you withdraw the capital which is part of loans that have gone bad though, and won't even let you see the loans that are actually in arrears, which never seems to make any sense to me. Zopa is the oldest lender in the UK, but I'm not sure some of their latest changes to the way they do business are the best.
September 2018 Monthly Update
Last off is Zopa. Another "set it and forget it" investment. Since Zopa discontinued its safeguard fund, I'm waiting to see how their loan retrieval team do when I start to see some defaults. I do want to keep capital here as part of my diversification plan, but the rates are not great for unsecured loans. Zopa is the oldest P2P lender in the UK though so hopefully they will continue to deliver the returns as advertised.
In my opinion, similar Lenders to Zopa but with safer, asset secured loans (most with better return rates) would be:
Landbay, Lending Works, Loanpad, Kuflink
<<< Return to Full Zopa Review
Prior to September 2018, no screenshots were published, however you can still see the full updates below: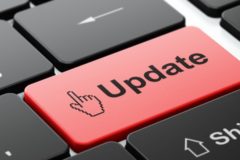 The March 2020 monthly update is going to be very different to my usual updates. The fact is that things have changed substantially in the last month and my Peer to Peer investment strategy has…