December was an interesting month. I decided to exit Zopa and distribute the capital to other lenders. You can read in more detail why I decided to do this further down in the Zopa section of the update. I also added some more information to the table and charts section giving more information on income and XIRR calculations, as well as adding income graphs for each lender.
Overview
A little over £825 this month for income overall. That gives a total return of £4,515.88 for 2018. Considering I only started with this portfolio in June, it's a lot better than it would have made just sat in a bank. XIRR is running at 4.83% and keeps climbing a little each month for each lender (except Zopa). You will notice I added a "Running" total so you can see how the XIRR is growing monthly. The last 2 months in fact would have been a little better if it wasn't for losses from Zopa (£52 in November and £76 in December due to the costs for selling loans and exiting).
My Assetz Capital account requires no maintenance at all. The income keeps coming in, and the account keeps growing. I check all my accounts weekly and so far no surprises with Assetz, and that's the way it should be!
Assetz Capital are having an excellent cashback incentive for the first couple of weeks in January. Click here to read more about it. Up to £350 cashback which is wonderful! It's only available until January 31st though so don't delay!
Funding Circle is about the same as Assetz Capital, totally hands off investing. My account surpassed 31k this month with over £1000 profit overall since it started it as part of this portfolio. Not too shabby at all. Still only 2 defaults which have turned to bad debt which is pretty amazing when you consider I'm lending to almost 500 separate businesses.
Growth Street have had an influx of new loans lately so cash drag is almost zero. Funds seem to be matched the same day they are available.
I got the email below a few days ago. Growth Street are having a promotion to fill the new influx of loans. You can Click Here to take advantage of these rates if you didn't yet.
Email: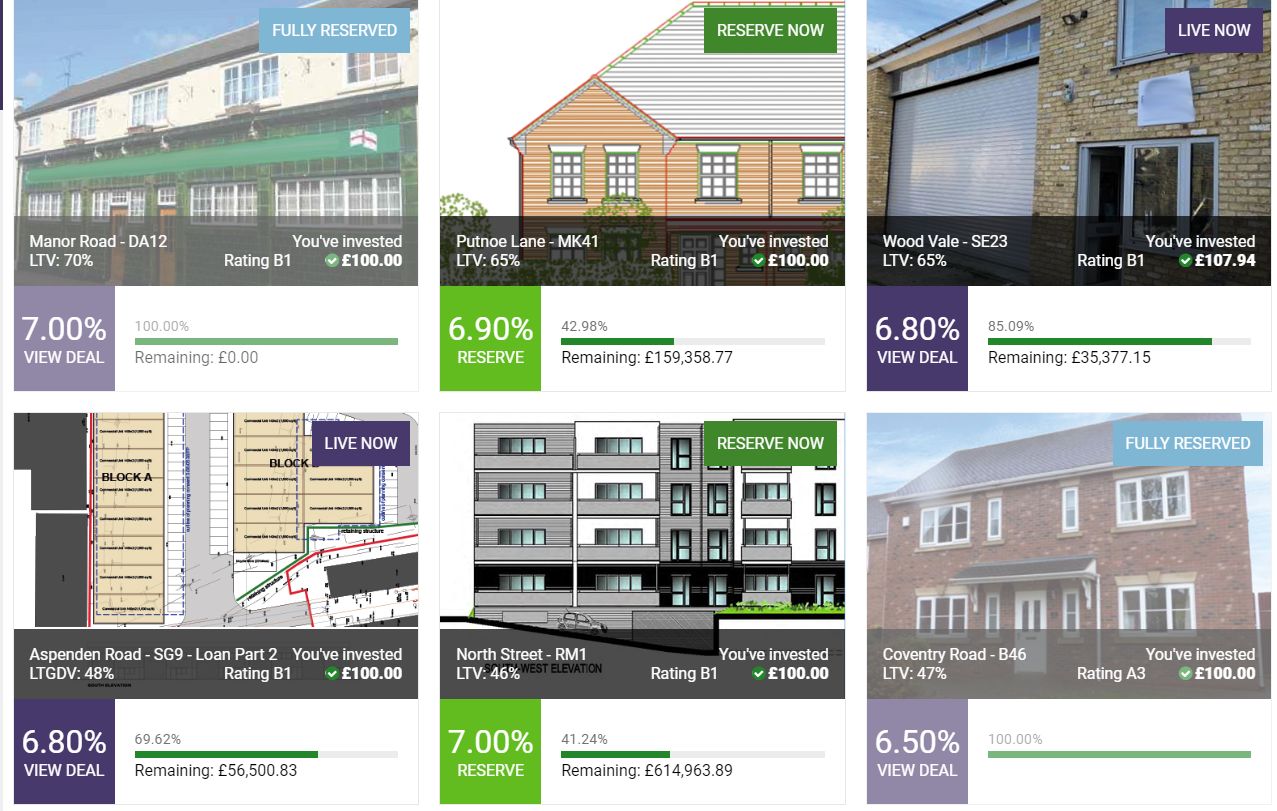 I decided again this month to add more funds to Kuflink. I sent over another £1500 so I could get in to some of the solid loans they are producing. Great opportunities with some very low LTV's (one was around 17% again).
The XIRR calculations on Kuflink seem low because interest is paid annually on some loans. Once that gets paid we will see that number jump up significantly.
Landbay as usual, safe & steady, but very boring. Low risk but low rates. One of the reasons I exited Zopa is because it lost the "Low Risk" part in my eyes. Knowing the kind of returns I can get from Mintos and Unbolted, as well as some of the other lenders, if there wasn't a fee I would probably exit Landbay too and redistribute the capital. Not because there is anything wrong with them, but because this is investment capital so I should be making the most of it and getting higher returns. I can get 3.5% in a government insured 5 year bank CD (USD) at the moment, which is obviously the ultimate in safety. As is though, Landbay is safe and steady enough so I'll stick with it for now.
Lending Crowd are a little bit different to the previous accounts as I use the "Self Select" account with "Auto-Bid". The "Annual Rate of Return" they are giving is 9.17% however XIRR is running at 5.85% but that doesn't take in to account any of the potential bad debt for which is seems there could be quite a bit.
As you can see below, there are currently 11 loans in arrears which is way too many for the time I have been invested with them. I'm still watching recovery efforts very closely.
Lending Works is as easy as a bank. Set it, forget it and enjoy your 6.0%+ returns with the safety of their "Lending Works Shield". Definitely one of the best for reasonable returns with the best possible safety from a P2P lender.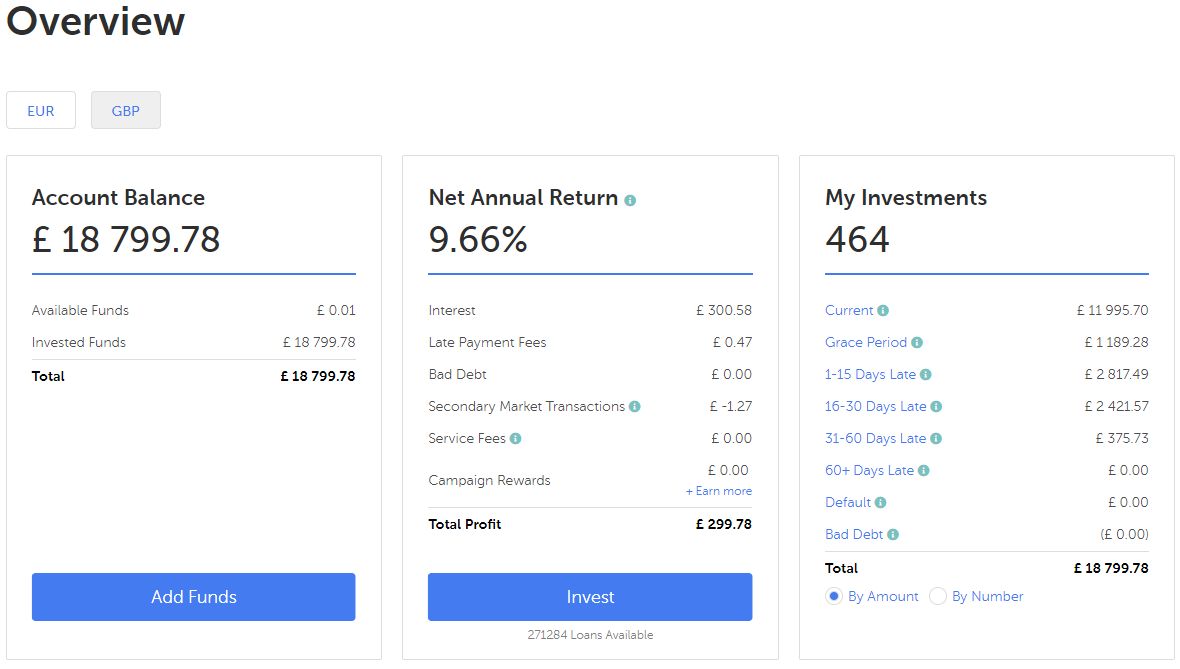 In December I decided to increase my investment in Mintos substantially, mostly with capital from the Zopa exit. Mintos is a very well established, profitable company. I like the way they work, and I like the 9%+ income they are offering on GBP secured loans right now (secured car loans from originator MoGo). Along with their buyback guarantee and the originators "Skin in the Game", it just makes a lot of sense. Is it perfectly safe? No, not at all, however this is investment capital and I can go with 2% from Zopa with unsecured loans and no provision fund, or Mintos with their safety provisions and secured loans. What would you do?
Added to that, there was an influx of GBP car loans in December which I just could not ignore. As of this writing, there are 421 loans available in GBP. I have less than 0.25% of my investment in any one loan which is great diversification!
Ratesetter – set it, forget it. Not much more to say about them. You really have to look at the rate trends to see what's available when you add new capital though. You can see below that the average over the last 3 months on the 5 year has been 6.0%, however it is currently filling orders at 5.8%. I have noticed at weekends rates seem to creep up a bit, so when you are adding new cash, sometimes it can be worth waiting a few days to see if you can get a better rate.

In December I decided to double my investment in Unbolted. Their XIRR is running only second to Mintos so I thought it made sense to send some of the money drawn from Zopa there. With secured loans that are typically easy to sell upon any default, it just makes more sense. The one downside of course is the time it takes to get invested. I sent the capital over about 2 weeks ago and as you can see from my account screenshot, there have only been about £140 lent out. I increased the auto-invest settings to £50 max per loan, however I am still only getting £5 – £10 per loan lent out.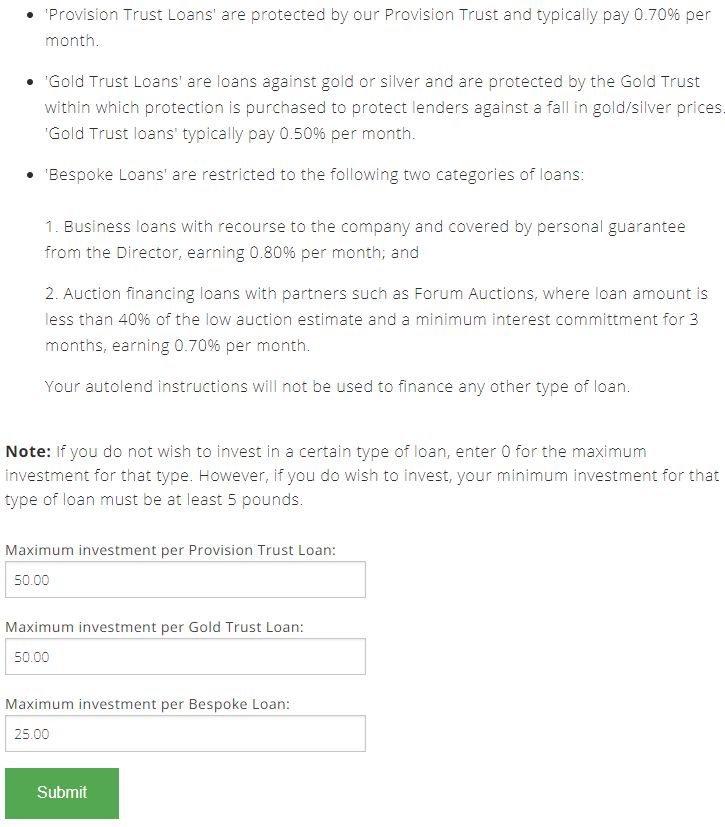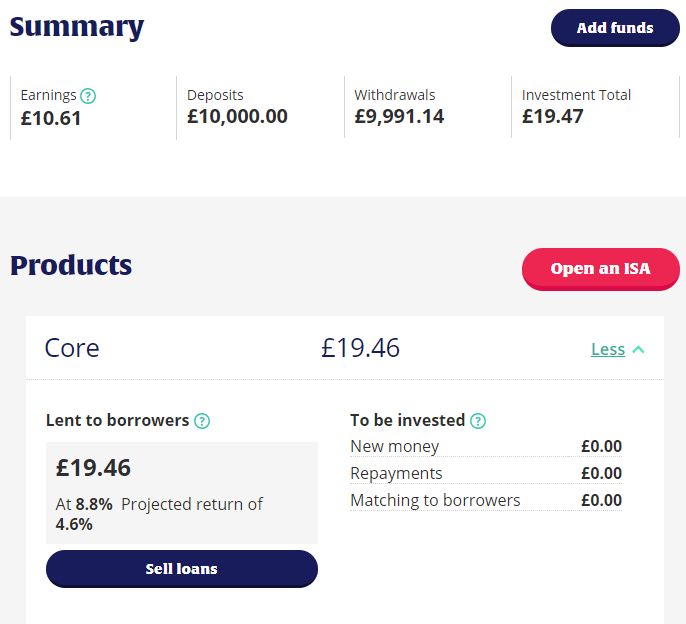 So let's talk a little bit about Zopa. In November I took a default loss of about £100. If you do the math, that's about 1% of my total investment. With expected returns of around 4%, and an actual XIRR of around 2%, it wouldn't take too many of these losses to put me in the red. I had been looking at the risk/return model for Zopa for a few weeks, and when this loss came about it encouraged me to think more. I have no control over loan diversification with Zopa so the fact that they are putting 1% of my capital in to an unsecured loan with no provision fund just doesn't make sense to me. Yes they are the oldest and one of the largest P2P lenders in the UK, and yes they have a huge loan book, however since they changed their model and removed the provision fund, to me the risk/reward ratio is not worth it. I decided to sell most of my loans and move to other lenders that offer much higher returns with secured loans AND a provision fund (in Mintos case "buyback" which is pretty much the same deal). I had to pay the 1% fee for selling loans early with was painful, but now I'm in Mintos (9.66% return) and Kuflink (around 7%) and Unbolted (around 8%), I figure that amount will be made up quickly and over the 5 year term I would have needed to wait with Zopa to get my money out without a fee, I'll be up a lot by the end.
I'm not saying Zopa is a bad investment for some diversification, however my capital is risk capital so I expect a better return for this kind of risk.As mentioned earlier, for cash investments I can currently get 3.5% from a bank, so why would I want the risk of Zopa for the (possibe) extra 0.5%?
You can see below that I couldn't sell all of the loans because some of the payments are in arrears. Luckily it's only £19.46 so not the end of the world.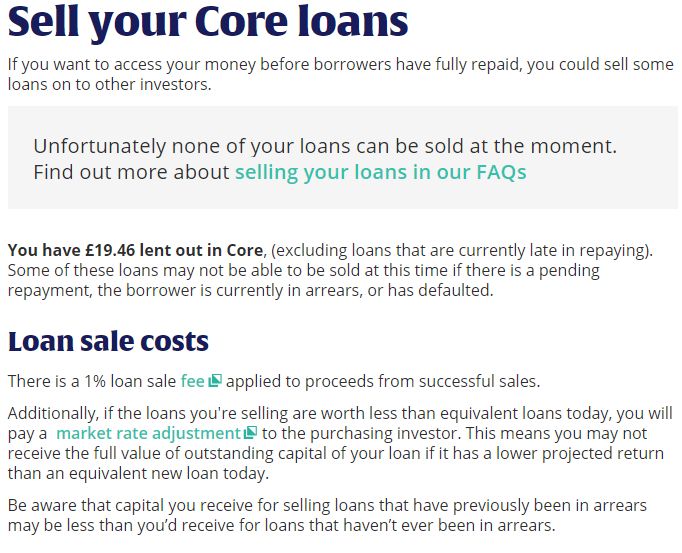 Summary
Another month gone and the close of 2018. You'll notice in the "Rolling XIRR" section of the returns page that it is growing every month. Now I moved the money from Zopa in to higher paying lenders that should accelerate even more.
I am excited to see what 2019 brings for the P2P lending marketplace!
HAPPY NEW YEAR EVERYONE!