BullionVault – Pros & Cons
PROs 👍
Safety – BullionVault's financial strength is formidable.
Huge insurance policies to protect clients capital.
Website – couldn't be easier to use.
iOS & Android Apps for trading on the go..
Low commissions & storage fees.
CONs 👎
ID Verification can take a while.
Changing bank accounts can be cumbersome.
Visit The Bullionvault Website
What is BullionVault?
BullionVault is a physical gold, silver and platinum dealer based in the UK. Although they are based in the UK, they store gold & silver in several different locations including Zurich, Singapore, New York, Toronto and London. BullionVault Review
My Experience with BullionVault
I use BullionVault to store most of my physical gold from my Growth Portfolios, having researched many ways of storing physical gold over the years, BullionVault came out on top. I consider them to be the very best, lowest cost and safest way to store my physical gold.
Purchasing physical gold through BullionVault is just as easy as buying an ETF on the stock market. With physical gold however we are not subject to the electronic middle man, and with BullionVault, we own the gold directly after purchase, they just store it for us at a very reasonable cost (lowest I've found anywhere for physical bullion storage).
One of the things which stands out about BullionVault is; they provide the ability to actually take delivery of your physical gold if you should ever need it. I have never used this service personally, but it's nice to know it's available should you ever want your gold physically in your location.
Visit The Bullionvault Website
History – BullionVault Review
Founded in 2005, BullionVault has gone from strength to strength as a company which makes it very easy to own and store physical precious metals.
Profitable since their first year of trading. Now with over 70,000 active customers, from over 175 countries, holding approximately $2 billion in stored bullion.
In fact, with more than 38 tonnes of gold and 500 tonnes of silver bullion, BullionVault's customers are already holding significantly larger reserves than most of the world's central banks!
In April 2009 they won the Queen's Award for Enterprise (Innovation) for the use of technology in the professional bullion market.
In 2013 BullionVault were awarded a second Queen's Award for Enterprise (International Trade) for growing overseas sales by 140% in 3 years.
Safety
BullionVault's financial strength is formidable. Their asset value per £1 ordinary share has grown to over £80, and those assets are denominated in currency balances and their own gold bullion stock.
This financial strength was consolidated when on 17th June 2010 they completed an important deal. The World Gold Council and Augmentum Capital each bought an 11.4% equity stake, investing a total of £12.5m (US$18.8m).
On 12th April 2016 the World Gold Council transferred its 11% holding in BullionVault to Gold Bullion Investment Trust [GBIT] which became the registered owner. GBIT is a connected organisation of the World Gold Council.
In January 2017 BullionVault became members of the London Platinum and Palladium Market in anticipation of offering platinum on the platform in partnership with the World Platinum Investment Council.
Ownership of your gold, silver and platinum in BullionVault is outright.  BullionVault bullion is not subject to a trust deed, and it is not anyone's liability.  It is – quite simply – your outright property from the instant you buy it to the instant you sell it.
BullionVault as just a custodian of your bullion.  They have subcontracted the physical custody of your bullion to the vault operators in the various locations.  BullionVault has retained responsibility for administration and record keeping, which is performed through the BullionVault website.
You can see the official bar lists on the BullionVault website, and reconcile them to the BullionVault customer-by-customer records.  You should also know that in their agreements with BullionVault, the vault operators fully acknowledge that the bullion shall remain the property of BullionVault clients at all times.
If you need any further information on how safe investments are with BullionVault, just go to their website where there is a lot more information on this subject.
Visit The Bullionvault Website
Website – BullionVault Review
BullionVault's website couldn't be easier to use. When you first log in, you see your account overview.
When you want to buy an asset, you simply enter the information in to the box on the right of the screen, and buy/sell. Easy as that!
However if you would like a little more information on bids & offers; you can switch over to the Live Order Board where you can see exactly what the product is trading at.
You can also get other information like investment guides, current news on the markets, as well as historical information and charts.
Apps – BullionVault Review
There is also a handy BullionVault App which has all of your account info and balances. As well as the ability to set price alerts and buy/sell bullion from your device.
You can also see the current market bids & offers, and get historical data and charts just as you can on the main website.
Fees
BullionVault charge commissions for buying and selling gold as you would expect. They also charge a storage fee for taking care of your bullion and storing it, as well as insuring it against loss. Their fees are very reasonable compared to other dealers. I have used several gold dealers over the years. BullionVault is by far the best out there in my opinion.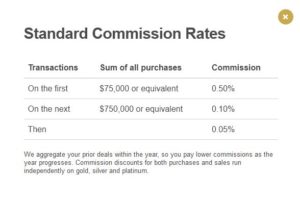 Summary – BullionVault Review 
If you are going to make physical gold, silver or platinum part of your portfolio, then BullionVault is a very good option.
I have trusted them for many years with a large part of my gold holdings, and I expect to do so moving forward for many more years.
Gold is an important part of my overall investment strategy. When things go bad in the markets, gold typically saves the day.
Visit The Bullionvault Website
Click here to open a BullionVault account >>
Who Can Invest with BullionVault
Residents of most countries can invest with BullionVault who can pass and ID  and money laundering checks. Residents of the USA are very welcome too. Contact BullionVault for more information.
Interested In Getting Easy, Safe 5% to 15% Per Annum Interest Income on Your Investment Capital?
My Mixed Asset Portfolios Have Consistently Made Over 8% Returns Per Annum For The Past 20 Years!
Click here to see my actual returns >>
Disclaimers:
This page is presented for informational purposes only. I am not a Financial Adviser and therefore not qualified to give financial advice. Please do your own research and make your own investment decisions. Do not make investment decisions based solely on the information presented on this website.
* My opinions, reviews, star ratings and risk ratings are based on my personal investing experience with the company being reviewed. These ratings are personal opinions and are subjective.
** Some of the links on this website are affiliate referral links. When you click on these links, I can sometimes receive a commission, at absolutely no cost to you. This helps me to continue to offer new reviews & monthly portfolio updates here on my website. I don't receive commissions from all platforms and it has no effect on my ongoing opinions on investments & investment platforms. Income from my investments and capital preservation are my main motivations.
Platforms reviewed on this website I am currently investing with, or I have invested with in the past. You can see with full transparency on my Portfolio Returns page which assets & platforms I am invested with (or have previously been invested with) at any point in time. I am not paid a fee by any of the companies to write reviews, so the reviews are unbiased and purely based on my own personal experiences.
Please read my full website Disclaimer before making investment decisions.