The Elephant in the Room – Lendy Collapses – My Thoughts.
Last Updated on 1st June 2019 by Mark
The Elephant in the Room
I feel like I need to mention the Lendy (Saving Stream) situation as everyone is up in arms about this "sudden collapse" on May 24th 2019?
The following post is just my opinion based on the (very limited) experience I had when considering investing with Lendy.
Honestly, their demise was not a surprise to many lenders. In fact, the only surprising thing was that it didn't happen sooner!
Many people just couldn't believe how long it took the FCA (Financial Conduct Authority) to step in! They did issue Lendy a restriction a while before putting them in to administration saying they should not "in any way dispose of, deal with or diminish the value of any of its assets and must not in any way release client money without in either case the prior written consent of the authority." 
On top of everything, many of Lendy's Executive Staff had left the company, including; Robert Kelly and David Gammon (COO's), Paul Riddell (Communications Officer) and Paul Thompson (Cheif Financial Officer).
If it wasn't clear what was happening earlier, by the time you saw the restriction and the outflow of execs, (assuming you were keeping an eye on Lendy of course, which you should be doing with any lender you have money invested through). It should have been very clear.
Lendy's Website Front Page as of May 24th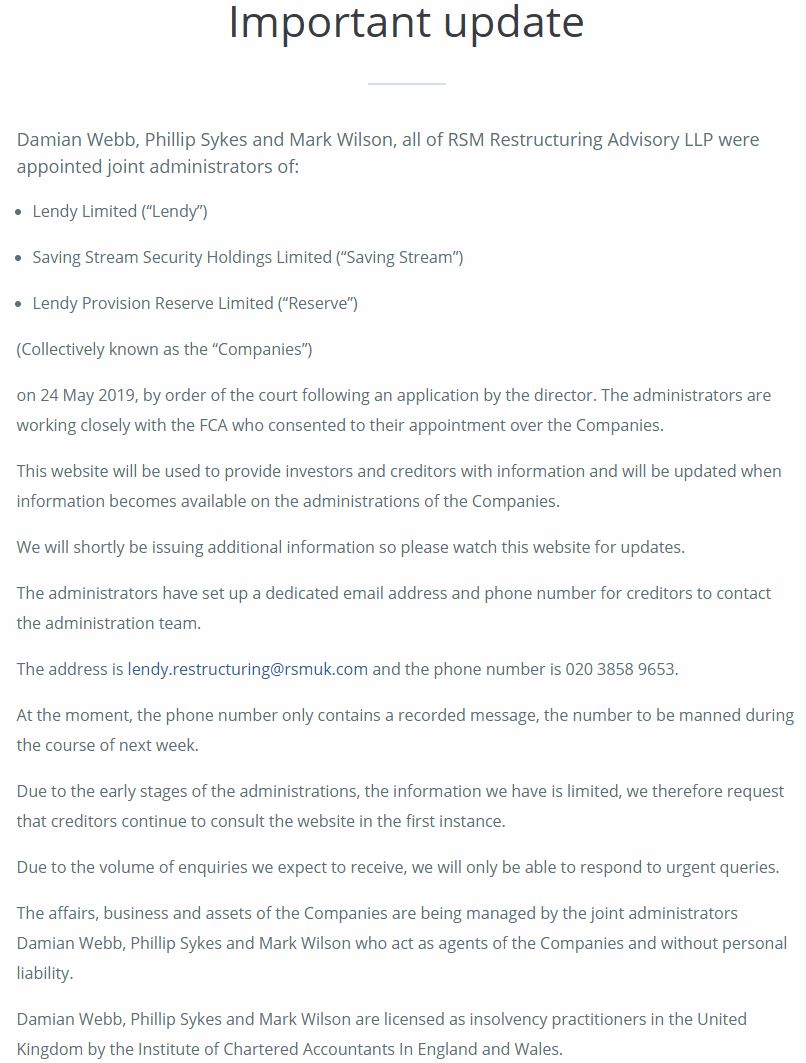 My Experience with Lendy
About 2 years ago I had looked at Lendy (was Saving Stream back then) as they were touting some high return rates which looked very attractive (this was before my public website, when I just had a few lenders in my portfolio).
After doing quite a bit of due-diligence (looking at records at Companies House, talking to people who were investing with Lendy already, digging into their loan documents, asking questions on forums, Googling,  etc.), I didn't like their numbers, wasn't keen on their website, and the asset security they were touting on bridging & development loans just seemed a bit far-fetched.
There were rumors about some of their staff, and of course the high defaults had started to show up. So all of the P2P forums had turned very negative on Lendy (after being very positive previously). They had picked up a reputation of "The Lendy Cowboys" in many places.
Rumors were cropping up about the company buying sports-cars for staff members as sales incentives. While the company numbers and Lendy's reputation were declining. I have no idea if the rumors were true, but there is usually some kind of small truth behind most rumors.
It seems like a lot of people knew what was happening. Lendy had terrible reviews on Trustpilot for many years. This is what I was reading back in 2017 on Trustpilot (look at the dates on the reviews from this link).
Seriously,  if you were looking into a company with regard to investing your capital with them, and you saw any of these comments, or heard any of the rumors, would you still invest? If your answer is "yes" then you probably shouldn't be investing with P2P unless you have a LOT of money to lose  🙄 
Technically What Happened?
To be a little more technical, Lendy (Saving Stream) were lending on property bridging and development loans which are inherently risky. Lot's of things can go wrong, so you really need to know what you're doing. Lendy obviously didn't, or didn't well enough to make a success of their business. Perhaps they were not doing good due diligence on borrowers, taking riskier loans, or perhaps they were just unlucky?
With development loans, loan security is the big thing as you're mostly loaning money on something that isn't built yet, so there can be a period where there is very little loan security, and very high LTV's (Loan to Value ratios). And even if there is good security on a loan, it can take huge time and effort to sell that secured item if the borrower defaults and the asset has to go through the courts. So getting capital back in the event of a default can be a long, drawn out process.  
Even if there is no default on loans, late payments and delays from borrowers can cause huge headaches for Peer to Peer lenders, especially if they offer a provision fund or "skin-in-the-game" to their investors (Lendy – Saving Stream, advertised a provision fund covering 2% of their entire loan book). If a bunch of loans get late, the P2P platform then needs to shell out to keep investors whole, which can be a problem for a smaller lender.
Eventually the defaults and lack of loan security killed Lendy, but this was only on top of their rumored bad business management and apparent inexperience.
Will Lenders Get Their Money Back?
No one knows at this point. As with most Peer to Peer platforms, loan agreements are directly between the investor (lender) and the borrower, so in theory if the borrower continues to pay on the loan, the lender should get their money back as agreed. In practice though, it will be interesting to see how it plays out.
Summary
In my opinion, Peer to Peer lending is still as safe as you want to make it, this collapse changes nothing. It all goes back to the Peer to Peer lending rules discussed in my Getting Started in Peer to Peer Lending Guide. Namely, stick with the big lenders, diversification, due-diligence and don't lend anything you can't afford to lose if the very worse happens. That doesn't mean "lose easily" before someone tells me they don't want to lose anything at all, it means that you won't be on the street if you lose it, but it will probably hurt like heck.
Also outlined are some of the other inherent risks with Peer to Peer lending on the "About Peer to Peer Lending" page if you're new to lending.
The collapse of Lendy (Saving Stream) won't in any way change my Peer to Peer lending strategy, as it hasn't when other P2P lenders like Collateral collapsed (Peer to Peer lender who collapsed in 2018).
In any investment arena, companies go broke, investments lose value or become worthless, and there are losses. It's just part of the overall investment risk. Our job is to try and stem those risks by being ahead of the curve on due-diligence and sticking to our investment strategies and rules that come with it.
I wish you all good luck and prosperous , safe lending for the future!
See reviews on lenders I invest with here
Last Updated on 1st June 2019
by
Mark
Disclaimers:
* My opinions, reviews, star ratings and risk ratings are based on my personal investing experience with the company being reviewed. These ratings are personal opinions and are subjective. You should do your own research before investing any capital and not base investments solely on the opinions published on this site. 
**  Some of the links on this website are affiliate referral links. When you click on these links, I can sometimes receive a commission, at absolutely no cost to you. This helps me to continue to offer new reviews and monthly portfolio updates here on my website. I don't receive commissions from all lenders and it has no effect on my ongoing opinions on lenders. Income on my investments and capital preservation are my main motivations.
Platforms reviewed on this website I am currently investing with, or I have invested with in the past. You can see with full transparency on my Lending Portfolio Returns page which lenders I am invested with (or have previously been invested with) at any point in time. I am not paid a fee by any of the companies to write reviews, so the reviews are unbiased and purely based on my own personal experiences.
Please read my full website Disclaimer before making investment decisions.