The charts above updated monthly here
.
Dividends for December
VTI – $254.51
TLT – $117.03
UHT – $181.58
FRT – $143.82
TOTAL $696.94

Update
As expected, December was a very volatile month in the US markets. We saw the biggest point loss in the Dow on a Christmas Eve ever, then we saw the biggest point gain ever on the day after Christmas.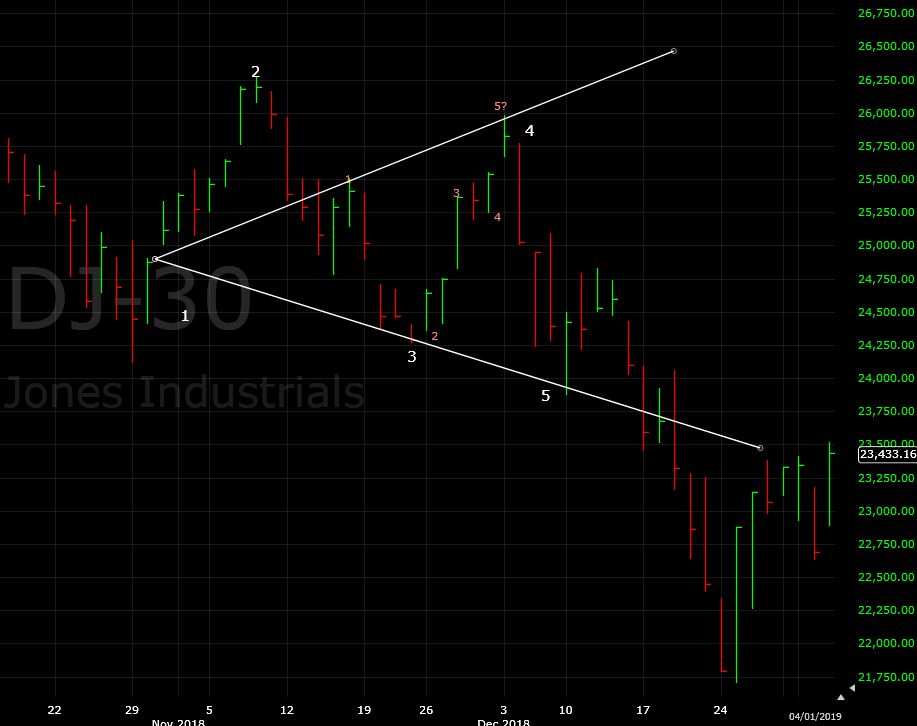 If you've been following my posts on Wolfe Waves you'll see that the Dow blew through the 5 point, however if we would of had our stop in the correct place (based on WW rules) it would have just missed it and we would still be in the market, and at a small profit (as of this writing, Jan 5th 2019). Although it would have taken some nerve to hang in there when the plunge was happening.
If you've been reading my other Growth Portfolio Monthly Updates you'll remember how I discuss Gold and why I have it in the portfolio. This month is really did show the reason. When things get volatile and investors get nervous, gold jumps as money flows in to it as a safe haven. The same for bonds. You can see above in the Individual Asset Growth chart that both bonds and gold started to gain in value together supporting the stock market and REITs as they were heading down. Even with all the mayhem, the overall portfolio was still only down a couple of hundred dollars. If we were in stocks alone, we would be down around $5k.
Here are the theoretical draw-downs since we started this version of the portfolio in June.
Portfolio 1 in blue is my Growth Portfolio
Portfolio 2 is Harry Brown's Permanent Portfolio (no cash)
VTI on it's own is the orange block.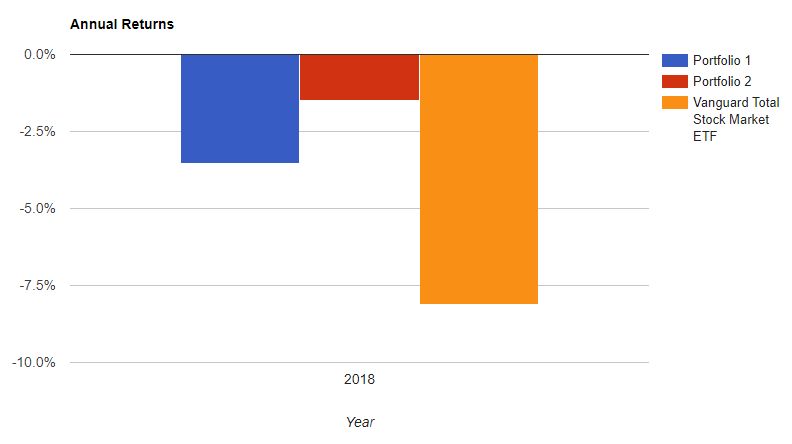 Considering 2018 was the worst year in the markets in a decade, our portfolio really didn't do that bad. And the Permanent Portfolio did even better. These numbers don't take in to account dividends though which puts both my Growth Portfolio and the Permanent Portfolio actually up a couple of points on the year.
From the above you can hopefully see why I construct the portfolio as I do. It's nice to be all in stocks when they're screaming up, but for the long term, the balanced portfolio of assets always wins, and at a more comfortable pace.
Here is what a $200,000 portfolio would look like if this would have been started in 2005.
Summary
Although in the long run all 3 of the portfolios would have seen very successful growth, tripling in value for my Growth Portfolio, and the others close. The ride to the top is a lot smoother with mixed asset classes which makes the whole experience more comfortable for the investor.
That's all for this month. It will be interesting to see how January shapes up. I expect more volatility but I'm still not expecting a major crash. I don't have a crystal ball though so always make your own investing decisions!