Envestio Account Information
Envestio
UPDATE 2/2/20
The Envestio Story: It all started when a blogger started digging into Kuetzal's loans (a small Euro platform) and found that they weren't as solid and well documented as they seemed. Even suggesting that Kuetzal was some sort of Ponzi scheme which was just trying to get people to invest so they could run off with their money. Of course with social media, things got warmed up very quickly and people started to panic and began trying to withdraw their capital from Kuetzal, creating a real live bank run. Of course whether it was a Ponzi scheme or not, Keutzal couldn't fulfill all of the requests for capital to be returned so they proceeded to close down the platform.  I actually looked at Keutzal about a year back but didn't like the loans they were putting out, or the way the website was designed. Just didn't "feel" right to me.
Next the panic moved to other platforms. Envestio being the next victim. Investors started scrutinizing their loans, some of which looked questionable but I personally don't think were scams. More just lazy due diligence and shoddy paperwork. I could be wrong though, time will only tell.  Unfortunately, the panic spurred some investors to start asking Envestio to buy out their loan parts in order to withdraw capital, and of course when it got to a certain amount, Envestio couldn't meet their obligations either, and so they closed their platform down too. The way they did it was ghastly though. Envestio just sent out an email to investors, and then took their website down and stopped answering investors queries, which was wholly unprofessional. Now they have the local police & Interpol involved, so I have a feeling they'll regret not being a little more professional about it. 
As you may be aware, I invested about €6k Euros in loans with Envestio. So now we'll have to see if I can get some of that back in the future. There has already been a class action lawsuit initiated by investors (of which I am one) to try and ensure capital is returned to investors, as it is paid back by the borrowers. All of the loans were (supposedly) secured by assets, which is a positive thing. Who knows how much of our capital we'll get back in the end though. I knew when I invested in Envestio that it was a more risky venture than other platforms I invest in. That's why I only had €6k invested with them. I also gave it the riskiest rating of all the platforms I invest with and review here on the website. Any investment comes with risk. If you don't understand those risks and are prepared for the worst, then you shouldn't invest. Too many people had a LOT of money in these small Euro platforms. Many of whom were relativity new investors and had never been through a 2008 type crisis so have never seen any significant losses until now. I'm sure they'll be more careful moving forward, but that doesn't make this situation any better. As I understand it, when Envestio closed shop, they had around €30m Euros in outstanding loans. Ouch!
The good news about the situation is that most Euro platforms have been heavily scrutinized now, so the ones that are left should be the stronger ones (in theory at least).
Envestio
Envestio income keeps on rising each month. There has been a bit of a panic on some of the Facebook groups and P2P websites about some of these high interest lenders. CEO's changing and office addresses changing. Projects being fake and companies not being as they seemed. As far as I can tell though, no one has actually lost any money or not been paid yet, so I'll wait until that happens before I start panicking. I really don't pay a great deal of attention to it. In my eyes most of the Euro lenders I invest with have been in business for 2 or 3 years and they are out to build a business, not rip people off. 
Investments paying upwards of 16% are inherently more risky, that's why I don't have €200k in them. It would be terrible to lose some of the money, but let's give these companies a chance and see what they can do. I'm quite happy with Envestio so far, as I am with the other Euro lenders I'm with.
XIRR jumped from 16.84% in November to 17.08% in December. They say I'm getting with a 16.93% target rate so XIRR is very close and I'm totally happy with that..  
November 2019 Monthly Update
Envestio
I made a mistake with Envestio over the last few weeks. When doing return calculations, I didn't notice they had been paying some cashback bonuses into my account. Technically of course they are returns, but I don't usually include cashback bonuses in the return calculations as they are not sustainable. So, I readjusted the numbers and I'll keep an eye on that moving forward. Envestio continue to increase their loan flow. Auto-invest does a good job of reinvesting the income & repaid capital in to new loans which keeps funds invested and prevents cash drag.
XIRR was reset to a more realistic 16.84% this month (because of the calculation error) which is very close to what Envestio say I'm getting with a 16.93% target rate.  
Envestio
Envestio continue to increase their loan flow. Unfortunately I missed most of them because (as I mentioned earlier) I don't have any more Euros to invest right now. Auto-invest did reinvest some of the income in to new loans though which keeps funds invested and prevents cash drag.
XIRR jumped yet again from 17.29% in September to 18.81% in October.  Envestio are doing a great job right now. At over 18% annual return, you can see why their loans get filled in a matter of minutes. CrowdProperty, my new UK lender is the only other lender I see with loans going this quickly.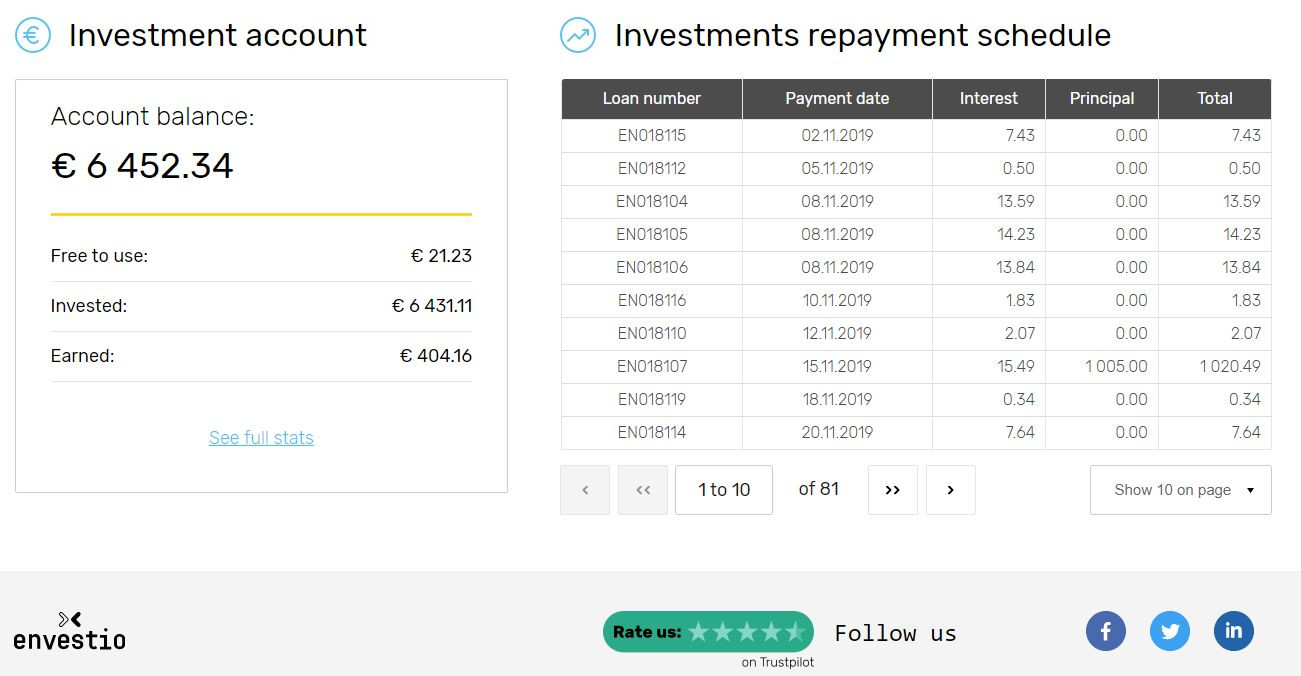 Envestio
Envestio did a great job of increasing their loan flow in September. They had some really good opportunities come through. Unfortunately I missed them because (as I mentioned earlier) I don't have any more Euros to invest right now. As soon as I do though you can bet some of them will go to Envestio.
XIRR jumped again in September to 17.80% from 17.29% in August. Envestio really are the Euro investors favorite right now. At almost 18% annual return, you can see why.

ENVESTIO
Envestio still appear to be the Euro Peer to Peer investors babe. Loans are filled up in just a few minutes of launch which makes them difficult to get. In August however they finally released their auto-invest feature, so I had to send over some money to give it a go. I sent over €1k and set the auto-invest at a maximum of €500. Sure enough a loan came in and I got invested at €500 without having to touch a thing! In August I wrote a review on Envestio where I describe the auto-invest feature if you're interested.
Unfortunately loan flow has been very slow again in August, just like with some of the UK lenders. Hopefully that will be rectified after the holidays and I can pick up some more Envestio loans.
XIRR jumped to a huge 17.29% in August now some of the newer loan payments are kicking in. That's up from 14.18% in July.
Here are my current loans: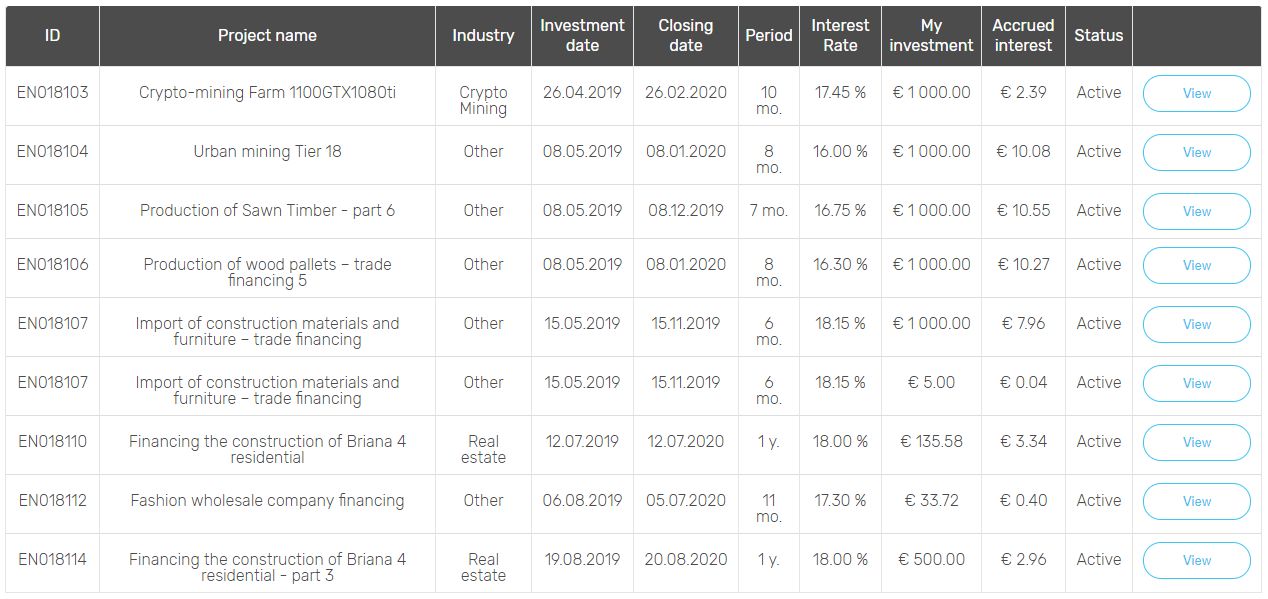 ENVESTIO
Envestio interest is still coming in every month. Again I didn't invest any more here just because I didn't have any more euros to invest.
They've only had a couple of new loans in July but wow, do they go fast, in just a few minutes. Very, very popular lender is Envestio. Actually they are just in the process of launching an auto-invest facility which should make getting into loans easier for people who are not glued to the computer 24/7.
XIRR is running 14.18% in July, up from 11.96% in June. I still expect it to keep climbing based on the loans I'm invested in.
Envestio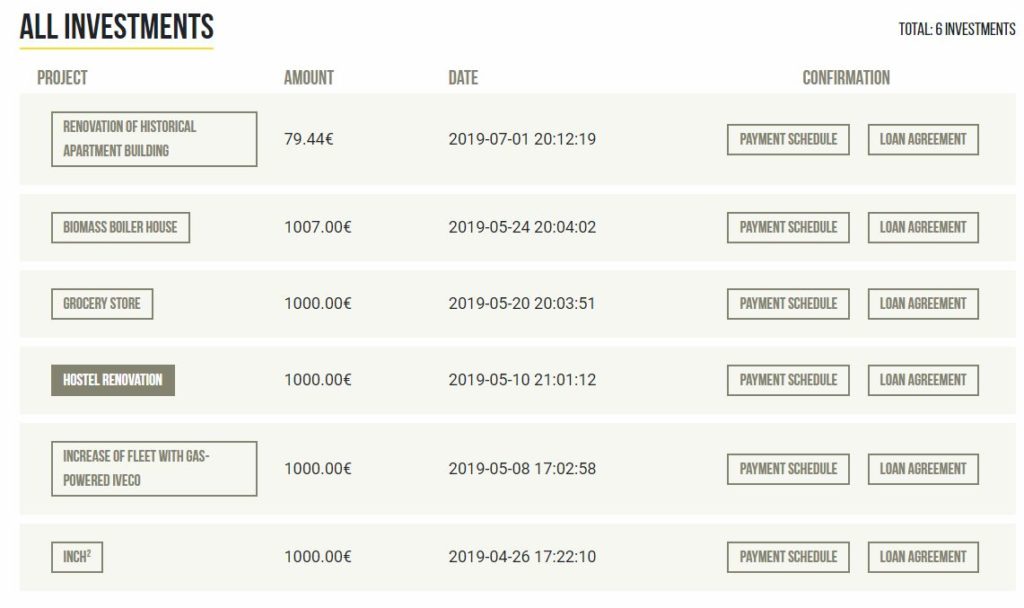 Not a great deal to update you with on Envestio this month. I reinvested the interest I had earned into another loan as you can see at the top of the list above. Apart from that, everything seems to be on schedule. As soon as I get some more euros, I'll be picking up a bunch more of Envestio's loans.
Detailed information on their loans is public and can be seen on Envestio's website
ENVESTIO
Not many new loans from Envestio this month as I believe they are working with some new borrowers. That's ok with me as I have no euros to invest with them right now so hopefully they are saving the best loans for me when I finally decide to exchange some USD to euros 🙂
Their loans look risky but actually I'm quite comfortable with Envestio the more I research them. We'll see if I'm right or wrong in time but for now I'll invest more euros when I get them.
ENVESTIO

Envestio is another hidden gem like Crowdestor in my opinion. Although they're becoming less hidden at the speeds the loans get gobbled up. The word is getting out!
Envestio is a hot commodity. When they introduce a loan, it often sells out in minutes. This is because they have some interesting and different loan ideas, with a reputation of looking after their investors by doing huge due-diligence on each and every loan.
Their loans typically have good asset backing with director guarantees. Envestio also operate a buyback guarantee, allowing investors to exit loans early if needed (at a fee).
I picked up 4 new loans in May, and not one of them lasted for more than about 45 minutes before they were fully funded, and a couple of them were less than 30 minutes. Not small loans either as you'll see in the screenshot further down.
I have a total of 5 loans with Envestio now, all paying between 16% and 18.15% (gives an average of 16.93%). All loans are less than 10 months long, so capital is not tied up for a long time, and I can exit at any time using Envestio's buyback guarantee with a 5% fee. 5% sounds like a lot but when you consider the loan is paying above 16% and money is only tied up for a maximum of 10 months, it's really not a bad option in an absolute emergency.

Here are just a few of the loans which are already funded.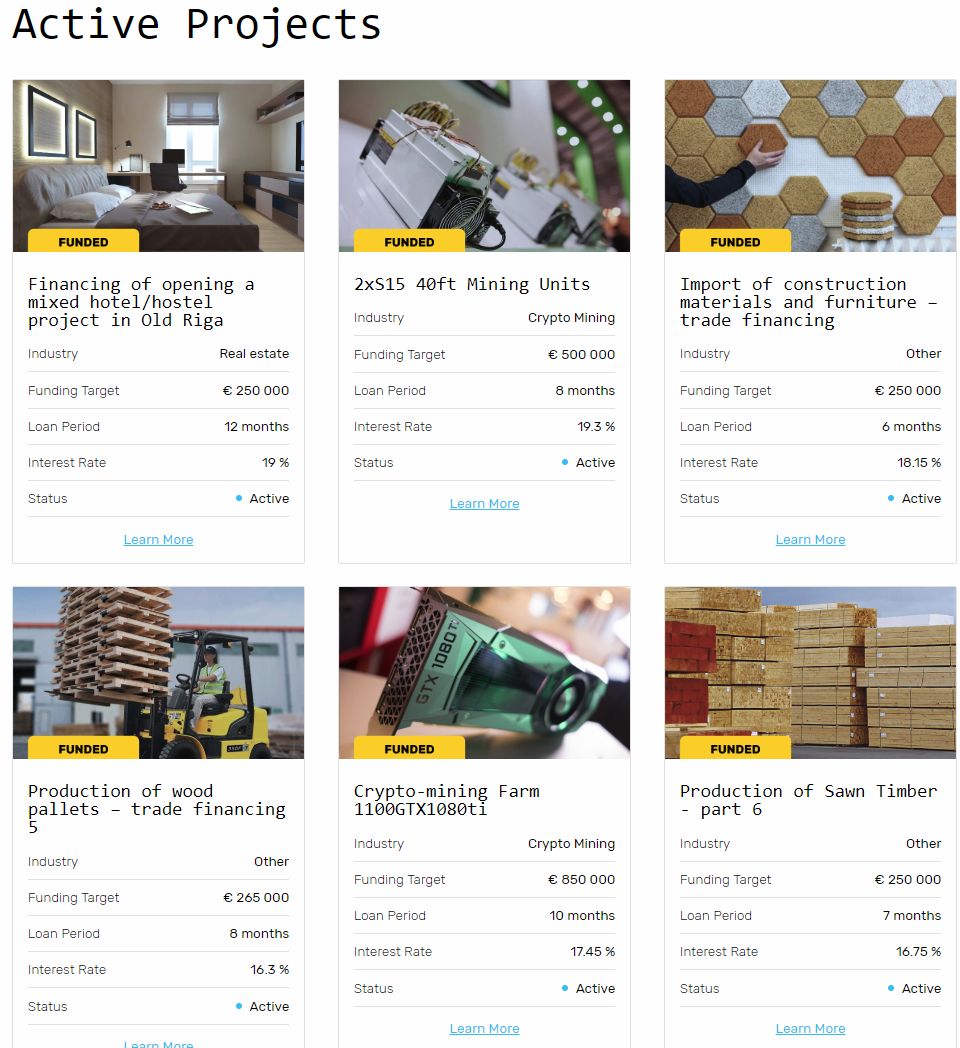 Detailed information on these loans is publicly available and can be seen on Envestio's website
I'm really getting comfortable with Envestio the more I research them and do my due-diligence. Their management team is excellent, and they are very aware that they need to protect investors capital in order to grow their business. One bad default could be very problematic, not so much as damaging their business as it appears quite well backed, but for their reputation and gaining new investors.