Ablrate Account Information
Updated July 1st 2019
Detailed Account Information & Screenshots
First Investment Date          – February 2019
Initial Investment Amount  – £500
Total Added                         – £1,200.00
Total Withdrawn                  – £0.00
Invested Currently              – £1,700
Current Account Balance  – £1,764.32
Total Return                        – £64.32
ROI% (per lender)               – 12.00% 
XIRR                                     – 14.17% 
See My Full Ablrate Review Here
Each month I send out an update on all of my Peer to Peer lending accounts. Below are the excerpts specific to Ablrate.

    Click here for all lender updates
I sent a little more money over to Ablrate this month and picked up a couple more loans. Nothing exciting to report with them though. Still just watching for now until I decide to move a larger amount of capital over there.
You'll note that the XIRR on Ablrate is huge (for a UK lender).  14%+ which I believe is mostly due to some secondary market loans I bid on. When bids are accepted lower than the original loan value, the XIRR goes up.
Only one new loan this month (that I noticed anyway) which is the Waste to Energy loan below. I got myself a little piece of it at 14%   🙂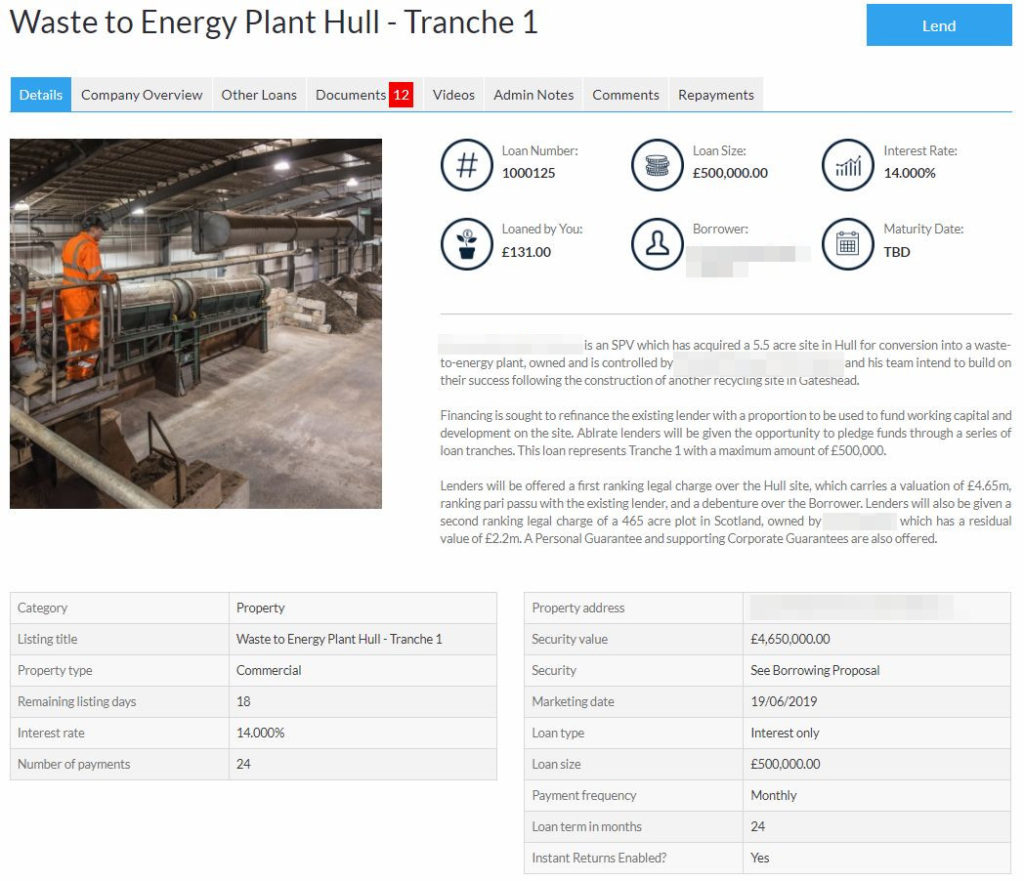 These are my current holdings with Ablrate. The above loan is not shown as it is not yet live.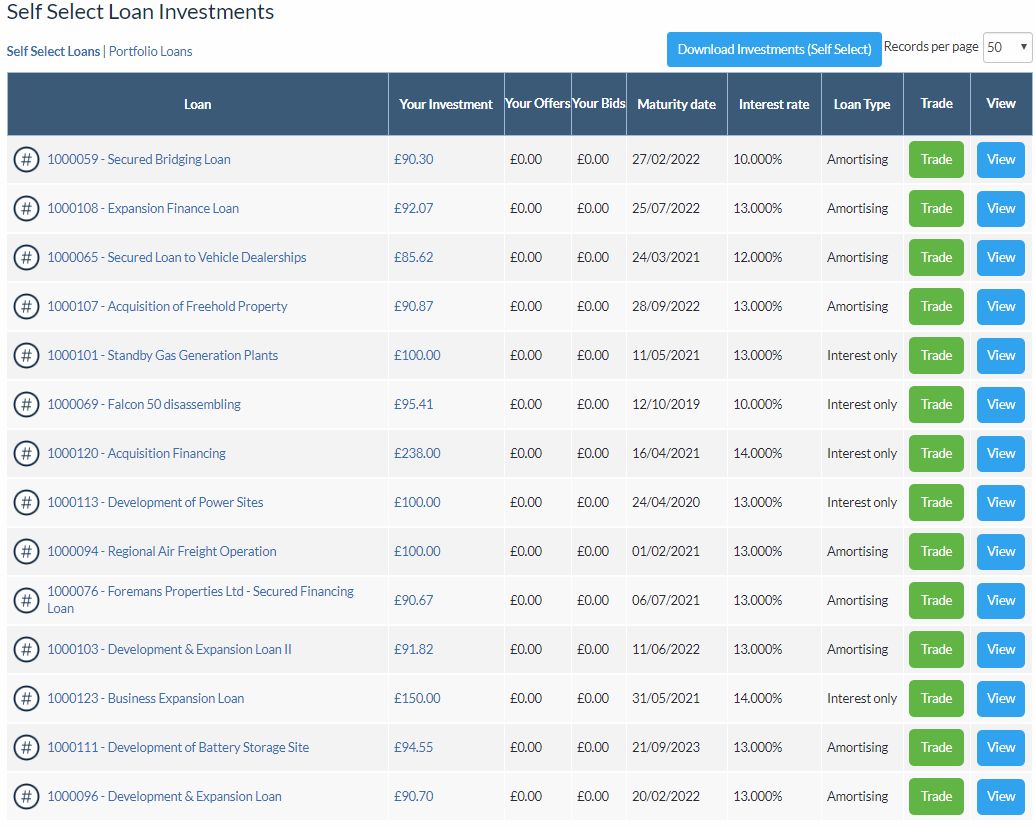 If you're thinking of investing with Ablrate, they have offered an exclusive Cashback Offer to Readers of The Obvious Investor – Enter the promo code TOV2019JJ when you sign-up with Ablrate and receive 0.5% cashback on your first investments. Click here to go to their website but don't forget to enter the code if you want the cashback!
Pretty much the same as last month with Ablrate. They have some very strong loans available, but the loan flow is very slow. We are starting to see some XIRR calculations come through now which are looking very interesting at 15.11%. I think this has to do with the fact that many of the loans were picked up from the secondary market. When you low bid the loans on the secondary market, if the bid gets accepted, it increases the rate of return on the overall loan.
My strategy with Ablrate is to watch them for a while longer and then perhaps up the stakes on each loan a bit as I have with Kuflink and a couple of the Euro lenders based on some stricter due diligence I will need to do. I'll see how that progresses though.
I completed a full review on Ablrate in May if you're interested in taking a look.
Below are the loans I've been able to pick up so far. There are a many more loans available on the platform, however many of them are different loans to the same company. For now, I like to keep 1 loan per company. Call me paranoid but in my eyes, if a company goes out of business, there'll be problems with all of their loans, so if I have money in multiple loans to the same company, I have multiple problems and less diversification.
I'm learning that Ablrate seems to be a decent lender with some good loans to invest in. However there are not so many loans (only saw 1 new loan in April). This makes is difficult to diversify as I would like. The answer of course is to put more capital in to each loan as I do with Kuflink on the low LTV loans.
I'm not quite there with Ablrate yet though. I'll watch them for a little longer with my small investment and see how things progress.
You can see below a list of the loans I've picked up so far. All pay very decent returns.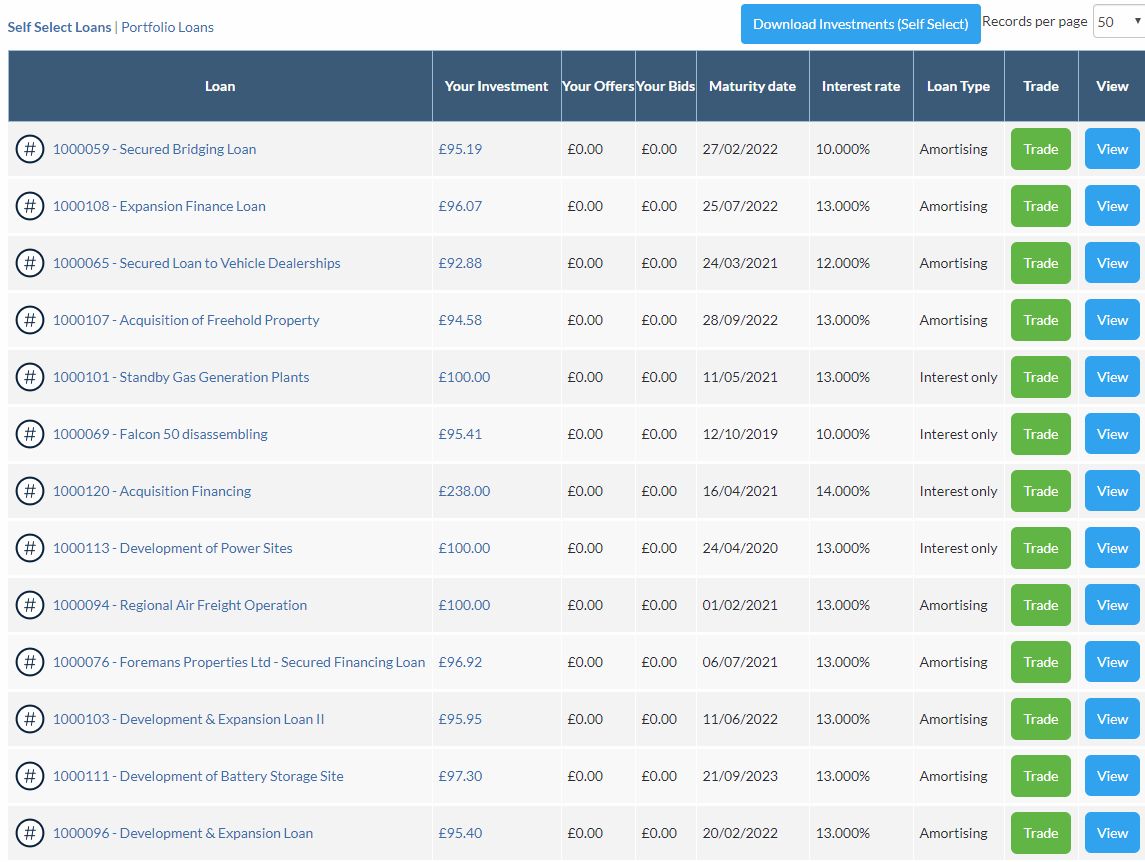 As of today (April 30th 2019) there are only 2 loans available on the primary market (see below). I did send in another £100 to get into the Industrial Land Purchase loan when that come up at 14%.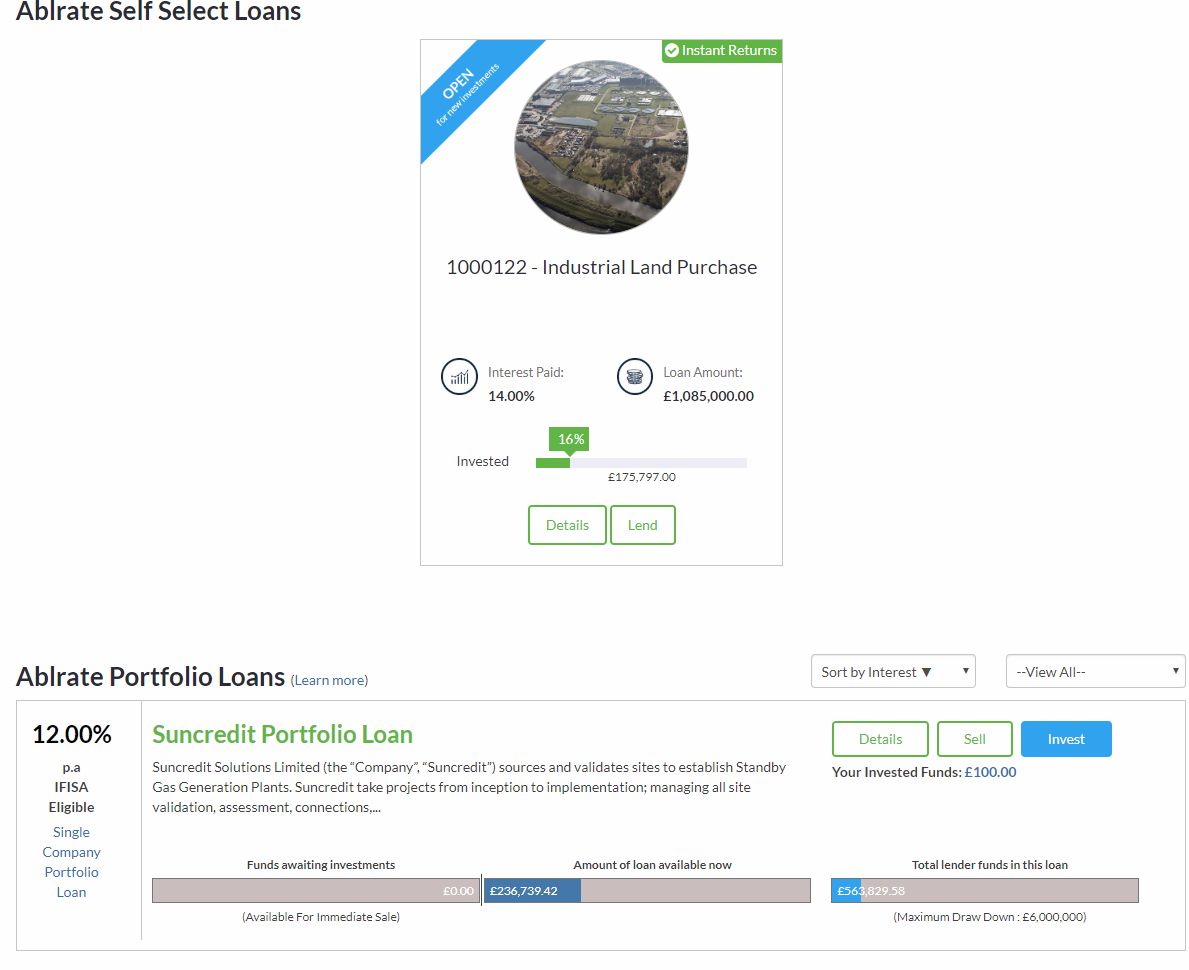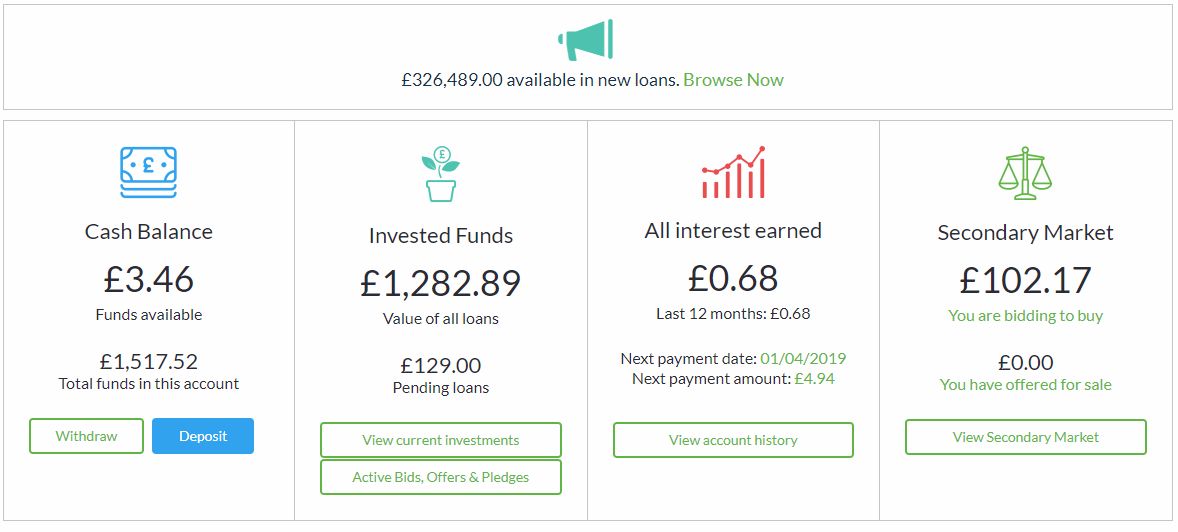 I increased my investment in Ablrate to £1500 in March. The interest rates are great, however there are not so many loans (I think only 2 new loans in March) so diversification is difficult. I picked up a few on the secondary market but I'm still only into a total of 12 loans so far. One new loan is pending so that makes 13 and I have one bid in the secondary market.
There are many more loans available on Ablrate (I count a total of 49 available for sale on the secondary market), however many of them are with the same company. I only want to be in 1 loan with 1 company at the moment. Maybe I'll change my mind more later but for now, I figure if a company goes out of business, ALL the loans would likely go with it. Even though they might be asset secured, it could take ages to get them all sorted out. 
Ablrate is a lender that has been around for a few years. They have historically mostly offered loans on airplanes, however now they have several different loans available. They are not like some of the bigger players with hundreds or thousands of loans available, so I consider them much higher risk than most of my other Peer to Peer investments. The interest rates they offer tend to reflect this though. Their loans are all secured and they have a very good reputation in the industry for due diligence on loans so have a very low default rate. They also have a very good track record for recovery of defaulted loans.
This is my first month with Ablrate so I won't go in to a lot of detail here. Let's see how they go moving forward and give me a bit of time to understand their lending model better.
Here are a couple of the loans currently available with Ablrate
This is the kind of detail available on each loan.